What is an SEO audit?
An SEO audit is the prime and foremost step of any SEO campaign, which includes a thorough inspection of your website. It is performed with the goal of determining issues that might hinder a site's performance in the search engine rankings.
Just like your body needs regular check-ups to assess your overall health and identify areas that need improvement, a website requires an SEO audit to evaluate its online health.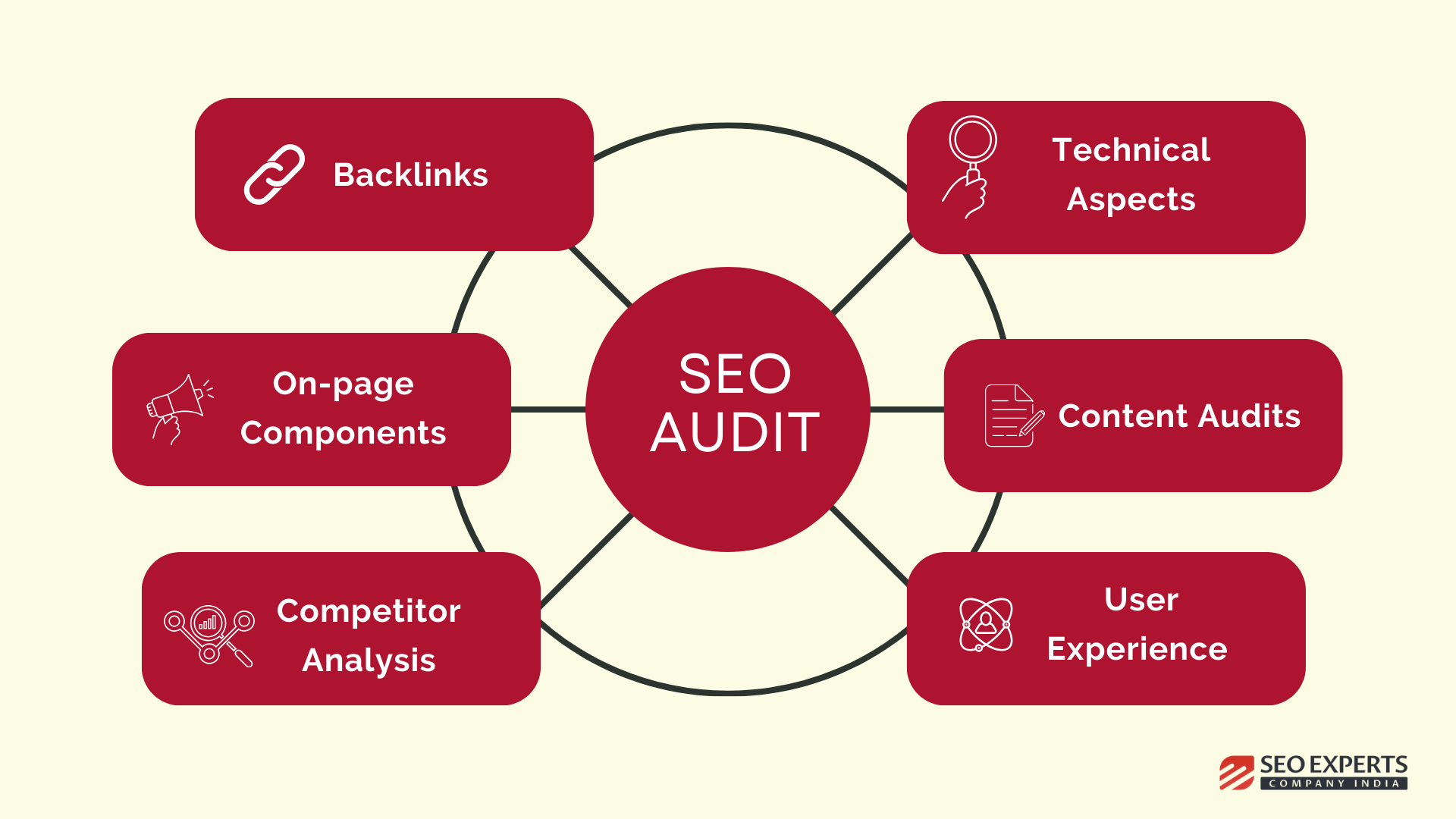 SEO audit involves assessing various components of the website, including:
Backlinks

Technical aspects

On-page components

Content audits

Competitor analysis

Site structure

User experience, etc.
Why Should You Perform an SEO Audit for Your Website?
An SEO audit is a journey that helps you understand the difference between where you are and where you want to be. Besides attracting more organic traffic and enhancing your online presence, an SEO audit: 
Keeps your SEO strategy up-to-date.

Helps figure out what's working for your website and what's not.

Discovers website's SEO issues so that they can be fixed.

Helps your website keep updated with the frequently changing Google algorithms.

Improves site performance, enhancing the user experience.

Helps discover missed opportunities through competitor analysis.
Sharing Insightful Strategies on How to Perform an SEO Audit
With a track record spanning over twelve years in the industry, we have a rich history of assisting numerous clients in achieving top positions in search engine result pages. Drawing from our extensive experience, we are pleased to share some valuable strategies that will help you conduct an SEO audit for your website.
1. Have Clear Objectives
Before starting the site audit, ensure you have clear goals and objectives. You should be specific about what aspects of your website's performance you want to evaluate and improve. Well-defined objectives can help you tailor your SEO strategy, assisting you to focus on weak areas of your website.
2. Crawl Your Website
Run a website crawl by putting your website's URL on a website audit tool, such as Google Search Console, SEMrush, Screaming Frog, etc., to analyze your website's performance. The data gathered during this process can help you identify issues and opportunities, enabling you to create a plan for optimizing your website.
3. Check for On-page Issues
Examine the individual pages on your website to ensure that they are well-optimized for search engines. Here are a few elements that you must take care of while evaluating the on-page factors on your website:
Title tags

: Examine if your title tags are optimized for search engines.

Meta descriptions: Analyze and

optimize meta descriptions

for better click-through rates.

Header tags:

Check if the header tags structure to ensure it is well-organized.

Internal links:

Regularly check, verify, and update the

internal links on your website

to build authority.

URL structure:

Ensure that your URL structures are concise, relevant, and easy to read.

Call-to-action buttons:

Check if your call-to-action buttons are attractive and in place for users to click.

User experience:

Evaluate the webpage design, layout, and navigation to ensure a seamless user experience.
4. Evaluate Off-page SEO Elements
Evaluate off-page elements that include factors outside of the website. External factors play a crucial role in determining your website's authority and credibility; therefore, it is essential to assess and optimize these elements to enhance online visibility. Off-page SEO audit includes analyzing and optimizing:
Link-building strategies:

Verify if your

link-building strategies

align with the search engine guidelines. 

Social media activity:

Ensure your social media profiles are up-to-date, optimized, and relevant to your brand.

Guest posts:

Keep a check on the quality, relevance, and authority of your guest posts on external websites.
5. Examine Technical Aspects
Technical aspects are crucial for the smooth functioning of a website and are related to performance and overall customer experience on your website. It includes evaluating and optimizing behind-the-scene elements that influence how search engine bots crawl and index your website. Here's a breakdown of what you should examine while performing a technical SEO audit for your website:
Page speed:

Check the

page loading speed

and performance. You can use tools like Google Page Speed Insights, SEMrush, etc., to test and improve your website's speed and performance.

Mobile optimization:

Verify if your website is optimized for all screen sizes, including mobile phones and tablets. You can check whether your website is mobile-friendly or not by using

Google's mobile-friendly test tool.

Site structure:

Examine your website's structure to ensure it is organized for easy navigation and indexing.

Duplicate content:

Check for

duplicate content on your website

and update or delete it to improve performance. You can use SEMrush or Copyscape to check duplicate content on your website.

HTTPs:

Check for the SSL certificate/HTTPS version to ensure the website's security.

XML sitemap:

Check whether the XML sitemap lists your website's important pages to help search engines understand your site's structure and content.
6. Check Content Issues
Content is the ultimate king in the SEO game. You should check for content gaps while carrying out a content audit. These are the elements you must look for in order to optimize your website's content.
Check the content quality:

Evaluate the existing content quality and check if the content is updated, relevant, and high-quality.

Keyword usage:

Check if you are optimizing your content with trending and relevant keywords. Examine and update the keywords wherever required. 

Check for content gaps:

Check for the content gaps

in your content strategy to look for the missing opportunities.
7. Evaluate Local SEO Elements
A local SEO audit focuses on assessing and optimizing your search engine rankings to improve your website's visibility in the local search results. Local SEO audit is significant for businesses serving a specific geographical location. It mainly includes making adjustments to the following factors to attract more visitors.
Google My Business Optimization:

Make sure that your

Google My Business Profile

is accurate, complete, and optimized for the search engines.

 

Check local citations:

Don't forget to review the consistency of your business information, especially NAP information across various platforms.

Identify and review local keywords:

Identify, analyze, and review the

usage of local keywords

in your content to attract local audiences.

Monitor reviews and ratings:

Monitor and manage the reviews across platforms like Google, Bing, and others. Acknowledge customer feedback, be it negative or positive.
8. Conduct Backlink Audit 
It helps understand if the site is in good condition and free of any spammy and irrelevant backlinks that can harm the website's authority. Breaking down some elements of backlink audit that you must take into consideration while conducting an SEO audit for your website: 
Check the source of the backlinks:

Evaluate whether the backlinks your website received or is receiving come from an authoritative source. You can run a

backlink gap analysis

to compare your backlink profile with that of your competitors to discover linking opportunities.

Assess the quality of backlinks:

Assess the quality of backlinks and whether they are high-quality and relevant to your website. Remove any spammy or irrelevant backlinks that you encounter during the process.

Analyze anchor text:

Check that the anchor text used in the backlinks is suitable and does not excessively target specific keywords. Verify that the anchor text is not over-optimized as it sends negative signals to search engines.
9. Perform Competitor Analysis
Competitor SEO analysis or competitive SEO audit is a crucial part of the SEO process that focuses on monitoring your competitor's actions, strategies, and performance. This process can help you gain insights and find opportunities to improve your SEO efforts. 
First, you must identify your competitors– those competing for the exact keywords and the same target audience. Next, you should analyze different aspects like the keywords they are targeting, their content strategy, backlinks, on-page, off-page, and technical elements.
While you are on it, don't forget to check how your competitors are performing in the search engine result pages (SERPs) and the kind of content that they are ranking for.
Some Additional Tips to Help You Conduct an SEO Audit
Verify if your curated content satisfies the user search intent and is sustainable and relevant to the industry.

Fix orphan pages, i.e., pages with zero internal links.

Don't simply run after keyword stuffing. Always verify if your

keywords align with user intent.

Check and fix for indexing issues.

Check and fix crawling issues.

Check for duplicate versions of your website.

Keep a check on your

core web vitals

for improved page performance.

Check your organic traffic and monitor your rankings.
How Our Team of Experts Can Help You in Doing SEO Audit of Your Website with Exclusive Services

Every SEO campaign is incomplete without the SEO audit. This essential step helps understand the detailed drawbacks of the website, showing exactly what needs to be fixed for an optimized performance.
Think of an SEO audit as a check-up for your website's health. It is something that needs to be done at regular intervals to keep your site running. We understand that it might seem like a daunting task, but don't worry– we are here to help. If you want to save time and effort, you can partner with an expert SEO agency like ours. Our team of seasoned professionals knows the ins and outs of SEO and digs deep into your site to ensure that your website performs best in the SEO world.
Here's how we at SEO Experts Company India ensure that your website performs exceptionally well in the search engines with our top-notch SEO audit:
We understand the goals and objectives of the client: Before we kickstart the SEO audit process, we dig deeply to understand the goals and objectives of the client. We invest time to learn about the company and determine whether it requires an e-commerce SEO, international SEO, or local SEO. This step requires thorough research because the entire SEO audit process depends upon the client's end goals.
We set a date range for the audit: We set a date range for the audit and choose a specific time period to analyze your website's performance. This helps to periodically compare the data, be it monthly, quarterly, or annually. This trick assists in determining the key trends, making it easier to track progress and make changes.
We conduct a competitor analysis: We keep track of your competition to find missed opportunities. We perform a complete analysis of your competitor's backlink profile, content, keywords, technical aspects, rankings, etc.
We run keyword gap analysis: We analyze and check if your website uses popular and high-quality keywords. Besides this, we examine if your website is employing relevant keywords in the content that match users' search intent. Further, we run a keyword gap analysis to find the keywords that your competitors are ranking for. This helps understand what areas need to be improved to gain a competitive edge in search engine rankings.
We analyze the technical aspects: We ensure your website is technically sound by checking the elements, such as site speed, mobile friendliness, site structure, duplicate content, structured data, sitemaps, schema markup, HTTPs, etc., for smooth crawling and indexing.
We evaluate your content based on search intent: We examine and evaluate your content based on the search intent and further analyze the content gaps to find gaps and missed opportunities to help you outperform your competitors.
We evaluate your backlink profile: We check and optimize your backlink profile to remove spammy and irrelevant backlinks. Besides, we practice robust link-building strategies to acquire high-quality links from authoritative websites.
We evaluate your on-page factors: We leave no stone unturned to evaluate on-page factors for your website, including title tags, meta descriptions, header tags, images, internal linking, URL structure, etc., which impact conversion rates and user experience.
We evaluate your off-page factors: We conduct an off-page SEO audit for your website to assess factors like guest posts, links, social promotions, press releases, etc., that greatly influence your search engine rankings.
We evaluate your local SEO factors (when required): Our company evaluates your website's local SEO factors, which include your Google My Business listings, local citations, monitoring your reviews and ratings across different platforms, etc. We also track your firm's local search performance using Google Analytics. It becomes essential to evaluate these elements when a company focuses on targeting a specific geographical location.
We list and analyze the insights: Our next step is to document and analyze the findings from the SEO audit insights. While doing so, we also consider other important factors, such as organic traffic, domain rating, traffic value, site health, etc.
We investigate the "whys" and establish strategies: After conducting the complete SEO audit for your website and evaluating all the "whys," we move on to develop robust strategies to fix your SEO issues.
We implement our strategies: In our final step, we implement the planned strategies to help your website achieve organic growth, attract more visitors, and rank in the search engines.
Contact us to learn more about our services. We would be more than happy to conduct a free SEO audit for your website.