Everyone wants to secure a place on the Search Engine Result Page (SERP). However, attaining higher rankings is not an easy task, especially in today's competitive scenario. Google has become extremely smart and can easily differentiate a well-optimized web page from a keyword-stuffed page.
Today you can't expect to acquire top rankings simply by stuffing your web pages with the target keyword. You need to optimize different elements of each web page so that it can be easily crawled by the crawler and is user-engaging at the same time. To do this, you need to optimize your web pages using the best on-page SEO techniques.
If you've been looking to find ways to make your website easy to crawl, on-page SEO is your answer.
To make you rank in the top positions, a top SEO Company India will use the best practices, which not only optimize your pages but also helps your business to stay ahead of your competitors.
In this blog post, we will share an in-depth guide to performing on-page optimization so that your web pages can quickly secure a place in the top rankings and eventually experience increased website traffic.
Without any further ado, let's start with the essentials for on-page SEO analysis. We've formulated this comprehensive on-page SEO guide to give you a clear and nearly complete idea on what you must do to ensure your website stays at the top with a well done SEO
1. What is On-Page SEO Optimization?
On-page SEO involves the optimization of individual web pages to rank them higher. It comprises the various aspects present on the web page itself, either in its content or HTML source code.
It does not involve any work on the external signals and backlinks.
2. Why is On-Page SEO Optimization Important?
Traditional on-page SEO can truly help your website to stand out in 2021. Google's algorithm states that the most basic signal of information relevant on your webpage is the keywords in the content that are also present on the search query. Have a look at Google's "How Search Works" report: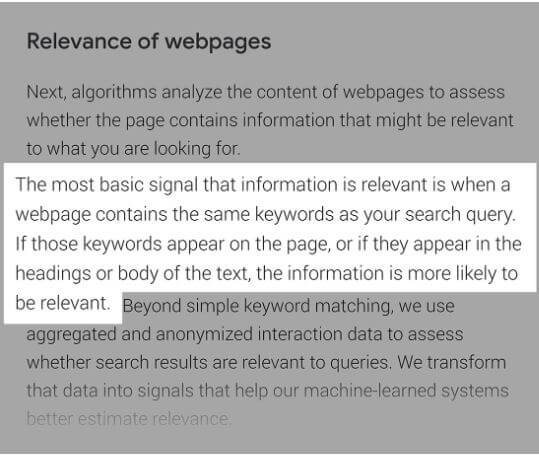 This means Google continues to look at the old-school stuff like looking for specific keywords on a page even though it uses many more ingenious techniques at present.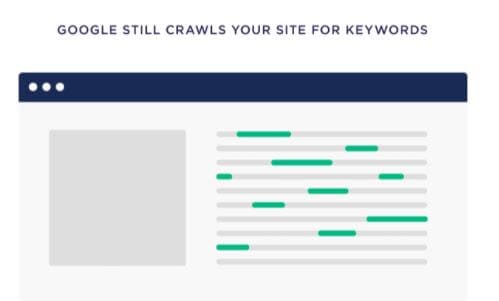 And Brian Dean of Backlinko has collected data to back this up. With an analysis of 11 M Google search results, a correlation between keyword-rich title tags and first page rankings was evident.
If you are looking for a competitive keyword, you'll find that top-ranking pages use the exact keyword in their title tag. For example, in this picture illustration where life insurance quotes is the keyword: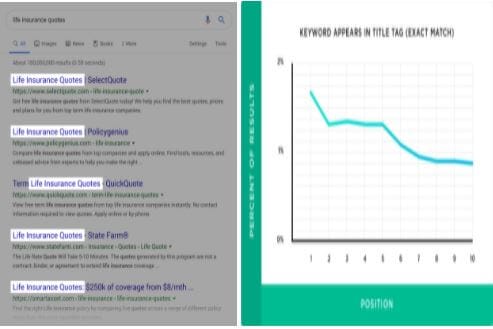 3. When should you do on-page SEO?
When you set up a website, few things require a one-time setup. These include:
HTTPS
Page Structure
Speed optimization
Certain other activities for on-page or on-site SEO are done once in a while – For example, when you publish a new blog post.
On-page SEO must be a consistent endeavour even if you have the #1 rankin the search results, mainly because SEO is an ongoing process.
4. Who needs On-Page SEO?
If you are a website owner, online marketer, online blogger, or anyone trying to rank the website on search engines, you should do on-page SEO.
What are the elements of On-Page SEO?
Mobile Responsiveness
Internal Linking
Site Speed
High-Quality Page Content
Headers
Meta Descriptions
Image Alt-text
Structured Markup
Page Titles
Page URLs
Main Categories of On-Page SEO elements
Content elements
HTML elements
Site architecture elements
Now, let's see what and how exactly these elements affect website on-page optimization?
5. How to create SEO Content?
We need to work on content elements. Content elements in your website refer to the elements within your site copy and content. In this section, we'll focus primarily on crafting high-quality page content that benefits your visitors and tells Google that your website provides value.
High-Quality Page Content
The page content is the heart of on-page SEO. It tells both search engines and readers what your website and business are all about.
Creating high-quality content means you need to choose the suitable topics and the right keywords. Search Google for the correct terms to find outcomes when it comes to competitors from other websites. By selecting tools Ahrefs and UberSuggest, you will be able to find competitor-based searches.

You can see that experts recommend high quality pages to comply with E-A-T characteristics. We'll describe this more further in the article. Keep reading and scrolling.
6. How to Do Keyword Research to SEO?
Make sure that the page content satiates the buyer's journey and visitors' search intent. The content will impact the way you should use your keywords.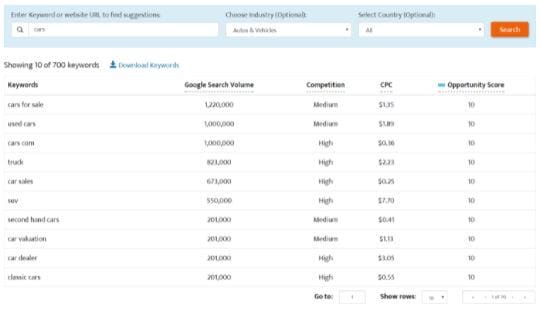 You must know about the types of content you must create. Reflect on a buyer's journey and content that can further help with what is listed.
Building awareness about your products and brands, videos, blog posts, and homepage content on the website is essential. 
The next is when the buyer wants to consider your services or products. At such times, buyer's guides, about page, and case studies will help buyers decide in your favour.
The third stage is when the buyers decide to hire you, take your services, or buy products. At this time, it is essential to enrich his trust and help him feel he's made a good decision. Include product demos, comparison tools, contact page. Make things easier for the buyer and help him know he's deciding for the better.
STAGE IN THE BUYER'S JOURNEY 
  Awareness-Blog posts, videos, homepage
  Consideration-Buyer's guides, case studies, about page
  Decision-Product demos, comparison tools, product or pricing pages, contact page
Awareness

Blog posts, videos
homepage

Consideration

Buyer's guides, case studies
about page

Decision

Product demos, comparison tools
product or pricing pages, contact page
Now, it is necessary to check content for its upgrade when it comes to taking care of the on-page SEO factors.
Content Auditing
On-page SEO, it is necessary to keep track of the best performing content and the non-performing one. A content audit can help you to do it. A content audit will analyze the various types of the content present on your website, including: 
Social media posts
Events
Web pages
The content audit offers you an analysis of how this content affects the audience. You will come to know how you can fix underperforming content. A content audit will be an excellent planning resource and give you a great way for content creation. It will help you in organizing the analytics and helps you to find valuable reference posts.
A content audit involves collecting and analyzing the main elements, like blog posts and landing posts. It will help you get an inventory of your website's content, telling you which posts to retain, create, write or re-write.
Ultimately, it will be incredibly beneficial for your website's traffic and for improving the user experience. With an audit, you can also identify the SEO rules that you are possibly following. It is essential to add keywords to your headings. This gives a clue to your website on what your webpage is about.
Now comes the main question, how to carry out a content audit?
You should check each website's page to classify its type first. Recognize if any of the URLs have canonical tags attached to them. 
Make sure that your keyword appears at least once in your H2 headlines. It should also appear in meta descriptions. 
Check that images have good alt text. 
Check all inbound and outbound links. Note any broken links and fix them. Each page should have 2-3 internal links.
The page should have optimum page speed after internal linking. Also, you have to ensure that your page is shareable on social media platforms.
Use Screaming Frog and SEMRush audit tools to check content on your website. It will help you find duplicate content and thin content and suggest improving your content based on SEO. 
Google Analytics will further help you know which posts will help you identify the most well-performing content for your audience. 
WooRank is another tool that uses its Site Crawl feature to interpret information on Google.
You need to :
Add missing content
Replace underperforming content
Replace outdated content
Spot home run content.
Identify all content within these categories.
Now, create a timeline to carry out this audit.
Let's make it easier. Here are a few best practices that will help you in writing high-quality page content. Your web page content should include: 
Short and long-tail keywords, naturally.
You also require engaging and relevant visual content.
You need to curate it for a specific buyer persona(s).
It should solve your audience's problem actively.
The content should be shareable.
Optimization for conversions using CTAs for product pages and offers.
Page content wires the website to communicate appropriately to Google and your site visitors. It is the most valuable part of the on page SEO process. Therefore, It makes perfect sense to invest in ample resources that can develop and optimize it.
Four straightforward tips to creating an effective content
Be relevant
Be thorough
Be unique
Be clear
You need to create content that Google likes to show to its searchers. 
Once you create value-driven content, then think of its optimization in terms of placing keywords in it. The best way to create relevant and effective content for your website is to keep the primary keyword in focus. The content on your website should be relevant, unique, comprehensive, and very clear.
Relevance means your content is aligned with user intent. To rank well, you need to give searchers what they are looking for; otherwise, you have fewer chances to rank well.
The best way to analyze the content that users want to read is by observing three parameters of existing internet content in your niche:
Content-type: You need to analyze the top-ranking results present at the moment. You need to check for content types such as blogs, products, categories, landing pages, or videos. 
Let's cover this a bit more.
How content type affects your choice of posting
If you are searching for the best table linen, you get results for e-commerce pages in the products category. If you want to rank for this keyword, you need to work on the products and category pages.
However, for keywords, whereby people want to learn about a product, you need to go for blog post content. 
There can be several ways to go for giving weightage to varied types of content for specific keywords.
The content format also plays a significant role. It means that you choose a content format that is either how-tos, listicles, news articles, opinion pieces, or reviews.
When how-tos are your target keyword, creating the how-to content will bring the most favorable results.
While creating content, you also need to look into the unique selling point of the content. For example, people might be looking at how to design their patio as a DIY task. Including DIY tips to update your patio will raise your service's authority for the same.
It means that you need to go for a content angle according to the needs of your end-users.
But, this does not mean that you should not try something new. If you are confident that what you want to write about will capture your users' attention, go for it.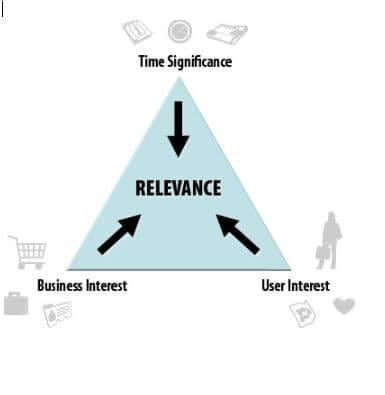 Whatever topic you use, go for comprehensive content, primarily if you design the how-tos or the ultimate guides.
While checking the top rated content by Google, check for the subheadings and the subtopics the content uses. If most of the best pages use the same subheadings, make sure you include them in your content.
See the image for valuable takeaways to create valuable optimized content.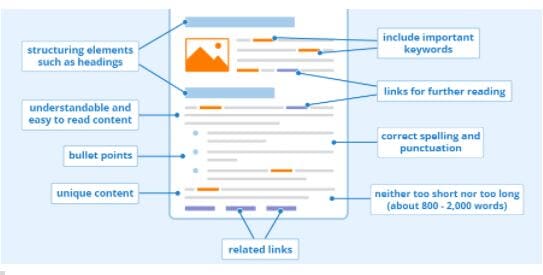 While writing listicles, also check the subheadings in the most popular articles to get an idea of what you must include in your post.-whether products, services, tips, benefits, or anything else.
Also, look for the best subtopics in your keyword rankings.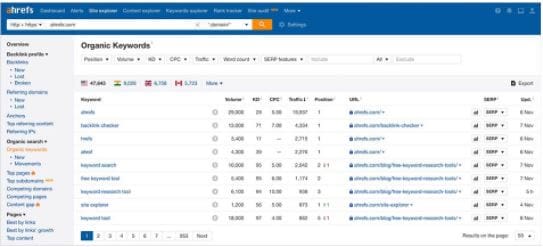 Also, scroll the content manually. It will allow you to understand the topic and what searchers want to find in the content. Open the top three pages of your keyword search results. It gives you an idea of what the uses are finding useful.
For example, it may be about specific products. What are they finding helpful in those products?
SERP features: Go beyond the usual search and now look for SERP results for your chosen keyword. Also, look for the 'people also ask' boxes.

Check the type of content that is most relevant for the query. For example, if a particular keyword features a YouTube video snippet, it suggests that users are looking for a visual reference in this case.
The most important thing apart from giving searchers what they need is bringing something new and unique to them. Only then can your content stand out. Otherwise, it will be like the several other contents on various sources.
For example, if you are searching for 'e-commerce SEO tips to feature SERP results', you will find the results that are offering content according to search intent. However, if you spot something more than regular tips that everyone has shared, for example a summarizing infographic or a video, check its content to include in your strategy. Readers will definitely like it and share it or link to it. It's unnecessary to create the entire content in this way, but a part of it should offer something more than usual.
To create a unique product or category page, you can apply things like unique filters, unique product descriptions, reviews, and enhanced product photography.
Readability
Users will like to read your content if it sounds interesting and readable to them. Content that is all stuffed up with information, beating about the bush, and written in poor grammar or language formation will not draw viewers.
Content should be easily structured, clearly understandable for improving its readability.
The simple things you can do to enhance its readability include:
Skim it with bullets.
Descriptive subheadings (H2-H6) for better structuring.
Use images adequately in between the text.
Use easy-to-understand language.
Use short sentences and paragraphs.
Use a large font to make it more reader-friendly.
Write as you speak to make things more entertaining and conversational
E-A-T Content-What you must know
Many consider E-A-T (Expertise-Authoritativeness-Trustworthiness), one of the important Google search engine evaluator guidelines, as the most important factor which will count largely in coming times. In other cases, E-A-T is thought to be an overblown factor. But if you go through this white paper, it won't be hard for you to understand that E-A-T is too important a factor to ignore.
The paper states, "Our ranking system … is specifically designed to identify sites with high indicia of expertise, authority, and trustworthiness."
Also, if you check this statement, you cannot consider EAT as an understatement, "Google's algorithms identify signals about pages that correlate with trustworthiness and authoritativeness."
Google collects the Authority, Expertise, and Relevance data from its human evaluators. And Google states that it does not use this evaluation in the ranking of the websites. So, E-A-T may indirectly impact the websites as trustworthiness and authority are surely direct ranking factors.
Expertise and Authoritativeness
So, this means your content should reflect expertise. Are subject matter experts or niche experts creating your content? If not, do consider it.
Your website may not belong to a complex field like a legal, medical, or financial (YMYL) website, but it will surely be something involving everyday expertise. A restaurant website may not require a great deal of formal expertise, but a well-written, detailed, or helpful review will surely help the restaurant in general.
The person creating the content should have enough exposure, life experience, writing, or communication skills that make him or her an expert on the matter.
Demonstrating your expertise with the content is highly important to ensure that both readers and the search engine love it. It should be comprehensive, accurate, and relevant for the readers.
Giving outdated and unhelpful information will not help the searchers coming to your website to find something useful.
Authoritativeness
Authoritativeness means people trust your content and rely on you for quality information. It means they link back to your content. In a way, links are like votes to highlight you as an authority in the niche. It's like recognition of your expertise.
Trustworthiness
You want people, your buyers, to trust you; don't you? Highlighting the credentials of your content creators or your digital team, you certainly enhance trust. As you build trust in your target audience, it will also give you good reviews and ratings. 
This will be visible in the form of more organic recurring traffic and more references or shares. It will directly impact your website's trustworthiness in the eyes of Google. Trust is indirectly a vital ranking factor. 
And trustworthiness of websites and businesses is significant in YMYL (Your Money Your Life) websites-i.e medical or health, financial, legal matters websites that directly impact the wellness and life of individuals. Google holds this type of content at the highest stake for its trustworthiness. Accurate information with citations is essential in such matters. You need to make your users feel safe.
A high-quality content enhances all the aspects of E-A-T-it is written by subject matter experts, gets backlinks, and is accurate and trustworthy.
Your website should have adequate contact information responsible for the website and offer valuable customer service information. It should generate positive reviews. Create content that your audience creates, as we've described in the earlier part. 
7. HTML Elements
These are elements present in your source code.
How to see source code for a page in your browser?
Click View > Developer > View Source in the top menu.
Page Titles
Your website's page titles (or title tags) are essential SEO elements. Titles are essential for both visitors and search engines what is present on those pages.
Include the focus keyword for each page in the title. It helps to rank the site pages to suit the proper intent. Also, make sure that you incorporate your keyword as naturally as possible.

The best practices for developing a page title:
Google's latest updates suggest titles to be under 70 characters. Longer titles get naturally cut off from the search results. However, search results on mobile may show up to 78 characters.
The title should be devoid of keywords. Keyword-stuffing is a spammy technique that limits the reading experience. Moreover, search engines have become more intelligent than ever. Now, they can track, monitor, and penalize content with unnaturally stuffed keywords.
The content should be relevant to the page.
The title shouldn't be designed in all caps.
Including your brand in the title helps you build an authority-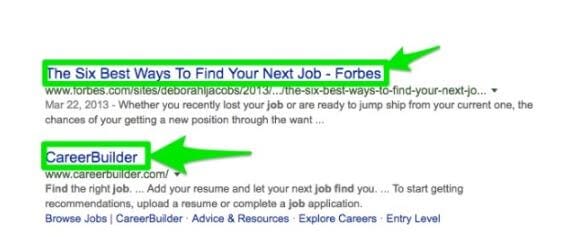 Headers
Headers, or body tags, are HTML elements on the website <h1>, <h2>, <h3>, and so on.
The HTML tags perform two functions:
Organize the content for readers.
Help search engines find the most important and relevant part of your content that satisfies the users' search intent.
Also, make sure your headers incorporate all the important keywords and then choose those different from those present in your page title. The important keywords must be present in your <h1> and <h2> headers. For example, when "startup" is the keyword, here's what a well-optimized H2 header should look like.

Meta Descriptions
The short page descriptions appearing under the title in search results are meta descriptions. These are not officially listed as a ranking factor by Google. But, the meta descriptions can impact the CTR of your page. That's why a practical, attractive, accurate meta description is essential for each page of your SEO onsite optimization.
With a structured markup, meta descriptions get copied to social media if your content is shared. It should therefore be designed to encourage click-throughs from social media shares as well.

What makes a good meta description 
Meta descriptions should be less than 160 characters ideally. Mobile meat descriptions cut off at 120 characters. However, Google has allowed meta descriptions of up to 220 characters in a few cases. (Note: Mobile devices cut off meta descriptions at 120 characters.)
The meta descriptions should include the entire keyword or key phrase.

It should be designed in the form of a complete and compelling sentence.
It should have complete words and avoid alphanumerics such as—, &, or +
Image Alt-text
Image alt-text tells the search engines what your images are about. It is like SEO for your images on your website. It is crucial as Google now delivers a lot as many image-based results and text-based results as well.
Your consumers or users may be discovering your site through your well-optimized images. Therefore, adding the right alt-text to your images is all the more critical for web page optimization.
Things to keep in mind while adding image alt-text:
It should be descriptive and specific.
It should be contextual and relevant to the page content.
It should be less than 125 characters with sparing use of keywords
Structured Markup
Structured data or Structured markup refers to the process of "marking up" the source code of your website to make it easier for the search engines to spot and understand the various elements of your content.
Ever thought about what's behind all those featured snippets and knowledge panels, passages featured answers to your queries on Google?
Yes, this is a structured markup result.
Structured markup is associated with bringing specific page information with great accuracy and clarity, especially if someone shares your content on social media.
Structured data is a part of technical SEO and can create a better on-page experience for users.
Page URLs
Your website must have simple page URLs allowing readers and search engines to help get a better understanding. The URLs are essential to maintain a consistent hierarchy of your website. It means the home page, subpages, blog posts, and other types of internal pages should be logically linked.

For example, in the above URL, "blog" is the sub-domain, "hubspot.com" is the domain, "sales" is the directory for the HubSpot Sales Blog, and "startups" indicates the specific path to that blog post.
Tips on creating SEO-friendly URLs
Avoid using extra and unnecessary words.
Use just one or two keywords.
Make your HTTPS certified. It helps Google rank you better, plus it earns you the trust of the users.
Internal Linking
Internal linking is a vital process that helps your most important pages get seen by Google and searchers. It involves hyperlinking to other helpful website pages. On e-commerce websites, you can create hyperlinks to product pages from the home page or category pages and more.
Internal linking is vital for SEO page optimization as internal links lead the readers to other important pages on your website. This means they keep them on your website for a longer time, indicating to the search engine that your site is valuable and helpful. The presence of visitors for a longer time helps Google to crawl and index your website.
Eventually, Google gathers more significant information about your website. It will help Google rank your site higher on the search engine results.
Mobile Responsiveness
Google started favoring sites that are optimized for faster mobile speeds — even for desktop searches.
Google indexes sites optimized for higher mobile speeds, even on desktop searches, and ranks mobile-friendly websites better.
It means that mobile responsiveness matters.
Therefore, your site design, theme, layout, and website hosting services you're going to use, should lead to an easily readable and navigable format on mobile devices. Your site should be mobile-friendly. You can check the same on Google's Mobile-Friendly Test tool.
Site Speed
your site must be able to load quickly on both a mobile device and a desktop. Page speed is a significant ranking factor and a significant element of on-page SEO and user experience
If your site is too slow or loads improperly, there are high chances that your visitors will not stay around. Moreover, low site speed can impede conversions and ROI.
Use Google's PageSpeed Insights tool to check your website's speed at any time. Fix your website for its low speed if you find a glitch.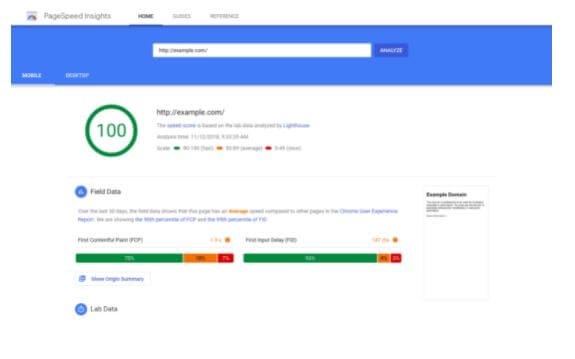 8. Advanced On-Page Optimization
It's not what we have discussed this far that you can apply. There are also other things that you need to do. These can be known as advanced on-page optimization techniques. These cutting-edge methods are the ones that will help in answering the searcher's questions in a better way. Let us delve into them:
Optimizing for featured snippets: The featured snippets feature at the top of the search page in response to a search query. The featured snippets offer answers to the searcher's questions with the help of a short excerpt.
You have to feature the answer on the first page, and then you need to find a shortcut to the top result.

How is it done?
Reach the top 10. Typically, Google pulls out the snippet results from one of the options on the first page. Make sure Google is already using the search query with a snippet. Take note of this, and you will get a pinch into how to answer the question. Now work to answer the particular search query on the page you want to feature in SERP results. Keep in mind that it should be relevant. Put the content answer in a format that Google wants to see. For example, is it a paragraph, list, or table? It should be something that searchers want to see. 
For instance, if it is knowledge about a generic query like 'generic drugs.' Google understands that the person wants to know what generic drugs are. It will provide SERP result featuring a definition and explanation of generic drugs. However, if you want to find out the top-selling generic drugs, Google will show it in the form of a list in the SERP results.
Link magnets: Link building is an off-page technique. But if you have linkable snippets on your page, you can attract and earn more backlinks. How do you create a linkable snippet? Look at the competitor's pages and find what people are linking to. For example, check the backlinks for the keyphrase 'generic drugs'. As you check any of these backlinks, note the anchor on these pages. You will find a lot of information on what people are linking to and what are they looking for? It will tell you what you should include in your content to attract a lot of backlinks. But, you should consist of your unique ideas to enhance the value of your content and increase linkability.
Rich snippets with schema markup: Rich snippets offer additional information for the title, URL, and description. The search engine pulls out this information from the schema markup done to create structured data. The different types of schema markups pull out you can do to get your results in the rich snippet to include:
How-to markup
Product markup
Review markup
Software markup
FAQ markup
Rich snippets are not considered a ranking factor, but this helps attract suitable backlinks and improve CTRs for particular pages. Use schema markup in pages and posts having plugins like RankMath or Yoast. However, it is necessary to understand that all types of content on pages are not eligible for search enhancements such as rich snippets.
Better topical relevance: A page that contains more relevant content apart from the keyword is given more value by Google. For example, if a page is about dogs, providing information about breeds, characteristics, and dog care will make your page more relevant for searches if someone searches about dogs.
If you create high-quality content on relevant topics, it will naturally include all the appropriate keywords, semantics, phrases, and concepts. However, you might miss something on complex topics.
If you are still not ranking where you expect to, it makes sense to look at what you might be missing, including in your content. Use the TF-IDF (Term Frequency–Inverse Document frequency) to check for statistical measures that help judge the relative importance of specific words in a document compared to the others.
Conduct this test between your document pages and relevant top content pages. It can help you find the important concept missing in your content present in several related pages. You will find the other relevant keywords that you must include in your content. Ensure that you have these missing keywords in your content to create an updated content with more comprehensive relevant information on the page.
Also, you need to exercise more care. Here, we will talk about keyword cannibalization. Let's see what it is and how it affects and how you can fix it.
Keyword cannibalization
Keyword cannibalization is the phenomenon where your pages compete among themselves for the same keyword devouring each other's chances to rank higher. This can happen if your website is growing. You are writing many topics of interest to you and you cover more or less similar topics. 
E-commerce sites are also highly prone to keyword cannibalization if several similar products are present on the website. Linking all your products to category pages is essential. Moreover, the less important pages on your website should link to the most important pages. It helps Google to understand which are the essential pages on your website.
Never optimize multiple pages, blogs, or articles for the same keyword. This will make the pages compete for the same keyword, and your website will lose its chances of ranking higher. 
Keyword cannibalization need not occur for pages optimized for the same keyword but for similar keywords (for example, xxxx and yyyy).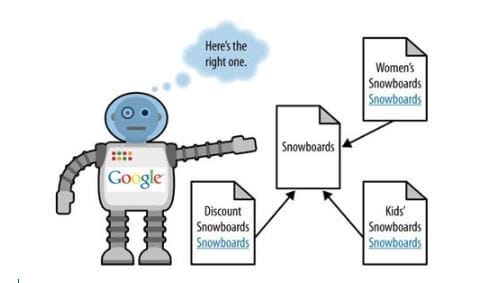 In such a situation, you need to take remedial action. First of all, you have to audit your content to find keyword cannibalization using the 'site:domain.com "keyword." 
You can also check the results thus displayed, typing the same keyword into Google (or use a private browser or local search result checker like https://valentin.app/). If the similar pages that rank for the same keyword are on the top 1 and positions, you need not as much as you might if the pages are present at positions 8 and 9. The pages at lower positions will devour each other's rank.
Once you audit the ages for keyword cannibalization, now is the time to analyze content performance. You have to check the performance of the content that is ranking together. Now, decide the content you want to keep. First, duplicate the content you want to delete to merge it with the other content. Before deleting, create a redirect for the page using Yoast SEO Premium.
You also have to work on internal linking to help dilute the keyword cannibalization problem. As explained earlier, link the less important long-tail keyword pages with the most important pages.
If you are expanding your website, you have to take care of keyword cannibalism from time to time as you increase the number of pages.
User Engagement
User engagement is highly related to the profitability of a business. The more engaged the users are, the better it is for the website. Engagement should directly engage the customers for more clicks, signups, subscriptions, and clicks.
The different product and marketing teams will measure user engagement using product analytics and use it for higher user engagement.
You need to consider the number of active users and the kind of activity and type of website. If the number of clicks and views is higher on a news website, it is great. On the other hand, the same may not be good for an insurance app because this will indicate that a customer is about to file a claim.
You can increase user engagement by helping users get what they find valuable. Add daily deals content on social media for products related websites, build features and content on the websites that help to educate the users. To keep users engaged., the following may help:

Walk-through
Help widgets
FAQs
Chat support
And more.
 Apart from this, encourage the users to share experiences and desires in reviews on the page. Use push notifications on the website to bring users back.
On-page SEO goes way beyond fixing keywords in your page's HTML. User experience is the most important thing to rank your content in 2021, whereby you also need to optimize your content for the following aspects:
Page loading speed
Click-through-rate
User experience
Bounce Rate 
Dwell Time
Search Intent
Site engagement is an indicator of your website's success. Content engagement is vital because it shows that your content is designed according to the user's intent.

You have to define the metrics that indicate higher profitability for your business. These may include:

Pageviews: Measuring page views helps you to understand how frequently people visit your website.

However, short sessions and higher page views also indicate that people are poking around your website because they can't find what they are looking for. This means that you have to check page views about other metrics to understand their significance thoroughly.
Pages should have a good load speed, have a good design for higher usability, proper content categorization, mobile-friendliness, and great CTAs.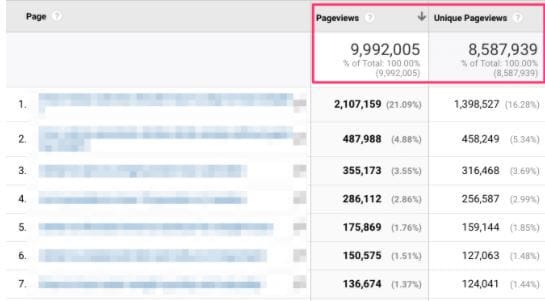 Give your visitors interesting content to click on. Create a series of content featuring popular posts.

Time spent on page: The more time the user spends on your page, the more engaged the user is. 
If you have long-form content with up to 2000 words on the page, it will usually take them 8-10 minutes to read the content. However, if a visitor is spending just 10 seconds on a page, it indicates they are not interested in the content.

Average session duration: This refers to the group of interactions on your website. The average session duration refers to the total time a visitor spends on your website. An average session duration refers to the number of hours users spent on your website for a duration of time divided by the number of sessions.
You have to find what is the content that the users most read. Is the website easily navigable? Does the site have a clear and unique call to action?
With the optimization of the three important parameters, you will surely improve the average session duration.
Bounce rate: you visit and website, it does not load fast enough or does not seem to have anything you are looking for, so you close the tab thinking the click to be a mistake. The bounce rate is the percentage of visitors who exit just after viewing the first page. If the visitors leave your website without taking action, your content is not doing the right work.
This can be due to various reasons:
The content is not offering what they expected.
They got bored with your page
Your call to action is not clear.
You are not offering them something unique.
Tracking the bounce rate: Use Google Analytics to track the bounce rate. Go to behavior>site content>all pages. Note the bounce rates. If there is no trigger event associated with Google Analytics, it will not count as an early exit due to the bounce rate.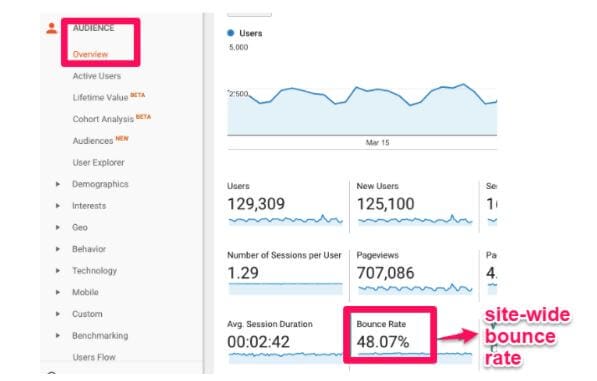 Use Similar WebTool to find out the bounce rates and upgrade your page to move ahead in the competition. 

Create great content and internal linking: You also require to enhance people's interest in clicking the other related pages of the website.
Make sure your content follows E-A-T characteristics and is reliable, and has accurate information. It should also leave a memorable impression on the users.
Top exit page: This is the page your user visit at last while exiting your website. The exit pages may be related to the bounce rate. But, while the bounce rate is the percentage of users that leave your website after visiting a single page, the exit page is the page that visitors leave from their journey on their website. Maybe you have designed a particular journey for your buyers.
The pages that are designed to have high exit rates include Thank you page and your contact page. If these pages show a high exit rate, they have completed the desired action. 
When users leave your website from a non-exit page, it can indicate that it may have hierarchical issues or poorly organized structure, a lot of information users can't process, lack of information, or a missing call to action.
Calculation of exit rate: Access Exit Page on Google Analytics. You will be able to find the number of page views and the exit rate.
Exit rate equals the number of times a visitor exits a page divided by the number of page views.
Improving exit rate
Improve site usability
Improve site usability
Get clear CTAs
Pages per session: This is another parameter that helps you measure visitors' interest in your content. This also means the number of unique pages users visit in every session. The higher the number of pages per session, the better are the metrics. 
The greater number of pages per session showed that the searchers visited more than one page on your website, and they felt engaged. Keep in mind that pages per session look at the complete trajectory of the visitor.
To find pages per session, use Google Analytics, now start from Acquisition > All Traffic > Channels. Access the column for Pages/Session in this.

Calculation of pages per session: Sum of the number of pages each user visited in his or her session and divided it with the number of sessions. 
You have to check the bounce rate and the average session duration to check if pages per session indicate positive data. A higher value of pages per session but higher bounce rate and lower session duration can indicate user's disinterest in your pages and flipping pages. It may be due to uninteresting content or navigability issues.
Scroll depth: Scroll Depth Google Analytics plugin can offer vital information where your visors scroll up on a particular page. It will tell if they scroll 5%, 50%, or 100 % of your page, pixel depth, and where do they stop. Pixel depth reflects the same. Check the data of the plugin via events. Use the Google tag manager to find the percentage depth and the pixel.
Check for elements that may be limiting user experience. Analyze if the content is negatively affecting or disinteresting the viewers as they scroll down the page.
Unique visitors: Unique visitors refer to persons that visit your website at least once during the reporting period. Unique visitor metrics show how many people visited your website. Sometimes, there can be multiple people in the household visiting the website though only one is registered. At other times, a visitor may access your website from different answers or different devices. Google Analytics counts it as multiple unique visitors when it a single person. If a user manually clears the cookies, Google Analytics will count the person as two visitors.
You can find unique visitors in Google Analytics, Accessing Audience> overview, and then user-metrics will give you information on the unique visitors.
Having a deeper insight into your website's target demographics and how you can approach them will be helpful. Promote your website in the right way to outreach the best audience segments.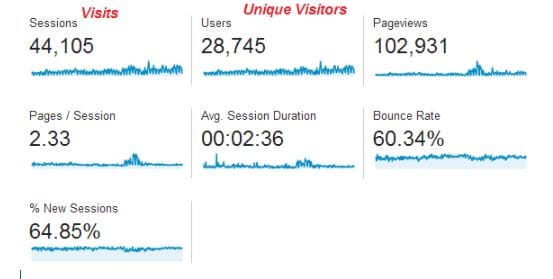 New and returning visitors: Google uses client IDs to track visits. If you use two devices to access a website on different browsers, Google counts it as two different visitors. However, if you are signed in on two different devices, it records the first device as the new visitor and the second device as a returning visitor. But if you visit the same website even after two years, you will be counted as a new visitor.
You can check new visitors from Acquisition>Overview. If you have a higher number of returning visitors, it indicates that you have earned a good deal of customer loyalty. If this is not the case, it suggests that you need to improve customer loyalty.
Conversion rate: The conversion rate refers to the percentage of website visitors that completed the desired action (purchase, call or other, engaging in a survey or downloading an app, or subscribing to a newsletter.)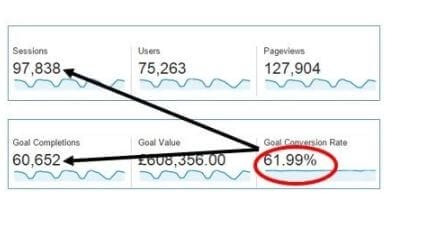 It is important to note here that social media channels have built-in features to find their conversion rate. Google Analytics allows for measuring conversions from various areas. So, there can be three types of conversion rates, marketing channel conversion rate, keyword conversion rate, and overall conversion rate.
You need to make it easy for website visitors to convert through various website characteristics.
Cart abandonment rate: Customers may leave their carts in different ways. There can be customers that:

Did not add anything to their cart.
Added a few things in their cart.
Abandoned it while exiting a page.
Abandoned it at checkout.
Tracking cart abandonment helps you to monitor customer behavior and what influenced their behavior. Too high car abandonment before checkout may indicate usability issues. On the other hand, higher cart abandonment at checkout may mean limited payment options.
Use ACQUIRECONVERT to get solid suggestions to lower abandonment. You need to improve the buying process before people add anything into their cart.
Have a follow-up strategy as customers abandon their carts.
9. Important SEO Tools
Yoast SEO
This tool helps to add 
Page titles
meta descriptions
OG tags
structured data to posts and pages.
You can also use similar tools to help you do the same. They include:
Ahrefs Webmaster Tools (Free)
This tool helps in discovering the issues with title tags, meta descriptions, alt text, and OG tags in the website.
Ahrefs SEO Toolbar (Free)
It helps to analyze the structure of various top-ranking pages.
MetaTags.io (Free)
The tools offer a preview on the look of the URLs, title tags, and meta descriptions in the search results.
ShortPixel (Free)
A valuable tool to compress and optimize images to improve site speed.
Merkle's Schema Markup Generator (Free)
Use this tool to create various types of structured data JSON-LD format, recommended by Google.
Rich Results Test (Free)
This tool helps you analyze if the structured data on your page can feature rich snippets or SERPs.
Wrapping Things Up
The above points may have cleared the majority of your doubts regarding on-page SEO optimization. So, it's time to move ahead from simple keyword insertion. Whether you're looking forward to improving your search engine rankings or attracting organic traffic, on-page optimization is highly imperative. 
You cannot overlook it. This is why it is essential to hire a top SEO Company in India to handle all the crucial on-page optimization tasks for your website.