Around 167 billion searches are made on Google daily, and 46% have a local search intent, meaning people are actively looking for businesses nearby. This data is a testament to the fact that optimizing your Google My Business listing in this digital age is no longer a choice; it has become a necessity.
An optimized GMB listing can help your business attract new customers through local Google searches and Google Maps.
This article briefly examines the importance of Google My Business and further discusses proven strategies to optimize Google My Business listing.
Let's dive into the article to learn more.
A Closer Look at Google My Business Listing
"With Google, even small businesses can think big."
Google My Business, now formally called Google Business Profile, is a free platform that allows users to manage how their business appears in local search results and Google Local Pack.
GMB listings help you take charge of your first impression and connect with the customers, list your services, accept orders, and add value to your business.
This is what a Google My Business profile looks like–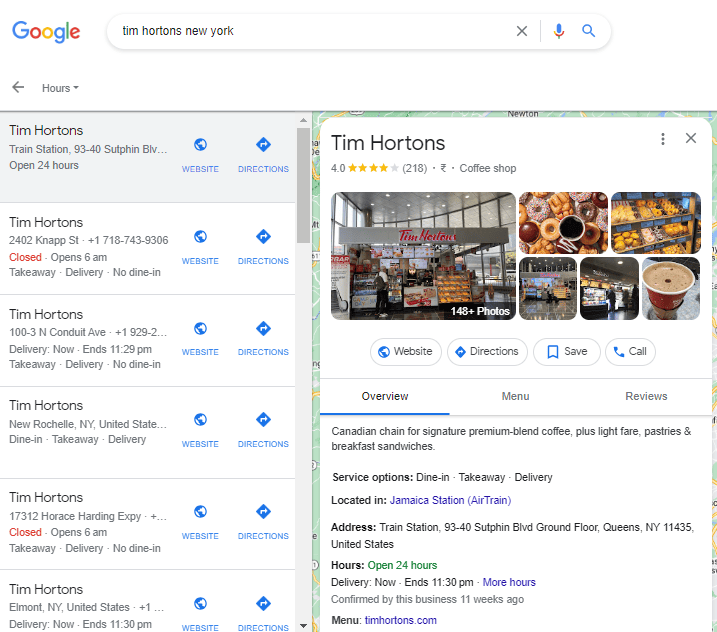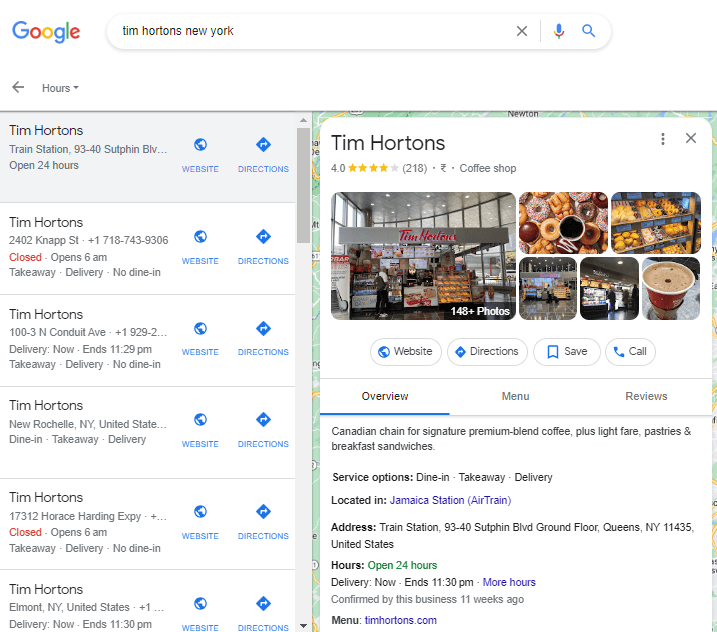 How an Optimized Google My Business Listing Can Help Your Business Grow?
Your business can take advantage of a massive list of benefits by simply claiming and verifying its Google My Business (GMB) or Google Business Profile (GBP) listing.
Briefly discussing a few of them below:
Improve Local Rankings
Business Profile is the most important Local Ranking Factor for the Google Local Pack. An optimized business profile can improve your local SEO and help your business rank higher in local search results.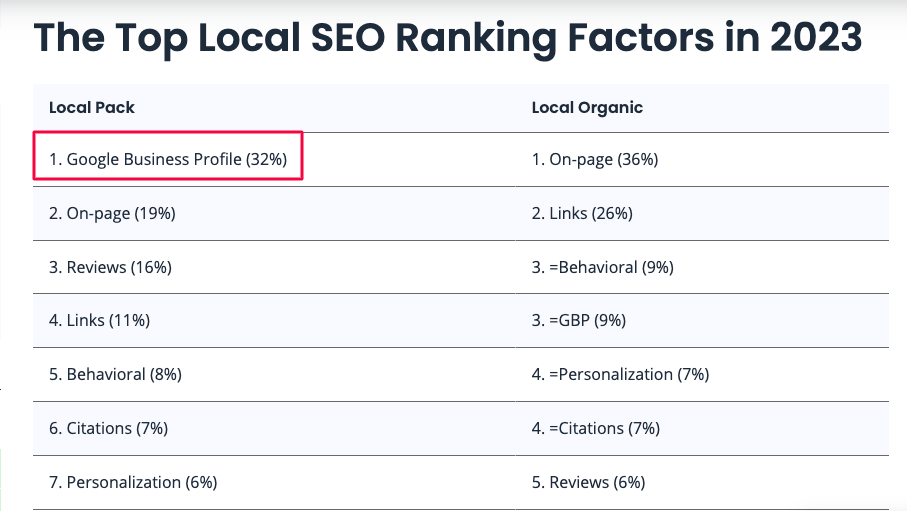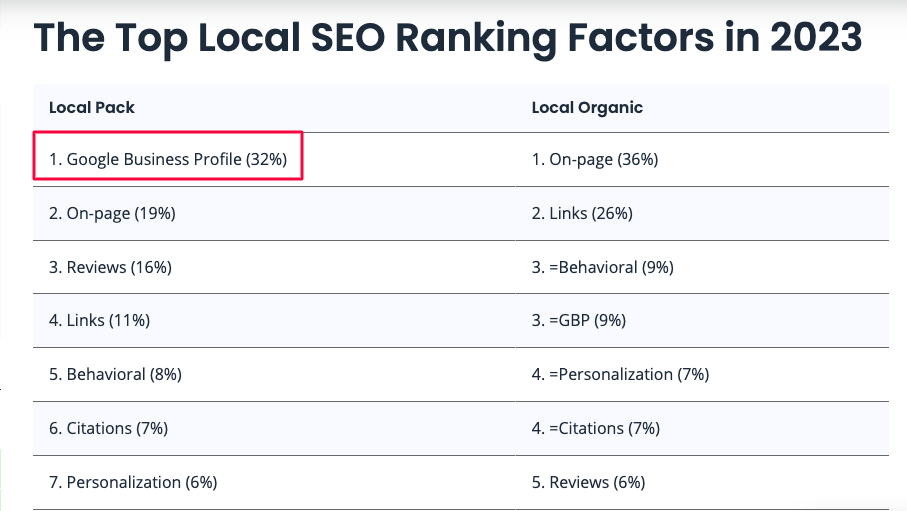 Enhance Online Visibility
As stated, GMB listings help improve your local SEO, which further enhances online visibility. A well-optimized profile is sure to appear in the local pack or Google 3 pack for relevant search results, leading to improved visibility and more customers.
Google Local Pack or Local 3 Pack showcases the top three relevant local listings for the search location.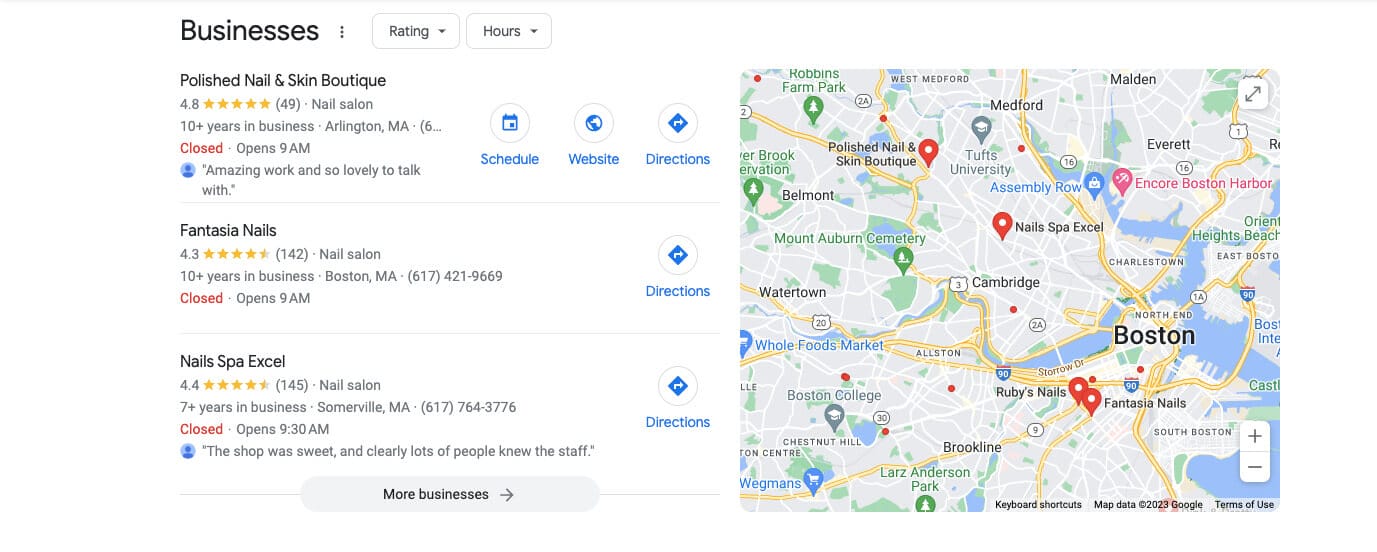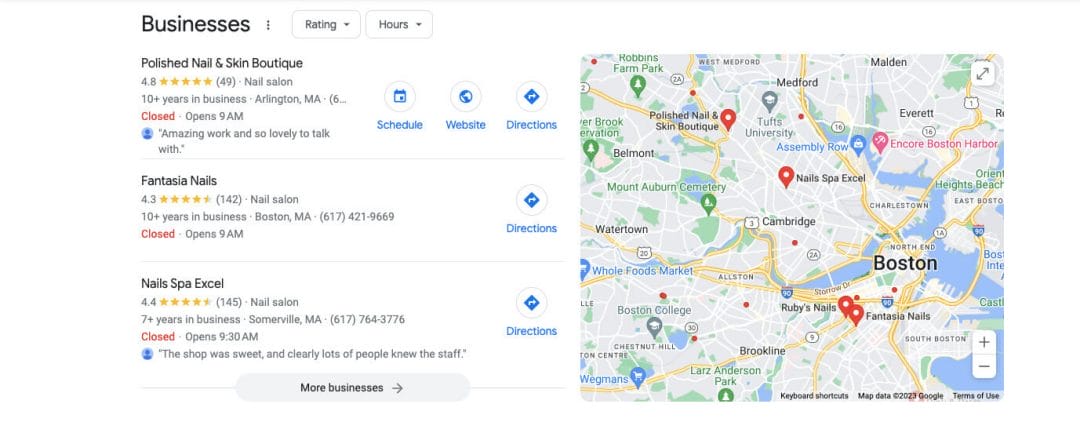 Better Conversions with Zero-Click Searches
A fully optimized Google My Business listing pretty much conveys all the vital information, from contact information and address to business description, services, and working hours.
GMB listing makes it possible for people to easily fetch all of your business details without having to visit your website. Therefore, it instantly paves the way for your business to get more customer visits, calls, and bookings, even if they don't go to your website, leading to better conversions.
Generate more Leads, Bookings, and Appointments
Google provides an excellent feature for people to book appointments and reserve tables directly from your business profile listing, making it convenient for customers to avail your services.
By saving people time and effort and providing a hassle-free experience, GMB listings can help attract more customers to your business.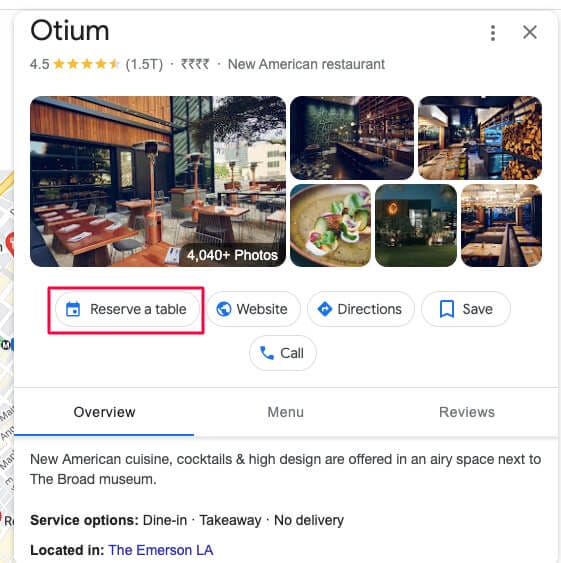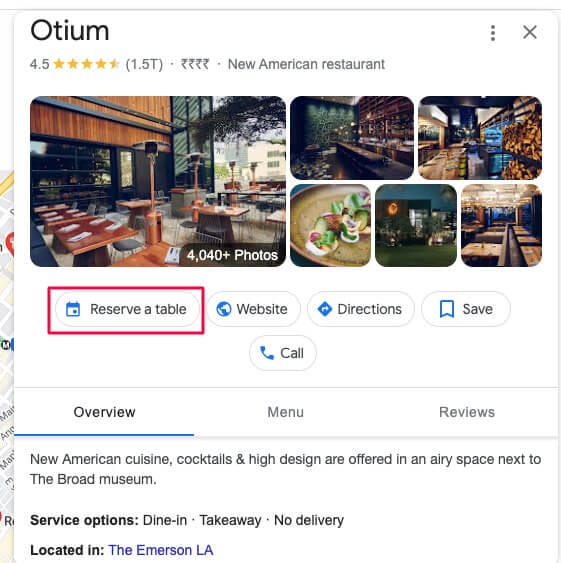 Trust and Credibility
All of the valuable information, like positive customer reviews, essential updates, and genuine pictures on your GMB listing, helps the audience trust your business's credibility and quality. An optimized and updated listing conveys that your business is a real deal, making people want to support your business.
How to Create Your Google My Business Profile? (step-by-step)
To avoid any confusion, I would like you to erase all the complex information that you have about "setting up a Google My Business Profile."
This section briefly explains the simple steps to creating and setting up a GMB profile (Trust me, it's much simpler than you think). I have not included screenshots to cut the clutter because so many instructions can sometimes be overwhelming.
Once you complete reading this section, I assure you that you will be well-equipped with all the necessary information required to create your business account. 
Let's dig in: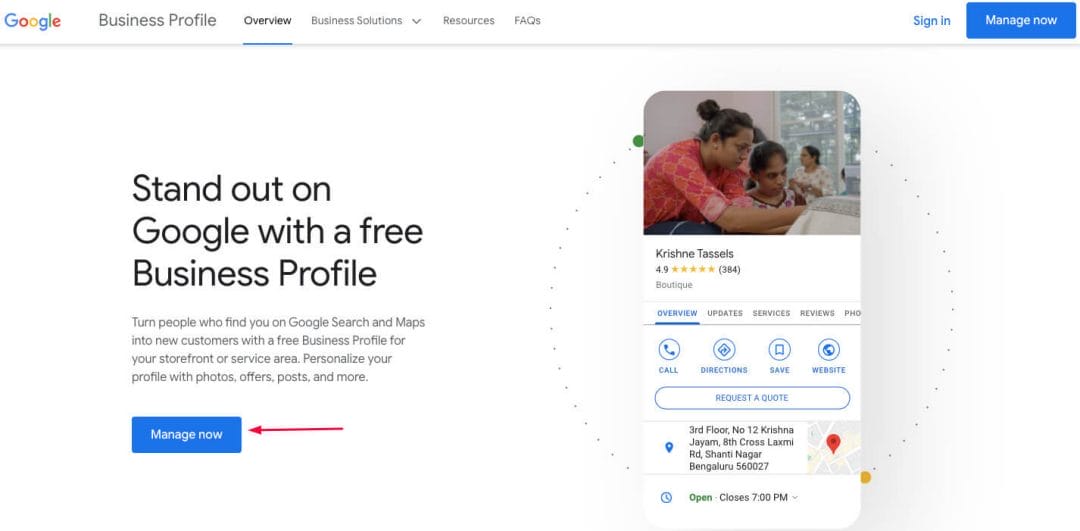 Click "Add your business to Google" to register.

Add your business name and business category.

Enter the business location

(enter the location only if your business entertains face-to-face interactions; avoid filling up the section if your company operates online.)

Add your service areas if your business serves or delivers to specific locations

(you can always come back, edit, add, and remove locations if any changes occur).

Add contact information and a website for your business.

Verify your Google My Business profile through a postcard, phone call, video recording, email verification, or live video call.

Add business hours to let customers know when to visit you.

Add messaging if you want your customers to message your business through Google for free.

Add a business description to tell customers about your services briefly.

Add pictures to let visitors enjoy your business insights.
Congratulations! You can now freely create your Google My Business profile following these 12 easy steps.
Strategies for GMB Listing Optimization
"First impressions last for a long time." 
A complete and optimized GMB listing makes it worth your customer's time and energy. Let's look at breakthrough strategies to optimize your Google My Business listings that will help you attract more leads and grow your business.
Claim and Verify your Google My Business Profile
The first and most important step is to claim and verify your business profile. To do that, you must have a Google Business Account. Google My Business Account gives you a dashboard to manage and keep tabs on your Google My Business profile.
Therefore, you can gain access, optimize, and verify your Google My Business profile only if you have a Google My Business Account. 
Disclaimer: Google Business Account and Google Business Profile are two separate entities, yet both are strongly interconnected.
Have Consistent and Correct NAP Information
The term NAP stands for Name, Address, and Phone number. Having consistent and error-free NAP information across all the listings is crucial. Correct NAP information helps customers easily find you, reach your business, and trust its legitimacy.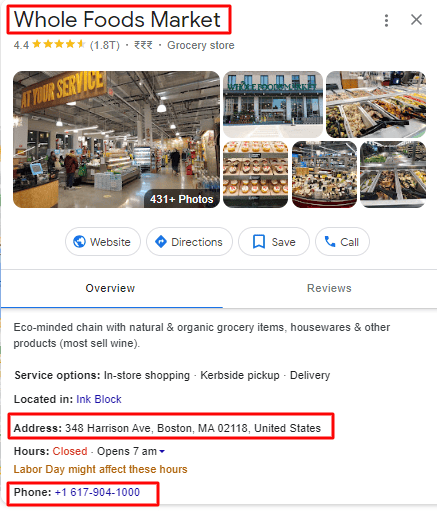 Name: List the correct name of your business with correct spellings. Make sure not to stuff keywords in your business name unless they appear naturally, and that's how you call your business out in the real world. 
For example, If you own a web design business in America named "Nouvetta," it should be listed as "Nouvetta" in your GMB profile and not "Nouvetta Web Design America." 
Adding keywords and location in the brand name (unless that's how your brand is known) is against Google's guidelines and is considered spam.
Address: Choose the abbreviation only if you do it across each platform.
For example, if you write your address as "Block B, Victoria Street," not "Block B, Victoria St.," it should be consistent throughout all the platforms.
Google gives extra credits to consistent NAP details.
Choose a Relevant Business Category
It is crucial to select a relevant business category because it helps people understand the services you provide.
According to Whitespark, Primary GMB category is the number one factor for Google Local Pack rankings. Therefore, wisely choose the correct category that best defines your business.
For example, if you are a boutique owner who specializes in women's clothing, then your primary category must be "women's clothing store," and not only "clothing store" or "boutique."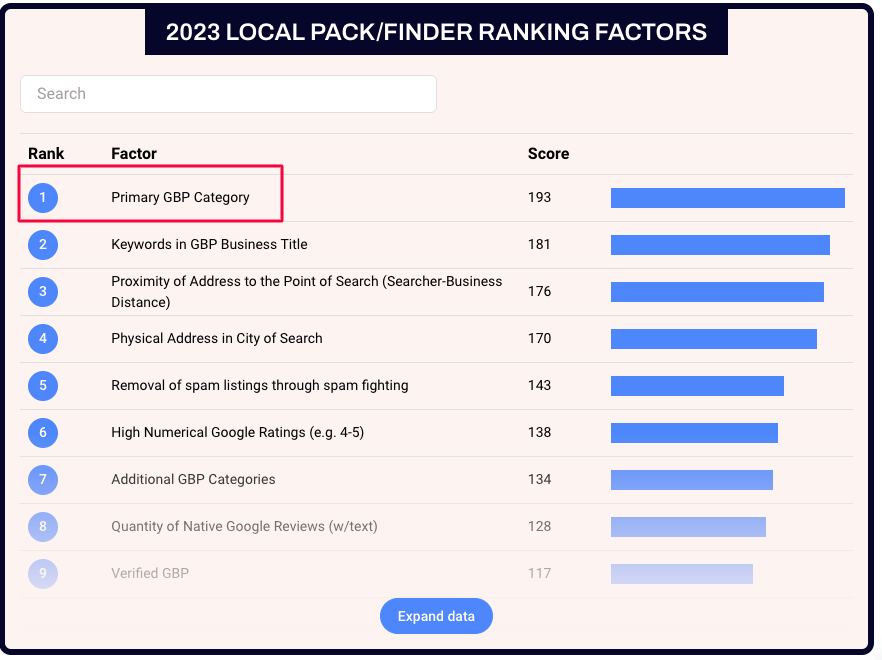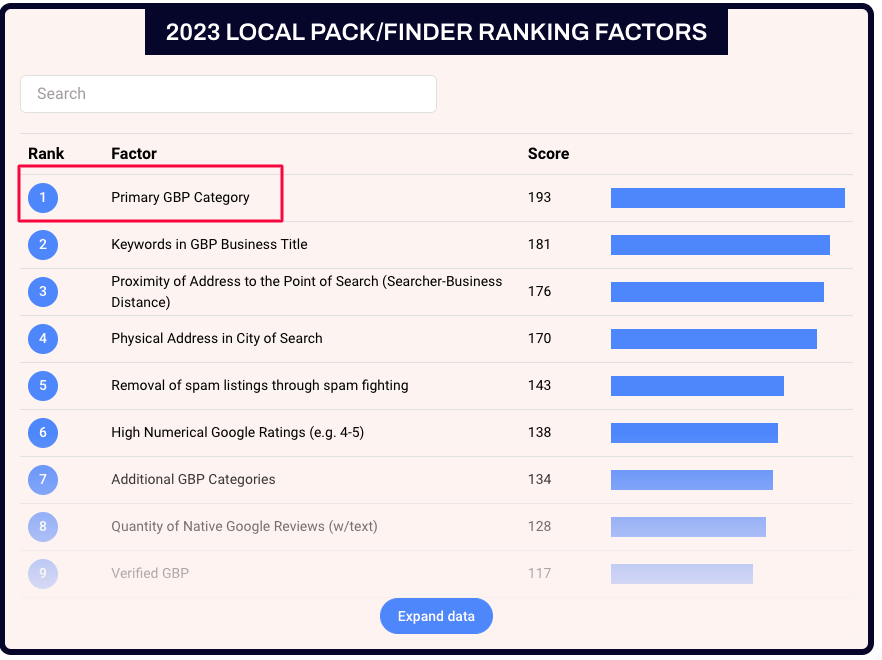 Pro Tip: You can use GMB Everywhere extension to look for the categories your competitors are using. The ones with the golden star next to them are primary GMB categories, while all others are secondary GMB categories.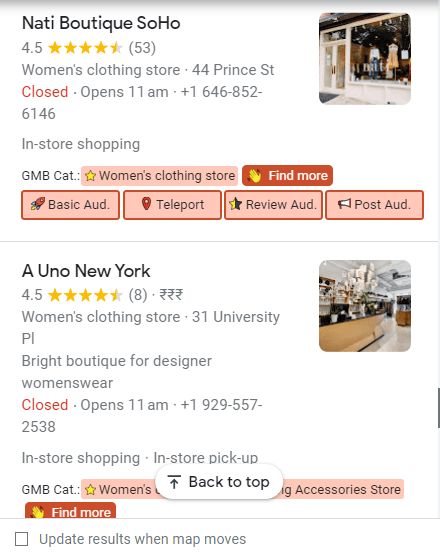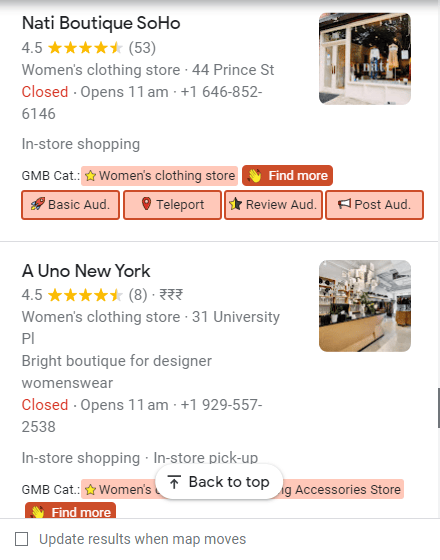 Add Business Description
Google offers 750 characters to describe your business; use it wisely to captivate the audience's attention.
For example, if you are a home service provider, try to list the maximum of your services in the description, and if you own a bakery, don't forget to mention your mouth-watering delicacies in your description.
Below is an excellent example of a business description to take inspiration from.
Let your description narrate your business's story and values, and tell people how your company is unique from its competitors.
Before you start writing a compelling business description, ensure to read the Google Business Profile Guidelines thoroughly.
Something worth noting here is that Google gives you the authority to write "from the business" section. However, the brief description that appears at the top of the overview section is not in your control and is summarized by Google itself. Nothing to worry about because Google performs its job pretty well.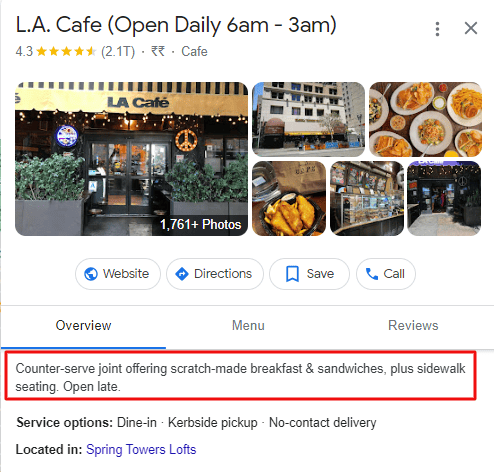 Pro tip: Intelligently place one or two keywords you want to optimize your business description for early in the paragraph and then carry on with the rest of your unique business features.
Provide Complete Details
Optimize your Google My Business listing by providing as much valuable information as possible. Don't miss out on adding the following:
Working hours or timings (as applicable)

Website 

Services 

Service options – dine in, take away, delivery (if applicable)

Service areas or delivery areas (as applicable)

Add a link to the menu (if applicable)

Add service order sites (if applicable)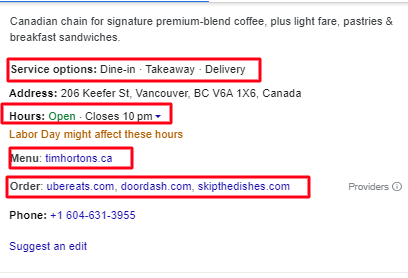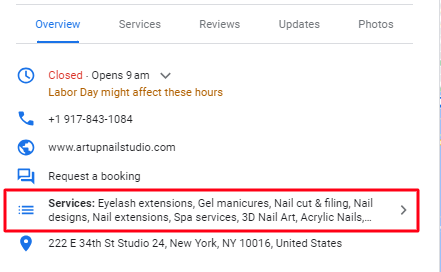 Reviews are your Power
Reviews add a lot of value to your company profile, and your business is sure to shine bright with those extra golden stars. Besides encouraging customers to leave positive reviews for your business, ensure to respond to each one of them, especially the negative ones.
Pro tip: Whenever possible, mention the relevant keyword in your reviews. This increases your chances of ranking for that particular keyword. 
Add Photos
"Show your rituals through your visuals."
Adding pictures to your GMB profile provides credibility and wins the trust of the audience. According to stats, listings with photos are twice as likely to appear reputable compared to listings with zero images. 
For example, if you are a restaurant owner, people would want to check your place's ambiance and see pictures of your delicious food before they visit you. Similarly, if you are a home service provider, the customers would want to see your previous projects and look at your working style before hiring you. 
Therefore, adding pictures to your Google My Business listing can make it easier for your customers. Additionally, images make your profile look complete and more professional.
Always add high-quality and relevant images to your profile.
GMB Image guidelines:
Recommended Dimensions: 

720 px tall by 720 px wide (minimum dimensions: 250 px tall by 250 px wide).

RecommendedRatio: 1:1.

Image format: JPEG or PNG.
Post Updates
Google allows you to post your company's daily activities through the feature "Updates." This brilliant feature helps you stay connected with your customers and promote your company's offers, sales, events, and discounts.
Take advantage of this feature to stay connected with your target audience and improve the customer experience.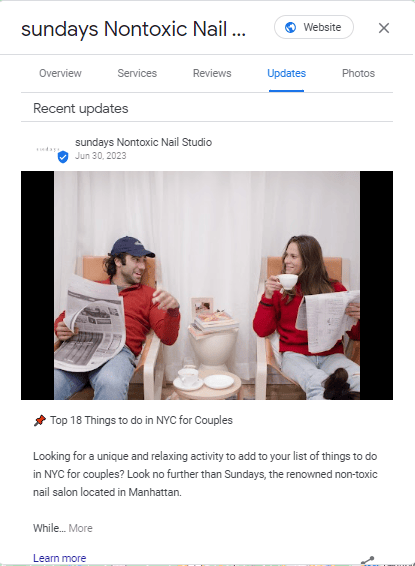 Additional information: If you don't specify a date range, then the posts that are more than six months old get archived.
Let FAQs Resolve Customer Queries
FAQs stand for frequently asked questions. This section of your GMB listing helps customers understand your business better and resolve their queries. These questions can be answered by other customers and the business itself.
However, the smart practice is to answer all the questions about your business yourself because an unassociated person might mislead the customer by providing incorrect information.
Always provide accurate information while answering customer queries, and try to be concise and clear.
Pro tip: You can ask and answer common questions related to your business by yourself and upvote your answers to the business profile. This will help local customers to find answers to their questions right away.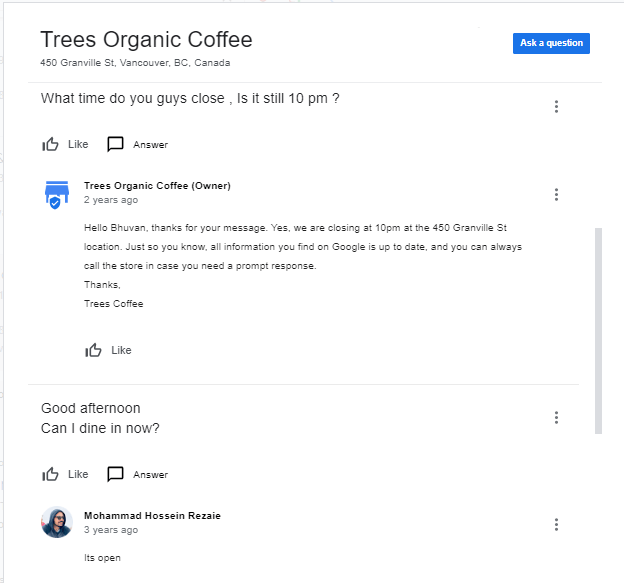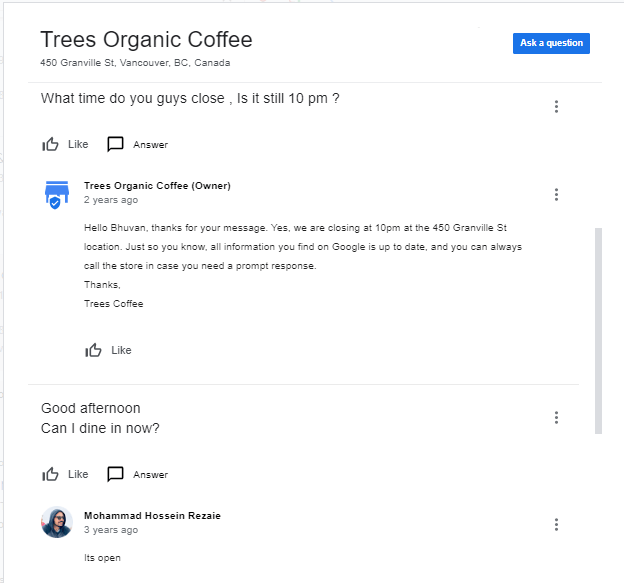 Add CTAs
Besides the mandatory CTAs such as "call," "directions," "website," and "share," you can add additional CTAs like "request a quote," "schedule a meeting," "reserve a table," or "book an appointment" to make things easier for your visitors.
Wrapping Up
Your GMB listing is often people's first impression of your business online, so make it count. Optimizing Google My Business listing can help attract the target audience, boost credibility, and ultimately drive your business's success.
Implementing these strategies and best practices for GMB listing optimization discussed in the article, your business can improve local search rankings and provide an exceptional customer experience.
Contact us if you need any further assistance. We would be happy to help!