What is a Backlink Gap Analysis?
Backlink Gap Analysis is the process of comparing your backlink profiles to those of your competitors in order to discover backlink opportunities and improve the search engine rankings.
"Backlinks," also called "inbound links," are basically the votes of confidence from other websites that link back to your website through anchor text. Since backlinks are the third most important ranking factor in Google's algorithm, it is very important to keep a check on your website's backlink profile.
Why do you need to Inculcate Backlink Gap Analysis in Your SEO Strategy?
Carrying out Backlink Gap Analysis can help you in several ways:
Discover new

link-building opportunities

Strengthen the backlink profile

Improve search engine rankings

Better SEO results

More website traffic

Improve domain authority

Increase sales and conversions
Our Advice on How to Conduct Backlink Gap Analysis
With over a decade of experience in the SEO industry, we've helped countless clients reach the top of search results. We're sharing practical strategies to assist you in conducting "backlink gap analysis." These proven techniques have a successful track record and will help you repair your backlink gaps.
Check Your Website's Backlink Profile
Conduct an SEO audit to check your website's backlinks and domain authority (DA). While you are at it, examine the following factors to understand your website's backlink health completely:
Diverse vs. spammy Backlinks

Anchor text analysis

Link Authority

Link Relevance

Broken or toxic links

Penalty assessment
Identify and Make a List of Your Competitors
You obviously need to list your competitors in order to make a comparison and conduct the backlink gap analysis. You can track down your competitors by running a manual Google Search. For instance, type the keyword "search engine optimization," and the list of sites that appear at the top of search results are your competitors for the given keyword.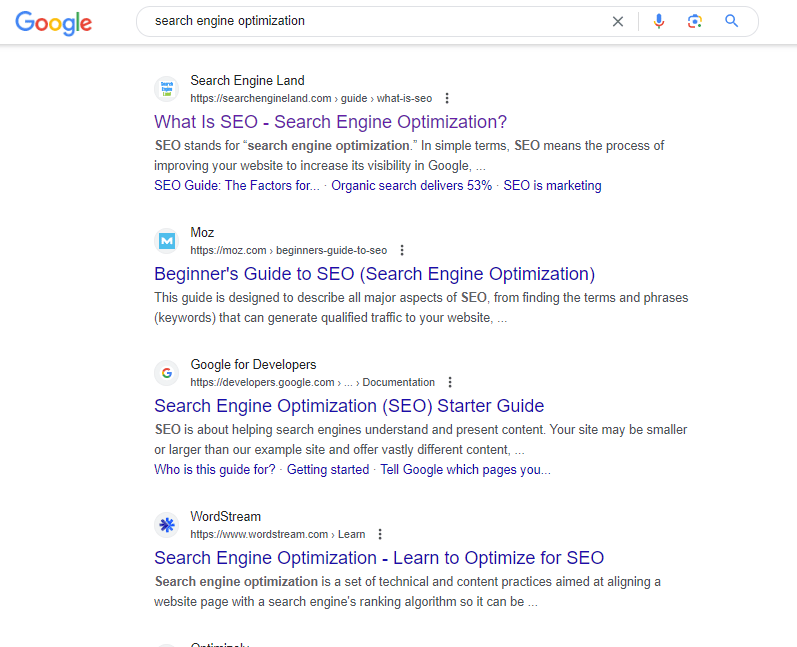 For example: These are the competitor websites for the keyword "search engine optimization"
Here are additional tips to help you in your backlink gap analysis journey.
Exploit hashtags and keywords on social media to trace down your competitors.

Use Ahrefs Site Explorer and put the target URLs to study your competition.
Analyze the Data Thoroughly
Once you have a list of your competitors, note down the backlinks your competitors have and analyze the gathered data based on domain authority, relevance, and traffic potential.
Further, your website can prioritize the links it wants to acquire. Tools such as SEMrush, Ahrefs, and Moz can prove to be really helpful in the analysis part.
Checking the "Backlink Quality" is an important step in the analysis process. High-quality backlinks from authoritative websites can help you reach a wider audience and convert more leads. Keep the following points in mind while analyzing your data:
Ensure that the website is relevant to your industry.

Check whether the website or the webpage is listed on Google.

Make sure that the anchor text is consistent and complements your overall content theme.
Acquire the Relevant Backlinks
Now comes the showdown.
Once you have the list of identified websites you want to acquire links from, execute your plan.
Reach out to the identified websites and request them to link back to your website's content.

Find authoritative websites for guest posting and ask them to link back to your website in the bio or between the content.
Here's How We Simplify the Backlink Gap Analysis Process for You
Backlink Gap Analysis is an excellent strategy to keep a check on your competitors and establish your website's authority. Regularly conducting backlink gap analysis can seem challenging, so it is best to partner with an expert SEO Agency with a proven track record.
Our team of trained professionals at SEO Experts Company India puts in consistent efforts to bridge your backlink gaps and help your company reach the top of search engine rankings.
We assist your company by providing the following services:
Backlink Audit: We collect comprehensive data on your website's existing backlinks to analyze the quality, quantity, and relevance of links pointing back to your website.
Competitor Analysis:  We identify your top competitors and analyze their backlink profiles to gain knowledge about the quality and source of their backlinks.
Relevance and Authority Assessment: While performing backlink gap analysis, we assess the relevance and authority of the websites linking to your competitors. This helps secure high-quality and relevant backlinks for your website.
Link building: We consistently earn high authority links with a strong domain rating using various link-building methods. We also ensure the profile has a natural anchor text, which helps the business get more leads and customers.
Internal Linking: We perform "Internal Linking," which is an important part of any site's backlink profile. It starts with analyzing the internal linking strategies of your competitors and identifying opportunities to improve yours.
Outreach and Relationship Building: We reach out to bloggers and influencers in your industry to build relationships and secure authoritative backlinks.
Content Creation: We create high-quality, shareable content– blog posts, videos, short content, etc. that naturally attracts backlinks.
Monitoring and Reporting:  We continuously monitor the progress of the backlink acquisition efforts, tracking the performance of each link. We regularly update our clients with reports detailing the growth and quality of their backlink profiles.
Tools We Use to Conduct Competitive Backlink Gap Analysis
Many SEO tools offer backlink analytics, but we use the ones that provide solid backlink data. Here are our top picks:
Ahrefs

SEMrush

Moz

Serpstat
These trusted SEO tools tell us which websites are linking back to your competitors, how many backlinks they have, and the type of content they are linking to.
Final Thoughts
We understand the significance of backlink gap analysis from an SEO perspective and use excellent methods to improve the ranking of your site and drive traffic to it.
When done rightly, backlink gap analysis gives valuable insights into your and your competitors' sites. Give us a chance and let professionals conduct a thorough backlink gap analysis for your site. 
Contact us today for more information and a free consultation!