What is Link Building?
Link building is a search engine optimization technique that involves acquiring links from other websites to your own. Having a good number of high-quality and authoritative links to a website helps achieve higher rankings in the search engines. Moreover, the links– both internal and external help search engines crawl your website better.
What are Backlinks?
If link building is the process, then the backlinks are the end result. These are the links that point from one website to another through anchor text. For instance, if someone links your website through theirs, they are giving you a backlink.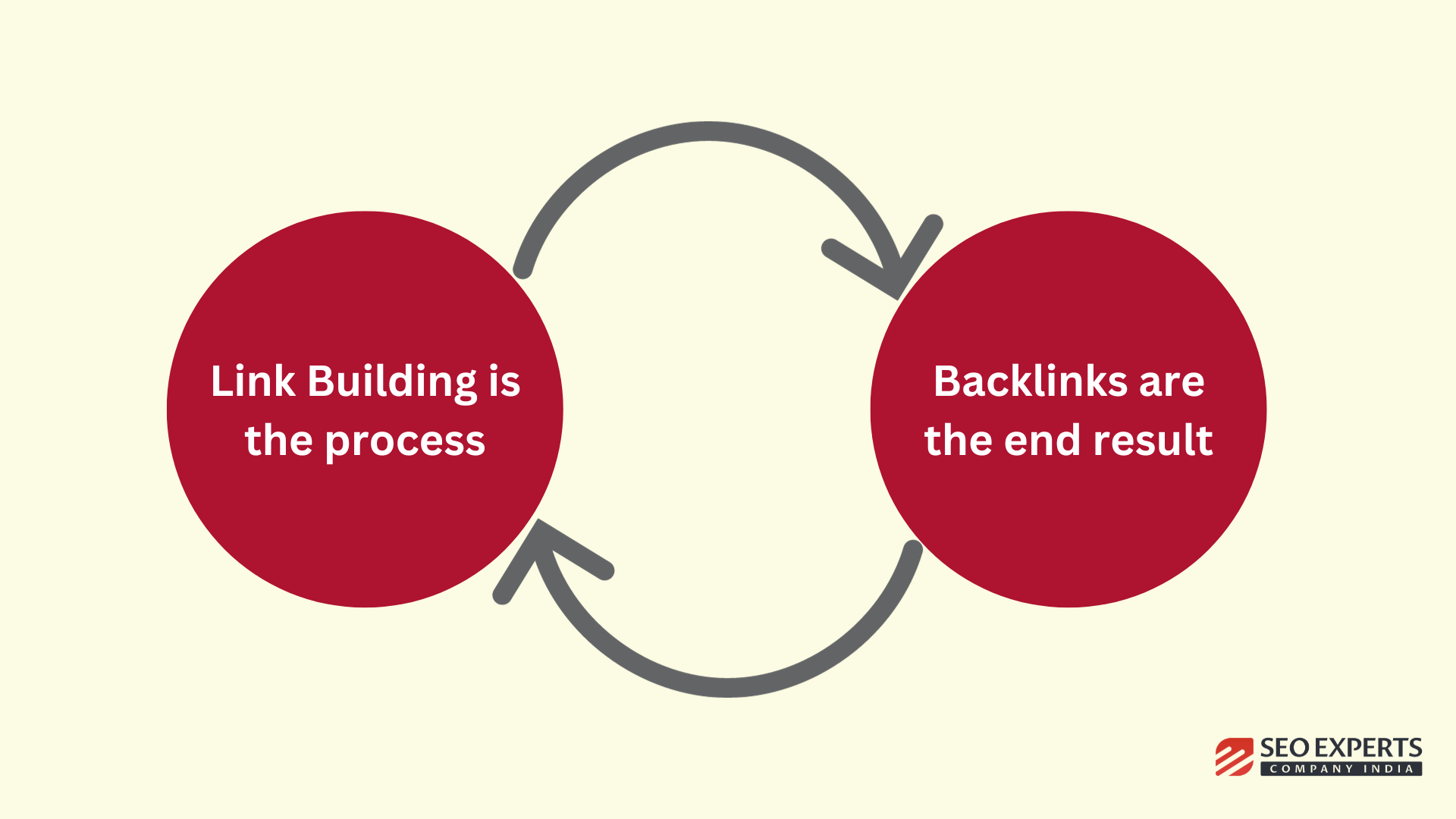 Why is building backlinks important?
Incoming links from other websites greatly influence Google's ranking algorithm. Google views backlinks as "votes of confidence" from other websites. The more the number of websites that vote for you, the better your website's authority will be and the higher it will rank in the search engine result pages.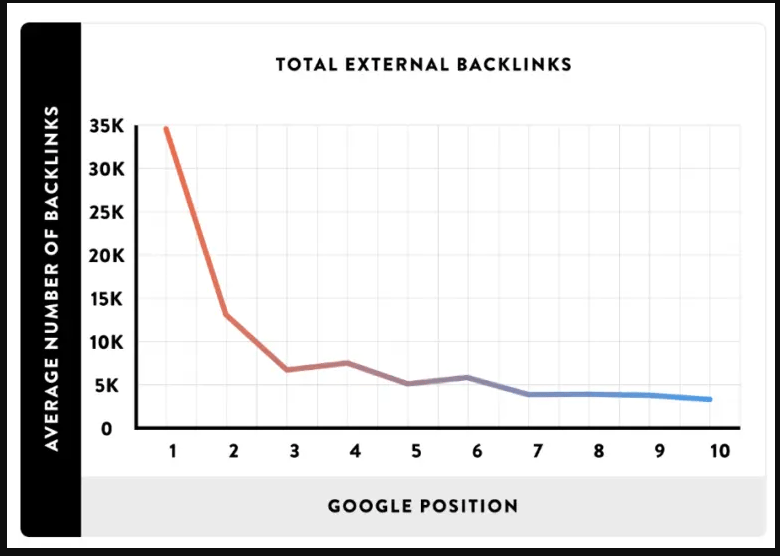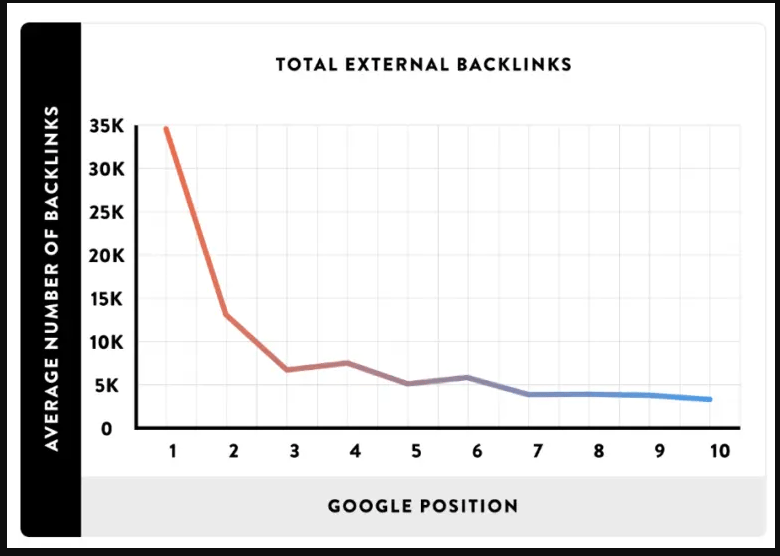 Image Source
Overall, acquiring backlinks from high-authority websites signals to Google that your content is valuable and trustworthy, further enhancing your website's position in the search results.
Types of Backlinks
Broadly, there are two main types of backlinks:
No follow links.

Do follow links.
No-Follow Links
The no-follow link contains a (rel= "nofollow") tag that hints Google to ignore the link. These types of links offer very little value in improving your website's visibility or search rank. The no-follow links generally come up from:
Blog comments

Press releases

Paid advertisements
Simply put, links from these sources are not helpful for your SEO.
Do-Follow Links
These links directly lead to your web page once anyone clicks on them. They are highly sought-after backlinks. However, the quality of the do-follow links matters a lot. If your website has too many spammy or irrelevant backlinks, Google can de-index or penalize your site.
Therefore, acquiring high-quality backlinks from authoritative and relevant websites is essential.
What are the elements of high-quality backlinks?
Although, this is an entirely subjective matter. There are a few indicators that evaluate to evaluate the quality of a backlink.
Domain authority, page relevance, and quality are essential in determining the quality of a backlink. Links from pages with higher domain authority and relevant content will be more powerful than those from a low authority and irrelevant website.
You can use tools like Ahrefs, Moz, etc., to determine a website's domain authority.
Relevance of anchor text
An anchor text is the clickable "usually blue and underlined" hyperlink. A high-quality backlink should have an anchor text that includes the keyword. A keyword-rich anchor text will definitely help in giving you a better ranking if other factors are good.
Ideally, your website must have a mix of anchor texts, including:
Keyword-rich anchor texts.

Your brand, company, or website name.

Phrases like "for more information," "click here," "to know more," etc.
Another thing to consider is the anchor text should always be relevant to the page it's linking to.
Relevancy of the website
The website's relevance is a prime factor when considering the backlink's quality. Topic-relevant links add more value to the backlink's quality. For instance, if you write about "latest winter trends" and publish it on a fashion and beauty website. Now, getting a link for this article from a health and nutrition website would be no good.
Location of the link
As the name conveys, the link's location refers to where the backlink is placed within the webpage content. The link's location significantly influences the value and impact of the backlink.
The common locations of a backlink include:
Body Content: The links placed within the main body of the content tend to be more valuable.

Search engines often prioritize such links because they are most likely to be clicked by the readers to seek additional information.

Header, Footer, and Sidebar: Links placed in these sections often contain navigational and website-related informative links. These links may not be contextually relevant to the content and, therefore, are less prominent in terms of SEO. 
CTA (call-to-action): Links in this section encourage the users to visit a specific page or resource and are effective in driving traffic.
Link Diversity
Having link diversity, i.e., having links from various sources, can be more beneficial for your website. A diverse backlink profile signals to Google that your website is informative and authoritative. 
Simply put, it's far better to have a higher number of different high-authority websites linking back to you rather than just a high number of links from the same website.
How to monitor backlinks?
Analyzing and monitoring backlinks is a crucial part of the overall link-building process. It involves evaluating the quality and volume of backlinks that point to your website from different sources. This procedure helps determine how these backlinks impact your search engine rankings and what can be done to improve your backlink profile.
Additional tip: Conduct a backlink gap analysis to compare your company's backlink profile to your competitors. This can help you discover new link-building opportunities and strengthen your backlink profile.
To know more about how to conduct backlink gap analysis, click here.
Use Google search console to monitor backlinks
Google Search Console is a free tool that helps you evaluate your website's performance in Google search results. It incorporates a "links" section that provides valuable insights about the websites that link back to your website.
How to use the Google search console to monitor backlinks?
Sign up on Google Search Console and verify the ownership of your account.

From the sidebar, select the "links" section.

Once you do that, Google Search Console displays all the websites that link to your site. Additionally, it shows the top-linked pages on your website, providing insights into which of your pages attract the most backlinks.

As you click on the top linked pages report, click on any URL to find the websites linking to specific pages. By clicking on the website report, you can explore which pages on that site link to the selected page.
Use backlink analysis tools
These tools provide valuable insights into your website's linking profile and overall SEO. Plenty of backlink analysis tools are available in the market, and you can use any of them to evaluate backlinks on your website. Listing a few popular backlink analysis tools:
While monitoring the backlinks on your website using these tools, you must:
Analyze backlink quality:

Assess the backlink's quality by using metrics like domain authority and spam score.

Identify toxic links:

Identify toxic or spammy backlinks and further take action to remove them in order to remove them.

Monitor the changes:

Look out for any new backlinks, lost backlinks, domain authority changes, or any other parameters to stay up to date.
Our advice on how to build backlinks (based on our industry experience)
Link-building is not only about getting noticed; it involves strategically building your site's authority across the web. Being the industry leaders for over 12 years, we have employed pioneering link-building techniques to help numerous clients achieve higher rankings. Based on our experience, we are thrilled to share some valuable insights that will assist you in the link-building process.
Create Link-Worthy Content
Develop informative, unique, and shareable content that naturally attracts backlinks. This content could be anything from blog posts, in-depth guides, industry data, research articles, case studies, infographics, social media posts, etc.
If you strategically want to publish more link-worthy content, you should run a content gap analysis to understand where your content has gaps and could be improved.
Claim Unlinked Mentions
It focuses on identifying content that has mentioned your website or blog but lacks a link back to it. The strategy involves reaching out to these websites and requesting them to convert these mentions into clickable backlinks.
To claim your unlinked mentions, you need to be attentive and keep an eye on which websites are mentioning your brand. You can simply use Google alerts (free) to remain updated or use tools like BuzzSumo, Mention, or Ahrefs for detailed information.
Broken Link Building
Another tactic is to outreach websites with external links that don't work anymore (broken outbound links) and ask if they could replace those broken links with a link to your website instead. Of course, to make this work, your content has to be exceptionally better than the page they were initially linking to. Broken link building works well because it allows the website to fix its mistake and gives the readers something useful to click on.
Additional tip: Personalize your messages and keep your email short while outreaching the websites. The trick is to sound helpful instead of simply begging for a backlink.
Post Guest Blogs
Guest blogging is creating an informative blog and publishing it on another industry-relevant website. Guest posting is a powerful link-building tactic that allows you to earn backlinks from different authoritative sources. The strategy involves adding a link somewhere in the content that leads back to your website. 
Implement Skyscraper Technique
Simply put, the skyscraper technique in SEO is a strategy that involves finding content that is popular and well-performing in your industry and then developing something that is 10X better. After creating the content, you must reach out to websites, encouraging them to link to your improved version instead. Skyscraper technique is a smart way of earning backlinks from high-authority websites.
(It's basically saying, "Hey! I noticed you linked to this site, but I have got something better and more informative that your audience might love").
Try to be on the "Best X" Lists
Earning a spot on the "Best X" lists is definitely a privilege that not only validates your product or service but also secures a link to your site from a credible and relevant source.
Once you find the lists you might be a fit for, you can contact the site owner to learn about the procedure of getting added to the list. Sometimes, it is a paid placement; sometimes, it's the editor's decision. However, if you provide them with a compelling summary, they might include you to keep the content fresh and exciting.
Build Links Through HARO
HARO (help a reporter out) is a fantastic way of attracting backlinks from high authority publications. It connects journalists looking for information with the sources who provide relevant details. HARO works well with the link-building process because journalists often require an expert's opinion to back them up. And if they cite you, the chances are pretty high that they will link back to your website.
All you need to do is go to HARO's website and register yourself as a source. HARO then sends you emails with inquiries from journalists looking for input on specific topics relevant to your expertise. If a journalist includes your input in their story, you get credited as a source, potentially gaining a mention or a link to your website.
Try Image Link Building
Image link building is a process of building backlinks by creating relevant, high-quality, and shareable images. Creating great pictures on your website could lead other websites to link back to you. Pictures make it easier for people to understand the tricky stuff in a straightforward manner. Moreover, if your images are creative, they make visitors stay on your website longer, along with earning you quality backlinks.
For instance, you can create infographics, product images, diagrams explaining the process, graphs, etc. to earn backlinks.
Leverage Social Media
If you are not posting on social media, you are missing out on an ultimate strategy to reach and connect with potential audiences. By sharing images, news, information, etc., on social media, you can amplify content visibility, attracting attention and potential links. Additionally, an active social media presence can help you reach bloggers or content creators who might refer or share your content, potentially leading to backlinks.
Publish Digital PR
This is a publication of immense value, especially if you own a brand that can make news from time to time. For example, if your nutritional products company is hosting an event to increase awareness about a healthy diet, you should use it to create digital PR. You can earn hundreds of linked pieces coverage with a single event. Isn't it a brilliant way? Indeed! A digital PR gives more value than just the quantity of links. It helps to get links from the most important publications in your industry. You can use your linkable assets (like valuable guides on topics that interest the target audience, for example, dietary guides for diabetics) and also exploit your relationships with the journalists to make the most of the digital PRs.
Link Building Tools
There are plenty of link-building tools available in the market that can help you in your link-building strategy– listing a few of them below to help you in your endeavor.
Ahrefs

Broken Link Builder

Buzz Stream

Check My Links

Monitor Backlinks

Pitchbox

Linkbird

Linkstant
Let Our Company Help You in Acquiring High-Quality Backlinks with our Link Building Services

We know that building links is an essential part of any SEO campaign. Although link-building is a time-consuming process, if done correctly, it can increase your domain authority and site's ranking in the search engines.
Alternatively, using improper methods for building links can cause problems, leading Google to penalize your website. Therefore, it is crucial to have trustworthy and experienced link-building service providers that can genuinely help your website generate high-quality links from authoritative and relevant websites.
Our experienced team of 40+ individuals ensures that our link-building practices remain ethical and effective, driving continuous improvement and delivering exceptional results for our clients.
We at SEO Experts Company India help you earn high-quality backlinks by providing the following services:
Comprehensive Backlink Audit: We start by doing a comprehensive backlink audit for your website to check for the current backlink health of your profile. This helps to identify existing links, their quality, and areas for improvement.
Competitor Analysis: We run a backlink gap analysis to analyze the backlink profiles of your competitors. This helps to uncover new link-building opportunities and device strategies for outperforming competitors.
Developing Quality Content: Our team of avid content writers ensures to provide high-quality and informative content that naturally attracts backlinks. Our creative team also offers relevant images and infographics that catch the audience's attention.
Outreach Methods: Being in the industry for over a decade, our team has honed expertise in outreach and relationship building. We strategically outreach to authoritative websites, influencers, and industry leaders to foster partnerships and earn valuable backlinks.
Guest Posting: Our brilliant guest posting team works hard to secure opportunities for guest posts or contributed content on relevant and authoritative sites. This helps in building a diverse link profile.
Broken Links Reclamation: We identify broken links and 404 errors on relevant websites to further suggest your content as a replacement to earn valuable links.
Claiming Unlinked Resources: We keep a check on the links that mention but do not link back to your website. We further reach out to the websites to claim these unlinked mentions.
Local Link Building: We put efforts into acquiring links from local directories and industry-relevant websites to boost specificity.
Removing Harmful Links: We regularly monitor and remove harmful, spammy, and irrelevant links for your website as these could negatively impact your site's SEO.
Social Media Posting: We keep your social media profiles up to date as it helps reach the potential audience, further enhancing chances of acquiring backlinks.
Regular Reporting: We regularly provide detailed reports on the link-building progress, performance metrics, and the impact that it has on your website's SEO performance.
Our agency focuses on ethical, white-hat link-building practices that align with search engine guidelines, ensuring improved search visibility for your website. With a golden track record of delivering results-driven link-building strategies, our company enhances your online presence, domain authority, and rankings through quality link-building strategies.
Feel free to reach out to us to learn more about our services.