Over the years, we have come across several SEO articles claiming that guest blogging is dead. Even Matt Cutts in his 2014 blog post claimed that there's no future for guest blogging and it's only a waste of time for SEOs. At that time, the blog made a lot of controversies and many people ended up saying a permanent goodbye to guest blogging. 
However, is this actually true? Is guest blogging actually dead and can't help your SEO campaign? The truth is the success rate of a guest blogging campaign depends on your approach and strategies. If executed effectively, guest blogging can be considered as one of the best link-building strategies. 
After Matt Cutts made this statement, we have witnessed many industry experts publishing posts that focus on the positives of guest blogging and also explain why it can never be dead. All you need to do is strategize wisely while executing a guest blogging campaign and it'll be successful for sure. 
So, if you are also looking for an effective link building strategy, continue reading, the following guide will explain how to use guest blogging to acquire quality backlinks naturally.
Why Guest Blogging is one of the Best Natural Link Building Practices?
To understand how guest blogging works, here's a quick example. 
Let's say you are a stand-up comedian who has recently started his career. Now, all your jokes are kickass and every show that you do becomes a bang. However, the only problem is not too many people know you. 
You need recognition in the scene. So, what should you do? Well, the easiest way to get more audience is to appear as a guest stand-up comedian in someone else's show. You would look for the top stand-up comedians in the scene and approach them to allow you to appear as a guest comedian before or after their act. 
This way you'll get recognition from the audience and he'll provide the audience with something special. However, the only thing that's worth noting is that your act should be killer otherwise the comedian may not allow you to go on the stage. 
Well, the same is the case with guest blogging. You want exposure for your website, so you write an appealing post and publish it on someone else's website, someone who already has enough website traffic. 
While publishing the blog, you can leave a link back to your website so that people can easily visit it in the future. However, like the stand-up comedy act, your blog should be high-quality and offer value to the other person's target audience. 
Guest blogging is one of the few strategies, that benefits both parties. Moreover, it also gives you the opportunity to network with industry experts in your business niche. This is the reason why guest blogging is still one of the most effective natural link-building strategies. 
First Things First
Whenever you build backlinks through guest blogging, you should first analyze what you truly want to achieve from a guest blogging strategy.
You can achieve essential goals with guest blogging. For example, you can grow your authority in the industry as a niche expert. Or do you want to get greater visibility for your website? Or do you want to build backlinks for your website?
And the good thing is that a good guest post will help you achieve all these in one go.
With a more significant audience seeing your guests, you can build authority and get blogs with a higher audience. Always go for high DR websites to publish your guest blogs.
So, let's discuss handy tips you can utilize guest blogging effectively to acquire high-quality backlinks for your website.
Tips to Succeed in Utilizing Guest Blogging for Natural Link Building
Pitch to the Right Website
Here's the thing; there's nothing wrong with being selective about your pitch. The experts from some of the best SEO Services in India suggest that even when you are struggling to acquire online exposure, you must resort to diligent research to find the right website for your pitch.
Pitching to one relevant website is far better than sending your pitch to 100 irrelevant websites. Here's how you can find the perfect website for your guest blogging pitch.
Look for Websites in Similar Niche
If you are in the fashion industry, there's no point in sending your pitch to a person in the digital marketing niche. Of course, if you have written a quality post, people will read it, but since they don't need your services, they are less likely to visit your website. The basic principle of guest blogging says that you should find websites in a similar niche to reach out to your potential audience. The blogs with higher traffic will have help to drive more significant traffic to your target website. Also, check if the blog has an engaged readership. Do they have posts shared on social media and having a lot of comments? The blogger must be active on the website.
Searching for Similar Sites (Niche-similarity): Finding sites similar to yours will also help you in finding blogs where you can publish guest posts. You can find content similar to yours using tools like: 
Search for "related:yourdomain.com" in Google
Use Social Media
Several guest posters and bloggers will share their content on social media. Twitter is one of the best platforms where bloggers post guest post links. Use the "keyword of your niche" + "guest post" for your search on Twitter to find guest post opportunities you can utilize.
Check the General Website Metrics Before Sending Your Pitch
You can't publish a guest post on any website and expect to achieve the same results. Each website is likely to have different metrics in terms of traffic, domain rating (DR), and backlink profile. Basically, while choosing a website for your pitch, make sure to consider these general website metrics. Look for websites with higher Domain Authority (DA), significant organic traffic, and a strong backlink profile. 
For instance, if we were to find a website to publish our guest post, we would look for high-authority domains in our industry such as NeilPatel.com, Backlinko, Ahrefs, etc.


Of course, making these experts accept our guest posts would be quite hectic, considering how busy they are, even one post on their website would generate remarkable results for us. 
Here are of few of the tips to ensure that the website is worth reaching out to or not. 
The Domain Authority should be 50+
The Person should be considered as an Industry Expert
He should have a significant social media following and organic traffic
He should also have a consistent engagement on his post
More on Finding Guest Posting Opportunities
Use the Search Engine
Doing thorough research with the correct string of search phrases is important. Search for 
 "Keyword" + "guest post."
"keyword+, "write for us."
"keyword" + "This post was written by"
intitle: guest post guidelines
intitle: guest blog guidelines
Finding your competitors' backlinks
Figure out a popular website in your niche that ranks well for your target keywords. Now, use Ahrefs to search for all its publications data in Ahrefs in their site explorer. You will get a lot of information about the backlinks your competitor has. This will prove immensely useful and will help you identify the websites that do not openly reveal that they publish guest blogs. 
Interesting fact:
Did you know Ahrefs that never actually display any write for us section do accept very well written and top quality content? You might wonder why so? This is because they do not want to waste the precious minutes going through articles that do not give anything useful (they use the "lousy" to describe them) and just consume time and are degrading quality standards.
Using the Ahrefs Content Explorer:
Content explorer in Ahrefs can help you find thousands of websites that publish content you want to guest post. Many of them may be the ones that do not even indicate that they publish guest posts. Moreover, when you apply the relevant filters of Content Explorer of Ahrefs. For example, if you search with your keyword, you can get an ocean of results, but using filters like one article per domain, you can find websites dedicated to publishing web content with your topic. So, you can get a high number of prospects in a short amount of time with this method.
Also, use domain rating (DR) to find out about the relevant prospects you will feel comfortable pitching. A low DR site is indicative of toxic links. Moreover, the page rank formula works on the website on a page-by-page basis. But websites that have a low DR can rise and shine in due course of time. They can get a high DR rating making your publication more valuable with time.
If your niche is super tiny and you can go broader search terms related to your niche. For example, if you are dealing with kids sleeping problems, go for parenting websites, medical websites related to sleep disorders, and more. Tim Soulo of Ahrefs calls this a "marketing overlap" strategy.
Use My Blog Post
My Blog Post is an excellent community of guest bloggers who can search for blogs accepting guest blogs in your niche. Create a free profile and let everyone on the platform know that you are writing guest posts on your specific industry. This will help the bloggers to find you.
See Where Influencers are Posting
Suppose you know if an influencer in your niche writes excellent guest posts, target those websites. You can find the different websites they have published using Ahrefs content explorer or carrying out Google image search. 
What to Consider?
Send Your Pitch Where Author Bio is Allowed
You are most likely to have put all your efforts while writing the guest post. So, you'd also want readers to know who wrote it, Right? Unfortunately, there are guest blogging websites that don't feature a dedicated author bio. 
If that's the case, just pack your bags and leave. It doesn't matter how high-authoritative is the website; if it doesn't feature author bio, there's no point in publishing your guest post. 
Here's an example where Brian Dean from Backlinko has published a guest post on Ahrefs.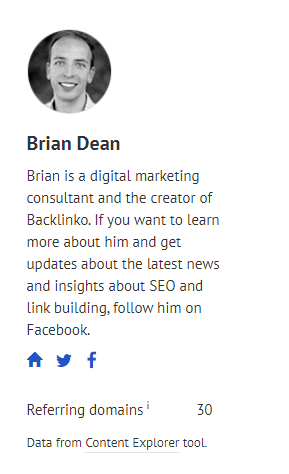 As you can see that even Brian has written his author bio to make readers understand that the article has been written by him.
Pro Tip: Rephrase your author bio once in a while. Though there is no specific reason behind changing the author bio, it makes sense if we consider the SEO perspective. All your links may be present on different websites; if they have the exact paragraph text and the same anchor text, it somehow does not feel right to give weightage to it (Google is more skeptical on such things, so to say!). Also, make a point to link your author bio to pages other than the homepage at times. 
Creating a Perfect Pitch that No One Can Ignore
No matter how appealing your content is, if you don't write the perfect pitch, you are less likely to draw the attention of the influencer. When you are writing a pitch to one of the top influencers in the industry, it is necessary to make it perfect. Keep in mind that the influencer is most likely to receive dozens of guest blogging e-mails every day and if you want to be successful with your pitch, put your efforts to stand out. 
Here's how you can craft the perfect guest blogging pitch to be successful. 
Preparing the Perfect Pitch
Your real job will start as you find the target blogs. Now comes the real challenge of getting your message across. A cold outreach will get you no favor. The bloggers are receiving thousands of emails from everywhere each day. You need to start building relationships with them. Engage meaningfully with their content on blogs as well as on their social media pages. Sending them constructive and meaningful feedback n their posts are the things that will help them pay greater attention and build a long-term work and knowledge relationship with them.
Tips for Creating a Perfect Pitch
Building trust with the bloggers will be an important thing. Offer them all co-operation and help om your part like posting the content in your social network. 
Your effort to reach out will pay off in building trust and help in pitching if your guest post. Personalizing your email will have a significant impact. And warming up your bloggers with your keen interest and engagement in your posts will prove helpful.
Here are some things you should focus on:
Research Research Research
Research is the key to ensure success with your guest blogging pitch. Before writing your pitch, you should know everything about the website. For instance, what type of content it publishes, who's the target audience, how frequently do they publish blogs, etc. Your research will make it much easier to choose the right topic as well. 
Look for the Personal E-mail ID of the Person
Instead of sending your pitch to the 'contact id's mentioned on the website, try to look for the personal email of the webmaster himself. Since it's a professional pitch, it is better to write to the Person himself. You need to look for email addresses from services like Intersellar and Anymail Finder, and more. 
Read The Guidelines Before Writing Your Pitch
Websites that accept guest posts typically mention a few guidelines to write the post. Make sure that you read the blogging guidelines before you send your pitch to a blogger. The guidelines will specify if the blogger wants you to pitch an idea or an entirely written post in the first go. 
Also, be very particular about the format of your guest post. And also, find out if they want you to create an account on WordPress to post the content. These are all critical things to consider before you pitch a blogger. Tell the blogger in your pitch why you should be the guest blogger. Highlight how you can add value to their website—aka what valuable information you can give to the readers. 


Before sending your pitch, read these guidelines carefully so that you don't commit any mistakes while writing your guest post. 
Make Sure to Tell the Website Owner Who You Are
The majority of guest post pitches get rejected because they sound too robotic. While writing your pitch, make sure to add a personal touch so that the person knows who you are and why he/she should accept your guest post. A warm introduction about yourself will help you to craft a personal message. Tell them about any of their recent articles that you liked. Tell them why you are outreaching them. Smartly mention a few post ideas that you can come up with. Share the content you have already written or any other published guest posts of yours.
Writing a Guest Post that Readers Can't Ignore
Everything you've done so far was just a simple preparation for the battle; now comes the real challenge. The success rate of a guest blogging pitch majorly depends on the content piece you write. Don't write a 500-words post and expect that it'll be approved. 
That's not how guest blogging works. You need to write detailed, well-researched articles that provide value to the readers. 
Here's how you can write an engaging guest post. 
Know What the Audience Want
While reading a blog post, readers usually want information that can help them with specific tasks. They want the blog post to provide a working/effective solution to their queries. So, instead of writing what you want to tell people, try finding out what they need to know. 
This will help you write a blog post that engages the readers till the end. Moreover, these types of posts will most likely encourage the reader to visit your website as well.
Write Captivating Titles
The first impression is the last impression. When anyone will come across your guest post in Google search results, the title would be the first thing they'd notice. Now, if your title isn't captivating, the reader is less likely to click the link. No doubt, you need engaging content, but making your title appealing is as important as writing quality content.

You should also optimize the title for Google so that it can be easily indexed by the search engine crawler, giving you the required search engine visibility. You can find great content ideas on websites like Buzzsumo. Or use the Coschedule tool to create great titles. Also, use both beginner-level and advanced-level content ideas to come up with awesome posts.
Write Detailed & Well-Researched Content
Forming a truly well-written guest post requires diligence. It means you have to go beyond what is already prevalent in the market and offer something of more excellent value. Search for posts on your chosen topic published on high DA websites with more increased traffic. Now, see the value the top-rated content on these websites provides. You have to come up with something that tops all of the content already present. See the ideas that offer value and keep adding them on in your guest blog content until it becomes unique and with exceptional value.
As we mentioned earlier, you can't write a 500-words post and expect it to engage readers. The content should be detailed and well-researched. While writing the guest post, think from an industry expert's perspective. You have complete knowledge about the topic and want to share it with the readers through your post.
Follow these tips to create a detailed and well-researched article to make your guest post more informative and engaging.

If you are making any claims, make sure to back them up with a credible source. 
Thinking out of the box is the key to create an engaging post. It doesn't matter what the topic you're writing about is. People are most likely to have published thousands of posts on the same topic. It is your job to think out-of-box and present a new angle that's never been discussed before. 
Write the post in such a way that you move towards a specific conclusion. Writing random paragraphs will not engage the reader. 
Give your guest post a visual touch with images, videos, and infographics. People like reading posts that are informative as well as visually engaging. 
Once you have completed the entire post, proofread it word-to-word so that there aren't any grammatical errors. There's no shame in proofreading, and even the top writers do it to ensure they always deliver quality content. 
Pro Tip 1: Suppose you got a great idea that you can explain in detail and with a style that everyone can understand. As mentioned, use bulleted points, give examples, give details to put quick links to the chapter in sidebars. This will help to invoke the interest of people looking for different aspects of the same topic. This means you can go for beaking the article into splinters chapters or parts, each of which a significant aspect. In other words, create standalone pieces from it. Remember, you have to write information valuable for the audience. Do not go for writing about your business, products, or services. Guest posts are not an advertisement but about offering unique value.
In the end, do not forget to include a call to action in the post to invite comments.
Pro Tip 2: You have to do a deeper analysis of the content of your prospective bloggers' posts. What is the level of the audience they are selecting (is it beginner or advanced level?). Will you be writing a guest post for B2B businesses or B2C businesses? Writing for B2B guest posts means you will be targetting niche businesses. Examine the type of content they write. Is it general concepts or detailed tutorials and guides?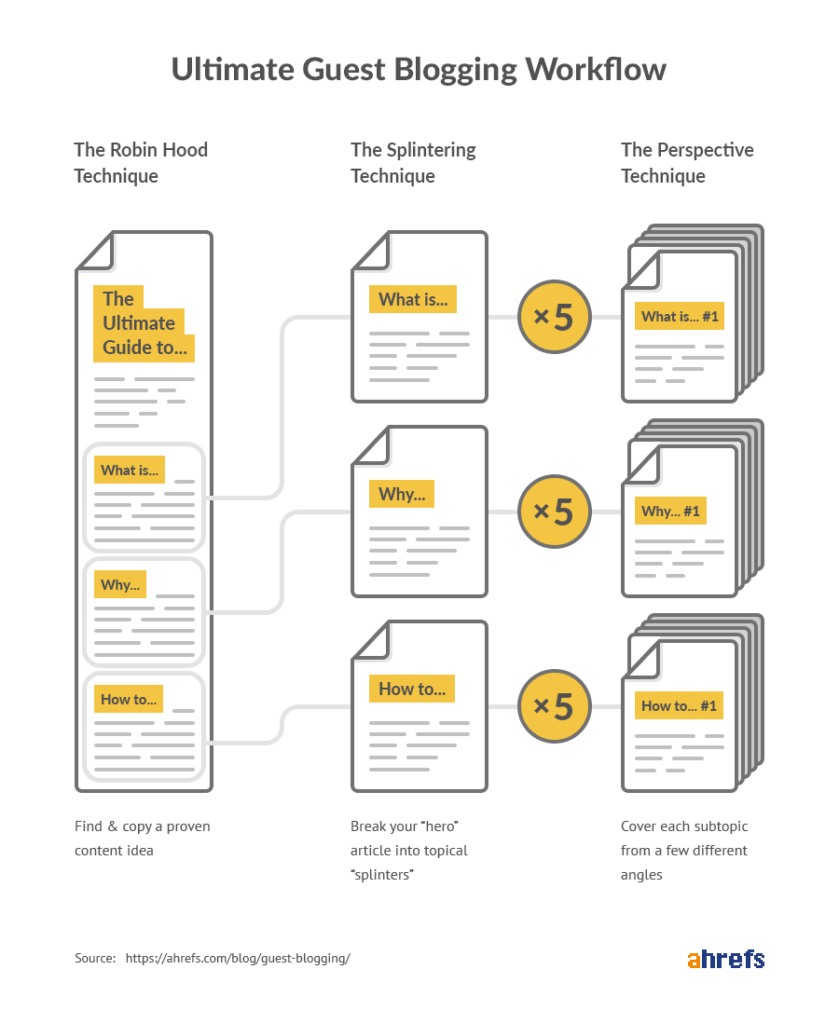 Find the top posts on websites with high DR on Ahrefs. You can also use other tools to give you great topic ideas that can work for the blog audience. The popular tools you can use to check the popularity of posts include Oktopus, Buzzer, and Digg, to name some highly reliable ones.
Always remember that the odds for a well-researched and lengthier blog post to rank in SERP are slightly higher than regular blog posts. So, make sure to do thorough research while writing the guest post.  
Leave a Link to the Right Page
With the guest post, you have an option to leave a link back to your website. However, that doesn't mean that you should always link to the homepage. Know your goals, and link to a relevant page accordingly.

For instance, if you want more social media following, you can link your social media profiles. Similarly, if you want people to follow your newsletter, you can link to the blog section of your website. (More on this below.)
Respond to Every Comment on Your Post
Once your post is published and it's bringing you enough traffic, don't just forget about it. Check the comment section consistently and reply to every comment. This will show that you care about the readers and are willing to go a step ahead to resolve their queries. 
In the above snippet, you can see that Brian has replied back to every comment, even when it's a simple suggestion. 
Practical Problems you Face in Guest Blogging and Handling Them
Now, coming to the practical situation! Things look so simple when written on a piece of paper or in virtual print. However, it's not all you will face pitching your guest articles to a blog. You might encounter a lot of hurdles. For example,
Bloggers may not publish your excellent content guest posts. 
Some of them may take weeks or months of negotiation. 
At other times, they may turn your do-follow links to no-follow links without informing you
You may not get the expected results from the guest blog post.
So, here are some things you can do to counter it all, as experts suggest.
Keep Upping the Quality of Your Content: What you require doing is creating authentic quality content. And most likely, you will be able to find bloggers who accept publishing it for free on their blog. Paying for guest blog posts is against Google Webmaster Guidelines. If you already have a line of awesome articles published on reputable blogs, use the list to show your grit to other industry-leading bloggers.
Pro Tip: You have to invest time in coming up with high-quality content. It is this part that will make the rest of the guest blog process easier for you.
Pitch More Bloggers Than You Think You Should: If you have been publishing guest posts, you know they take time. Bloggers may not respond to your fir days. They may not even open your post or ignore it as it is not on their priority list of tasks. 
So, it makes perfect sense to pitch other bloggers as well in the meantime. Pitch your post to 4-5 bloggers. If you get more than one reply, get it published on the highest DA website or the one with the best content. 
Tell the other bloggers politely that your blog got accepted and published elsewhere while you were waiting for their replies. Tell them you will come up with something more valuable for them in the coming time. It will help the bloggers get a greater interest in publishing your post (as they know people are valuing your content and posting it on their website). And it will open more ports for your upcoming guest posts.
Counter Issues in Getting Links: Bloggers may not let you link to your website being greedy to get all audience attention. (Moreover, Google is skeptical about too much external linking). What to do? You can link your guest blog to your other guest posts, and the bloggers will be pretty much okay with it—link such kinds of guest posts to earlier guest posts that have the do-follow link of your website. In the end, it will make your other guest posts strong and also enhance traffic to your website's home page or the targeted page.
Some Things to Consider
Link to Different Blogs: Posting ten articles on the same blog will not give you as much value as posting guest posts on ten different websites. Guest post backlinks from other websites are like votes. Google wants to know how many websites want to link back to you or consider you a valuable reference. Each backlink from a different website is a vote for you. The greater the number of votes in your favor, the better your website's value and rank will be.
Use Ahrefs content explorer with the filter of unlinked highlight domains to find such websites that publish in a similar niche but have not linked to you earlier.
Referral Traffic: One thing to keep in mind is that guest blogging would not fetch you loads and loads of referral traffic. As per research by Tim Soulo of Ahrefs, 239 guest articles just gave 50 referral visits. This is but a meager thing that you can quickly get spending a few bucks with PPC advertisement. While all the effort you make to make your guest post published like searching publishing websites, topics, pitching the bloggers, writing the article, and making an outreach till it gets published, how much time it takes, say 10 hours on an average. So, you might think why spend so much effort on guest posting. Here, we have to focus on the goals we want to achieve in the long run (like building niche authority). Even if you are getting some amount of referral traffic per month, it pays you back with something and is worth its while bringing you an authority in the industry.
Track and Measure:  The most important thing to do in guest blogging is to keep pace with the deadlines. Having a tracking system for all your posts will prove helpful to you to meet your commitment to taking care of posts. Maintain a spreadsheet to know whom you have pitched to and what their response is. Your spreadsheet record should have the details of the deadlines and the responses from the bloggers.
Also, measure the results of your guest blogging activity using Google Analytics. It will help you get an insight into the referral traffic from your guest post. Use free tools like the Prorank Tracker to find out the impact of search engine rankings over time. This analysis will help you to make a better SEO strategy in the coming time.
Guest Blogging for Link Building – Final Words
No matter what you have read so far, guest blogging certainly isn't dead. All you need is the proper execution strategy. Once your guest post goes live, you'll have a streamline of consistent traffic for your website. People will start considering you as an industry expert as well. And, last but certainly not least, you'll have a quality backlink for your website from a high-authority domain. Reaching out to a reputable SEO Company India, you will get exclusive expertise in guest posting services that help your business or other website get high-quality links via guest posting. No wonder, SEO Experts Company India will be working to improve your authority and brand reputation as well while bringing greater traffic and boosting your target page's visibility on the search engine.