You add external and internal links to your site's pages, hoping Google bots can crawl the page quickly and, looking at the quality of the content and links, rank them highly.
And, in a perfect world, a site owner would want every page to get a high ranking on Google, driving traffic and revenue.
However, what you experience is
Your site pages index slowly; sometimes, they take much more time to get crawled and indexed.

The site's pages do not receive traffic despite having good content.

Site visitors bounce to competitors' pages; even if they visit your page, they do not move to other internal pages.

Your web pages seem confusing to Google crawlers. As a result, the whole site's SEO goes down.

Even though the content quality is better on your website pages and all SEO factors are in order, the competitors, even with low-quality content, stay ahead of you.
In such scenarios, you need to look at internal linking for SEO! Its poor usage on your site could be the reason for the low returns you are achieving against the effort you have put into your search engine optimization. 
But again, you are in trouble because you have no idea how to handle internal linking, spot problems with current procedures, or apply best practices. No worries!
This comprehensive guide will help you overcome doubts and get the most out of link juice. So let's begin with the basics by knowing what internal links are. 
1. What Are Internal Links?
When we use the word "internal links" in the context of web pages, we mean the links present on them that come from other pages of the same site. They are significant for the success of your SEO. Do you know how? 
 Two main entities impact the success of your site's SEO:
Search engines 

Your target user base
And both search engines and your target user base use the internal links on your website's pages to navigate.
Their poor use, no use at all, or use without adequate knowledge can be the main cause of your pages not achieving their potential in terms of gaining web traffic, organic ranking, and even conversions.  
You can understand the importance of these links by knowing that if the page doesn't have any links, it will not get crawled. 
Additionally, search engine algorithms understand the value of the content on the pages and how it is connected and relates to the other pages with the help of internal links present on them. 
2. Why do You Need to Be Aware of "Page Rank" Even Today?
Discontinued in 2016 by Google, PageRank is still an important factor for SEO. It doesn't get much mention these days among the SEO communities. 
However, it was a big thing around a decade ago. And many believe it is still one of the most important ranking signals used by Google to rank a page. Although understanding PageRank can be complicated for some, you don't need to go in-depth.
However, you should know PageRank's importance. Mainly, it checks the authority of the individual page, not the whole site, and it views the internal links in the same light as the backlinks to determine how important the page is in terms of SEO value.
The higher the number and quality of internal links on a page, the better it is for SEO. 
In short, the more links your website page has from other pages in the same domain, the higher the score on PageRank will be. 
Moreover, if your page receives an inbound link from a page with good SEO in terms of traffic, ranking, and links, the link juice will flow to the new page.
So, it means that not every link from the same domain carries the same value, and each page holds a different value in the eyes of the Google algorithm.
However, you cannot flood the page with unlimited internal links. Normally, 5 to 10 links are optimal for 2000 words. 
3. Internal Linking Example
Normally, you will find the internal links in a different color than the text content, highlighting them in a blog, an article, or even website content. 
This highlighted content is "anchor text," and there are guidelines on how to use it. This post will touch on this ahead. 
Remember that you may find external and internal links on the same page; the internal link will take you to a web page within the same domain, while the external link will take you to a different domain outside the site. 
Here are two screenshots to help you understand more easily that how the internal linking from one of the blog post with the word "law firm SEO"  that takes the users to the law firm SEO services page of our domain https://seoexpertscompanyindia.com/law-firm-seo/
Screenshot 1 for the internal link shown using the anchor text "law firm SEO":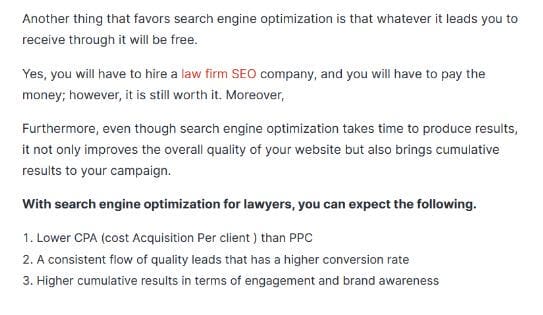 Here is the "Law Firm SEO Services page screenshot," where this link will take you: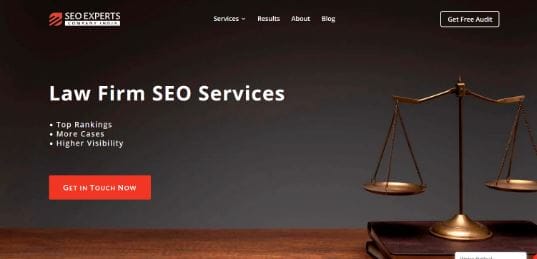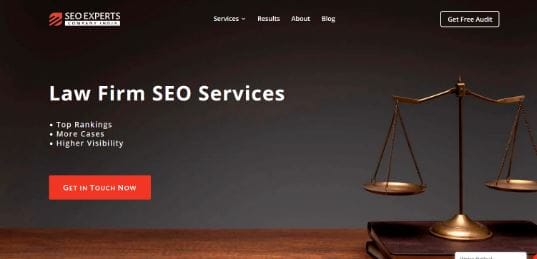 4. What are the Types of Internal Links?
Here are the different types of internal links you may use on your site pages: 
Contextual Links
These links are such that they take site visitors to relevant pages within the domain. 
Navigation Internal Links
Such links are among the most commonly used links among SEO professionals because they allow visitors to navigate through the content pages easily. Moreover, they make the website structure more robust.
Text Link
Such links highlight the target word or phrases in blue, include hyperlinks, and are even underlined. 
Image Links
You can use your image or infographic as internal links too. When visitors click on them, they are directed to the relevant pages. 
Footer Links
You may have noticed navigation links such as social media and contact page links at the bottom of pages. Such links help the Web page remain clutter-free.
Taxonomy and Categorical Links
Internal links like this combine several related topic pages to assist users in finding the relevant content topics easily and even direct them to relevant parent pages. 
5. The Benefits of Internal Linking that will Help Your Site Achieve Maximum Results
This post has already touched on some benefits your site gains via internal links. However, that is not the whole story. The below information will help you gain more insight into their great benefits:
Invaluable to Users
As the owner of an online website, you want your visitors to interact with your pages and spend as much time as possible on them. A suggested way to do this is to make the content excellent for navigation. One page of content should lead to other pages.
For example, if you have a blog on the latest fashion bags, it is obvious that a visitor is looking to purchase a bag. 
Therefore, linking to the respective product page from the blog page is an excellent way to direct the user to the product page. Not only are you helping the user, but you are also increasing conversions. 
Excellent for Search Bots to Map Out the Site
This knowledge is in the public domain: Google crawlers use the links to find the page. The internet is like a spider's web for the crawlers' bots, where one link opens up the opportunity to find new pages. 
Therefore, the more links you can create to connect the different pages on your site to each other, the better. Be mindful that internal links are essential, even if you have submitted the sitemap to Google. 
 A page with no links will always have difficulty ranking high on the SERPs. The Google bots find the page more easily and understand: 
Increase your conversions and revenue
Internal links provide an excellent opportunity to direct site visitors to conversion pages.
You entice prospective customers to your site by creating engaging content with the aim of achieving maximum conversion.
If your content is helpful, engaging, and has an excellent flow that leads to conversion, you can place your site's money-making pages, such as subscription pages and product page using internal links, to increase sales and conversions. 
Already, we have discussed the example of a reader reading a blog about a fashion blog that has an internal link to the respective product page. 
Site experience a decline in the bounce rate, and engagement goes up
Humans are naturally curious and enjoy learning new things, so internal links provide an opportunity to capitalize on this. 
You can make your whole website work as a library containing related topics to help users and ultimately convert them to sales.
For instance, a user visits your page about "how health drinks help you."
It allows you to present various types of health drinks pages using internal links to users where they can purchase them.
Or, you can direct them to a specific dietician page ( if the site is about dieticians), which can assist users in finding services to get professional consultations on healthy drinks or even a healthy diet. 
The curious minds of site visitors are likely to click on the internal links you provide on your site page. As a result, your suite's dwell time will increase, as will conversions. 
6. Best Practices Regarding Internal Linking for SEO
Develop the Relevant Content in Abundance
Links need to be posted on your pages containing content. So, having a high amount of content is an advantage since it allows you to post more internal links.
However, be careful that you are not creating unnecessary content. Your copies should be helpful, informative, and actionable for your users. But creating as much content as possible does help.
You may also employ the following content gap strategies:
Analyze your competitors' content and your target users' buying journeys to target their different stages of them (funnels).
Analyze the content on your site and find opportunities to create content according to the user's buying journey.
Keeping the keyword and users' buying journey in mind, create new content pages and publish the content with optimal internal linking.
Identify Your Site's Authority Pages to Take Advantage of Link Juice 
You can pass on the positive juice link from your best-performing pages to your new content by linking your best-performing pages to your new content pages.
Linking your new pages with the highest-quality or best-performing pages is one of the best interlinking strategies for SEO.
You can use paid tools such as Ahrefs to find the best-performing pages; however, there is a free way to find them through Google Analytics:
Sign in to your Google Analytics account.

Right-click on the Behavior tab on the left-hand sidebar, which will open up a drop-down

Enter the "Site Content option" by clicking on it, then click "All Pages" from the further drop-down menu.

Depending on your selected date range that becomes visible on the top after you click on the option of "All Pages," your screen should display the top 10 ranking pages of your site. 

You should look at at least 3 to 6 months duration range to find the best pages.

Use the Anchor text Naturally
Anchor text is instrumental in getting your site visitors to click on the internal link. There are, however, a few guidelines for writing good anchor text:
Make your anchor text as natural as possible. Don't optimize it.

Avoid using keywords in writing anchor text.

Ensure that the anchor text doesn't match exactly with the destination page title 

Be mindful that the two links are not the same; that will confuse the search engine bots.
Do a Regular Audit of Your Site's Existing Internal Links
You must perform a regular audit of your site. Find out about non-performing pages or pages that are old but no longer performing. 
Such pages have interlinks to low-authority pages. You can take the following two steps:
Add new information to these pages and remove unnecessary information if possible.
Link the edited pages to performing pages by adding new helpful content.
It will help you breathe new life into non-performing pages, and they may start performing better as the pages will get indexed again, and new content and the effect of link juice will help them perform better. 
Create Topic Clusters Using Internal Links
Creating topic clusters is an excellent strategy for making the most of your content, internal and external links.  
A "topic cluster" is a collection of content pages that each explain a broad subject and are linked to one another, providing contextual support.
All content pieces work as one cohesive unit to help users find content easily, increase engagement, establish your site's authority, and at the same time, get the most out of link juice.
The following are the components of a sound topic cluster:
Presence of a high number of pages covering a broad topic

Pillar web pages 

Hyperlinks that interlink pages with each other.
Do you want to see an example of a topic cluster? Don't wander, but visit our site cluster page about "SEO." You can see in the screenshot below how various SEO topics have been covered. 
Create Relevant Links Only
If you know Google's mission statement ("to organize the world's information and make it universally accessible and useful" ), you will understand that being useful to the user is the core axis around which every SEO activity should revolve, and internal links are no exception to it.
 Therefore, focus on creating relevant links according to the content you publish.
7. Internal Linking Practices you Should Avoid
Common mistakes to avoid while building internal links for your site 
Not Using an Optimal Number of Links
One of the first mistakes people make is building too many or inadequate links. You need to create a balance.
Although Google does not specify how many links are acceptable, 5 links for a 1000-word article and 10 links for a 2000-word article are generally considered safe.
Not Identifying Orphan Pages or Broken Links
Having orphan pages (which means pages with no internal links on a site) or broken links is nothing less than a crime. The broken links add to site visitors' dissatisfaction and increase the bounce rate. So, you should address them as quickly as possible. 
Practices Related to Anchor Text
This post has already shed light on anchor text. However, to shed some light on it, be mindful of the information shared ahead.
You should not over-optimize anchor text with keyword stuffing; ideally, the keywords need to appear naturally in the sentence, and longer anchor text is not good from the SEO point of view. 
Moreover, use natural variation in your anchor text and create anchor text using 1-word or a maximum of 3- to 4-word phrases, not more than that.
Not Having Reasonable Crawl Depth
The term "crawl depth" describes how deeply the Google bots index your site's pages after fully crawling them. Your website will have a lower crawl depth if it has several orphan pages and pages with broken links. 
Things like slower website speed, no internal link on the page, or pages having a similar title and anchor text confuse bots or require more work than usual. All these factors together result in poor interlinking.
Moreover, issues like redirect loops and redirect chains increase the number of clicks a user needs to make to reach the link destination nation page, which affects the crawl depth negatively.
 Redirect Chains & Loops
One of the SEO issues is that the redirects on the site are not optimized. Here are two scenarios related to them that may harm your SEO:
Redirect Loops:  It is such a loop that occurs when redirects between two or more pages interconnect with each other indefinitely, resulting in an infinite cycle of redirects. 
Consider this example for redirect loops:
Domain A redirects to   ——–Domain B redirects to  —-Domains C redirects to — Domain A
In such cases, a loop will be created with no end. That leads to the crawling and indexing issue. 
Redirect Chain: A redirect chain is a scenario in which a user clicks on a redirect and arrives at the final destination page, but multiple redirects exist instead of just one. 
For example:
Domain A redirects to…Domain B redirects to …Domain C
However, Domain A should be redirecting to Domain C. 
Both "redirect chain" and "redirect loop" scenarios harm SEO health. Several paid SEO audit tools, such as Ahrefs, SEMZRush, and others, have features for detecting redirect issues. 
8. Conclusion
This blog's main topic of discussion is "internal linking" and how it can help with ranking, indexing, crawling, keeping users engaged, and how it helps with site navigation.
Moreover, it touches upon best practices and strategies such as "topic clusters" while building internal links and other technical aspects related to them. 
Another aspect you need to consider is hiring a team of professionals to create and execute the best strategies for creating internal links. It is recommended that you select a capable SEO company to create, optimize, and monitor your site's internal links.
9. FAQs
What are internal links, and why are they significant?
These are types of links you place on your website pages, mainly between pieces of content, and sometimes they exist in the form of video and image links that connect other pages of your site to the page where they are created.
They are important because:
Google bots and users use them for navigation, so they are helpful with indexing your pages quickly and increasing users' engagement on your site.

Google considers them critical for your overall SEO.

You can [pass "link juice " from high-ranking pages to new or poorly performing pages and increase their chances of performing better. 
What are the best practices related to creating high-quality internal links?
The summary of the best practices related to internal linking is as follows:
Create lots of relevant and helpful content.

Link new and low-authority pages with your website's pillar pages.

Use topic cluster strategy.

Do a regular audit of internal links on your site.

Identify and fix orphan pages(Pages with no internal link) and broken links.

Use redirects wisely, and if there are issues, take action to fix them.

Put links high on the pages.
What are the different types of internal links?
Here are the types:
Contextual links.

Navigation links 

Text links 

Footer links.

Taxonomy and categorical link.
What are the prices related to anchor text on internal links?
Anchor text shows a small description of what is on the other pages whose internal link exists on a site page. The best practices related to anchor text are
Use anchor text naturally in your content.

Don't create long anchor text; 2 to 4 words are good enough.

Avoid creating a high number of anchor texts on a web page. Generally, the rule of thumb is about 4–5 internal links per 1000 words. 

Don't stuff the anchor text with keywords.

Try not to use the same anchor text across all of your site's pages.
Can I create internal links for my website without the assistance of a professional?
If your site is small, creating and monitoring internal links is not difficult. However, if your site is medium- to large-sized, having professionals monitor its performance may be beneficial.
Here, we recommend you hire an SEO company to develop and implement your company's internal linking SEO strategy. 
Can I hire your company for an SEO project that includes creating and optimizing internal links?
Yes, you can contact us from anywhere in the world for complete SEO of your site, including the creation, monitoring, and optimization of backlinks, external links, and internal links.