When it comes to link building, you have dozens of tactics to acquire backlinks. Broken link building is one such tactic that has worked like a charm for several years. In fact, broken link building is considered one of the most scalable link-building tactics. But, is it?
If you have ever tried broken link building, you've most likely found out that it's time-consuming and less promising. Many SEO experts avoid this technique simply because it doesn't deliver the expected results. 
However, that's not true. If executed correctly, broken link building can be one of the most reliable tactics to get quality backlinks. All you need is a well-defined plan to sail in the right direction. 
So, in today's blog post, we will share an efficient process to start and scale with broken link building. 
What is Broken Link Building?
What is Broken Link Building?
For those who don't know, broken link building is a technique where you find all the broken links, craft a similar content piece, and ask the person to link to your content instead of a broken page. 
Let's understand more as to what broken link building is exactly.
The process of broken link building involves a tactic whereby you find a broken link. Then, you start working on the dead content to create a better version of it. Then, you have to reach out to the person linking to the dead link and tell them to link to your content. Tell people about the broken links on their site, which will surely lead to a poor user experience. It will give them the option to link to better content.
Let's understand this with the help of an example. 
Here's a broken link that we found on DIY Marketer's link-building guide for beginners.

Wayback Machine told us that this used to be a post about "7 Ways to Protect Your Website Against Google Penalties". Now, since we are in the same field, we can easily write a similar post and ask DIY Marketer to link to our content piece instead. 
And, the good part is they are most likely to replace this dead link with ours because, well, no one wants to link to a broken web page. Not only do broken backlinks damage the user experience, but they also hamper the site's crawl ability. 
But, here's the catch. 
It is not necessary that broken link building always works. In many cases, you may not even get a reply from the other person, let alone get your link placed on their website. The key here is to find as many broken links and reach out to as many people as possible.  
So, you need to understand that the process of reaching out will not work every time. Joshua suggested that you need to reach out to the maximum number of people in this case. Also, even if you get a 5-10% conversion rate, it means that your strategy is working well.
And if half the people respond to your mail, you are on the winning side. Now that you know what broken link building is and how does it work, let's dive into the process of utilizing this tactic to get more backlinks for your website.
Brief Outline of the Broken Link Building Process
This is a brief outline of the whole process, which we will describe in detail for every aspect in the later sections.
You might have come across broken links or 404 not found errors at one point or another. These things occur very commonly on the web. If you find the broken link on site, you can use it for building your links.  You need to use resources like Wayback Machine. Warrick is also another tool developed by Comp Sci of Old Dominion, but it is less popular for rebuilding content as it is hard to operate. So, the Wayback Machine is the preferred tool. It will help you to find out what the readers would look forward to. Use the skyscraper technique to build better content for the website. 
The next step would be to reach out to the website owner. Tell him about the broken link on their site and also provide ready help by offering a link with relevant information for the website.
Getting Started With Broken Link Building?
Finding broken links isn't rocket science. In fact, it is way easier than you think, but surely the whole process is time-consuming.
You'll need access to an SEO tool like SEMRush, Ahrefs, or Moz Explorer. The Ahrefs broken link checker is one of the best tools to help you find the broken links on authoritative sites.
Here's an example of how you can find broken links using Ahrefs. 
Start by choosing one of the leading influencers in your niche. Quick Sprout is one of the top sources in the SEO industry. We can simply pop-in QuickSprout's URL into Ahrefs' site explorer to check all the 404 pages it has.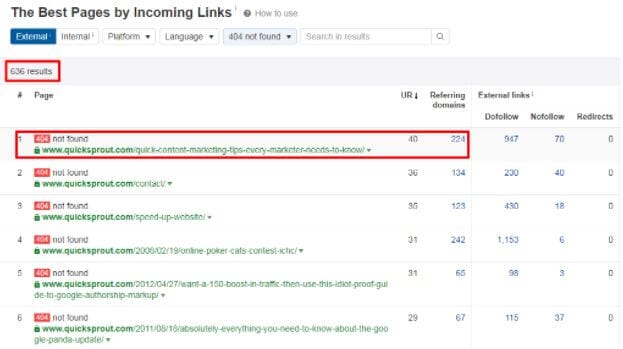 How to Get Started With Broken Link Building?
Finding broken links isn't rocket science. In fact, it is way easier than you think. All you need is access to an SEO tool like SEMRush or Ahrefs. 
Here's an example of how you can find broken links using Ahrefs. 
Start out by choosing one of the leading influencers in your niche. Quick Sprout is one of the top sources in the SEO industry. We can simply pop-in QuickSprout's URL into Ahrefs' site explorer to check all the 404 pages it has.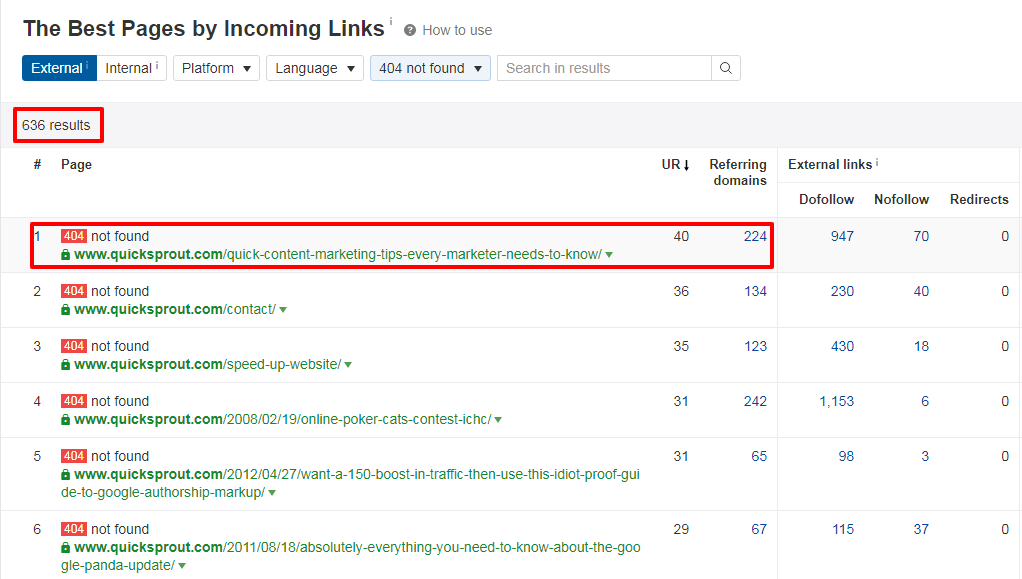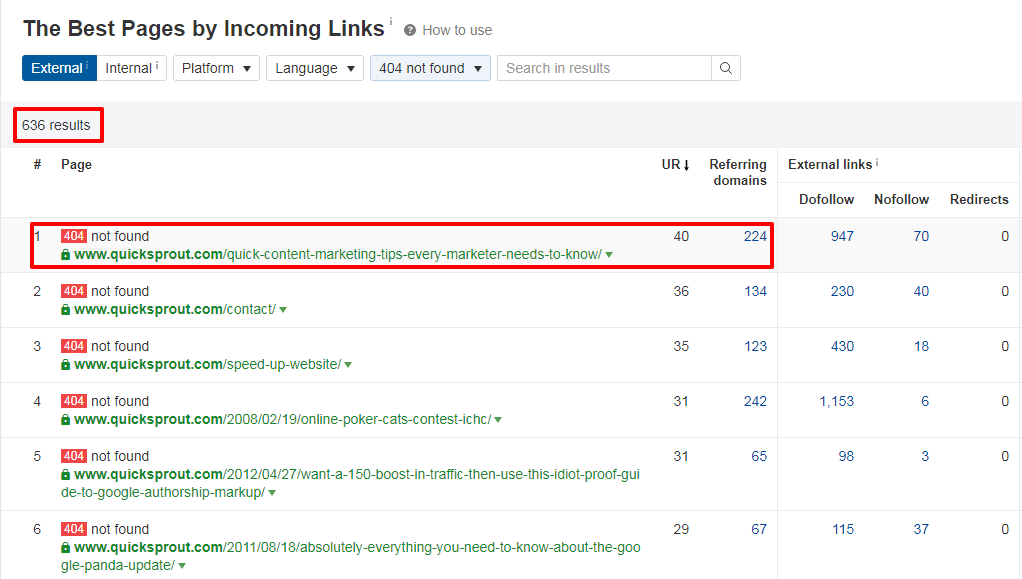 You can see that the first link in the above list has 224 referring domains. It means that if you can manage to write a similar article, you'll have 224 different link-building opportunities. 
And that's not it. You can further check broken links for each of these 224 domains, and it'll open a streamline of link-building opportunities for your website. This is the reason why broken link building is considered the most scalable link-building tactic. 
Make a list of all the 404 web pages and use Ahrefs to find out a web page with the maximum number of inbound links. That's it! Now, you have dozens of link-building opportunities for your website. 
Interesting fact: And did you know that as you find one broken link on an authoritative site, with the help of the Wayback Machine, you will also be able to find many other broken links from it? 
Finding relevant broken links in the top websites of the niche may seem to be time-consuming work. However, it is well worth the time. Using resources like Ahrefs will allow you to find pages having dozens of links. With the site explorer of Ahrefs, you can find more than 2 million external backlinks, and they will include any backlinks. 
Detailed Process of Backlink Building
Now, let us delve into the details of the process for building top-quality backlinks.
Section 1
First things first
You will need to create a list of authoritative and competent websites in your niche. For example, if we use the example of using the keyword "personal development,".
You will have websites like


Now, use the Ahrefs link checker to find the broken backlinks in each category.
For example, if you are using the second URL present in the list, https://tinybuddha.com/, search for it using the following string:
Step 1:
Site explorer -> Pages -> Best by Links -> filter for HTTP 404 errors.
For example


You will find a list of pages. 
The parameter RD referring domains reflects the number of other links found on a page with a broken link. Suppose the first page (in the list) has 41 more links. This means that if you can figure out the anchor text on the article, you can find 41 more opportunities to give your content for the same.
Use the Wayback Machine; you will find out what the article was about exactly. For example, if you copy and paste the dead URL, you will find out the content.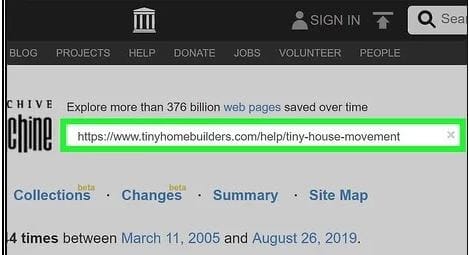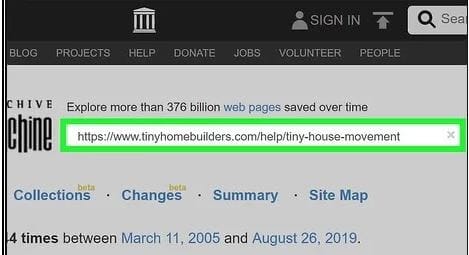 Here is a guide on finding the dead link if you do not get the results from the Wayback Machine.
Copy and paste the dead link into Ahrefs link explorer.
Go back to backlink profile and anchors.
You will get information something like this.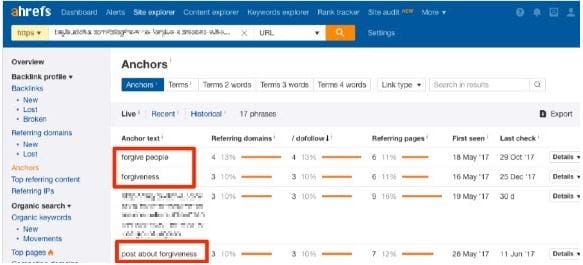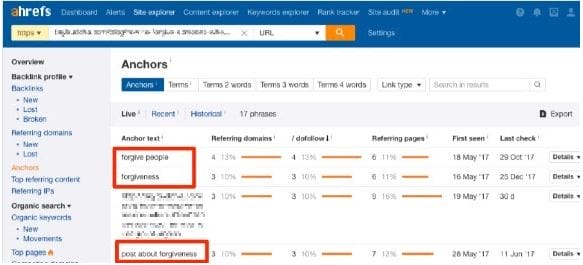 This is the information of just one article on the website. If you repeat the process for other websites, you will be able to tap hundreds of opportunities for your backlink-building campaign.
Step 2
If you have a reputable website in mind that you surely want to link to, but the website's name is in the URL, go to outgoing links>broken links.


There are 124 pages on the website that have external pages which are no longer available. You can find the best opportunity with a quick check; if you find a chance that you can cash on, use it for your benefit.
Then, you have to check its referring domains, which means you may have the same number of more domains you can reach out to with your outreach.

With batch reference in Ahrefs, you can expand your link-building process. However, this would be a long process. But, with quick batch analysis, you can do it much more efficiently and fast. 
For this, first export all the links you get in the first broken links list. Copy 200 links at a time into the basic batch analysis tool to sort the results with reference domains. You can reach this step in another way, which we are covering in Section 2.
Section 2: Scraping Resource Page
There's another process to find broken backlinks, i.e., scraping resource pages. In this process, you'll use advanced Google search operators to find the resource pages in your business niche.
Here's the overall process:
Use advanced Google search operators to find resource pages in your niche.
Scrape the search results using tools like Scrapebox
Scrape niche resources to find broken links: 
You can find resource pages in your niche using advanced google search operators.
It is necessary to bulk scrape the projects.
Now, scrape all the outbound links from all scraped resources pages.
Find 404 links checking the HTTP status of each page.
Use a reliable tool like Ahrefs to find pages with the maximum number of outbound links.
Using Google Advanced  Search for Keywords
Here's how you can go step by step with this: 
Find the resource pages in your niche with Google terms like
For example, if you use your niches' keywords in this way, the results you get include:
Use the scrapebox or scrape frog, you can check the HTTP status of every link to identify the 404 redirects.
Without having screaming Frog, use this formula to extract all the existing links on your Google sheets.
Use the tool Link Miner to find out the HTTP status of all external links. Now list together all the 404 links.
The last step is to copy and paste the list of the 404s in the reference batch analysis tool, which helps you find the best-broken link opportunities.
For example, in the screenshot below, you will find a page with excellent opportunities.
Once you find an excellent opportunity offering dozens of backlinks that you can build, go ahead with the process highlighted earlier.
Keep in mind the process can be highly time-taking but yields great outcomes if you utilize it fully.
Use tools to speed up the process
With Link Finder tool helps you to speed up the prices of broken link building. Entering a few keywords will help you to proceed quickly.
The best part of running a scrape is that it is very cost-efficient and takes up to $7.5 to run a single scrape, and gives excellent outcomes.
You have to find the contact details of every site you will reach for. You have to rely on email outreach while recognizing the fine line between spam reach and outreach. Check the various outreach tips that can help you understand the right broken link strategy to make the most of the opportunities you discover.
Here's a quick example of the popularly used technique to find 404 links or broken pages. 
Let's say you promote weight loss tips on your website. So, performing a Google search for "weight loss in title: resources" displayed the following search results.
The next step would be to bulk scrape all the search results using Scrapebox. Once you're done scraping the pages, you would want to extract all the outbound links from these pages to find 404 pages. 
Use the niche-relevant expired domains having backlinks
Visit the website of expireddomains.net to find other domains related to your niche.
Using relevant filters such as .net, .org, and .com will get more specific in your search.
Choose to get 200 domains on every page in the results. And finally, you can order the results using the number of backlinks. Now, it is time to hit the copy domain with a clipboard.
Then, order the results with the number of backlinks. The next thing to do is to copy the domains to the clipboard and paste them into the batch reference analysis tool. Now, choose the domain with the subdomains option. Sort the list using the list of the number of subdomains. It will give you the list of all the domains with broken links.
Though a site may have tons of broken links, what matters will be the workable backlinks it has. If the page has a significant percentage of junk backlinks, it will not help you to build good links. It is hard to find a good site having dozens of backlinks in it. Because if a site has tons of backlinks, people won't let it get expired. You have to work hard to find out sites that have quality broken links. Also, use an SEO tool like Ahrefs or SEMRush to filter out pages with the most inbound links.
Suppose a website with high authority has several broken backlinks. For example, four broken backlinks mean that you can now work for four broken links in place of 1 by having quality content with the topic of the broken backlink you discovered in the first go.
Section 3: Domain Buying
Buying a domain is one of the best approaches if an expired domain is available for purchase. By buying the domain, you can redirect the links to your website's relevant pages. If you can spend a few hundred for a few thousand dollars, you can purchase the website.
As you copy and paste all the broken URLs and then CSV export them. While you will paste the links in the extracted domains having a high availability tool and then search them.
This method will give you insight and information about all domains to which your competitor links.
Find out all the expired domains your competitors are linking to. With Bulk check, you can find all the expired domains your competitors are linking to.
When you get the list of the domains, 
Export it
Then copy and paste in Ahrefs batch analysis tool.
Again, as you check with 200 domains per page, you will be able to find the backlink opportunities described previously.
Section 4: How to Convert Broken Links-Tips for Successful Outreach?
Like we mentioned earlier, finding broken links is the easier part. The real challenge comes when you have to convince the webmaster to replace the broken link with a link to your content piece. 
As far as convincing the webmaster is concerned, it is extremely imperative to understand the thin line between outreach and 'spam reach'. You would not want the webmaster to consider your e-mail spam, like dozens of others. 
Moreover, it is also important to understand that a webmaster is likely to receive several outreach emails every day. So, it is also necessary that you put in the required efforts to stand out among others. 
Here's a list of quick tips that'll help you convert broken links without any hassle. 
Outreach to the Right Person
When you have a list of webmasters, you should not craft a simple template and hit the send button all at once. It is necessary to check if the person you're sending the email is actually responsible for the blogs or at least cares for the broken backlinks. 
For instance, if you want to write an outreach email to an industry expert like Neil Patel, it only makes sense to send it to his personal email. However, that's not the case with an organization. Let's say you want to outreach to Ahrefs. 
In this case, there's no point in writing about broken links to the CEO. It'll rather make more sense to find out the people who are responsible for Ahrefs' blogs, i.e., Tim Soulo. 
So, make sure that you send the email to the right person otherwise you are less likely to make a successful outreach for broken link building. 
What You Need to do
Use some of the best outreach software like Pitchbox and Buzzsumo to find out about the best prospects. This software tool will help you scrape the addresses of all emails for all sites. Then send the email to the resources you've found.
So few people succeed with broken link building because they cannot find the right way to do things. Most importantly, you must ensure that you're reaching out to the right person.
More on Proper Outreach
Link extraction: You need a shortened list of linking pages for finding all of your 404s. Using a tool like Domain Hunter or Check My Links, you can carry out a 404 header check. Use the HTTP status code checker, a free bulk tool to check all the 404s on the website.
If you find multiple email addresses, think if it would make sense to contact both the email ids or only one of them. For example, if you find two email ids, and wonder which is the perfect one to communicate. Now, find out which is the one that would be perfect for making communication for sharing the information of the broken link. It can be the CEO, the blog manager of the company. But if you communicate with the company's training manager or tools manager, it wouldn't be a good choice.
Even if you cannot find the e-mail of the CEO through the tool, knowing the company's name and email domain, you may look on social media like Twitter to check the email of the CEO.
But reaching the CEO is only the right policy for small companies where the founder actively manages the blog. In larger groups, it is best to reach out to bloggers of the company.
How to Send Your Message?
The first thing you need to understand is that you need to keep your message short and sweet. Use a simple format.
Use the recipients' name.
Mention the broken link while telling where it is exactly located.
Mention the link for replacement
Additionally, you also tell why you should replace it. These are the ideal component of your outreach email.
Keep Your E-mail Short & Precise
Your e-mail should be short and to the point. It is never a good practice to beat around the bush and write a lengthy e-mail. Let the other person know who you are, why you're here, and how you can help them. 
Here's a template to write the perfect outreach e-mail. 
Hello (Webmaster's Name),
Would you be able to update something on your website?
I have come across a broken link on your website. The link is on the webpage (webpage name) with anchor text (specify anchor text). 
Luckily, I have created a similar content piece that can replace the broken link. 
(Insert Page URL)
Hope this helps!
Thank You
Your Name
Of course, you can tweak the e-mail as you want, but the key is to stay on the point. If you write something more, make sure it's relevant and captures a valuable idea that the recipient will like.
So, here's another way to write the outreach email.
Overall, do not make your email sound pushy; it should simply tell the other person about a broken link and how they can replace it.
Follow-Ups are Necessary
If the webmaster doesn't reply to your initial e-mail, there's no harm in sending a follow-up. Follow-ups can turn out to be great as there are several chances when the webmaster may have skipped over your mail. 
However, don't be pushy with the follow-up. Keep in mind that the follow-up should look nothing more than a nice reminder. 
Here's a quick template for the follow-ups. 
This is one of the most effective ways to send a follow-up. However, make sure to send 1-2 follow-ups only. If the webmaster still doesn't reply, he's less likely to be interested in replacing the broken link. So, rather than wasting your time, get back to reaching out to more webmasters. 
But, it's no good to follow up more than two times. Otherwise, you run a high risk of getting blocked by the blogger. Furthermore, you can send 1 or 2 follow-ups if the blogger did not reply to your email.
Again, the idea is not to get too pushy. It means you have to make it a reminder in the simplest way.
Remember that broken link building works excellently even now, though the process may be a bit time-consuming. But having dedicated staff or an outreach company carrying out the job can make the process highly efficient and streamlined.
Another vital thing to understand is that your replacement link suggestion truly offers value against the broken link. Following this process will surely enhance your success rate greatly. 
Section 5: Building Links with Already Existing Blog Content
Here are essential considerations and tips which will help you if you want to build links with content already present on your blog. You need to: 
Choose the article.
Think about the audience you want to target with it.
Find the appropriate keywords with it.
Find the qualifying opportunities.
Outreach them.
Choosing articles for broken link building: The foremost thing is to research to discover the topics that can yield the maximum number of broken links.
See what topics you have on your blog. Now, fund broken links related to those topics. Use the search term connected with your article to find out broken links on different tools.
Now, search with the keyword on Google for old pages, which you will not find in the earlier pages of the search result. Rather, you have to reach out to the last pages of the search on Google. There you can truly find old pages or old domains that have expired links. Having valuable website pages will help you find links. You can use the tools like Ahrefs, as explained earlier, using the keyword.
Here's a breakdown of the complete process using an already existing link on your site.
Choose a piece of content on your blog you want to get links to.
Figure out two to three keywords in the article for searching on Google
Use the tool to search out broken links on Ahrefs.
Checking the additional information about the page on the blog, you will be able to find other opportunities you can tap to get more than one link from that page.
Here is more information on why some outreach campaigns work while others do not. The points you should be targeting:
Audience Targeting: You can begin your targeting with a list of people you already have, or you can also get contacts of people who have blogs similar to yours. And you need to carry out your research thoroughly to find out the broken link on their blog. If you already have good pages as replacements, it will be great. But, if you do not have them, create the same to reach out to the bloggers who can link to them. Using the tools to fn the mails of bloggers and people you want to reach out to can help.
Remember, the speed of outreach will matter. Send at least 15 pitches to different bloggers to ensure that you can get as many links and get an easy way for your prospects.
Keyword Research: Keyword searching is one of the primary methods of broken link building. Extract the links from those resource pages, find the missing pages, and find the ones qualifying for the opportunities.
How to Select the Prospecting Keywords?
Keyword selection from the pages you have chosen plays a pivotal role. The best link-building campaign is based on the keywords used. Some of the essential things you need to look into include:
Choose Categorically Relevant Keywords: It is a prominent characteristic that must be relevant according to your product. For example, if you are selling health-enhancing products, you should choose health-based products as a keyword.
Generally Broad Keywords: This is how most of the campaigns fail. Many times a client is unable to find resource pages for keywords with short reach. But, you have to find keywords having better link opportunities. You must find keywords relevant for options that are relevant for phrases to which your company belongs.
Finding the right phrases is essential to pair your keywords with phrases that your prospective customers are likely to use while searching for services and products you offer. Use "intitle:resources" or "inurl:links." for finding the list of the prospecting phrases for finding the most relevant linking pages, as discussed earlier.
Finding Qualifying Opportunities: As you find the 404 pages, you then have to filter the ones with the right opportunities. The more backlinks you find pointing out to 404 pages, the more will be the number of opportunities to earn links. You have to reach out to the linking domains to earn links from the broken links. The best strategy is to invest your time and effort on sites with many linking domains than the ones with just a few.
To send your link, you have to have an idea of what content the expired link had. You can get an idea looking at the ancho text or check the URL  to get a hint if the website content you want to pitches replacement will be the right fit. Also, the linking ages can give you an insight into if the content you want to pitch for is relevant. Otherwise, use tools like Wayback Machine, or Ahrefs, or Moz Explorer to get more insight.
Section 6: Some Words About Content Creation
If you do not already have a blog that you want to use to repeal the old link, you have to work on content creation. It is essential to determine what the broken link page is about. First, you have to determine the page's relevance to ensure that the content you from is right. However, it is important to be as specific as possible to develop valuable content for the readers who referred to the link's contents earlier. It should only offer a better value than anything less. Moreover, it should cater to the requirements of more users and not less. You need to create quality content, especially if the website you are building is more informative and less commercial, and more trustworthy.
What can You do to Come up with Great Content?
Use the Wayback Machine to find out what the earlier content was. Now, create content that is of higher quality than that. Update for the right statistics like Authority of the content; this means using citations with high authority. Make long-form content with various sections. If possible, reach out to the original author to enhance its credibility.
Section 7: Tools to Find the Contacts
These are the typically used tools for finding the emails or contacts of the bloggers.
Link Research Tools Contact Finder
SEOGadget's Contact Finder
Raven Tools Contact Finder
BuzzStream
Virante's Contact Finder: In Beta
Conclusion
Irrespective of what you may have heard, broken link building is still one of the most effective ways to acquire high-quality and meaningful backlinks. The experts at SEO Company India suggest that it is far better than other link-building strategies such as guest posting.
The guide mentioned earlier will help you effectively execute the broken link building. So, utilize this technique and improve your website's backlink profile by acquiring relevant and quality backlinks. You need to go for direct URL targeting, site crawling, opportunity selection and content creation. In the end, quality backlink acquisition through broken link building will involve filtering URLs with the extraction method described.