It is crucial to present your brand to the right audience because 89% of customers begin their buying process in a search engine. Otherwise, you will miss out on sales. By targeting right search queries or keywords where users are ready to make a purchase, you can greatly enhance your sales and generate leads for your business. These buyer intent keywords help you measure your campaign's success and create a sound strategy for your campaign. Ideally, you want your chosen keywords to achieve the following: 
Help search engines find your site pages to get indexed quickly. 

Increase your site page ranking on Google to achieve maximum visibility. 

Help your company create content according to the customer buying journey

Give you a  solid base to create content.

Help you to beat the competition. 

Attract maxim traffic to your site pages and increase conversions. 
Among all these motives, the most important is the conversion one. After all, the whole activity of SEO aims for one core reason: the targeted customer comes to your site and  takes the desired action, like making a purchase. subscribing to your services, registering themselves for your campaign, etc.
Naturally, you will want your chosen keywords to help you achieve the most conversions.
Amongst all types of keywords, the most influencing types are "buyer's keywords," which bring in the maximum conversion since the users entering them have a clear intent of buying a product or service. 
And undoubtedly, any site that ranks for a high number of keywords with high buying intent  can score a high number of conversions, and to be honest, these keywords are nothing short of a gold mine in SEO. 
Now, you could have questions such as, "What are these keywords, and how do they differ from other types of keywords?" "What is the buying intent in the keywords?" "How do you find and pick the right keywords for your website?"  
All these questions are important and relevant, and this post will answer them one by one. So, let's get on with it. 
1. Understanding the Underlying Intent of the Keywords?
Intent refers to the reason for entering a keyword into a search engine. When a user enters a word or string of words into a search engine, they usually do so to achieve a specific goal, such as seeking information, entertaining themselves, becoming educated, and so on. 
For example, if a user searches for "affordable taxi service outstation," it is clear they are looking to hire a taxi to take them somewhere outside the city.
Knowing the intent of a keyword is important in keyword research for overall SEO. It is because the intent in the keyword helps you formalize your strategy according to the customer's buying journey.  
Take the example of an individual looking to buy a laptop. Now, if the user enters a keyword such as "latest Windows laptop," "Windows laptop vs. Apple laptop," or "new feature-rich laptop," it is evident and highly probable that the individual is still evaluating the options or planning to buy a laptop.
However, if a user enters a query such as:
laptop under $600, 
"discount rate laptop. "
buy a laptop under $700 
or  
"Second-hand laptops under $500. 
" In such keywords, the purpose is clear, and the user is likely to purchase soon or right away 
There can be some more examples, like a user entering "HP Pavilion gaming laptop," "Alienware gaming laptop," "the best gaming laptop to buy in 2023," and so on. 
In these keywords, you may have noticed the presence of the brand's name; these are "brand keywords."
So, how does it affect SEO? The answer lies in the customer buying journey. As a digital marketer, you should have information about how the customer's buying journey takes place step by step:
2. Steps of Customers' Buying Journey
Knowing the customer journey will help you create a strategy for companies of all kinds, products, and services. By knowing your target customers' buying journey, you can present the products or services you offer most effectively. 
Here are the steps of a typical buying journey that an individual goes through. 
Becoming aware of a problem or desire: This is the first step where an individual realizes an issue or desire that he/she needs to solve or fulfill. The buyer realizes they have a problem at this point.
Stage of consideration: The decision-maker finds and weighs the various options available to them to solve the problem, and they look into their advantages, disadvantages, pros, and cons by gaining more information about them.
Interest- The individual moves from evaluation towards buying the products or gets closer to making a purchase decision. 
Decisions: The product/ service is bought from a chosen option.
As a digital marketer, you should know that at every stage of this customer buying journey, you will have competition, and you need to target each stage so that your competitors are not ahead of you.
This strategy is called the "Content Gap Strategy." For instance, if your company offers a service for "roof waterproofing" and one of your customers has an issue with water leakage, that customer is in the consideration step. 
You can move them to the next stage of interest if you can create content that informs them about what you can do or offer to waterproof their homes.
And at the stage of interest,  if you have content ranking highly on Google, that can persuade them that your products or services are superior to the other options available. They will proceed to the final stage of purchasing. So,   following such a process by targeting the  appropriate keyword for each step will help you win more clients or customers.
3. How Marketers Use the Customer Buying Journey to Form Strategy
As explained, marketing professionals look at the various stages of the customer journey and compare them with the products, services, and overall company entity. For example, if the product you are offering is not even on the market, you need to focus on the first step of the customer journey, i.e., " Becoming aware of a problem or desire. " 
For example, you want to introduce a new product called  "odor-resistant" water bottles or "self-cleaning bottles." People generally do not consider that they could have issues with the odor of their bottles. 
However, you must make the target audience realize they have a problem with their regular bottles. They should also target the other stages of the buying funnel, but the focus of such new companies' offerings of lesser-known products remains heavily on the first stage.
On the other hand, companies that sell goods or provide services that customers widely use and are aware of may concentrate on the later stages of the purchasing journey.
However, if most of your target audience is at the "decision stage," achieving high rankings on buying keywords can open the floodgates to achieving a high number of conversions.
Now that you know the customer journey, let's concentrate on the function of keywords in SEO marketing. 
The keywords can affect the maximum conversion if you pick them intelligently according to the intent they represent and create the content accordingly.  You can segregate the keywords into 4 types based on intent. 
4. 4 Types Of Keywords According to The Intent
Here are the keyword segregation and understanding tips that will help you create a better content strategy for each step of the customer buying funnel: 
1. Informational Keywords
These keywords are ideal for customers who are becoming aware of or considering purchasing a product or service.
In some cases, however, they might also work well for the other stages. You should know that such a keyword helps make your target audience more aware and informed. 
Examples  of informational keywords are 
"How to make SEO better for the website."
": How to increase profit margins."
"What is SAAS?"
"What is Saas company?"
"Are laptops under $300 good?"
"What are the best laptops under $300"
2. Navigational Keywords
As the name suggests, such keywords are used when users are already sure where they want to go. They display in their entered words or phrases that they already know what they want to discover. And the entity they are looking to find could be: 
A product name

A brand name 

Website name 

A business name 
For example, 
"HP laptop dealers."

"Nike shoes for men"  

"White Nike shoes"

"Which is the best Dell laptop to buy(informational + navigational. " 
3. Higher-Intent  or Commercial Keywords
Such keywords are chosen to attract users on the verge of purchasing but are not quite there yet. They need a little convincing to compare the products and look for discounts or the best options. 
For example,  prospective buyers may enter keywords such as:
"Smartphone discounts" 

"phone vs. Pixel" 

" Nike vs. Adidas"

 "Top deals on laptops"
4. Buyer Keywords(Transactional Keywords) 
These keywords aim to draw in customers who are prepared to buy and consider their options. They function as a clear navigation button, taking the buyer from the search to the product or service landing page to the final purchasing page. 
You can identify such keywords easily, such as theory have words like buy, purchase, discount, where to buy, cheapest, etc., 
"Best buy hp laptop."

"Best buy Dell laptop computers."

"Cheap iPhone repair near me."

"Purchase SSD drive"
As mentioned, the transactional keywords display the highest level of buying intent on the part of the users, which indicates they are ready to buy a product or service. Undoubtedly, targeting them can help you increase conversions drastically. 
But how do you choose the most appropriate keywords based on buying intent? No worries, as the next section, will help you with this. 
How Do You Identify Intent and Choose the Right Buyer's Keywords? 
One of the first things people struggle with is identifying the intent of the keyword. For this, there is a simple exercise you can do: just go to the Google search bar and enter any keyword you want to use. You should be able to ascertain the intent that Google believes that particular keyword represents after looking through the top 5 organic search results. 
Apart from that, you can look at two sections: "People also ask:" and" and "Google maps local listings." which displays the local result. Going through these sections on Google can reveal a lot about the search intent of the keywords. 
Now, you may be wondering how to find the best keywords. Let's learn about some of the best methods for this. The best part is that all of these methods are::
Use Google Auto-Suggest
Enter the seed keyword in the Google search, and you should see auto-suggest results. These auto-suggest results are excellent for finding the most suitable keywords for your site.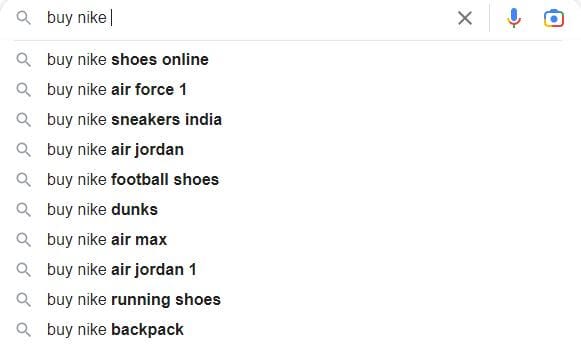 Use "Keyword Surfer" Chrome  Extension
The keyword surfer extension is just so useful; the best part is that it is free. You can find many variations of any keyword along with the search volume. And trust me,  this SEO extension works like a charm. 
Using this SEO extension is not difficult. Just enter any word phrase or keyword in the Google search, and it displays the variations of the keywords on the right-hand side. You can select the keyword you want to use and copy it from the tool itself. 
Use Ahrefs Free Keyword Generator
Do you need a free but capable keyword generator tool to help find various keywords? Opt for  "Ahrefs' free keyword generator." Despite being free, it provides excellent features for finding a reasonable number of keywords.
Moreover, it displays the keyword for both Google and Bing, YouTube, and Amazon. The best part is that you get to see KDF (keyword difficulty) and volume statistics.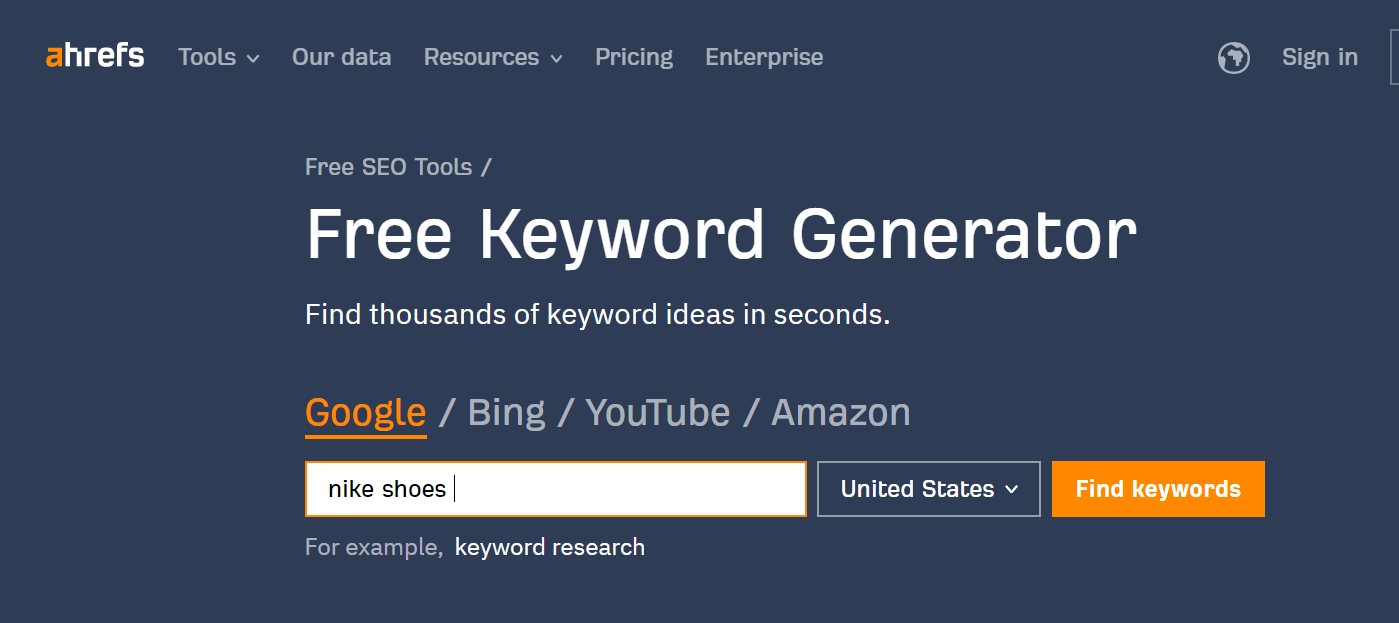 Answer The Public Platform
It is another excellent tool for finding all search topics and keyword variations. Just enter the keyword or word phrase, which will display an ample number of variations for the searched word phrase.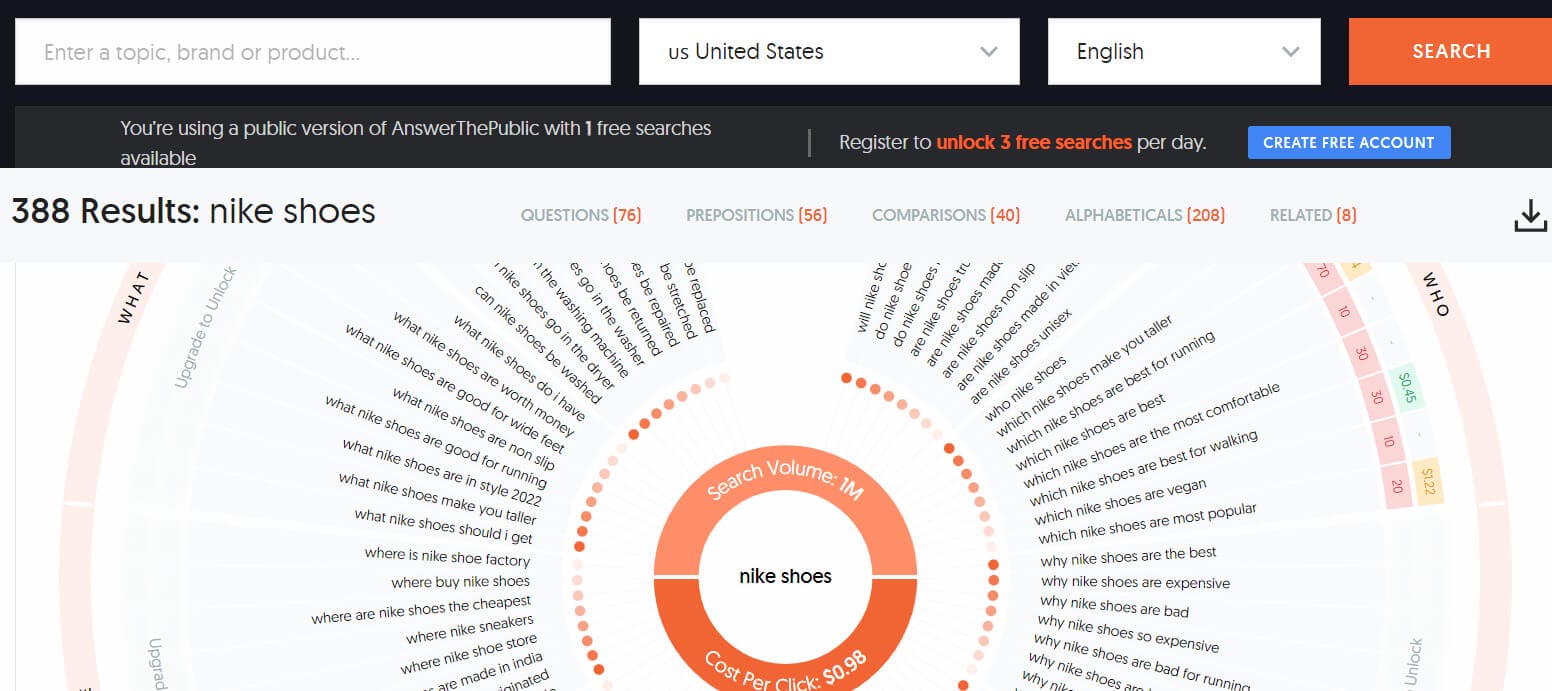 Moreover, it also displays variations in the alphabetic order. 
So, these are some common tools and methods for finding all types of keywords for free, including buyer keywords. 
5. Wrapping Up
This blog discusses the topic of buyer keywords, their role in SEO, and how they are the most effective keywords for influencing conversion.  This post also explains how digital marketers need to know about the complete buying journey and use that as a reference to find keywords and create content around them to attract the target users.
Finally, this explains a few methods and online tools that are excellent for finding all types of keywords, including those with buying intent.
Further, there is one suggestion for someone who is looking to get the most out of such keywords and methods related to them to increase conversion and profit: take the help of expert SEO companies, as they have the resources and skills to perform all the activities with the consistency that leads to success. 
6. Frequently Asked Questions
How can one find "buying keywords" variations on Google?
The best method to find the variations of any type of keyword people search on Google is to use the Google auto-suggest feature and look at the "People Also Ask" section. 
What are the 4 types of keywords that differentiate from each other based on the "intent" factor?
Based on intent, one can segregate the keywords into the following types:
Navigational 

Informational 

Commercial 

Transactional keywords.



What are the universally acknowledged stages of the buying journey?
These are the universally accepted stages of the customer journey that are universally acknowledged and accepted:
Becoming aware of a problem or desire:  
Stage of consideration 
Interest- 
Decisions
What is keyword intent, and can you tell me more about buyer intent keywords?
"Intent" refers to the purpose that searchers have when they enter a keyword into Google or other search engines. For example, if a user searches the keyword "is chocolate good for health," a plethora of health-related websites will appear. Here, the intent is that the user might be looking to give up on chocolate. 
Buyer's intent keywords are those in which it is evident that the buyer is about to purchase a product or service and only needs to decide from whom they will purchase it. 
Such keywords are excellent for generating high conversions, especially if you have created and implemented a well-researched strategy for your keywords and content concerning all stages of the customer buying journey.  By getting ranked for keywords that signify buying intent, you can certainly put your conversions into top gear. 
Can you share some examples of buying or transactional keywords?
Here are a few examples of such keywords:  
"Buy  leather shoes," "
House for sale in NewYork,
Laptops on discount, 
buy vegan leather fabric near me."
It is easy to identify keyword strings with buying intent as they generally use words like "buy," " shop, sale, offer, etc. in them.