Keyword research is the primary pillar of starting an SEO campaign. For all your SEO efforts, you need specific keywords to target. After the right keyword research only, you can work on the optimization of the on-page seo elements of your website. These keywords are the search queries and phrases, the customers use to find your website on the Internet.
When you target these keywords and optimize your website for them, you start climbing to the top of the search engine ladder and secure a place in the top positions.
It means that without an effective SEO keyword research, all your SEO efforts have no significance whatsoever. However, many website owners, especially who have recently stepped into the market with their business, struggle to find the most potential keywords for their business.
Even though one can find hundreds of online guides to execute an SEO keyword research, there's always something missing in these guides. While some people are only talking about keyword research tools, others have simply laid out the guide for one specific business niche.
So, to save you from the trouble, we have scribbled down an effective keyword research guide to find the best keywords for your business niche.
How to Perform SEO Keyword Research in 2022?
Here we have mentioned the best keywords research methods that would help you to grow your site's search engine traffic to thousands and millions of unique visitors per month
Enlist Topics Related to Your Niche to Find Keyword Ideas
The first step towards executing effective keyword research is to make a list of the topics, which are related to your business. For instance, if you run an online store, which sells laptop accessories, the most common topic that comes to mind are:
Laptop Accessories

Laptop Accessories for Windows.

Accessories for MacBook.

Best laptop Accessories
Of course, you could think of endless topics, but that doesn't mean you should write down each one of them. Think from a customer's perspective and only write ideas which you think are most likely to be searched by the audience.
It is also worth noting that these ideas aren't the exact keywords, but broader topics which people might use to search for your business. Using these broader topics, you will find out the most potential keywords to rank for.
Once you have prepared the list of topics, it's time to move forward and find the keyword ideas. While there are several ways to find keyword ideas, we're going to share some of the basic and simplest ones to make your job easy.
1. Google Suggest & Related Search
Google itself will suggest you with the keyword ideas, your customers are using to perform Google search. All you have to do is type in the topic name into the Google search bar and wait for Google to spit out the suggestions.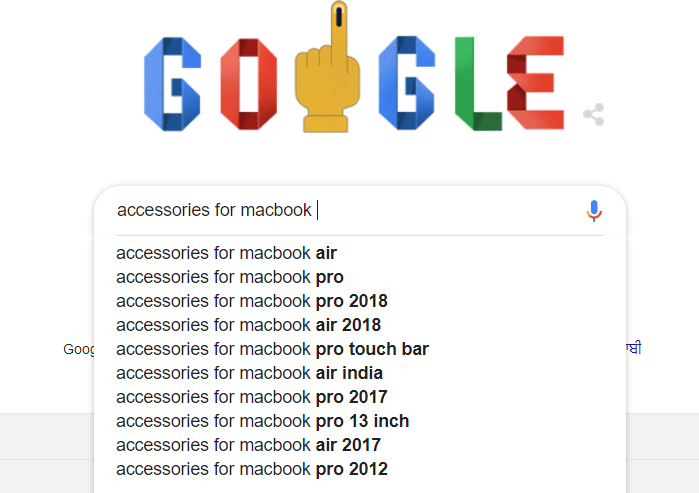 These are all the keyword ideas which you can infuse in your web pages, mainly because Google is suggesting them.
Another way to find keyword ideas is to use Google related search section. Every search engine result page (SERP) has eight suggestions at the bottom. These phrases can also be used as keywords since people are already using them to perform Google search
2. Search Your Competitors
There's a huge possibility that your competitors have already gone through the hassle of performing SEO keyword research and are ranking for them as well. So, all you have to do is find your potential competitors and pick the best keywords that they rank for.
To do so, type in the topic name in the Google search bar. The first three search results are your most potential competitors and these are the ones who'll provide you with a list of keywords you need to target.
Here's a quick example to make things easy to understand.
Let's say my seed keyword (topic name) is "guitar lessons for beginners". When we popped this keyword into Google, these were the first three search results.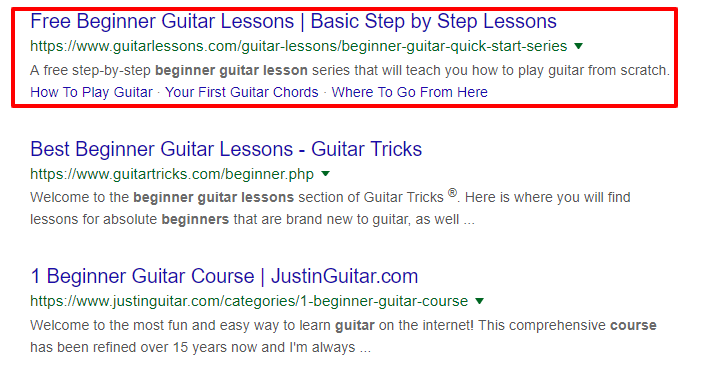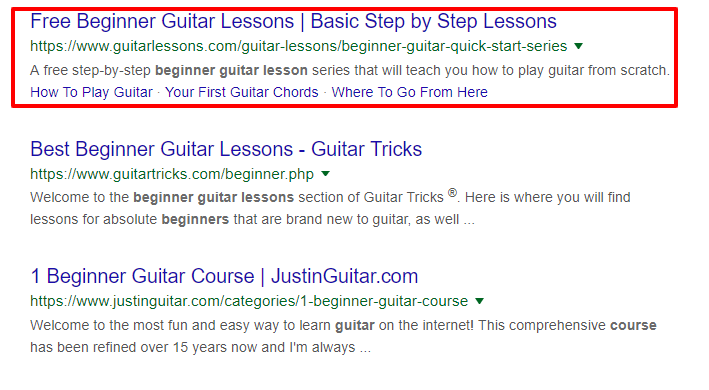 Among these three results, we decided to go with the first one as it is ranking at #1 position, which is our ultimate target. Now, copy the link address and pop it in a tool like Ahrefs' Site explorer to analyze the website and find the keywords for which the website ranks for.
These are the keywords that our competitor is using, which we need to target as well. You can repeat the same process and find the best keyword ideas for your business niche.
Analyzing your competitor's keyword profile will provide you with several keyword ideas for which you can optimize your website and stay packed for the next 3-4 months.
3. Identify Keywords Which You Already Ranking for
Another way to find keyword ideas and execute effective SEO keyword research is to identify keywords which you already rank for in Google. The truth is if your website has been in the market for a while, it is more likely to be ranking for certain keywords.
You can identify these keywords and optimize the page content around them to increase the rankings and increase website organic SEO traffic.
To do so, type in your domain into Ahrefs' site explorer and click on the organic keyword button in the middle-left corner under organic search tab.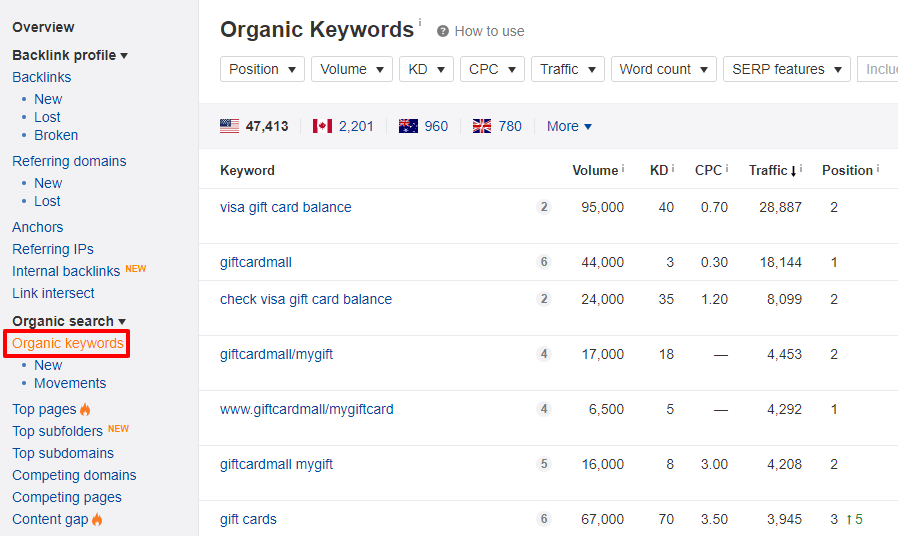 These are the keywords for which the website is already ranking in SERP. By optimizing the web pages for these keywords, it'll become fairly easy to attain top rankings.
Familiarize Yourself With an SEO Keyword Research Tool
The second step towards performing keyword research to understand the working and get comfortable around a keyword research tool. As of now, there are several keyword research tools available in the market. You can use any of them to find keywords for your business niche.
Of course, it is possible to find keywords without using a professional tool. However, a dedicated keyword research tool makes things fairly easy as one can compare keywords on the basis of different metrics like KD (Keyword Difficulty), search volume, CPC, etc.
Here is a list of some of the commonly used professional keyword research tools for SEO
1. Keywords Everywhere
Keyword Everywhere is one of the easiest and most convenient keyword research tools. First of all the tool is completely free and doesn't require you to purchase the license. And, secondly, it shows the list of keywords along with metrics such as search volume, CPC, and competition.
Simply type in the keyword idea into Google search bar and you'll see a new section appearing in the middle-right corner, which displays a list of related keywords along with the search metrics.
For instance, when we entered search engine optimization into Google, this was the list of keywords generated by Keyword Everywhere.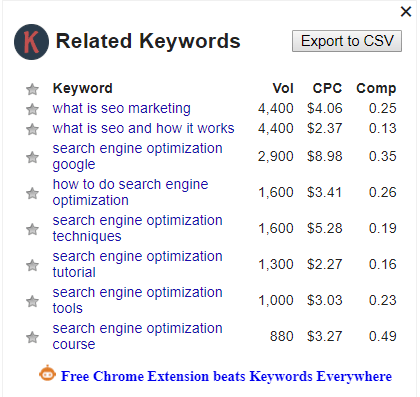 These are the keywords which you can infuse in your web pages to make them search engine friendly.
2. Google Keyword Planner
Google's Keyword planner still remains the widely used keyword research tool, mainly because Google is backing up the tool.
It is worth noting that the tool isn't designed for SEO, but to find keyword ideas for ad campaigns. However, you can still use to find the most potential keywords for your website as the keyword report is generated by Google itself.
3. Ahrefs
When it comes to professional SEO tools, Ahrefs is always at the #1 position in the list. The tool is considered to be one of the most accurate keyword research tool, which provides a deep insight into a particular keyword.

The tool provides you with an insight about keyword difficulty, search volume, CPC, and related keyword ideas as well. We personally use Ahrefs to find the most potential keyword ideas for our website.
The biggest reason why we prefer Ahrefs over other tools is that it also tells how many backlinks you'll require to rank in the top 10 positions for a certain keyword.
4. SEMRush
SEMRush is another professional keyword research tool like Ahrefs. You can also consider it as an alternative for Ahrefs as well as it also provides tons of data for a particular keyword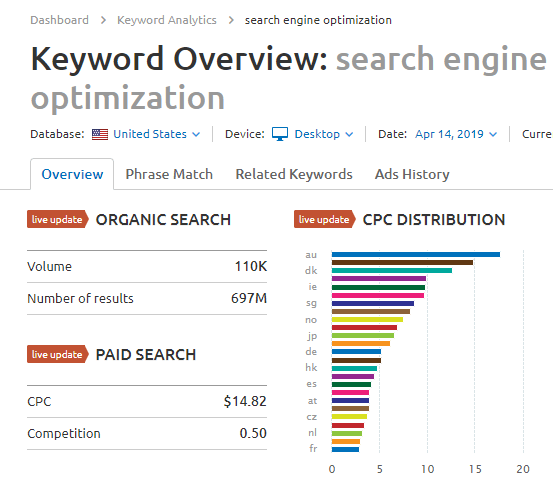 The tool is highly effective to analyze the keyword profile of your competitors as it displays the exact keywords, a particular website ranks for.
Understand Keyword Metrics
While working with keyword research tools, you're most likely to find several keyword metrics. It is extremely important to understand these keyword metrics as you'll have to use them to compare different keywords with each other to find the most potential ones.
Some of the keyword metrics include.
1. Search Volume
As the name suggests, search volume depicts the demand for a particular keyword, i.e., how many times the keyword has been searched by customers, across the globe.
Search Volume is an important keyword research metric as you would want to target keywords having high search volume to reach the majority of the audience and drive more organic traffic to your website.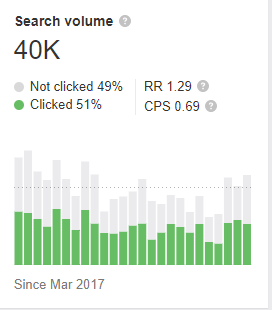 It is also worth noting that search volume is a dynamic keyword metric as certain keywords, known as seasonal keywords, experience fluctuated search engine volume.
For instance, "gifts for the new year" is a keyword most likely to be searched around new year's eve and that's when it's search engine volume is going to skyrocket.
2. Clicks
It is not always necessary that a keyword having high search engine volume is worth targeting. You should also focus on the click it manages to generate through SERP.
For instance, "Tony Stark" is one of the highly searched keywords with a search volume of 84,000. It means that it would help you drive more organic traffic if you target this keyword. Not exactly.
Here's how the SERP page looks like when we pop-in Tony Stark into Google search bar.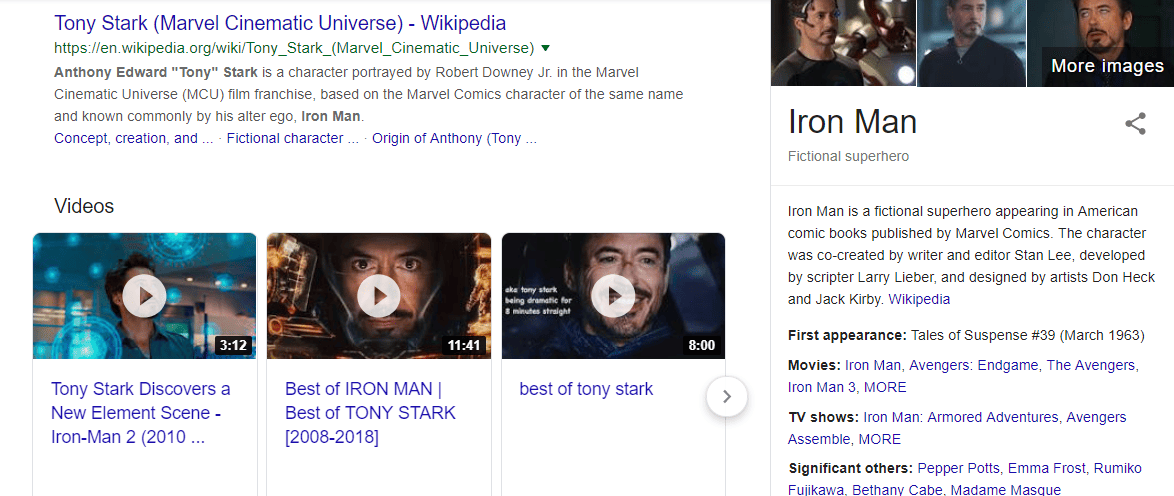 As you can see that the knowledge card, displayed in the right corner conveys most information about Tony Stark. It means that people are less likely to click on the organic results to know anything else about the character.
It means that this keyword experiences a fewer number of clicks through SERP and therefore, you should not put in your efforts to target it.
You can use Ahrefs to identify how many clicks a particular keyword experiences. Here's a snippet displaying the total percentage "tony stark" is clicked by users.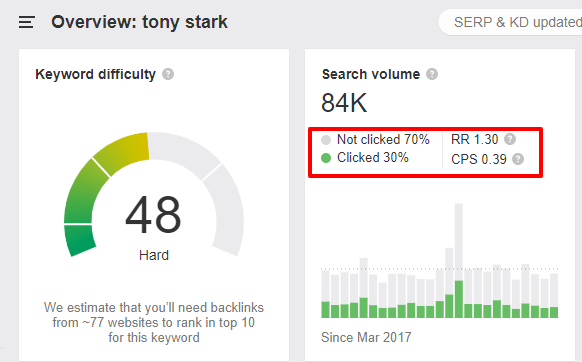 People only click the search results 30% of the times, and therefore there's no point in targeting the keyword.
3. Traffic Potential
Google has become extremely smart, so much so that it understands how two keywords are related to each other. That's the reason why it even displays web pages which contain synonyms and related keywords.
So, you must also take a look at the traffic potential of a particular keyword. It is much likely that a keyword doesn't have high search volume or clicks, but have a number of synonyms and related keyword which are worth targeting.
Some of these keywords are known as long-tail keywords which are nothing but a stretched form of the target keyword to make it more specific, thereby meeting user intent.
Insert your target keyword into Ahref's keyword explorer and head down to the keyword ideas section to identify keywords which have significant keyword potential.
4. Keyword Difficulty
Keyword Difficulty is an important metric of SEO keyword research, mainly because it tells you how competitive a certain keyword is. This gives you an idea of how difficult it would be to rank for the keyword. If you're a small business or have just started out your website, it is better to target keywords having lower KD as they are less competitive.
However, if you're a well-established business with strong domain authority and are performing keyword research for the 100th time, you can even choose competitive keywords.
You must also remember that long tail keywords are less competitive than the seed keyword and therefore, they are worth targeting, especially if you're a small business or a startup.
Here's a quick example It is always advised to maintain a balance between keyword difficulty and search volume to target the most effective and keywords.
5. CPC (Cost Per Click)
Even though CPC is a metric tailored for advertisers, many SEO professionals recommend checking it while performing keyword research. Reason being it tells you about the keyword's commercial value, i.e., whether people are willing to spend money on it or not.
So, if a keyword has high CPC, you can include it in your SEO keyword research and target it to achieve top rankings in SERP, even if it has a low search volume and clicks.
How to Choose Final Keywords?
Now, that you have made a list of keyword ideas, it is time to cherry pick the most potential ones from the list, and move towards the final leg of SEO keyword research. To do so, all you have to do is follow the below mentioned tips.
1. Group Keywords Using the Parent Topic
A parent topic can have multiple co-related keywords for which you can rank for. As we have mentioned earlier, it is always a good practice to optimize a web page for related keywords as they improve the content authority and readability.
Furthermore, when your web pages have synonyms and similar keywords (also known as LSI keywords), it becomes easy for the search engine crawler to index and rank the pages for a specific search query.
An important part of SEO keyword research, nowadays, is to add related keywords into one group and optimize one web page for these multiple keywords.
Insert the first organic search result into Ahrefs' site explorer and click on the organic keywords tab. This will display a list of keywords for which the web page is ranking.
You can infuse these keywords into your web pages to make them search engine friendly.
2. Group Keywords to Meet User Intent
The next step is to optimize your web pages to meet user intent. While searching using a keyword, every customer has a certain level of expectation. For instance, some people are looking to read content regarding the topic while others are looking to buy something.
For instance, a customer searching for "buy MacBook charger" is most likely to buy a new charger for his MacBook while a person searching for "best Apple gadgets" only want to know about Apple gadgets.
Therefore, it is important to understand which category the target keyword falls under. A keyword, in general, can be divided into the following categories.
Transactional.

Informational.

Navigational.
Each of these categories serves different user intent. Transactional keywords are the phrases for which the customer is most likely to buy the product. For instance, "buy MacBook Charger".
Informational keywords, on the other hand, are the phrases for which customers only want to educate themselves and for which blogs are likely to be ranked.
Navigational Keywords are the phrases for which the customer wants to execute in-depth research to find more about the brand. In such cases, the customer is already aware of the brand and wants to check out customer reviews to know more things about it.
It is important to categorize your keywords into one the three categories and then optimize the specific web pages to meet user intent.
SEO Keyword Research: Final Words
Keyword research is a crucial part of executing well-designed SEO campaigns. It is important to target the most effective keywords so that you appear in the top positions whenever your audience performs a Google search.
The above-mentioned guide will help to perform keyword research. However, it is worth noting that each SEO professional has his own method of finding keywords. If you're a newbie to the world of SEO, we recommend hiring a professional SEO team and let them find the most potential keywords for your business using the best methodologies.