Despite using SEO strategies, your store goes unnoticed by locals and isn't generating revenue. If that's the case, let us guide you on the right approach to local keyword research. 
In this blog, we'll explain what it is and how it works, as well as provide insights into the best methods for both identifying and analyzing the keywords relevant to your local audience.
So, without further delay, let's get started!
What is Local Keyword Research?
It is a way to figure out the keywords used by people while finding services or products near them on Google.
Anyone providing online services requires it to be carried out. For instance, a gym equipment store located in San Francisco will do local keyword research to know users' search queries. It will give them an idea of the phrases used by shoppers when looking for regional gym equipment.
But is there any general rule for understanding keyword framing used by customers? Yes, it works like this: 
[Business Type/ Product/ Service] in Place name

[Business Type/ Product/ Service] Place name

Place name [Business Type/ Product/ Service]

Best [Business Type/ Product/ Service] in Place name
Let's see an example from SERPs:
Local keyword research example used when looking for a bakery in a specific region
It is beneficial for businesses operating regionally and those who want to attract traffic and, ultimately, revenue from a particular area. It is just like a secret code for them that connects their business with local customers.
Purpose of Local Keyword Research
It plays a vital role in the success of any online business store as it directs SEO efforts in the right direction. 
Local keyword research is done for the following reasons:
 Making a business store's landing page relevant and connected with its customers.

Getting leads from more targeted and higher-converting traffic for the store.

Improving online visibility when people search for the store's products.

Understanding the customer's intent better.

Insights into the prevalent trends and emerging customer market needs and refocus on the store's products (discover new customers).
Who Can Benefit from Local Keyword Research?
Anyone looking to connect with regional shoppers and promote products or services within a specific geographic location can use local keyword research. Here are some examples of who can benefit from it:
Local businesses

Service professionals (doctors, lawyers, dentists, etc.)

E-commerce stores

Content creators

Tourism and hospitality industry

Real Estate professionals

Event organizers
How to Do Local Keyword Research?
Keyword research is all about identifying the three main parts of search queries:
Core term

Keyword modifier

Location.
Let's learn more about these terms and how to use them in the procedure one by one.
Identify Core Term
The core term is simply the type of business a store operates. So, clearly understand items, services, and the associated target audience to identify this term. 
For example:
A clothing store selling women's dresses has a core term like 'women clothing."

An HVAC maintenance and installation contractor business has core terms like "HVAC installation" or "heating and cooling services."

Keywords related to a law firm have core terms like "law firm", "attorney," and "lawyer."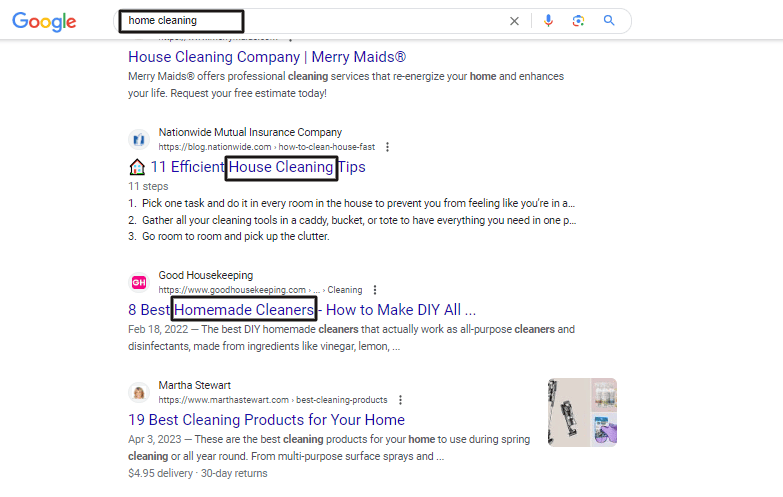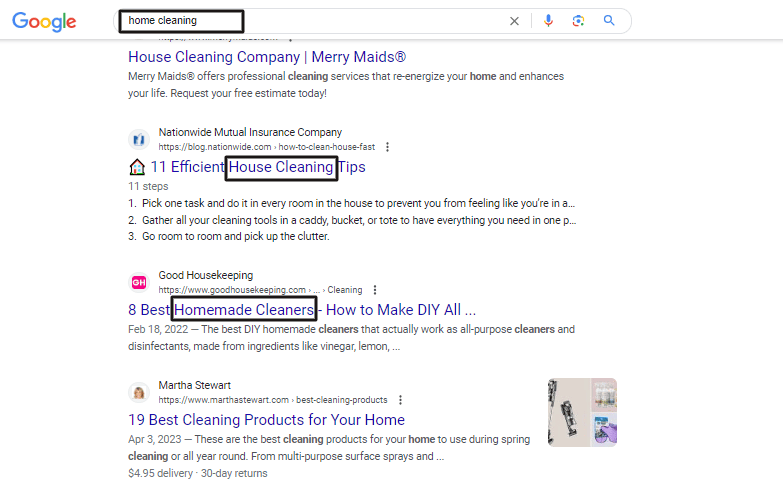 Core term examples
To identify core terms, gather some knowledge about your niche and then generate a list.
Additionally, type the keyword in Google Chrome and see the autocomplete suggestions. Even this will also give you some great ideas for related local keywords.
Extend Core Words with Keyword Modifiers
After identifying the core keywords, the next step is to make them more specific. It helps in bringing relevant traffic and leads to the store.
Modifiers will do the purpose, and there are 4 ways to use them. 
Quality

: It specifies the quality of the business store. One can use "best" or "top" as quality modifiers.

Ex. Best cleaning services provider store in San Francisco.
Occasion:

The modifiers that focus on a specific event or point are occasion specific.

Ex. Emergency cleanup services or renovation cleanup services.

Type:

This modifier focuses on a business's offering types.  It specifies the venue of providing 

services.

Ex. Residential cleaning services or commercial cleaning services.

Special Offering: This modifier talks about any ecommerce store's special offerings. Ex. Cost-effective cleaning services or quick-cleaning services.
Including modifiers in the keywords will help you connect with more local customers. As people looking for products or services locally prefer specific searches.
Moreover, keyword modifiers make the overall keyword strategy more diverse. One can rank easily with its use. For better clarity, here are some more examples:
Clothing store: Core terms with modifiers will be like:
Affordable women clothing

Trendy women dresses

Designer women clothes

Exclusive women clothing collection
HVAC businesses: Core terms with modifiers for HVAC businesses will be like this:
Professional HVAC installation

Emergency HVAC repairs

Trusted HVAC contractors

Residential HVAC installation
Law firm: Core terms with modifiers for law firms will be like:
Experienced law firm services

Skilled lawyers 

Reputed law firm

Dedicated legal professionals
Add Locations
After identifying and using a modifier, the next and most important step is to specify the location. One can target keywords efficiently depending on the business store's physical spot.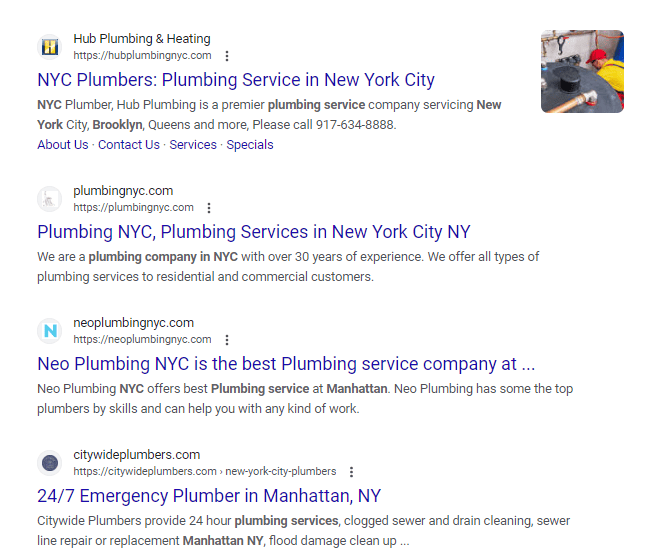 Location-specific search engine results for plumbing services in New York
Moreover, people prefer searching for Local businesses using explicit and implicit keywords. The "near me" is an example of an explicit keyword. Like, a user searches for a bakery near me. 
Whereas implicit local keywords do not specify a location. Like, if a user searches for a Bakery, then Google will understand its intent and will show local bakery stores.
If you want to have an idea to generate location-based keywords, here are the examples:
Best women clothing store in San Francisco

Find an HVAC contractor in Los Angeles

Experienced Custody lawyer in New York.
Furthermore, mention your locations on the site and blog posts if you provide home delivery services. As people always prefer purchasing from nearby stores.
Organize Relevant Keywords by Search Intent
You have identified added modifiers and updated locations in your target keywords. Good, but the most important step is still missing, whose absence can futile all your research efforts. It is organizing the relevant keywords by search intent.
There are three types of search intent:
Navigational:

It is done when the user wants to use any site. Particularly, the brand or product name is contained in search phrases.

Informational:

The search is done with the intention of learning about something. 

Commercial:

The search is done with the intention of making an order or inspection regarding the services of an e-commerce store.
Thus, knowing user intent helps determine how to use a keyword more easily. One can create efficient content after learning the user's search intent.
How to Analyze Identified Local SEO Keywords?
After creating a raw list of local keywords as per the specified methods, you need to analyze them. It is as much important as the task of identification. That is why we are sharing a strategic approach for it.
Here are some specific steps for analyzing identified Local SEO keywords:
Keyword Research Tools
To expand the list and analyze the identified keywords, use tools like Google Keyword Planner, SEMrush, Ahrefs, Moz Keyword Explorer, and Ubersuggest.
Some of these offer free versions with limited features, while others require a subscription for full access.
Check Local Search Volume
With the help of suggested tools, focus on keywords with decent search volume.  If there is a high search volume, then it's fine. But if there is a lower search volume, then check first the consistent local interest of shoppers. It will help in the selection process.
Assess Keyword Competition
After checking the search volume, assess keyword competition using the abovementioned tools. If you have chosen high-competitive phrases, ranking them would be difficult, especially for new websites. So, better balance the keyword selection between high and low competition terms.
Monitor Competitors
By using SEMrush and Ahrefs, you can analyze the keywords used by your local competitors. Gain insights into their keyword strategies and try the best ones carried out by them on your site.
Prepared for Local SEO Targeting
Conclusively, we have provided all the knowledge required to conduct the local keyword research procedure. Now, you are prepared for local SEO targeting. 
But if you are stuck or need help understanding the steps mentioned above, please contact us. We're here to collaborate and ensure your store achieves a strong online presence through effective local SEO services. 
Let's work together to elevate your store's visibility and success.