Are you looking to master different SEO skills & join the community of SEO Experts? Or, do you want to learn SEO from scratch? If your answer is 'yes' to any of these two questions, then stick along, the following guide is going to be a goldmine for you.   
Search Engine Optimization (SEO) is the key to winning the battle for top positions in Google SERP. However, performing SEO can be a daunting task, especially if you have little or zero knowledge about SEO. 
This is why I have decided to compile a comprehensive guide that is going to help you enhance your SEO skills and become a professional SEO Expert. 
This guide by SEO Experts India includes everything, starting from the common SEO mistakes to tactics that actually work, that I have learned during my decade long journey of working as a digital marketing expert. 
So, without any further ado, let's start the guide and turn you from a rookie to an SEO professional.  
Learn SEO Basics
Remember that time when you learned driving? Did you directly put your car in drive mode and cruised on the highway? Or did you take your time with learning the basics of driving?
Well, unless you were planning to crash the car, I am sure you went with the latter option. Consider SEO as driving. Like you didn't drive the car on the highway on the very first day, you are not going to attain top rankings for most competitive keywords on the first day of learning SEO. 
We'll start with the basics of SEO and gradually move towards learning advanced skills and eventually becoming an SEO expert. So, here are the basics (yet essentials) of Search Engine Optimization. 
Start with HTML
Now, you don't need advanced coding skills to become an SEO expert. But, having a basic understanding of HTML is not going to harm your SEO career. In fact, if you know the basic HTML tags, you'll be able to tackle several technical issues in the future.
Moreover, Google cannot visually see a website like humans. It uses the code to read and understand the website. So, when you have an understanding of HTML, it'll become much easier to optimize your website for the search engines. 
So, while I sip onto my coffee, head over to w3schools and familiarize yourself with the basic HTML tags. 
Understand How Search Engine Displays Results for Your Queries
Now, that you know what HTML tags are, let's take a look at how the search engine displays results for your search queries. 
The search engine uses search spiders that crawl the web pages and add them to search engine indexes.
When someone performs a Google search, Google scrolls through its indexes and displays results that relate to the search query.
In order to relate a web page to a specific search query, the search engine uses different ranking factors. In fact, the word among the community is Google uses more than 200 ranking factors to rank web pages. However, you don't need to learn every factor. As long as you have mastered the major factors, you are all good to go. 
Know Google has a Habit of Updating Algorithms
Google works with a vision to provide searchers with the most relevant search results. In order to display accurate results, Google constantly updates its algorithms either by introducing a new algorithm update or customize the existing ones. 
If you want to make your site SEO-friendly and sustain top rankings in SERP, it is important to stay up-to-date with all the latest algorithms. For instance, recently Google introduced its AI algorithm, known as Google Rankbrain that focuses on displaying search results by understanding the user intent.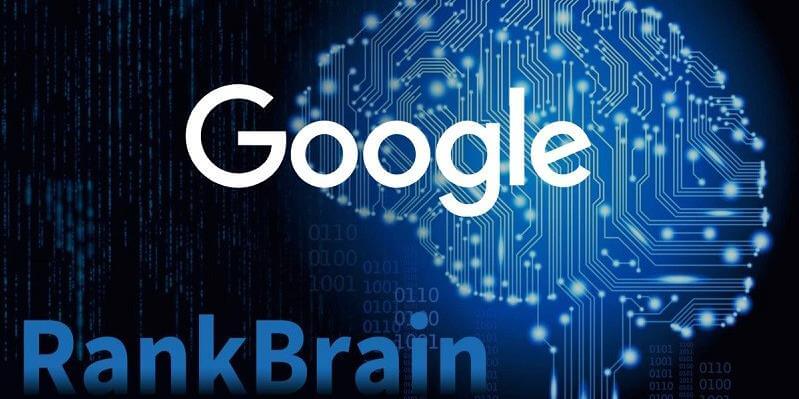 It means that rather than matching the search query to words present on the web page, the algorithm actually displays results that are extremely relevant to the search query. 
However, with the introduction of Google Rankbrain, SEOs have to focus on enhancing the user-friendliness of the web page as the algorithm also notices how a certain web page interacts with the user. 
Say, if the majority of visitors close a web age immediately after landing on it, Google understands the page has failed to provide value to the users. As a result, it will decrease the page's rankings by a few spots. 
Similarly, if the visitors are happy with the page and staying on it for a longer time period, the page's ranking will be uplifted by a few spots. 
After the implementation of Google Rankbrain, many websites witnessed a severe fluctuation in their rankings. Like Rankbrain, Google has introduced several other algorithms as well. 
So, if you want to sustain top rankings for your website and witness fewer fluctuations, make sure to stay up-to-date with the latest Google algorithm updates.
Learn Core Topics of SEO
Becoming an SEO expert is a journey that's only attainable when you are familiar with the core pillars of Search Engine Optimization. There are basically 4 core topics that are always going to help you while working on any SEO campaign. 
So, make sure that you have mastered these 4 topics. These topics include:
Keyword Research
Keyword research is one of the major pillars for running any SEO campaign. If you don't have keywords to target, you'd basically be shooting arrows in the dark. 
To drive targeted organic SEO traffic to your site, it is extremely important to find and choose the right keywords. When you target the right keywords using right seo strategies, you are most likely to attract potential customers to your site, eventually leading to improved conversions. 
On the other hand, if your keyword research is not up to the mark, your site is likely to be buried somewhere on the 5th or 10th page of Google search results. 
So, if you want to attract traffic that actually converts, make sure to choose the right keywords. 
Here's an effective keyword research guide that'll help you find the most potential keywords for your site using different tools. 
Content Marketing & Content Optimization
Let me tell you a little secret about the SEO world. 
'Content is the Ruling King'
No SEO campaign can possibly achieve the expected goals if you aren't utilizing content marketing. In fact, if you want quick success, content is the only tool that's going to be beneficial. 
However, content marketing is not only about writing and publishing blog posts. In 2019, you can use different content formats such as videos, infographics, images, etc., and attract traffic to your site from different platforms. 
Furthermore, it is also important to optimize your content and make it SEO-friendly. Unlike the good old days of SEO, when stuffing content with the keywords was enough to achieve success, you also need to optimize your content for search engine. 
Of course, adding keywords is a major part of content optimization, but it's just the beginning. In fact, you need to be extra cautious while infusing keywords into the content. 
Being an SEO expert, it is crucial to use a mix of keywords. It means that along with the exact match keywords, you should also infuse LSI keywords and keyword variations to make content more relevant to specific search queries. 
Google favors content that's well-optimized and can provide value to the readers. So, make sure that any content piece that you publish on your site is optimized for the search engine as well as the user.
On-Page Optimization
Apart from the content, Google also notices different on-page elements of a site to check if it's worth placing in the top positions in SERP. These elements include everything, starting from the site's loading speed to meta descriptions & page title of each page. 
Keep in mind that on-page optimization is a crucial part of performing SEO. A professional SEO expert will always optimize the on-page elements of the site once he/she has chosen the best keywords. 
In fact, while working on any SEO campaign, the team at SEO Experts Company India ensures to perform the required on-page optimization to make the site SEO-friendly. 
Link Building (Off-Page Optimization)
Like on-page SEO, off-page optimization or link building is also a crucial part of SEO. Though many people link off-page SEO with link building, that's not true. Off-page SEO also involves tactics that promote your site on different platforms of the Internet. 
The three major parts of off-page SEO includes:
Link Building
Social Media Marketing
Social Bookmarking
Link Building
An SEO Expert, even if he specializes in content & technical SEO, needs to be good at link building. Why? Because links are the backbone of any site. Link building is a major part of SEO and this trend is not going to change anytime soon. 
However, link building is not about acquiring links from any website. Since your site's domain authority is at stake, it is important to acquire quality links from high-authority domains. When I say building quality links is important, I actually mean it. 
Google has become extremely smart over the years. It is now capable of differentiating quality links from spam/irrelevant links. In case a site has too many spammy links, Google is most likely to penalize it.  
So, if you really want to become a professional SEO expert, make sure to become an expert at building quality links first. 
Social Media Marketing
Social Media Marketing is one of the biggest weapons, that an SEO expert can utilize to promote his site on different channels of the Internet. Even I use social media sites to attract potential customers to my site.
But, that's not the only benefit of social media marketing. You can also acquire links from social media sites. Even though links from social media sites are 'no-follow', they can help you maintain the required link ratio (60:40).
Social Bookmarking
Yes, social bookmarking has lost its charm in the past couple of years, but that doesn't mean you cannot use it to promote your content. As long as you can find relevant sites, there's no harm in using social bookmarking at all. 
Technical SEO
Finally, to become a professional SEO expert, you would want to become good at technical SEO as well. Technical SEO is the optimization process using which you can make it easier for the crawler to crawl and index your pages without any issues. 
Technical SEO is not related to content or promotion tasks. It is rather the process of diving deep into the technical aspects of the site. It involves everything, starting from optimizing the URL structure to improving navigating and site structure. 
Technical SEO is an underrated part of Search Engine Optimization. However, if you want to join the community of SEO experts, it is important to master technical SEO as well. 
Implement SEO Techniques on Actual Websites
Till now, you have only read about different SEO techniques. However, to win the title of SEO Experts, you must implement these techniques on actual websites. There are several ways using which you can put your SEO knowledge into practice and become an SEO specialist. 
These ways include:
If you truly want to master SEO skills and become an SEO expert, work on your own website first. 
Why?
Because working on your own site gives you benefits that you may not get otherwise. For instance, you don't have any restrictions. You can freely make any changes to the site without having to take permission from anyone else.
When you work on your own site, it becomes easier to maintain the implement-test-learn-improve cycle. It means that if anything goes wrong, you can always come back, learn from your mistakes, and start again. 
This is one of the most effective ways to learn SEO and this is how the majority of SEO experts start with their SEO careers. 
Personally, I'll recommend people (who are aspiring to become SEO experts) to start working on their own site. This will give them the advantage of experimenting without any concerns at all.   
Work for Clients
Let's say you don't have a website yet and don't want to start one either. What's another way to learn SEO then? Well, the answer is, take on clients and perform SEO for their sites. 
Many people, who are now renowned SEO experts, put their theoretical knowledge into practice by working for clients. One of the biggest advantages of having clients is that you get to work on sites belonging to different niches. 
This will also help you build a strong portfolio, which means that you can even take on big clients in the future. 
However, one thing that you must remember is that your first client is never going to be a multi-million dollar agency. Why? Because such agencies don't want to spend their hard-earned money on someone who wants to scale his knowledge by putting their website at stake. 
So, what's the next best thing? Small-business owners. The truth is there are plenty of small businesses that struggle to appear in the Google search results. You can be the life-savior for such businesses. 
The best part about performing SEO for small businesses is that you get to work from scratch. This will help you understand how to work on a website that has never been optimized in the past. 
But, since you are not an SEO expert yet, your clients are not going to pay you much. In fact, many SEO professionals have worked for free for their first few clients. 
Work in an SEO Firm
If you want to pursue your career as a professional SEO expert, it's always a good start to join a dedicated SEO company. In such companies, you'll be surrounded by professional SEO experts all the time. 
It means whenever you'll get stuck, someone would be there to help you out. Since you'll be working as an entry-level SEO professional, you'll get to learn everything from scratch. Once you worked on SEO for different sites, you can also launch your own site.
Familiarize Yourself With SEO Tools
SEO is a process that involves a lot of analytics. In case you think you can manually fetch these analytics, you cannot be more wrong. It can take several hours just to check the basic site performance. 
This is when dedicated SEO tools come into the picture. The market is stacked with a plethora of SEO tools that can be used to run SEO campaigns and generate analytic reports without any hassle. 
Some of the top SEO tools include:
Ahrefs
Without any second thoughts, Ahrefs is the best SEO tool you can use to run an SEO campaign. The majority of SEO experts use Ahrefs to handle SEO for their sites. 
The tool provides an extensive range of features such as keyword explorer, content explorer, site explorer, etc. You can also check domain rating, backlink profile, organic traffic report using Ahrefs.  
Even I rely on Ahrefs to check the performance of my site in SERP. Not only the tool provides analytic reports for your own site, but you can also use it to generate reports for the competitor's website. 
It means that you can easily perform competitor analysis using Ahrefs to check which keywords your competitors are targeting, from where they are acquiring backlinks, and for how many organic keywords they are ranking in SERP. 
All these analytics will help you strategize to enhance the performance of your own site.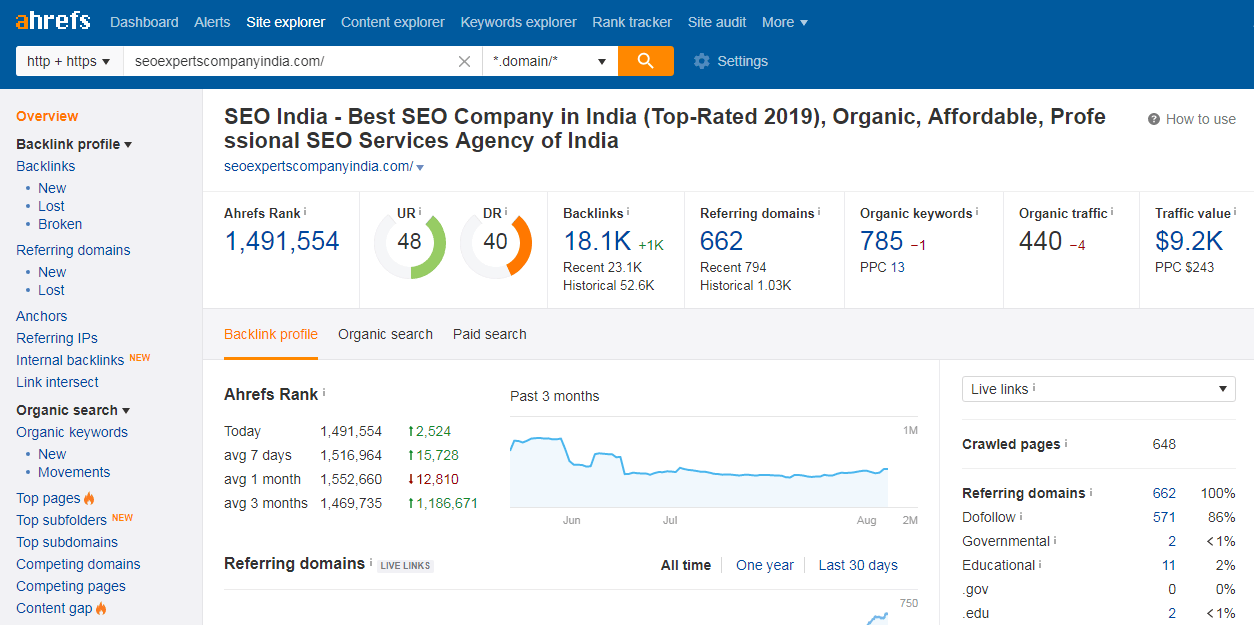 One thing that you must remember, though, is that Ahrefs is a paid tool. However, since its features are quite overwhelming, it is worth investing in this tool, especially if you are serious about being an SEO expert.  
SEMRush
Like Ahrefs, SEMRush is also a complete SEO tool that generates different analytic reports for your site. Comparing SEMRush to Ahrefs won't be fair as both the tools have their own pros and cons. 
While some SEO experts prefer Ahrefs, other professionals rely on SEMRush to handle SEO tasks for their site. You can choose any of the tools and you'll be all set to perform Search Engine Optimization.
However, one of the best features is that SEMRush generated organic competitors' report as well. The tool directly tells you who your potential competitors are and whether they are outranking your site or not.
Once you know who your competitors are and how they are performing in SERP, it becomes much easier to design personalized SEO campaigns to get ahead of the curve and enhance your site's performance. 
Google Keyword Planner
Like I mentioned earlier, keyword research is a crucial part of SEO. Without keywords, you can't possibly run an SEO campaign or call yourself an SEO professional. Google Keyword Planner is one of the widely used keyword research tools.

Being completely free, the majority of SEO experts use Keyword Planner to find and choose the right keywords for their websites. The tool provides a detailed insight into a particular keyword including its search volume, competition, and CPC. 
It means that you can also use Keyword Planner to find potential keyword phrases for PPC campaigns. 
These are the three major tools that are dominating the SEO world right now. Many SEO professionals use these tools to achieve expected goals through well-designed SEO campaigns. 
Test, Learn and Improve
Do you know why the best SEO professionals know so much stuff about SEO and online marketing? Because they are always testing out different things. They didn't just read a 5,000-words SEO guide and became SEO experts in one night. 
Rather, they took their time, tested out different things, committed mistakes, and learned from their blunders. The best way to learn SEO is to perform experiments and check whether you were able to achieve the expected benchmark or not. 
However, what are the things that you can actually test while performing SEO? Since you are just embarking on the journey of becoming an SEO expert, start with the basic things and gradually move towards performing advanced experiments. 
Here are a couple of things that you can always test out. 
Page Title
Though it may sound a bit surprising, the page title is a crucial part of performing on-page SEO. In fact, SEO experts are always optimizing page titles for their blogs to see which ones perform exceptionally well in SERP.
The page title has a huge impact on the CTR. If you have written interactive titles, people are most likely to click on the link. So, make sure to experiment with different title formats to check which format captivates your audience. 
Meta Description
Like the page title, the meta description also impacts the CTR. That's why the best SEO professionals always write an interactive meta description for each of their pages, especially for service pages. 

Though many people overlook this fact but optimizing meta descriptions is also important. By optimization, I mean infusing your target keyword into the description so that it becomes SEO-friendly as well. 
Content Format and Content-Length
Content is the best thing an SEO expert can experiment with. Each website is likely to have a different set of readers. While some readers prefer quick 'how-to' articles, others prefer reading detailed guides. 
Content format is something SEO experts always test to identify the best format that captivates their target audience. After experimenting for a while, I came to the conclusion that the majority of my readers prefer detailed guides. 
That's why I have started to publish guides on different SEO topics and fortunately, the results have been quite overwhelming. 
Similarly, you can also experiment with different content formats and stick to the one that performs exceptionally well among others.
Perform Advanced SEO
By this stage, you have already implemented the basic SEO strategies and have come too far from where you started. However, to become a professional SEO expert, it is important to implement advanced SEO tactics as well. 
Here are a couple of advanced SEO strategies. 
SEO Audit
Wanna know another secret about SEO experts? They always start an SEO campaign with a detailed SEO audit. Whether you are performing SEO for a client's website or your own site, performing an SEO audit can prove to be extremely beneficial. 
SEO audit is the process of analyzing different elements of the websites to look for things that require immediate attention. 
Say, a client comes to you with his website that's been penalized by Google due to the unethical practices of the last SEO professional who worked on the site. Now, it is your job to understand what made Google penalize the site and how you can remove it. 
Local SEO
In case you are planning to run an SEO agency or take on big clients in the future, you must be a master at local SEO. Every SEO specialist that I know is familiar with the process of performing local SEO. 
Local SEO is the process of optimizing your site for the local audience so that it appears in the Google Business listings.
The easiest way to start with local SEO is to set up Google My Business page and use the same NAP (Name, Address, Phone Number) information across different platforms. 
Optimize Site for Different Search Results
If you have ever paid attention to a Google SERP, you'll know that Google displays different types of search results. Gone are the days when you'd see a list of 10 organic results. 
Today, many new search results, like knowledge graph, featured snippets, people also ask for section, etc., have been introduced to provide users with the most relevant results. 
As a professional SEO expert, it is important to understand how you can get your site to appear in different search results. This will provide you with advanced opportunities to drive traffic to your site. 
Optimize for Mobile
Smartphones are dominating the Internet. The majority of users are accessing their favorite sites on mobiles. As a result, it is imperative to optimize your site for mobile so that it delivers exceptional browsing experience to the visitors. 
To check the mobile-friendliness status of your site, run Google's mobile-friendly test.

In case you still haven't optimized your site for mobile users, you are likely to miss out on big traffic opportunities.  
Stay Up-to-Date and Follow the Latest Trends
SEO is an ever-changing industry. The tactics that worked a year ago may not deliver the same results today. This is why SEO experts should always stay up-to-date with the latest SEO trends. 
If you want to be a professional, make sure that you know everything that's happening in the SEO world. 
Here are a couple of trends that are currently dominating the SEO industry. 
User Intent
If you think you can easily rank by throwing in some keywords into your content, you are wrong. Today, you can only expect to rank in the top positions if you are providing value to the readers through your content. 
Now, that's only possible when you understand what users expect from your site and then craft content accordingly. Apart from ranking your site in the top positions, meeting user intent will also help you earn long-term clients. 
Voice Search
With the introduction of smart devices, voice search has become a reality. In fact, 30% of users rely on voice search to perform a Google search. It means that SEO experts will need to optimize their site for voice search to gain more traffic. 
Video Content
Video content is slowly taking over regular blog posts. They are more informative, less time-consuming, and extremely interactive. That's why users always prefer watching a 3-minute video that reading a 3000-words blog post. 
As an SEO expert, you should always publish videos along with regular blog posts, especially if the majority of your content involves guides and detailed tutorials. Publishing a video will give you a different source of traffic and help your site get ahead of the competitors at the same time. 
Conclusion
That concludes the guide to become an SEO Expert. I hope this guide helps you scale your SEO skills and turn your rookie knowledge into professional expertise. If you are serious about becoming an SEO expert, make sure to start from scratch and move your way towards the advanced skills. 
However, in case you think SEO is too complicated, it is always a good strategy to hire professional SEO Experts who have years of experience working in the industry.