With 90% of internet users choosing Google as their default search engine, the significance of GMB listings is immense. Google My Business, now called Google Business Profile, or GBP, is a free platform that offers a powerful source for connecting with local clients and improving online visibility.
An optimized HVAC GBP listing can help your business generate leads and connect with potential local clients in your service area.
With Google Business Profile, companies can create and manage their business profiles, establish their presence on Google Maps, respond to customer reviews, and track insights about their listing performance.
These stats signify that having an optimized presence on Google is crucial for local companies like heating and air conditioning businesses:
"Near me" searches have increased by over 200% in the last two years. (source)
97% of the users learn about local businesses online. (source)
GBP listings with complete and accurate information receive seven times more clicks. (source)
The article briefly discusses the importance of GBP for HVAC businesses, how to set up a Google business profile, and further explores the strategies to optimize GBP listing that can help enhance your online presence, boost website traffic, and improve HVAC SEO.
What is Google Business Profile or GBP?
Google My Business– now called Google Business Profile, or GBP, is a free platform that helps your business appear in map packs and local search results.
With Google Business Profile, HVAC businesses can add a lot of information online, including location, phone number, service hours, website, etc.
All you need to do is create a Google Business Account and verify the information to edit and manage the profile.
The GBP listings show up when someone performs local searches like "HVAC near me," "best air conditioner repair," or carries out a search on Google Maps.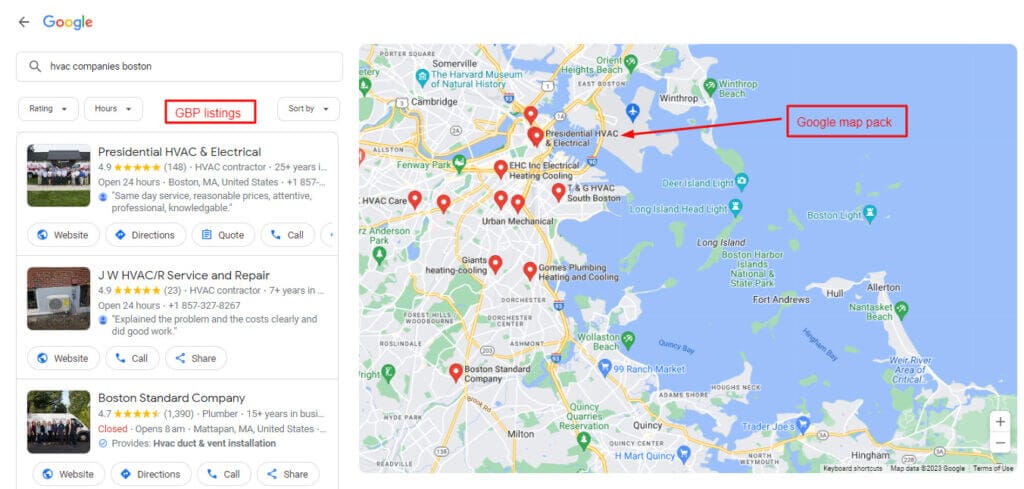 How can GBP help HVAC businesses?
Enhanced Online Visibility
GBP listing makes your business more discoverable and enhances its online presence.
Local SEO
GBP is a powerful tool for local search engine optimization (SEO). It increases your HVAC business's appearance in local search results, making it easier for local customers to find you.
Google Local Map Pack 
Google Map Pack refers to the top three search results that appear on Google Maps when we search for local businesses like HVAC. According to statistics, 86% of customers use Google Maps to locate a local business. As a rule, your business must list itself in Google My Business to appear in the map pack.
Credibility and Trust 
A complete profile with detailed information and customer reviews is sure to captivate the trust of the audience. Customers can leave reviews and ratings about your business, service, technicians, price, etc., on your GBP profile. The average star ratings can significantly influence the decision of your HVAC clients.
Customer Engagement
Your target audience can check your working hours, call you, check your location, schedule a call, and ask queries directly from your profile.
How to Set up GBP Listing for HVAC Companies?
Setting up a Google Business Profile is a super easy and completely cost-free procedure.
Log in to your Google account (or create one if you don't have any) and visit the GBP website to set up your Google business account.
Add business name and category.
Pro tip: Use high-ranking keywords, such as HVAC Contractor, as your primary category. 
Add location and contact information.
Verify your Google Business Profile (earlier called GMB profile) through text message, email, or postcard method.
Best Practices to Optimize HVAC GBP Listing
Once you set up your account, your business will be more accessible to people searching for your HVAC services. However, optimizing your account is important to maximize the benefits of Google Business Profile as it improves the appearance and overall SEO.
Here are some suggested practices for optimizing your GBP account to rank on Google:
Correct NAP Information
First and foremost, add NAP information that includes your HVAC business name, address, and working phone number. Ensure your information is spelled correctly and is consistent across all platforms. It is important to mention the right location and contact information so customers can reach you when required.
Pro tip: Remember to update your location information in case you have shifted your business location or add a site if you have started working on multiple locations.
Add detailed description
Google allows you to add a description of 750 words; make sure you use it to your advantage. Tell the audience what differentiates your company from others. Elaborate on your business details and mention all of the HVAC services that your company offers, such as HVAC repair, thermostat installation, A/C system repair, A/C system maintenance, Coil cleaning, etc.
Pro tip: Try to naturally include your business name, location, and keyword in the first two lines of your description.
Choose a relevant category
You can add up to ten categories to your profile, but the primary category is the most important of them. It is imperative for HVAC contractors to choose the correct category because it greatly impacts how your business ranks in a given service area.
The majority of HVAC companies choose "HVAC Contractor" as their primary category. However, "Air Conditioning Contractor," "Heating Contractor," and "Air Conditioning Service Repair" are among other popular categories.
Pro tip: You can adjust your primary category based on the season if you offer seasonal services. For example, during winter, you can make your primary category "Heating Contractor." Then, you can update it in the spring to "Air Conditioning Contractor."
Complete your profile
Besides NAP information, adding a link to your business mail, years of experience, services, service hours, and service areas is essential to optimize your GBP profile.
Adding years of experience helps the audience know your HVAC industry expertise.
Add CTAs
In addition to the mandatory CTAs such as "call," "directions," "website," and "share," you can add additional CTAs like "request a quote" or "schedule a meeting" to make things easier for your HVAC clients.
GBP Photos
Adding photos to the profile helps your target audience to visualize and experience your working style. You can showcase different aspects of your products and services through the company pictures. For example, you can add photos of yourself and your HVAC technicians, before-and-after images, office space, service vehicle, hvac work in progress, etc.
Adding high-quality and relevant photos to your GBP listing can lead to 35% more click throughs to the website.
GBP Image Guidelines:
Recommended Dimensions:  720 px tall by 720 px wide (minimum dimensions: 250 px tall by 250 px wide).
Ratio: 1:1 is recommended
Image format: JPEG or PNG.
GBP Updates
The updates feature allows you to showcase the latest news about your company and services. It offers a great way to increase engagement and interact with the target audience. For example, you can post about the joining of new employees, information about your new work location, achievements, discount offers, etc.
Posting regular updates on your GBP profile can help improve the HVAC SEO by signaling Google that you are actively managing your GBP listing.
Wrapping up
The article very well explains the immense importance of Google Business Profile for HVAC contractors. Every HVAC company must follow the mentioned strategies to optimize its HVAC GBP profile to improve its SEO and Google rankings.
However, if you don't want to follow the given strategies yourself and leave the HVAC GBP profile optimization at the hands of SEO professionals, then feel free to contact us.
Our dedicated team of hvac seo experts will help your business in every way to improve its SEO and skyrocket your Google rankings.