In the era of online visibility and customer engagement where every click and every search counts, SEO for HVAC contractors can't be overlooked. Search engine optimization helps HVAC companies to boost their online visibility, attract new customers, and generate more leads.
The HVAC industry has experienced a sharp rise in online searches, with an estimated 62% of users searching for HVAC repair services  before scheduling an appointment and 75% don't move past the first page of search results. These numbers clearly signify the opportunities that SEO holds for HVAC Companies.
In this article, I will help you understand what SEO for HVAC contractors is, the benefits of SEO for HVAC companies, and why HVAC businesses should focus on local SEO. Along with the detailed discussion on these topics, I will thoroughly scrutinize both on-page and off-page website optimization strategies including keyword research, title tags optimization, the importance of GMB profile, and a lot more – all in the context of HVAC contractors.
Following these proven strategies and expert tips will help your HVAC business to nail its online visibility by landing on the first page of organic Google results.
What will you take home? 
This article will help you understand the technical aspects of SEO for HVAC contractors in very simple terms. By the end of this blog, you will be equipped with all the important elements that every HVAC company should know in order to skyrocket their rankings.
Why trust the writer?
Hi. I am Navneet Singh, an HVAC SEO expert with a total experience of 12+ years. I have worked with numerous HVAC companies and contractors and helped them rank on search engines. This article is a result of my extensive knowledge combined with my SEO experience in the HVAC industry.
What is HVAC SEO?
SEO is the process of Optimizing your Website to improve rankings in the search engine results pages. The SEO strategy determines where your website appears in the organic search results of Google and other search engines.
HVAC SEO refers to search engine optimization practices that are specifically tailored toward the heating and cooling businesses. Effective SEO strategies involve optimizing the HVAC website both for search engine and user to improve online visibility. This further helps to rank the business and website in organic search results of Google and other search engines.
Benefits of SEO for HVAC Company Owners?
HVAC companies can no longer completely rely on traditional marketing strategies like posters and newspaper ads to attract hvac services leads. Around 55% of consumers run a search before scheduling an appointment for hvac services on Google and other search engines. However, most internet users and searchers do not go beyond the first page on Google search while looking for an hvac contractor.
Here is when HVAC SEO comes into the picture. Land on the first page of user searches with HVAC SEO strategies to:
Increase Organic Brand Visibility
Drive quality leads
Reduce paid advertisement dependencies
Exponentially grow Your HVAC Business
Advantages of Choosing SEO over Paid Ads
Although Google ads and other paid ads offer a good way to drive traffic to your hvac website. However, prioritizing SEO (Search Engine Optimization) over paid ads as a marketing strategy offers several advantages for HVAC companies:
Relevant Traffic at Affordable Costs: For HVAC businesses, SEO is a cost-effective approach in the long run when compared to paid ads. SEO drives organic traffic to your website and yields a better ROI (Return of Interest) over the course of time.
Long-term Sustainability: By investing in SEO strategies, HVAC businesses can maintain a long-term online presence. However, in the case of paid ads, your website stops ranking on search engines once the marketing budget dies, leading to a significant decrease in visibility and website traffic.
Credible results that build brand authority: HVAC businesses that appear organically in the search results are perceived as more credible and trustworthy among users in comparison to paid ads or sponsored results. Customers are more inclined toward HVAC businesses with high organic rankings– that can only be achieved through SEO and not paid ads.
Pro tip: HVAC companies should invest more in local SEO in comparison to standard SEO and other traditional marketing strategies. Let us understand the detailed reasons below:
Importance of Local SEO for HVAC Business
Local Targeting: Local SEO strategies are tailored to specific geographical regions and serve as an effective way to reach potential customers. Local SEO ensures that your HVAC website appears in the local search results. It helps to target users who are actively searching for HVAC services in their local area and drive traffic toward your HVAC website.
Seasonal Demand Opportunities: HVAC being a seasonal business experiences a sharp increase in demand during frosty winters and hot summers. Local SEO efforts involve targeting keywords and content related to seasonal needs that can help reach potential customers in the targeted areas.
Competitive Edge: Strategic local SEO helps HVAC contractors to outsmart their fierce competitors by optimizing online visibility and enhancing the spot in the Google local map pack. This can ultimately attract more leads and customers by improving the company's rank in local search results.
How-to do SEO for HVAC Websites: Included Both (On-Page and Off-Page Optimization)
Every HVAC business needs to have its own site because it is an excellent way to generate leads and connect with new hvac customers online.
What is the first thing a customer does before selecting you for your HVAC services?
An obvious answer is that the person carry out a Google search about your services and company. The next step would be fetching more details like how old your company is, customer reviews, types of services you provide, costing, location, contractor licensing, whether you do home evaluation, guarantees, and more.
The search for all of his answers has to end on your website. So, even if you advertise your HVAC company on multiple platforms, they should all lead back to your main website for detailed information. Ensuring that your HVAC website is easy to navigate is another crucial factor. Convenience, attractive HVAC web design, site speed, and quick access to any desired information that might help visitors to take a decision are the only key ingredients you need for your website optimization.
Keyword Research for HVAC Services You Offer
Keywords are the words that users type into search engines to find what they're looking for. Combining the relevant hvac services keywords with the best strategy can put your business on the Google Maps like never before. The right keywords research strategy helps you to find right local keywords, like "HVAC near me," or "Best HVAC Companies in (city name)" which can help them to target local audiences and areas.
Another strategy is to use longtail or informational keywords in your blog content to provide additional information that a user is looking on your website to check whether you are the right company to call or not. For example, "Signs that my air conditioner needs a repair" , "how to change air filters," or "air filter sizes" can be used while delivering informational content. These keywords can be valuable for increasing brand awareness and building a bond of trust with the target audience.
Your business can make use of keyword research tools such as Google keywords planner, Moz keyword explorer, and Ubersuggest to look up popular, and relevant keywords with higher search volume.
Title Tags Optimization
Title tags give the first impression of your site both to users and search engines when they discover your page via organic search. These are embedded within HTML (Hypertext Markup Language). As the name suggests, title tags display the title of the web pages in search engine results, web browsers, and social media, and is very important for user experience. Below is an example of the same.

Someone searching for HVAC services may choose to click a website based on the title tag and meta descriptions. This helps in increasing the CTR of any website
These few tips might help you while writing your title tag
Keep your title tags to around 60-70 characters in length; otherwise, it is likely to get truncated in the search results.
Make sure to include geographical information in your tag (e.g., Boston AC repair).
The title tag should be clear and precise about what the page is all about
Don't overstuff the keywords
Put Primary keywords first
Most Important Tip: Write for your users
Content Creation for HVAC Website
Users crave content that helps answer their questions. And, generally speaking, visitors to your site don't want content focusing exclusively on selling them something; they are there to educate themselves and gain some extra knowledge.
For example, you should consider posting content like "How to Save Expenditure on Your Office Cooling Bills" and "What Are The 5 HVAC Troubleshooting Tips That Every Homeowner Should Know." As an HVAC contractor, you can create educational content like "How-to DIY" videos, "How to choose the right HVAC system," or "Reviewing latest equipment and technology."
Every piece of content that you create should resonate with the target audience while addressing their specific needs and concerns. When users see that the content is providing a lot of value, they will most likely revisit your website and trust your services which will ultimately improve your search engine ranking.
Bonus Tip:
You can link your blog posts back to a relevant product or HVAC services you offer to convert your readers into potential buyers. This is often called Internal Linking. It helps visitors understand the concepts fully and makes it easier for them to move down the sales funnel: Awareness, Interest, Consideration, Purchase, and Loyalty.
Internal linking is a classic SEO strategy that keeps the user browsing through your HVAC website for more extended periods. This way, your content can win your consumers' hearts and help grow your business by attracting more website traffic.
Whether you provide one or all hvac services (cooling, heating, air conditioning,central A/C, ductless A/C, ducts & vents, heat pumps, boilers, furnaces, fallen tree removal, air purification and filteration, hvac replacement), good and optimized content helps you drive leads
Link Building for HVAC Websites
Link building is an important HVAC SEO strategy. It is the practice of building one-way hyperlinks, also known as "backlinks," to your HVAC website with the goal of improving search engine visibility.  Google and other search engines value backlinks as these are viewed as a "vote of confidence" from one site to another.
Common link-building strategies include content marketing, business citations, email outreach, internet marketing, and guest blogging. However, when building links for HVAC website you should focus on collaborating with architects, industry associations, local business directories, builders, or property managers to obtain quality links from their websites, or blogs.
Mobile Optimized HVAC Website
This should be a no-brainer! Your customers are not moving to get to their laptops or desktops and do all the hard work just to have a look at your HVAC website.
Data says that 61% of mobile searchers would more likely contact a local business if it had a mobile-friendly website (Source: Search Engine Journal). Therefore, mobile optimization is highly crucial to attract new customers and boost website traffic.
All you require to make your website mobile-friendly is to ensure it is responsive when viewed on smaller screens like phones and tablets. This means everything on your website, including images, text, videos, social media buttons, etc., should be accessible on mobile devices as such.
You can use Google's Mobile-Friendly Test Tool to verify if your website is mobile-friendly or not.
Page Loading Speed Optimization
People neither surf a slow-loading website nor have time for it. If your webpage doesn't load in a snap of the finger, users are likely to leave immediately.
How will this affect your website?
This is likely to increase your bounce rate. Bounce Rate is the percentage of visitors that leave a webpage without taking any action, such as clicking on a link or making a purchase. High bounce rates signal that your website isn't helpful to users. The reason being the slow loading speed of your content. Therefore, it is utterly important to speed up your page loading wherever possible.
One way to optimize your web page load time is to simplify the web page design. Other than that, you can avoid adding unnecessary images, long videos, and flashy features, as these lead to a slow site speed. Your HVAC website's loading speed can be checked using Google's PageSpeed Insights tool.
Contact Information
Everyone is busy (and lazy as well), so don't make your clients search for your phone number. If someone needs to call you because their air conditioner broke during a hot summer day, there's a good chance they will urgently call the first phone number they find.
Therefore, placing your contact information where it is visible is very essential. You can catch a lot of business for emergency hvac services by putting your phone number at the top of your HVAC website and in large font.
The Magic of Reviews for HVAC Companies + Few Practices to Get More Authentic Reviews for Your Business

In the internet era, nothing shapes purchasing decisions as much as online reviews. And why not? Most people skip to the reviews to see what other people are saying.
Similar is the case with your HVAC company; users will want to know what your previous customers say about their experience with your HVAC services. Anyone would rarely consider contacting a business with a two-star or less rating but would happily trust a business with positive ratings. Therefore, customer reviews can make or break the reputation of your HVAC business and significantly impact your profession.
Ask for an Honest Feedback
Verbally mention to your customers how much you would appreciate honest feedback, especially if they seem satisfied. Request them to review your HVAC company based on the technical expertise, background knowledge, and quality of the equipment used.
Take Advantage of Digital Platforms
Customers find reviewing an unnecessary process that they can't be bothered with. Make it easier by using pop-ups and call-to-action buttons on your HVAC websites that lead them to your Yelp or Google Business Profile reviews page.
Respond to your Customer Reviews
Always respond to your reviews, positive or negative, when you see them come in. This reflects that your HVAC business is engaged with customers and their needs. When people see that, it gives them the impression that your business truly values its consumers, encouraging other people to share their personal experiences with your firm.
Bonus tip:
You can request your customers to take into account factors like energy efficiency, indoor air quality improvements, system longevity, cleanliness, equipment handling, and punctuality while reviewing your HVAC services. This will help your target audience to deeply understand the professionalism and quality of your HVAC services.
Complete and Verify Your HVAC Google Business Profile (GBP)
Verifying your Google information makes your business appear on the map pack, google search, and other Google services. Completing your Google Business Profile means giving information about your HVAC business, including the business name, address, phone number (NAP), store hours, service areas, website URL, and additional information to Google. It is exceptionally important for you to keep your business profile up-to-date with any changes as it lets people discover your address, services, and, most importantly, your business contact.
The principal way to optimize HVAC Business Google Business Profile is to provide complete information.
Main Description
Address
Contact Number
Services
Working Hours
Photos
Website
Your main description should be detailed yet crisp. Instead of writing a single sentence like "We are a team of trained HVAC professionals dedicated to quality service." You should elaborate on your business details and mention other services, such as thermostat installation, air conditioning and furnace maintenance, water heater replacement, etc.
The main description consists of 750 characters. Use it to your advantage. Answer EVERY possible question and be as comprehensive as you can be. Choose appropriate categories and keywords that clearly resonate with your HVAC services and specialties, for example, "Heating Contractor," "Heating Contractor," "24-hour service," "Emergency HVAC repair," to provide additional information to your audience.
Apart from it, you must consider adding high-quality photos and videos of your HVAC technicians, as well as pictures of your completed HVAC projects to win the trust of the target audience.
Track Performance and Results of SEO Efforts for HVAC Website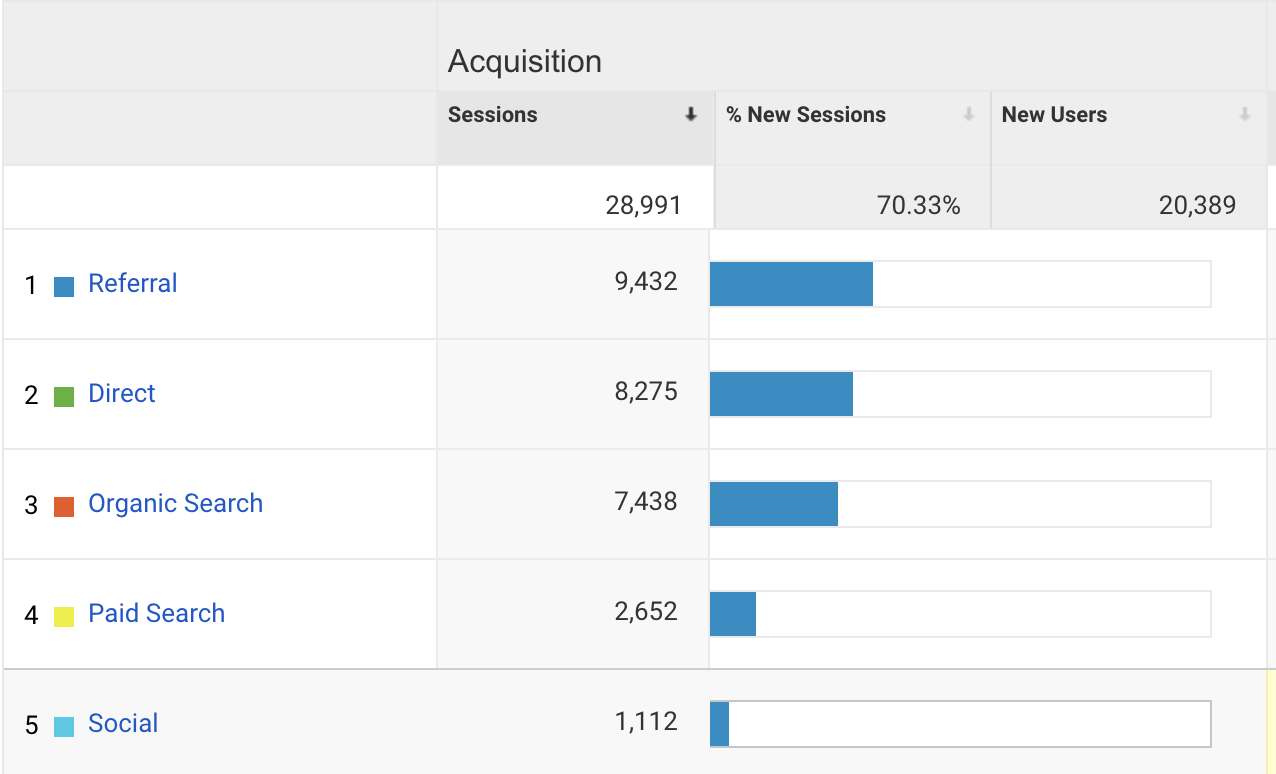 Tracking your hvac website's performance is essential to identify what works and what doesn't. Your business can make use of tools like Google Analytics to check various parameters that can help you improve your website.
It tracks engagement in several ways, including bounce rate, average session duration, and pages per session. These metrics help determine how many visitors are coming to your website, where they're coming from, and which web pages the visitors spend their most time on.
These parameters significantly influence what kind of content your website should produce and focus on.
Additional SEO Tips for HVAC Companies 
Working as an SEO expert and providing HVAC SEO Services for over a decade, I have gained some HVAC industry insights. I am happy to share some expert SEO tips in this section:
Create Seasonal Content: Put effort into creating seasonal content for your HVAC website and social media platforms. For example, in summer, you can promote "AC repair and maintenance" while in winter you can shift the focus to "furnace maintenance."
Add FAQs section on your website. Show your expertise and extensively answer all HVAC-related queries in your FAQs section.
Use real high-quality images: You can add visuals of yourself, your HVAC technicians, and the work environment on your website. This helps to build a connection with the target audience.
Frequently Asked Questions
How Long Will It Take for Your HVAC SEO to Work?
This question is highly dependent on variable factors like the area you are competing in, who your competitors are, the domain authority of your site, past HVAC SEO experience, etc. Bear in mind there is no shortcut to improving your SEO rankings overnight. If you want to follow the discussed HVAC SEO strategies yourself, your HVAC company might take a year or more to rank. One easy alternative is to hire a professional HVAC SEO Company. HVAC SEO experts can act as a catalyst for your website, and you might start seeing visible improvement in rankings within 2 months.
Do HVAC contractors need a professional SEO agency for effective optimization?
This answer depends upon the requirements and goals of your HVAC business. However, hiring a professional SEO agency can reap ultimate benefits and save you time and effort. Experienced SEO professionals can help you in vital areas of your SEO journey like keyword research, content creation, local SEO, link-building, and a lot more. With the assistance of an expert SEO Agency, your company can outshine other HVAC businesses in this cutthroat competitive market and rule the internet with strategic SEO techniques.
What are the benefits of writing blogs for HVAC contractors' SEO?
Posting a blog on your HVAC business website will certainly increase traffic and build consumer trust. Another added advantage is that blogging provides an opportunity to rank your website on a range of keywords on search engine result pages. Publishing high-quality, valuable content on your website showcases your expertise in the field, which helps attract new customers for your HVAC business.
How can social media marketing contribute to HVAC SEO efforts?
Marketing your HVAC business through social media platforms like Facebook, Instagram, LinkedIn, Youtube, etc. can increase the reach of your HVAC company. Having a strong HVAC social media presence helps to build brand recognition and trust among the target audience. Customers who recognize your HVAC business brand and positively associate with it are more likely to engage with your HVAC services. This way, HVAC social media marketing can increase the online visibility of your HVAC business and provide a competitive edge over rivals that aren't as digitally present.