Digital transformation is inevitable. To be in sync with it, businesses like, (brick and mortar stores) are migrating online more than ever. But to dominate the landscape, you need to understand what SEO is. And how you can double down on your digital presence.
What is SEO?
SEO (Search Engine Optimization) is the process of ranking your website higher in search engines like Google, Yahoo, or Bing. For example, if you run a business of home decor items, any customer looking for a wall painting or any other product in this niche can find your website.
In simpler terms, SEO is all about knowing what your customers search for and why they need your product or service. Now, all these searches come from different people with unique queries. Some of them want to:
Buy a product or service
Learn how to do something
Understand more about the topic
Find a solution to the problem
Now, someone interested in home decor may perform searches that relate to their needs. For example, users may search for:
Best shop to buy hanging mirror
How to make a wall frame
Latest home decor trends in India
Affordable wall stickers and golden lights
What happens next? Google now searches its database and brings the most relevant pages to the top for that keyword. Below are the top results of a keyword – 'Best shop to buy hanging mirror'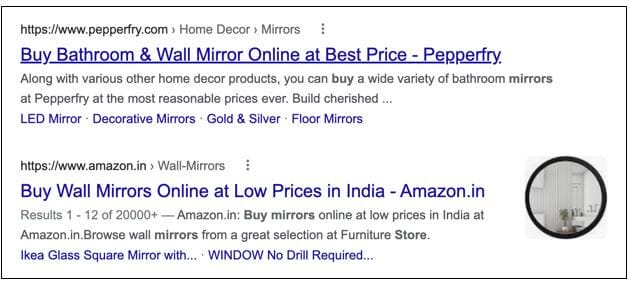 The ultimate goal of SEO is to increase the quality and quantity of traffic to your website through organic search results. The above example is how searchers find your website from a search engine result page (SERP).
Why Invest in SEO?
Of late, Google processes 63,000 search queries every second, converting to 5.6 billion searches per day and around 2 trillion searches per year globally.
Heavy breaths.
Well, search engines are where people turn for everything from Tailor Swift's song lyrics, and relationship advice to how to meditate for 10 minutes. And, Ok Google – Give me directions to the nearby Italian place for dinner.
SEO increases your website traffic which supplements your ROI giving you the necessary edge over your competitors. Without SEO, having a website with informative content guiding people on how they can benefit from your products would go in vain. It's more or less like holding a steering wheel with your eyes closed. It's a tad bit worrying, right?
Hence, If search engines don't crawl, index, and rank your website, no one will know you exist.
Needless to say, SEO is the key to getting your website seen and making a success out of it.
Let's head on to discussing the SEO strategy for 2 mediums where you can establish your online presence and run a business successfully.
Best SEO Practices for Your Website and Mobile App
Whether you have your business presence on a website or a mobile app, we've got the right strategy for both of them. So, let's get started.
SEO Strategy for Website
Every day, Google receives countless millions of searches, just imagine how many prospects, and leads would visit your website. Let's take an example, if you are selling a sales automation tool, wouldn't you want it to display on the top of search engine results when a user searches for 'best sales automation tools of 2022'?
It would be perfect, right?
So, perhaps focus on SEO and get noticed by your target customers. Let's discuss the ingredients you need for the optimization of your website:
1.  Keyword Research
Keywords are words or phrases that users use to understand more about your business and offerings. You can try different tools to access keyword suggestions, different metrics, and insights to help you compile the best keywords for your website.
Best free and paid keyword research tools:
Ahrefs
SEMRUSH
Answer The Public
Google Keyword Tool
Yoast SEO
The most fruitful SEO practice is to focus on long-tail keywords with low search volume especially if you are a startup owner. Once you establish your authority, try using high-volume keywords.
2. Technical SEO
Having well-optimized and high-quality content on your website is just half of the ice in the Himalayas. If your website is not well optimized, not free of duplicacy, and not well structured and secured Google wouldn't give any attention to rank it.
To fix your technical SEO, keep the below-mentioned in mind
JavaScript
XML sitemaps
Structured data markup
URL structure
Duplicate content
Canonical tags
404 pages
301 redirects
Site architecture
3. On-page SEO
Keywords, content, and images are the three main characters of on-page SEO. Let's find out about On-page SEO in detail:
Title Tags: It is important to understand where to place the keyword right. And to rank your website, you put your main keyword in the title's tag. You can see the title tag at the top of your browser.
Meta Description: The meta description is displayed on Google search results. So, you need to have a compelling meta description to make searchers click on your website. The character limit is 50-160 for a meta description.
Body Content: Your website needs to have purpose-driven content that speaks for your brand. So, make sure to write highly engaging and unique content as it acts as good food for Google.
Internal Linking: Internal links take you from one page to another within the website. Good internal linking boosts your page views and improves the page rank.
External Linking: External links take you from your website page to another website. Good external linking helps you establish your brand authority. Eventually, your website goes up in search engine results.
Heading Tags: Header tags not just help Google understand your content but also your readers. These tags act as a preview of what content is coming next. It's simple, right? So, H1 tags are for the title of the content while H2 and H3 are for subheadings of your content.
4. Backlinking
Backlinking means linking your website to another website as a reference to your blog post or any type of content. For example, you publish a blog post on 'How to get maximum views on your Instagram post' and one of the big names from your industry uses your blog post's link to add to their blog or website.
However, it's not easy to get referrals. Here are some tactics for effective link-building:
Keep content original. Add some latest statistics and expert quotes that build some trust with your audience. This should help readers get some good solutions for their problems.
Talk with industry experts and have their interviews published on your website. Such collaborations help you get a link from a popular and recognized personality. This is an interesting head-start for your business success.
Guest-posting on third-party websites adds a lot to your link repository and improves brand credibility too.
Getting a backlink from a good authoritative website not just increases your site's traffic but also cement your authority in the market. It directly or indirectly contributes to your brand growth.
SEO Strategy for Mobile App
The success of a mobile app depends upon people finding it, downloading it, and using it for their purpose. So, whether it's a website or an app, users will continue to use the search bar to meet their needs.
Let's dive into the best practices and strategies you can use to optimize your software:
1. Optimize the App Title and Description
In SEO for an app, start by optimizing the name of your app, its description, keywords, and the URL. It is good to be descriptive while creating a description and title for your application. So, just make sure to speak the language of your targeted buyers.
2. Use App Store Optimization (ASP) Tools
Using ASP tools increases the visibility of your app among customers when they search for keywords on the App Store or Google Play Store.
Here, the app store acts as a search engine for your mobile apps to be seen and downloaded by users.
3. Localize Your App
As a company or business owner, you must realize that there is a whole world outside of your local country. A great way to amplify its popularity is by expanding your reach on a global level in the manner and language of your targeted buyers.
If done correctly, this strategy can increase huge traffic to your app. More the downloads, the more the ROI for your product.
How Long Does SEO Take to Work in 2022?
SEO is a good way to invest in a sustainable future for your business. It acts as a great medium to connect with your target audience at the right place, and at the right time. Through this post, we have tried to reflect on the art of Search Engine Optimization and how it can truly benefit your business be it, a website or app.
It is safe to realize here that there is more to SEO than what just meets the eye. And so, it makes sense to talk to an SEO specialist who walks and talks SEO and knows what to look for.