It's no arguing the fact that lawyers need SEO to improve their site's performance in Google search results. However, performing SEO becomes much easier when you have the right SEO tools.
Today, there are several SEO tools that can be used to run SEO campaigns. While some of these tools are paid, others are available for free. However, not every tool is important for performing seo legal
That's why we have compiled a list of the best SEO tools for lawyers that are worth investing in. 
So, if you are also performing SEO for a law firm website, continue reading. The following tools will help you analyze and implement SEO tactics without any hassle.
Google SEO Tools
Google has released a wide range of SEO tools that are free, efficient, and generate detailed SEO reports.
These tools include
Google Keyword Planner
Price-Free
Google Keyword Planner is one of the commonly used keyword research tools in the market. The tool lets you perform keyword research to find the potential keyword phrases for your website. 
Even though the tool does not generate comprehensive reports like other keyword research tools, it is a great option if you are looking for a tool that's free.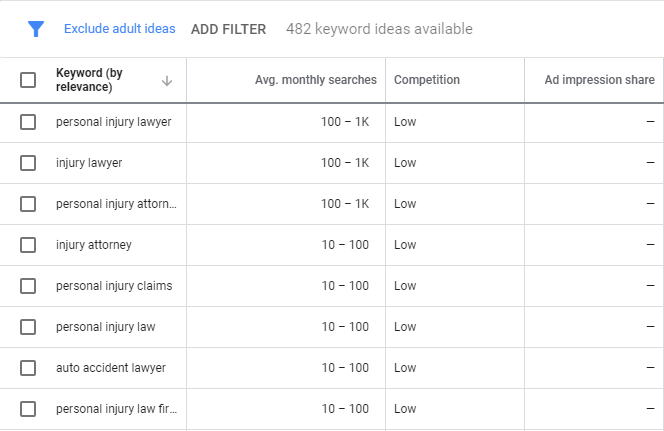 Using Keyword Planner, you can get different keyword-related metrics like search volume, CPC, and competition. 
Google Mobile-Friendly Testing Tool
Cost-Free
Google has designed a dedicated mobile-friendly testing tool that allows website owners to check if their site is mobile-friendly or not. 
Back in 2017, Google announced that the mobile version of the website will be given more preference while ranking it in search engines. 
To make it easier for people, Google designed a tool that gives a simple 'Yes' or 'No' answer to tell if their site is optimized for mobile users or not.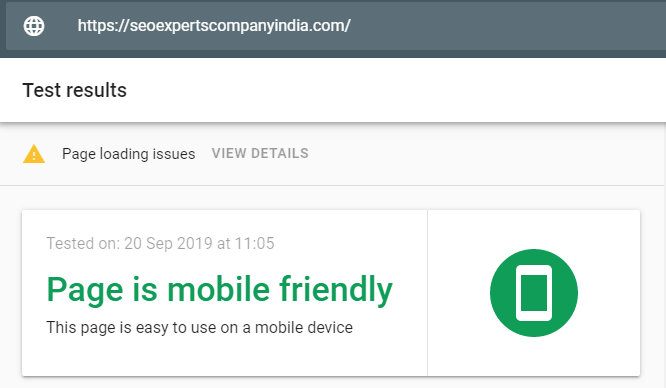 Optimizing websites for mobile users is no longer an option. It has become a necessity. 
In fact, if a website isn't mobile-friendly, it's rankings are likely to go down even if someone is searching from their desktop. 
Google Page Speed Insight Tool
Cost-Free
The page loading speed is one of the many ranking factors Google uses to rank websites. So, it is important to optimize your web pages so that they load as quickly as possible. 
Google's Page Speed Insight tool can be used to check the current page loading speed of your website.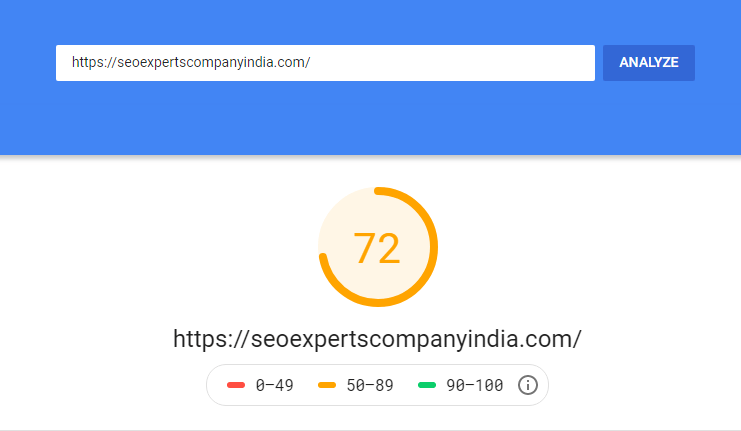 However, the tool doesn't fix any issues, it simply tells you the website speed score and lists out all the issues that need to be fixed. 
Google Analytics
Cost-Free
Google Analytics is a completely free analytics SEO tool for lawyers, that can be used to analyze data related to the site's visitors. 
Google Analytics is one of the commonly used site analysis tools, mainly because it's free and generates highly accurate reports.


Using Google Analytics, you can track the sources from where you are generating traffic, check how much time visitors spend on different pages of your website, analyze the geographical information about the visitors. 
While Google's SEO tools are completely free, they don't generate as comprehensive reports as the paid tools available in the market. 
So, let's start with some of the professional SEO tools that are paid and generate detailed analytics reports.  
Paid SEO Analysis Tools
Ahrefs
Price: Packages Starts at $99/Month
Ahrefs is one of the most popular SEO tools in the market. Even though its a bit expensive, the features that you get are worth every dollar that you spend.


The majority of SEO professionals use Ahrefs only to manage their SEO campaigns. Even we use Ahrefs as our primary SEO analysis tool. 
Ahrefs has a plethora of excellent features. 
The backlink analysis, however, is the main selling point of Ahrefs. The tool generates a comprehensive backlink report for a website. 
SEO specialists usually use Ahrefs to check competitor's backlink profile, steal their strategies, and replicate the same results. 
Apart from link analysis, Ahrefs can also be used to perform keyword research. In fact, it is one of the best-paid tools to find keyword ideas for your website. 
Apart from the general metrics (search volume and CPC), Ahrefs' keyword explorer also reveals the Keyword Difficulty (KD) and the number of backlinks you'll need to rank for a particular keyword. 
If you want to know more about the tool, read our detailed guide about how to use Ahrefs.
SEMRush
Like Ahrefs, SEMRush is also a complete package for running SEO campaigns. 
It also has dozens of exciting features that'll allow you to perform a deep website analysis while performing law firm SEO. 
You can perform competitor analysis, run website audits, find keywords, and even find critical data related to PPC and paid marketing. 
In many ways, Ahrefs and SEMRush are similar to each other. However, it's a completely personal choice on which tool you want to use. 
MOZ Link Explorer-A Link Analysis Tool
Cost-Free/$179 per year
Moz's link explorer is a dedicated link analysis tool and a direct competitor of Ahrefs. 
Like Ahrefs, Moz's link explorer tool also generates a comprehensive backlink report for a website, that contains information such as referring domains, anchor text reports, top pages report in terms of backlinks, etc.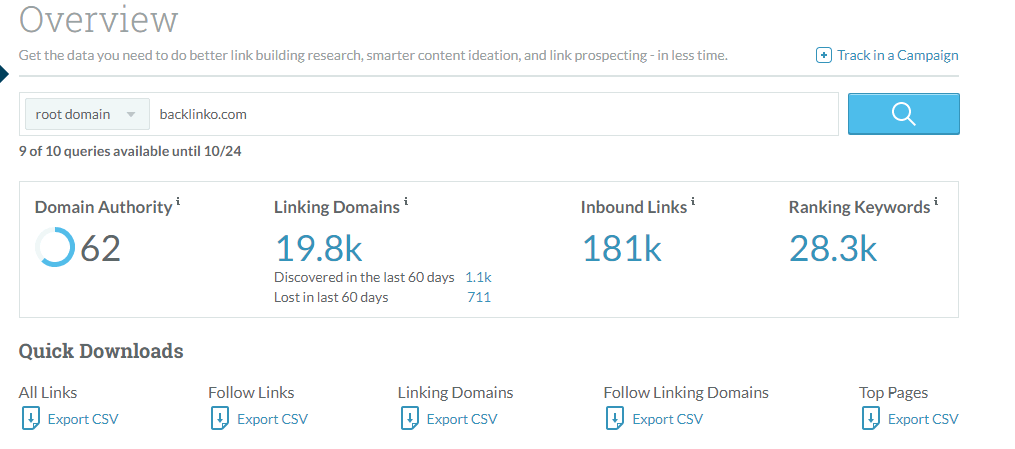 Of course, you can find all these metrics in Ahrefs, but Moz's link explorer is much user-friendly. 
One thing that Ahrefs lacks is user-friendliness. Even though the reports are extremely detailed, it can get a bit difficult for beginners to collect information through these reports. 
So, if you are looking for an SEO tool just to perform link analysis, Moz's link explorer is the most efficient tool. 
Screaming Frog
Cost-Free/ $167 per year
Screaming Frog is one of the on-site analysis tools that is widely used to analyze the on-page elements of the website. 
There is a paid as well as a free version of the tool. If you are performing SEO on a relatively smaller website, with 500 pages at maximum, you don't have to pay the license fee at all.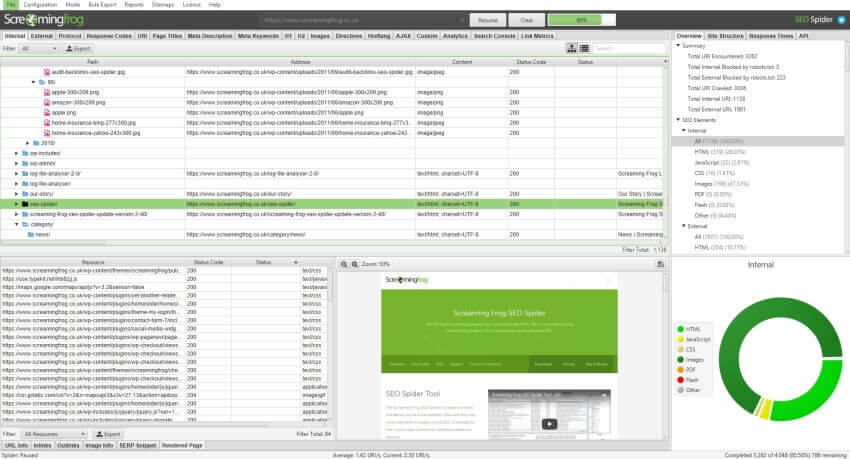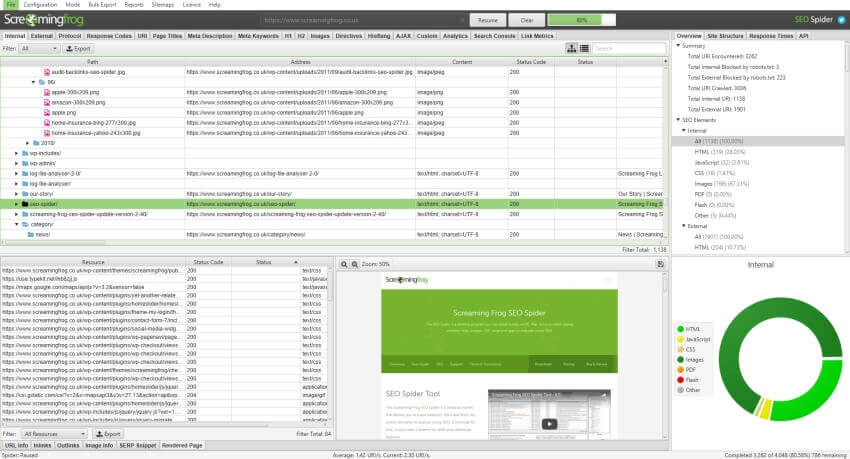 You can analyze as many smaller websites as you want without buying the license, as long as they have less than 500 crawled web pages. 
For a comparatively larger website, you need to purchase the license for $167/year.
Screaming Frog can be used to extract information like
The number of web pages. 
Page Titles Along With Their Length
Meta Description for web pages along with the length
SERP Preview to check how the page title and meta description would look in SERP
Header Tag Information for each Web Page
Targeted Keywords
Screaming Frog is one of the tools, that is perfect for quick on-site website analysis. You can use the tool while performing on-page optimization to check which elements need to be changed. 
Copyscape
Cost-Free
If you have hired writers to write legal content for your website, Copyscape is the tool that you need. 
It is a tool that can be used to check the genuineness of the content. When you paste the content in Copyscape's search bar, it checks the search engine for duplicate content. 
It is worth noting that it only fetches out results where huge blocks of content are completely copied. 
Answer the Public
Cost-Free/$99/month
Answer the Public is a relatively basic SEO tool that can be used to find keyword ideas for a seed keyword. 
When you type in the keyword phrase into the tool, it lists out different keyword ideas including questions, comparisons, and other general formats. 
Even though the tool doesn't generate any metrics along with the keyword, it is a great tool to generate different keyword ideas that you may not think on your own. 
Once you have a list of keywords, simply plug them into a tool like Ahrefs or Google keyword planner to decide if they are worth targeting or not. 
Yoast SEO Premium
Yoast SEO Premium is a great SEO tool for people who are running their website on Wordpress. 
Using Yoast SEO plugin, you can easily optimize the on-site elements such as page title, URL, meta description, keywords, etc for different pages of the website. 
The reason why Yoast SEO is one of the most popular SEO tools is that it is extremely user-friendly and allows the website owners to optimize the page elements to make it search engine friendly. 
Local SEO Tool
Since the local audience is the primary customers of a law firm, it is important to optimize your website so that it appears in the local search results. 
Local SEO is the process of optimizing a website for the local audience. 
The process involves everything starting from setting up a Google My Business Page to using consistent NAP (Name, Address, Phone Number) information across different business listing platforms on the Internet. 
However, using a dedicated tool will ease out the entire local SEO process. Let's take a look at the best tool for performing local SEO. 
Moz Local
Price-$99-$300/Year
Moz Local is a local SEO tool that submits your business data to the major the top listing websites such as Google My Business Page, Bing, Foursquare, etc.

It means that using this tool, you don't have to manually visit each listing directory and add information about your website. 
However, the tool only uploads your business information on the major websites and not on local listing platforms. 
Conclusion
That concludes our list of lawyer SEO tools you need to perform SEO for your law firm's website. All these tools will help you take an insight into different website information and help you optimize the website more precisely. 
However, if you have never performed SEO before, using these tools is likely to get elusive. Contact SEO Experts Company India today to talk with one of our SEO Experts.