126 SEO Statistics Showing Why SEO is Necessary to
Scale Your Business
SEO Statistics, SEO Stats, SEO Experts Company India
Businesses must have an online presence if they want to achieve success and make the most of what the market can offer them. Ignoring digital marketing can be a deadly mistake for a business that would lead to its failure. In that also, organic marketing needs to be incorporated as an essential part of your strategy.
With the help of organic marketing, companies can take small but significant steps towards their overall growth. How?
They will get
Increased number of leads

Get more customers

To promote their work

Sell any type of service. 
All this occurs as your website shows up in online search results and preferably at the top. 
You might think if SEO or organic marketing can truly make a difference to your business. Don't believe our words. Go through the SEO statistics, and you won't have a second thought to miss on applying this vital technique to your website to achieve the myriad benefits it offers directly and indirectly. Here is a list of the most relevant SEO stats for growing businesses. 
We've also given a bite of what experts tell and on the ins and outs of the ever-changing game of search engine optimization. 
We've categorized it all for you. If you have a particular curiosity about a specific aspect, jump to it straight, clicking on the links in the list mentioned above.
Table of Content
14 Interesting SEO Stats Handpicked by Our Editor

1. 68% of the online activities (searches) begin with a search engine. (BrightEdge)
2. 75% of searchers rely only on the first page of results.
3. Only 0.78% of Google users click on the 2nd-page results. (Backlinko)
4. 46% of the total Google searches are local. 
5. A whopping 70% to 80% of internet users completely ignore paid ads.
6. Google has 92.96% of the search engine market share in June 2021. Google search, Google Images, and Google Maps.  (Sparktoro)
7. 60% of marketers state inbound marketing in SEO or blog content is their source of top-quality leads. (HubSpot)
8. Websites get 53.3% of all the traffic from organic search.  (BrightEdge)
9. Companies that maintain weblog have 434% more indexed pages than the ones which don't. (DemandMetric)
10. Organic marketing drives nearly 100% more traffic than paid traffic.
11. Bright Edge value of the SEO industry will reach up to $77.6 billion by 2023. (The Business Research Company, 2020). 
12. SEO drives more than 1000% more traffic than organic social media. (
13. Nearly 60% of the pages ranking in the top 10 Google results are 3 or more years old (Ahrefs)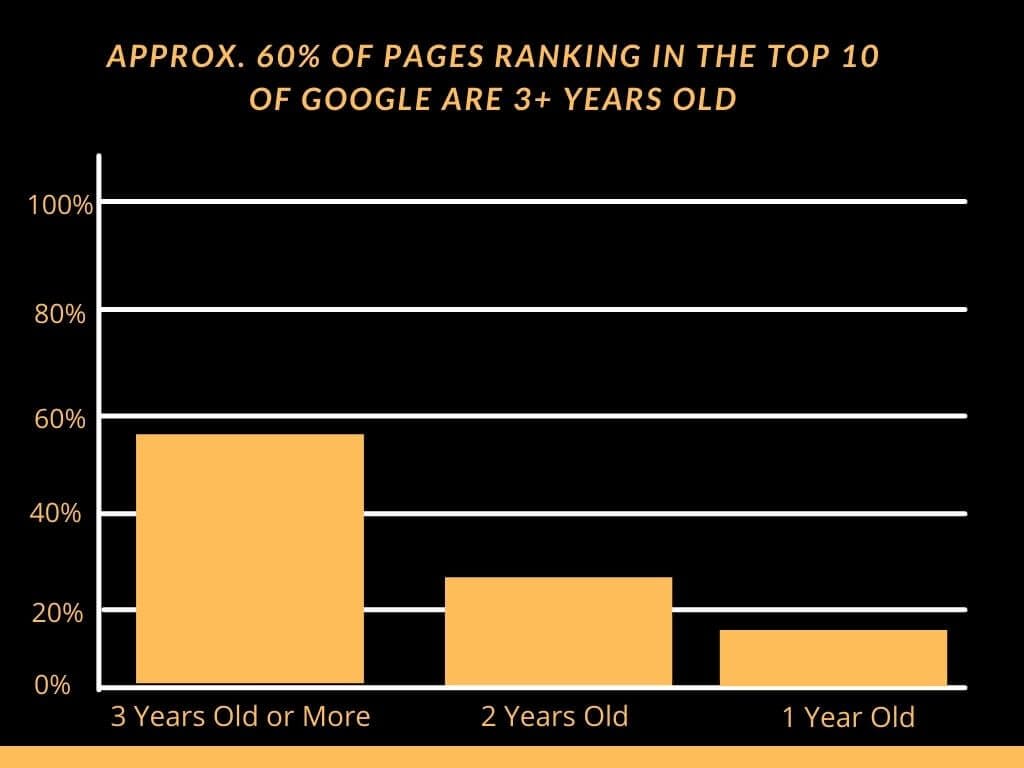 Here are

must-know SEO Stats

, Facts, and Figures for

Business Owners

 
Searchers use Google for various purposes-to buy a new phone, search for the latest shades online. Or for local searches like finding a restaurant near you. Other times, it can be a search for booking the best vacation rental abroad or booking one's next trip online rather than reaching out to a travel agent.
The search engine, especially Google, is the most reliable tool on the internet to meet all the daily information needs on products and services. Therefore, practically most of our online activity starts with search engine research. Here are the stats.
14. Online search and email are the two most popular activities engaging people on the internet. (Pew Research)
Pew Research's SEO data indicates that the internet audience gets highly engaged with two activities. 
a) Web surfing following a browser search 
b) Checking emails.
It means if your website is optimized well, you can truly attract your audience's attention.
15. On average, Google receives 40,000 search queries every second or over 3.5 billion searches per day at this time of the year and the figure is growing. (Internet Live Stats)
16. The number of US search engine users was projected to reach 239.1 million by 2020. (Statista)
68% of all internet activity begins with a search engine. So, how many people use search engines in the US? As per Statista in 2021, the newest statistics inform us the number has reached 244.1 million in 2021. This is a substantial increase from 213.6 million from 2015 as the data was first collected. As per the search engine statistics, every adult in America uses internet browsers this year.
17. Traffic generation on websites generate higher traffic and so it more consistently than social media. (Shareaholic, 2017 report).
Social media is becoming more and more popular. Several search engines like Google, Yahoo!, and Bing drive higher traffic to sites than social networks. Statistics display that creating engaging content that ranks well can bring a lot more business than social media posts. However, there is a need to follow both social media marketing for website content and vice versa. The best thing to do is create a balance between the two strategies with regular posting.
18. The US's search engine optimization marketing spending has already reached $79.27 billion in 2020. (Statista)
These previous search engine facts show it makes perfect sense to invest in SEO. In fact, the industry is worth spending billions in the US alone. The American marketers spent $22.1 billion on professional SEO services in 2010 to optimize their websites, helping the companies rank on Google's first page. Ranking among the top results is becoming increasingly important for companies as reflected as the total spending on SEO. Moreover, the total internet advertising spending is expected to reach $129.59 billion in 2021.
19. SEO leads have a 14.6% conversion rate. (HubSpot)
This is amazing! SEO statistics show the significant conversion power of search engine marketing. 14.6% of website visitors who discover websites due to successful search engine optimization end up becoming customers. This is a much bigger ratio than the 1.7% conversion rate of traditional outbound strategies like print advertising media and email.  The leads from organic marketing or SEO are eight times likely to change to paying customers rather than the ones you get through traditional ad campaigns.
20. 61% of marketers rely on their website SEO for an organic presence. Marketers are focusing more and more on creating an excellent strategy for top inbound marketing a priority. (HubSpot)
Inbound marketing helps to create meaningful connections with clients. It involves creating content the clients want to see. HubSpot's SEO stats illustrate that most marketers agree that SEO ranking is a priority at the top in their list of inbound marketing priorities. Nearly 60 % of marketers consider organic marketing as priority number one. 
21. 29.13% of high-volume keywords comprise three words or more. (Ahrefs)
Internet search statistics reveal that people want to search for longer terms with three or more words, with about 66 % of searches for keywords having a volume of 10,000 or more. This data means there needs to be greater emphasis on long-tail keywords. Otherwise, conventional SEO tactics always justify the greater importance of short keywords.
22. The first-page content on Google has an average length of 1,890 words. (Search Engine Journal)
As people like to enter long search terms into their browsers, they also prefer getting lengthy and comprehensive answers to their queries. Search Engine Journal published website content statistics analyzing 1 million Google search results, showing that longer content delivers better outcomes. For example, a 2,000-words-long post tends to rank higher than its shorter version on the same topic.
23. 40.9% of Google searches done on mobile devices result in an organic click, 2% in a paid clicks, and 57.1% get no click at all. (Moz). 
In research on these mobile SEO statistics conducted on 'near me' searchers to find out how likely they are to click on the first two to three search results, it was seen that 60% of respondents said they were "highly likely" to click on these results. Another 33% said they were"likely" to click on the top results. Only 5% said that they "weren't sure what they would click," and the remaining 2% responded that they "wouldn't click on the top results."
24. 21% of Google users access more than one search result. (Moz)
Search engine traffic statistics indicate that only 20% of the Google searches result in nothing more than a single click. It means that ranking highly on Google is most important as people want to click just on the top search results and nothing else.
25. 53% of the whole website traffic is achieved through organic searches. (Search Engine Land)
Organic traffic comes second to none when you want to bring people to your website, whether you're in the B2B or B2C niche. SEL's search engine traffic stats are the most successful method as it generates more than half of all website traffic on its own. Paid searches are responsible for just 10% of website traffic. On the other hand, social networks attract just 5% of visitors, and the rest of the 34% is derived from various other sources (including emails, displays, and referrals). It is necessary to work on different methods to bring organic visits to improve your website traffic rankings.
26. 70% to 80% of users completely ignore paid advertisements. (Search Engine Land)
Content is responsible for the most crucial part of website traffic, brings lead conversions, paid advertisements, and can deter most users. As per SEO vs. PPC statistics, the Google results show that the top of the search results page has a tiny "Ad" sign overlooked by almost 80% of people looking for important information. A good SEO strategy outperforms most pay-per-click marketing campaigns.
27. Google search sessions take less than a minute on average. (Moz)
Google has come up as the best search engine due to a reason. It takes less than a minute to get search results as you enter a query.
28. 75% of searchers never go past the first page of results. (Forbes)
Search engine stats published by SMA Marketing highlights the following:
a) A majority of people do not check the second page of Google results.
b) 75% of internet users focus on the results presented on the first page and mainly on the top. But, 25% of searchers sneak into the end of the first page to find out what's on the second page.
29. 8% of search queries on the browser are in question form. (Moz)
Google keywords statistics tell us that while people want to look up for terms by entering keywords only, 8% of searchers can enter full questions into a search bar. Make sure that you keep it in mind while forming your SEO plan.
30. YouTube ranks as the number 2 popular search engine. (Forbes)
SEO industry statistics indicate that YouTube is the world's second-largest search engine. The stats include:
Number of users

Daily searches

The time people spend on the website,

It's worth noting that Alphabet Inc. owns both YouTube and Google. So, it's safe to say that these two platforms will dominate the top spots, and they've already left their competition far behind.
A

Deeper Look

Into the Search Engine Ranking Stats
Coming to Search Engine Ranking Stats-Is it only the top rank that matters or there's more to it? See the stats and you'll be able to figure out what matters the most.
31. The top-ranking page gets a high search traffic volume only 49% of the time. (Ahrefs)
Getting top rank on your page is not the only thing you should aim for. Ahrefs data shows that only 49% of the time that a website gets high organic traffic. Then what else matters? It is the clicks and the traffic you get. SEO should not be limited to top ranks but also to improve CTR and get better organic search volume and traffic.
32. Only 9.37% of pages get organic traffic from Google. (Ahrefs)
In a study of 2 million pages In 2017, it was seen that a whopping 94.3% of pages from roughly two million pages didn't get even a single Google search visitor. Another more detailed study by Ahrefs showed that 90.63% of their pages received zero traffic from Google, with 5.29% of them getting even less than ten visits per month.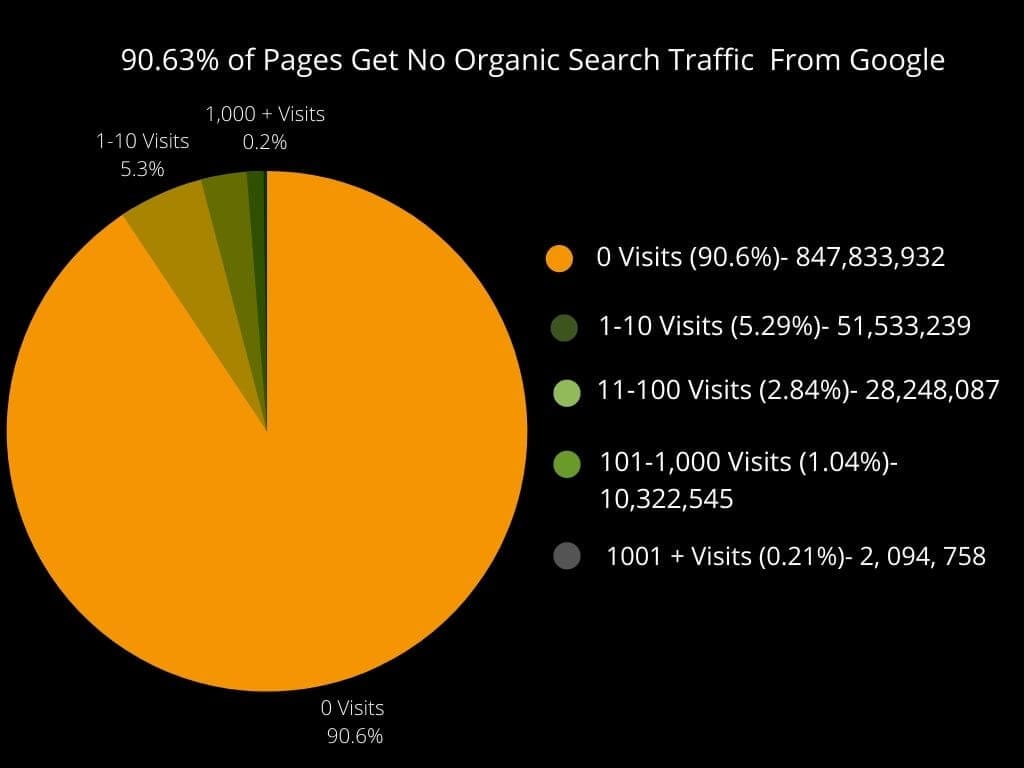 33. Only 5.7% of pages rank in the top 10 search results till a year of publication for at least a single keyword. (Ahrefs)
When it comes to maintaining the top search rank, there are so many variables to consider like website strength, competition, budget, skills, etc. The domain rating metric plays an important role here.
34. Google rewrites meta descriptions 62.78% of the time (Ahrefs)
If the meta description of your first page is targeted only for the primary keyword, Google is more likely to rewrite it instead of using the hardcoded description. This is because, in general, the first page covers hundreds of keywords or, better still, the users' search intent. So, meta descriptions and content need to reflect user intent.
35. On average, top-ranking pages will rank in the top 10 search results for about 1,000 relevant keywords. (Ahrefs)
The content of the page should cater to the user's search intent. It will cover so many queries of the exact keywords. The top running pages cover nearly 1,000 of the relevant keywords on average, while the other optimized pages cover about 400 keywords for the same.
And what more will matter? It is something more independent of our effort-and that's time. See the next stat and you'll know why it pays to be consistent and patient in SEO.
36. On average, a page in the top 10 results is more than 2 years old. (Ahrefs)
According to research results, it takes nearly two years before a newly published and well-optimized page reaches the top results.
37. 40.61% of pages have meta descriptions that truncate. (Ahrefs)
Meta descriptions within length will show completely on Google snippet. But, if you have longer meta descriptions, they are likely to truncate.
38. Google displays meta descriptions in search results about 37.22% of the time.(Ahrefs)
It increases to 40.35% for fat-head keywords and lowers to 34.38% for long-tails.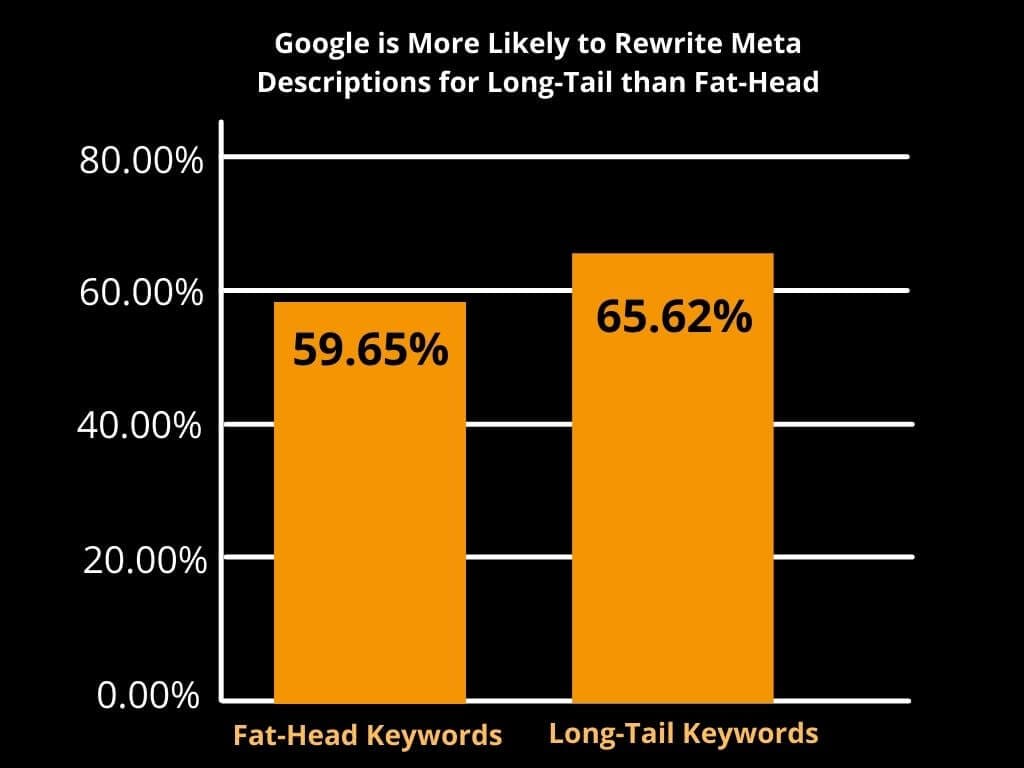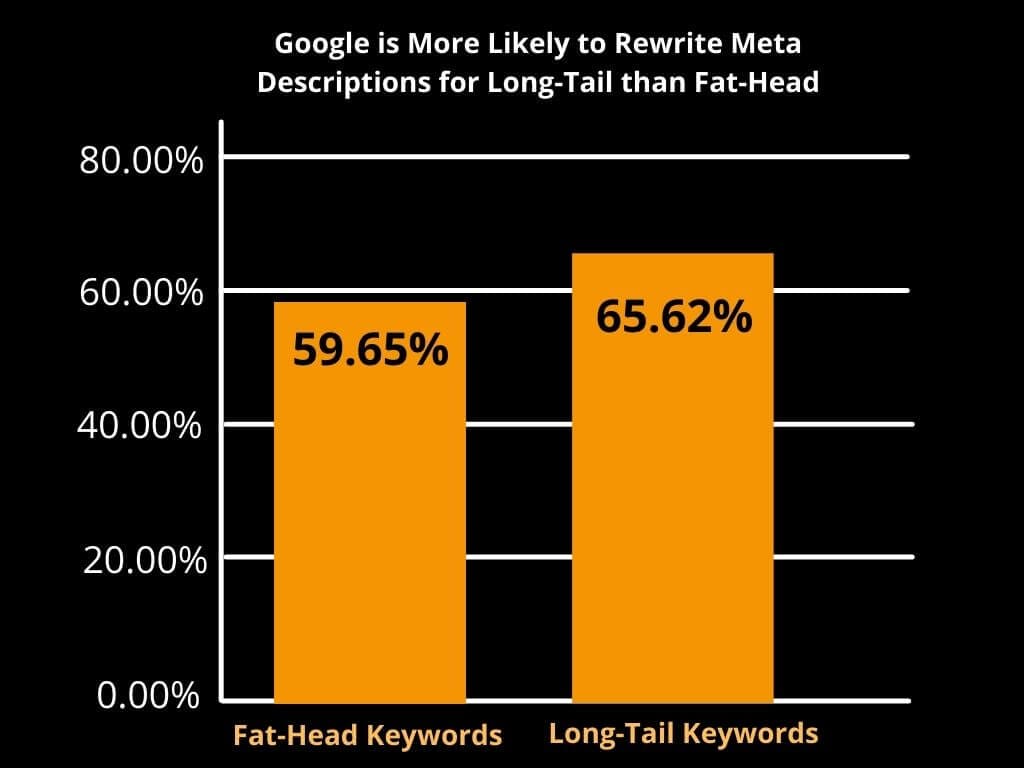 The Must-Know
Keyword Stats

that Business Owners Need to Know

What Does it Take to Plan an Effective Keyword Search for Your Website?

Let's consider this.

Typically, SEO campaigns start with keyword research. What makes keyword research the most important factor? Here are SEO stats about how people search on Google. Knowing this will help you make the most effective SEO strategy for your business.

39. 60.67% of total "search demand" gets generated just by 0.16% of the most popular keywords or those with search volumes of 1,001 or more. (Ahrefs)

Long tail keywords are taking the lead as the world is becoming more and more communicative. It means that the focus must shift to long-tail keywords from only short-tail keywords

40. Around 8% of Search Queries are Phrased as Questions. (Moz)

Data analyzed by Moz showed that about 8 % of searchers asked questions on the browser starting with "Who," "What," "Where," "When," "Why," and "How," and "Am" (such as, "Am I registered for driving test?) or "Is" (such as "Is it good to jog?").

41. 92.42% of keywords get less than or equal to ten monthly searches. (Ahrefs)

Search Engine Stats-You Must Know To Carve Your Successful SEO Strategy  on Search Engines

Google seems to be the most connected term when it comes to SEO. Doubtlessly, Google is the most used search engine, and it drives the maximum traffic to websites. It's the dominant portion of the search engine market, delivering the best search results in a few seconds. Most marketers can achieve the best SEO results if they get a high search engine ranking on Google (though organic traffic is a more important factor). But, there are various search engines. SEOs must understand where the different search engines stand at the moment and where they're headed to. 

42. Google generates 94.38% of mobile search traffic. (StatCounter)

Internet users around the world rely on Google for getting information on the go. Search engine usage data by StatCounter indicates that as much as 96% of mobile search traffic is derived from Google alone.

43. Google receives nearly an estimated 3.5 billion searches per day. (Internet Live Stats)

With technology reaching every nook and corner of the globe, it's no wonder that the search queries on Google and other search engines are growing day by day

44. Google has 86.6% search engine market share in 2021 (Statista)

Like early years, Google has swept past its competitors and has captured a large portion of the search engine market share – 86.6%, leaving behind YouTube, a video-streaming platform; Bing stands at second position with only 6.7% of the global market. While Yahoo! holds 2.71% of Chinese search engine Baidu also has a 0.54% share.

45. The average CTR of top results in Google's organic search results is 31.7%. (Backlinko)

Backlinko's finding also indicated that the number 1 search result is ten times more likely to get a click-through than a number 10 result. It means, the higher you rank on the first page, the better.

46. Relevant search results influence 39% of purchasers. (Think With Google)

People are relying more and more on their devices to make purchase decisions. As mobile searchers use their device to find an answer to their query, relevant results will influence them into instant decision making. So, optimizing your site for user intent is important.

47. 61.5% of desktop searches and 34.4% of mobile searches do not get any clicks. (Sparktoro)

This occurs when Google displays results too fast, or most of them appear in paid marketing ads; users tend to avoid clicking on them. The data obtained affirms this thought process ending in a situation where many searchers do not click on their mobile and desktop results.

48. Featured snippets show only in just 12.29% of search queries in the search results. (Ahrefs)

If companies focus more on getting SERPs or featured snippets results, they have a greater chance to override their competitors.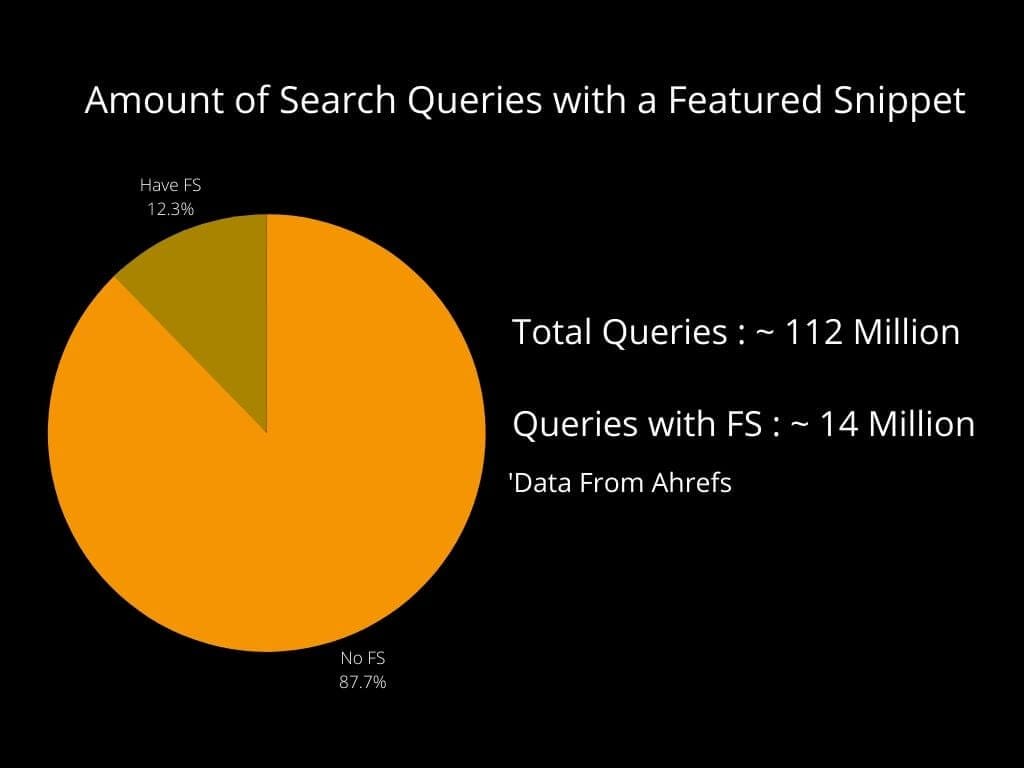 49. As Google went down, a whopping 40% drop in internet traffic was recorded. (Business Insider)
A five-minute glitch in Google's functioning in 2013 made the internet traffic drop by 40%. One can understand how much internet users rely on Google, the world's largest search engine, to find the websites of their choice. The searcher does not have to bother about the exact URL of the websites but only the products or services they sell, the brand name and location, and you're there in a few clicks. 
50. There are nearly 500 to 600 changes in Google's search algorithms every year. (Search Engine Land)
Business owners are now intensely aware of the importance of SEO in the 21st century and are mindful of the significance of SEO. Website owners know if they rank well on Google, they'll have more website traffic translating to more leads generation, and later they will become customers. However, business owners need to tackle a real challenge to accomplish their business goals because Google constantly changes its algorithm for ranking search results. The above SEO facts and figures tell the volume of change we need to handle. Though out of the total changes, only a few yearly algorithm adjustments are significant game-changers.
51. 16% to 20% of all daily Google search queries get raised for the first time, every day. (Internet Live Stats)
According to SEO keyword search statistics, nearly a fifth of Google's daily searches comprise new keywords or questions altogether. So, we need to consider human ingenuity and Google's resourcefulness, both into consideration for keyword research and designing strategy.
52. Zero-click searches jumped to 65% during 2020. (Search Engine Land)
Google never hesitates to go out of its way to provide highly relevant information in its top results. The first page-of-Google statistics show us that about 65% of all Google searches in 2020 got no clicks. 
Just typing "Walmart near me" or "Mexican food eateries near me" will give users all the information they need.  It means website owners now need to think on lines of going beyond first page results. This change became particularly evident with the increase in zero-click searches in 2019. The increasing number of zero click searches in the past two years possibly might be an outcome of COVID when people were making more search queries in general.
53. Images receive just 3% of all Google search clicks. (Moz)
While images are an essential aspect of content, not only in improving presentability but also in enhancing aesthetics, engagement and knowledge. But, do they also help enhance the percentage of clicks on Google search results? SEO Statistics of Moz's extensive research revealed that about 3% of clicks on Google search results are for images.
54. The Google search volume grows roughly by 10-15% every year. (99firms)
Understandably, Google's growth rate in the first few years following its launch was astounding. The company's growth rate was extraordinary at 17,000% yearly. However, the search volumes got tremendously impeded (compared to initial years) between 1998 and 1999. Further on, search growth was:
1999 to 2000: 1,000%.

2000 to 2001-200% . 
Later, Google searches increased at rates of 40% – 60% by 2010. Following this, Google search numbers reveal a slowdown that seemed to stabilize at a 10-15% rate in the past decade.
55. Just 15% of millions of active US web users do at least a single Google search a day. (Moz)
Google has seen a steady and gradual growth in the past few years. Google receives nearly 92,000 searches per second. It has a great room to expand. As per Moz's report on the US active web users: 
About 15% carry out daily searches on the browser, 
45% perform at least one query weekly.
And 68% make one or more queries in a month.

56. HTTPS secured sites form nearly

40%

of Google page one organic listing. (

Blue Corona

)
Several studies show that Hypertext Transport Protocol Security encryption influences SEO, especially in e-commerce websites. As per search engine optimization experts, websites using HTTPS are more secure and load faster. HTTPS has been a KPI in Google's ranking algorithm since 2014.
More than 20

Local

SEO Statistics You Must Know
How to reach out better to your local customers and clients? This is the main concern of the SEO businesses that are primarily services products and services in the vicinity or around their location. 
Now, consider this.
Most users like to see local results while performing Google searches. Google understands this and delivers search results depending on the users' locations. 
So, business owners must serve customers locally to take care of this while creating their SEO strategy. The main focus in a localized SEO strategy rests on improving your local search presence allowing more people looking for services or products you provide. Churn more information present ahead on this to rethink how local SEO will make a difference to your site's visibility.
These SEO stats show the importance of good local SEO.
57. 46% of all Google searches are local. (GO-Globe, Hubspot)
Nearly half of all Google searchers are looking for local information. People often want to know the working hours of a local establishment, the availability of certain goods in local stores, or the weather for the area. This is so often the case that local searches now make up 46% of all Google queries. For example, people want to know the:
Working hours of local companies or shops.
Availability of certain goods in local stores.
The weather of the area.
58. 30% of mobile searches are related to location. (Think With Google)
More and more people are relying on mobile searches to find services and products or to make queries for their day-to-day concerns. Searching with phrases like "mobile repair near me" or "weather Winnipeg" is common, and Google algorithms wire to help them with this.
59. 76% of users who use their smartphones to search for something will visit a business within 24 hours. (Think With Google)
Users want to find a reliable and trustworthy business that can help meet their requirements on a daily basis. And of course, they want it to be present near them so that they can visit it at the earliest and get their job done (for example a mobile repair).
60. 28% of searches for "services" or "products" "near me" result in a purchase. (Think With Google)
Focusing your SEO efforts on ranking high in Google local searches is a smart move. Why? Because most people who seek local information end up going to brick-and-mortar businesses within a five-mile radius. Moreover, local SEO search statistics indicate that 28% of those searches result in a purchase.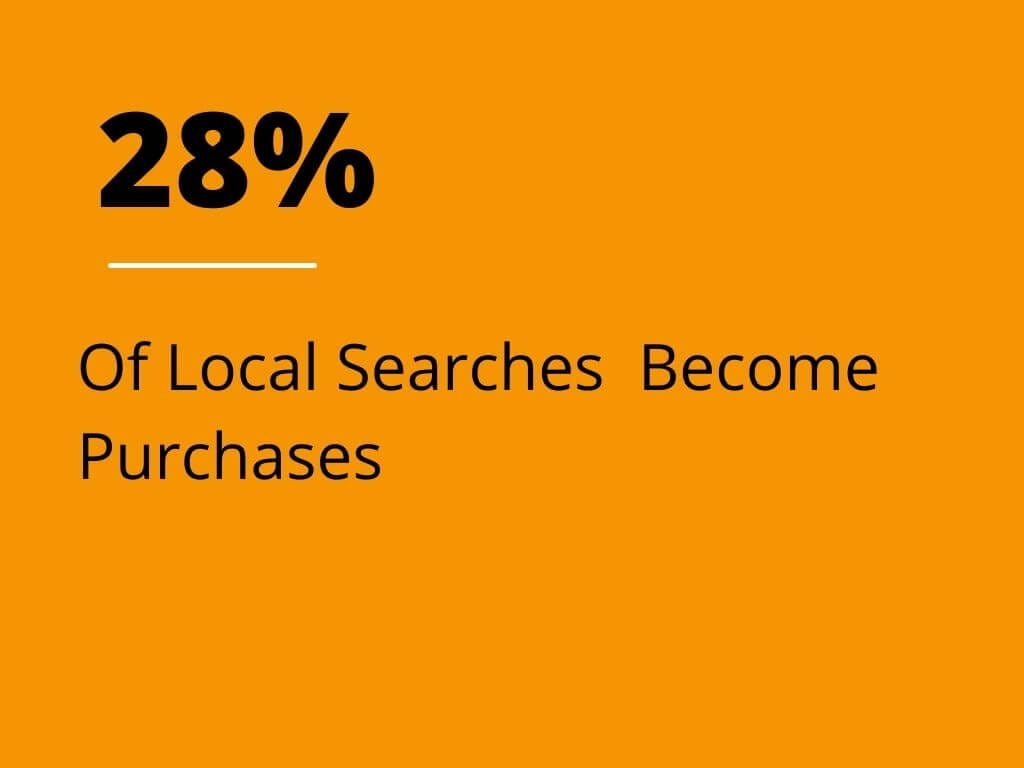 61. 92% of Google web queries that include a city and business category feature Yelp in the top five search results. (FreshChalk)
People want to purchase or take services from only reliable businesses. So, getting reviews is important as much as it is important to get listed in the trusted business listing websites. Featuring your listing in business rating websites like Yelp is essential. Likewise, it makes sense to register on local forums and directories.
62. 45% of global shoppers prefer to buy online first and then pick up an in-store (Think With Google)
63. "Near me" and "Where to buy" mobile search queries increased by 200% – 250% between 2017 and 2019. (Think With Google)
People have relied on Google to give them top results for their queries on finding the best services or products for their requirements locally.
For example, to find out if there are mobile searches for "store open near me" (e.g., "grocery store open near me"), "on sale" + "near me" searches, (e.g., "cars on sale near me") have increased by more than 250% between 2017 and 2019. 
64. 61% of mobile searchers are more likely to contact a local business with a mobile-friendly website. (BrightLocal)
Search engine optimization stats remind us how important it is to make your website mobile-friendly. People are highly dependent on their mobile devices these days. Not optimizing your site for a mobile-friendly smooth experience will cost you a lot. As many as six out of ten internet users feel more inclined to contact a local business with a mobile-optimized site.
65. 50% of local mobile searches concern business information like the address or working hours of a local business. (GO-Globe)
People want to get useful information quickly when conducting local searches. Finding a place or learning when it closes is the intent behind half of all local queries. So, if you want to increase foot traffic to your business, be sure to make this info available.
66. As many as three-quarters of local searches result in a phone call. (GO-Globe)
GO-Globe's local search statistics suggest that, even though the internet has become the first place where people look for information, they still love getting in touch via phone. Some 76% of local searches lead to a phone conversation with a local business.
67. Mobile searches for "stores open now" or "food open now" increased by 2.1 times between 2015 and 2016. (Think with Google)
Local SEO can make or break a small business. Local search stats tell us that if you fail to optimize your website to provide searchers with relevant information about your establishment, they will simply go to a business that made their working hours and location easy to find.
68. 30% of all mobile queries in 2016 were related to location. (Think with Google)
What's the point of having a wonderful little restaurant if no one can find it? Internet users need to be able to find your business online if they want it to flourish. Keyword statistics tell us that you need to provide your address and a map for the best results. Now, these numbers are quite large.
69. 86% of shoppers use Google Maps to locate the business (Think With Google)
Google Maps are incredibly popular in local searches. Local SEO stats point out that nine in 10 consumers seek local businesses using directions to them. So, it's important to get your business on Google Maps.
70. 72% of computer and tablet users and 67% of mobile phone users prefer seeing ads customized to their city/ZIP code. (Microsoft.com)
Do you like being bombarded by ads while browsing? The obvious answer is no. And if the ads are for items not available in your area, it will disturb you no end. Research indicates that 70% of internet users, irrespective of their device, want to see ads customized to their location.
71. 70% of computer and tablet users and 61% of mobile phone users want ads customized to their immediate surroundings. (Microsoft.com)
People want to see ads showing them products available in their close vicinity. SEO statistics 2021 indicate that 70% of internet users who surf the net from a tablet or a computer like to see ads for products available near them. This percentage is relatively lower among smartphone users being nearly 61%.
72. US consumers share 480 million social posts with location information monthly. (jeffbullas.com)
Organic shares by delighted consumers about their location are compelling in improving traffic. Local SEO experts must take advantage of this. But, it cannot happen without investment in search engine optimization.
73. Other important Local SEO trends noted: 
54% of smartphone users find business hours. (Uberall)
53% look for directions to a local store. (Think With Google)

4
Video

SEO Stats Companies Ought to Know


Multimedia optimization on your website certainly drives higher traffic. Stats show that digital marketing companies have achieved great success driving customers using video marketing. If you have not started utilizing this vital SEO tactic, it's high time you should start. Look at the SEO statistics first.

74. Video is the most popular form of media being utilized in content strategy. It is now overtaking blogs and infographics. (HubSpot)

Highly engaging video content can help to retain a lot of viewers and audiences. The pandemic further pushed people into the following:
Audience had greater interest and an inclination to watch videos.

Marketers had to restrict making more videos to cut costs.
75. Higher YouTube rankings are related to the number of comments, views, shares, and 'likes.' (Backlinko)
The more engaging a video, the more the number of comments, views, likes, and shares.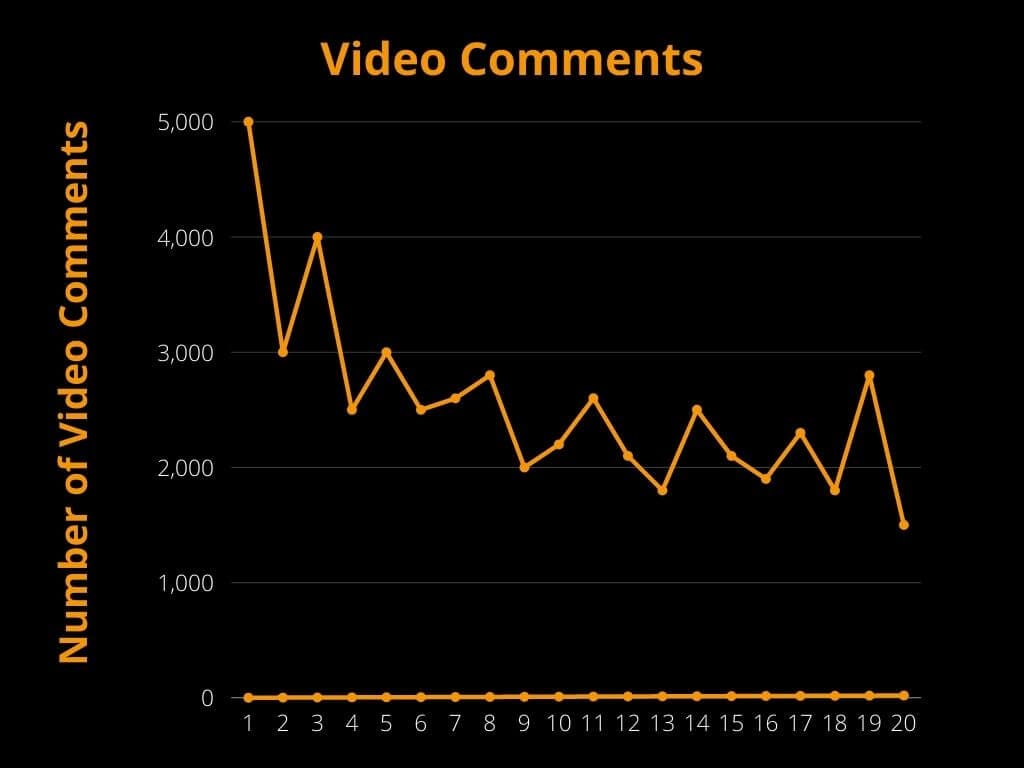 76. HD videos comprise 68.2% of the first-page YouTube results. (Backlinko)
Having your videos in HD design is essential for increasing the SEO results.
77. The first page YouTube video length is 14 minutes, 50 seconds. (Backlinko)
Videos should be nearly 15 minutes so that more and more viewers can see this.
Though no direct correlation was evident with keyword optimization of videos on Youtube and their ranking, nevertheless, to make a  wholesome effort, you must  take care of video optimization as well for an effective user engagement.

10-Plus Must know Mobile SEO Stats for Business Owners
More and more people are drifting towards mobile search. Google has taken to mobile-first indexing, and doubtlessly, mobile SEO has gained unprecedented importance. Here are the mobile SEO stats showing how a significant volume of searchers prefer using their mobile to find services and products or to get crucial information.
78. More searches are going on mobile devices than on desktops. (Think With Google)
51% of smartphone users discover a new company or a product while searching with their smartphones.
79. 52.2% of the website traffic across the globe is derived from mobile phones. (Statista)
Most people find it convenient to use their mobile gadgets browser to utilize the products and services.
80. 82% of smartphone owners use their phones before they purchase from a store. (Think with Google).
Modern shoppers use their phones to research a product while in a store. This is what they do:
Compare prices of the same items in other stores

Get more info about their quality

Read a quick review or two. 
Search engine marketing statistics tell that consumers want to get all information before purchasing from a specific retailer. So, what steps do you need to take?
Beat the competition with low-prices 
Have a well-optimized website that coaxes the customer to buy from you.
81. On average, website ranking in number one position on mobile gives you 27.7% of the clicks. (SEOClarity) On the other hand, ranking in the second position on the desktop gets a website 19.3% of the clicks. 
A fact of modern life is that most of us want to do things on the go. SEO statistics for website traffic confirm that more than 50% of all internet traffic comes from mobile devices. Therefore, mobile optimization is a must if you want your website to show up in the top results that get the most number of clicks as shown in stats.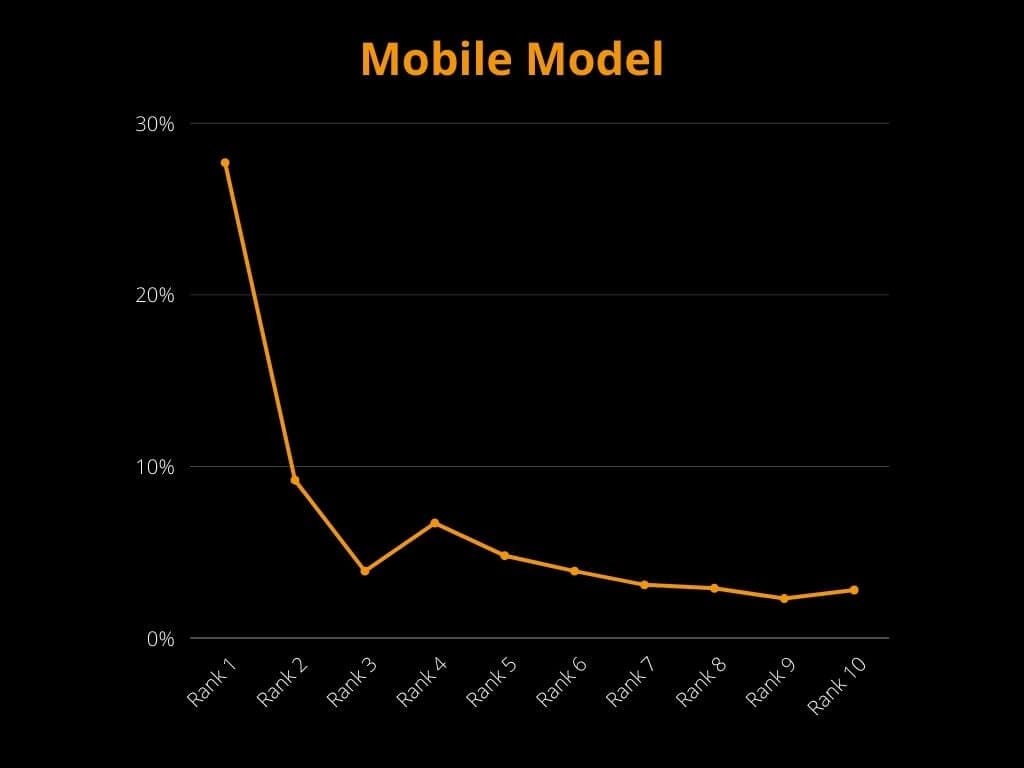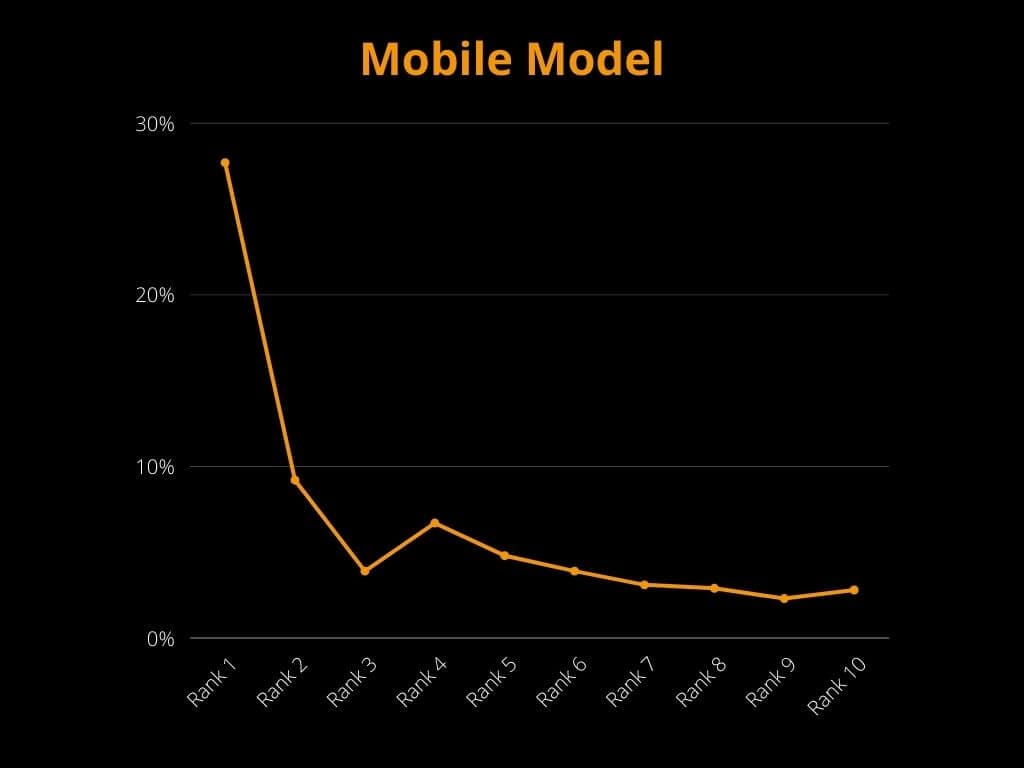 82.Mobile searches surpassed desktop searches in 2015 for the first time in terms of quantity. (Search Engine Land)
Internet users mainly accessed the web from their PCs till 2015. However, as smartphones became more sophisticated and there was higher availability of free WiFi, the mobile searches volume crossed the number of desktop searches. Google changed its algorithm in response to this development, prioritizing websites that display nicely on smartphones and other kinds of mobile devices. It meant businesses that want to be seen should adapt.
83. In January 2021, 5.22 billion unique mobile users, 66.6% of the global population, used mobile phones. Datareportal 
Mobile search statistics increased by 13 % in the 12-month pandemic period, this is correlated to social distancing.
84. 82% of smartphone consumers conduct "near me" searches. (Uberall)
Undoubtedly, convenience is the key to modern consumerism. There are endless offers on various products and services, and prospective customers will always choose the best option near their place. Uberall's SEO statistical analysis tells that users most commonly look for the following in such searches.
Food (84%)
Entertainment options (56%)
Banking (50%) 
Apparel (41%)
Personal care products (38%).
85. Location-targeted mobile advertising spending in the US is projected to reach $32 billion by 2023. (Statista)
Location-targeted advertising will show consumers ads relevant to their current location. As consumers continue preferring this form of mobile advertising, mobile ad expenditure is expected to increase to $32 billion by 2023 in the US.
86. 19% of mobile users end up making unplanned purchases in local stores influenced by location-based ads. (99firms)
Location-targeted advertisements can fetch great results. At least the SEO stats 2021 show this. The ads have proved to be highly effective, according to local search stats. Nearly 20 % of consumers admit getting coaxed into making a spontaneous purchase if they see a timely ad for locally available products.
87. 60 % of internet users start their shopping on one device but proceed with it or finish it on another one. (Think with Google)
Though smartphones are an addictive choice for people, most people will still explore the utility of the prospective purchase, exploring the internet from other devices. The SEO sales statistics clearly show that experts in the SEO business must take the necessary steps to improve the website browsing experience of consumers on all kinds of devices for delivering effective search engine optimization results to their clients.
Voice Search Stats which explain why you must consider optimizing for voice search
Did you know 48% of consumers employ voice for "general web searches."?
Voice Search is the Future of SEO which will  influence business growth of companies.
Experts predicted a growing influence of voice search on Google search, right at the start of the use of this technology. Here are important SEO stats you should know about voice search statistics.
88. 48% of consumers employ voice for "general web searches." (Search Engine Land)
AI has been present for years and is more widely being used than we might think. AI is changing the way we carry our web searches alongside other things. Search engine optimization stats show the change is going very well.
89. Backlinko indicates that 40.7% of all voice search answers are derived from a featured snippet. (Backlinko)
If you can optimize your website to get featured snippets, it is quite likely to show up as an answer to user voice search queries for related services. For instance, Backlinko has given a great example to explain this.
If a user asks a voice search question searches for " Is ice water bad for dogs"
This is the answer on Google.
Moreover, it is also important to consider the optimization for keywords and also optimize for long tail keywords and question type of queries.
90. A typical voice search result is about 29 words in length. (Backlinko)
91. Nearly 75% of voice search results will occur in the top 3 answers for that query. (Backlinko)
92. Voice search results offer an average reading level of 9th grade. (Backlinko)
93. Websites having a strong 'link authority,' rank well in voice search. On average, Google Home's result Domain Rating for voice search is 76.8. (Backlinko)
94. Voice queries have increased by 3,400% since 2008. (HubSpot)
Search engine optimization statistics are related to the growing popularity of voice search-right from Google Home to OK Google to Siri to Cortana to Amazon Alexa. Voice search technology is proliferating enormously because people want to get used to it while talking to AI.
95. 50% of all searches were projected to be voice searches by 2020. (review42.com)
The voice search devices market had grown by 187% in Q2 of 2018.
96. It was projected that the demand for smart speaker assistants like Alexa and Siri will see a hike with a user base of 76.5 million in the US alone. (e-Marketer)
People are getting more and more comfortable with voice search. The eMarketer report on voice search statistics predicts that more than 40% of the US population will rely on voice search by 2022.
97. 55% of households in the US and the UK will have smart speaker devices by 2022. (OC&C Strategy Consultants)
In December 2017, only 13% of homes in the US and 10% in the UK-owned smart devices. Following this, in just five years, smart speakers will be a part of 55% of households. Therefore, voice search will have a significant impact on SEO.
98. 31% of global smartphone users used voice search technology once a week in 2017. (Statista)
As more mobile phone users get accustomed to voice search, Google keywords in search statistics will be changing. It will mean that using short, easy to type keywords. Voice search proliferation will bring total questions in the picture-to-back search engines.
99. In 2016,  voice searches comprised 20% of all queries on Google's mobile app. (Think with Google)
The latest available website search statistics reveal that twenty percent of all Google mobile app searches happened in 2016. At present, it can be well-assumed that the number has gone considerably up in the past five years
Content Marketing

Statistics Which Website Owners Must Know For                                                                         Engaging Audience
It's no secret that content marketing is an essential part of SEO. You cannot just rank without having any content on your website. Furthermore, SEO statistics show that its content quality matters more than the quantity.
100. 47% of buyers read up to five pieces of Weblog content before they call for business. (Demand Gen Report)
SEO statistics also revealed that consumers read three to five blog posts on a company website before placing their order to get in touch with their sales team. The content on your Weblog should reflect your brand values, and you must post regularly.
101. Blogging increases your chances of achieving ROI by 13 times (Hubspot, VentureBeat)
SEO stats for content marketing point out that marketers who put blogging high on their priorities list have 13 times more chances of getting a return on their investment than website owners who do not take to blogging.
102. Custom content invokes trust and positive feelings about your business in 82% of consumers. (Demand Metric)
Consumers love reading blogs of their favorite brands. Branding SEO statistics show that websites with active blogs maintain customer relations better and improve your brand's image. Additionally, they remain one of the proven SEO facts that blogging generates leads and increases profits.
103. Organic traffic increases by as much as 111% if you update, upgrade, and publish existing blog posts using fresh content and images. (SEMRush)
Maintaining a blog on the company website pays back for the time of its investment. It will help you to make your existing blog better. Moreover, SEO traffic generation increases by 111% by tweaking your content and inserting a more significant number of trending keywords. Also, you need to delete irrelevant posts.
104. Companies' blogs will fetch 97% more links to their website. (Demand Metric)
Backlinks are necessary to rank highly on Google. You must publish compelling content to get links. Companies with a blog get 97% more indexed links.
105. Companies with blogs get 434% more indexed pages as compared to those that don't. (Demand Metric)
Page indexing is an essential factor in Google SEO. That said, the higher the number of indexed pages on your website, the higher it will show up in searches. Indexing is Google's stamp of approval, helping sites get better positions in their investigations. Moreover, blogging contributes to getting a higher number of indexed pages; therefore, companies sharing blog posts have an incredible 434% more indexed pages than companies that don't blog.
106. Blogs on B2B marketing sites get 67% more leads. (Demand Metric)
Content creation provides irrefutable benefits on generating leads in B2B sites. Businesses publishing blogs achieve better Google rank due to their higher engagement. With a higher position on Google, a higher number of people get to know about your company. Research SEO stats say B2B businesses get more leads of up to 67% more, to be precise.
107. Content inspires 61% of consumers to make a purchase. (Demand Metric)
Demand Metric's search tells that 61% of surveyed consumers said that reading content associated with the product made them buy it. Blogging helps you accomplish multiple such as 
Improved search engine ranking

Generate high-quality leads

And nurture customer relations.
108. The number of US bloggers was expected to be around 31.7 million in 2020. (Statista)
Several people maintain their blogs to share their thoughts with like-minded people. Statista's SEO blog statistics show the total number of bloggers in the US exceeded 31 million in 2020. 
109. 60 % of marketers are aware that good SEO tactics generate the highest-quality leads. (NeilPatel.com)
Marketers recognize that SEO creates the best quality leads. With a well-optimized site offering content that users find valuable, the site visitors are more likely to turn into clients. In comparison to inbound marketing, outbound marketing, and self-sourced leads from the sales team deliver poorer results.
Link Building

Statistics You Need to Know

Links are like votes for you. The more the better. However, their origin from an authoritative site will make all the difference. 

Google considers backlinks as one of its top three ranking factors. Check out these link-related stats. 

110. 66.31% of pages have no backlinks. (Ahrefs)

A study of one billion pages by Ahrefs indicates that 66.31% of the web pages do not have any backlinks. Additionally, 26.29% have backlinks only from three or fewer websites.

111. In most instances, the top-ranking pages get ' do-follow' backlinks from new websites at a rate of +5%-14.5% per month. (Ahrefs)

You might wonder if pages with more backlinks get a high rank or are the top-ranking pages getting more backlinks. The answer is straightforward. It's both ways, and it's a vicious SEO circle.
The important thing is, typically, the more backlinks a page has, the higher is the volume of the organic traffic it gets.

112. The average cost of buying a link is $361.44. (Ahrefs)


Since Google made backlinks as a ranking factor, it's no secret that they are a precious commodity. Many blogs have earned high DR and have a good profile link of their own. Now, they do not mind earning some profit out of their reputation. They admit to selling links on their website. As per Ahrefs research, the average cost of buying a link on the internet is $361.44.

113. The average cost of publishing a paid guest post is $77.80. (Ahrefs)

114. 73.6% of all domains feature reciprocal links, which means some of the sites they link to also link to them. (Ahrefs)

Out of these, 43.7% of top-ranking pages have reciprocal links. (Ahrefs)
Google confirms the quality of your website with the number of backlinks it gets. The more quality backlinks your site earns, the higher its value is in the eyes of Google.  A site with backlinks will achieve its spot in the top results. Read the statistics to show why link building is an integral part of SEO success.

115. 99% of the top-ranking websites in Google search results have at least one external link. (Forbes)

The best way to get good trustworthiness on Google is to include internal and external links in your pages. As per SEO statistics by Forbes, most top-ranking websites will have at least one external link alongside a high number of internal links.

116. Link building to be the most challenging SEO tactic for 41% of large companies. (Conductor)

Large companies consider link building as the most difficult to achieve. 39% of large enterprises also admitted that keyword research is the second most challenging task. On the flip side, mobile and local search optimization are considered easier jobs of SEO strategy.

117. Specifying the reason for your outreach in emails increases the response rate. (Backlinko)

Backlinko's SEO ROI statistics say that your chances to get a reply increase if you explain a reason for writing to someone who doesn't know you or has not heard of your website.

118. On average, Google's first-page result has 3.8 times more backlinks than pages on positions 2-10. (Backlinko)

Strong and authoritative backlinks are essential to building your site's reputation. The first ranked pages have four times more backlinks than sites present on subsequent pages. It means backlink efforts can bring you to the first page in the long term.
SEO Industry Statistics Which Prove SEO is a

Cost-effective

Long Term                                                       Approach for Business Growth
The main question that would perplex your mind is how much do SEO professionals charge for their services? What benefits one gets by taking services higher or lower than the average? Here's a look at the SEO industry stats.
119. $501-$1,000 per month is the most popular pricing tier for SEOs as it also keeps the clients happy. (Ahrefs)
120. 74.71% of SEOs charge a monthly retainer fee for their clients. (Ahrefs)
According to research by Ahrefs, typically, nearly 74.71% of SEOs they surveyed charged a monthly retainer fee between $501 and $2,000 per month. It is the most popular monthly retainer rate for SEOs 
121. 88.28% of SEO service providers charge $150/hour or less for their services. (Ahrefs)
The research also indicated that SEOs in business for more than two years charge
122. 39.4% more per hour.
123. 102.41% more for monthly retainers.
124. 275% more for one-off projects than the ones who've been in business for fewer than two years. 
125. For monthly retainers, SEOs serving in the worldwide market charge nearly 130.74% more than those serving the local market. (Ahrefs)
126. In hourly pricing, $100-$150 per hour is the most popular pricing tier with SEOs. (Ahrefs)
Frequent Asked Questions
 How is SEO Relevant in 2021?
The SEO market witnessed massive changes in the past. Despite this, SEO rankings reports and stats show how extremely relevant the technique remains in 2021. SEO is the most appropriate way which helps your website get top ranking Google results. It is an essential part of your digital marketing strategy giving you the most valuable results than paid marketing and other techniques.
Why should I Invest in SEO?
SEO is an astute and well-placed investment. When you also use other critical marketing strategies alongside SEO, it gives you excellent outcomes. The things you need to add to your SEO strategy include: 
Quality content

Smart marketing

Outreach.
What is the Future of SEO?
SEO is a constantly changing industry with scores of google algorithm updates. It is more complex than it was 5-10 years ago. But, it continues to be a compelling marketing strategy. Many times, SEO deaths have been prophesied, but they were far from the truth. SEO changes forms but never really dies.
What do SEOs do?
SEOs are specialized to cover various elements and strategies essential to tackle your business's online challenges. SEOs carry out technical site optimization, page optimization, and off-page optimization and help build an effective content marketing strategy and much more.
Is SEO hard?
Our SEO statistics show a growing and lucrative market. While you might find it hard to get acquainted with SEO jargon initially, it will be very smooth to apply later.  SEO requires time to give results. It's not like an ATM password that intently delivers cash from a machine. Instead, it's like churning milk to get the butter out of it. But the results are long-lasting and fruitful in a well-done SEO done by seo company india. Again, you need to maintain the results with consistent SEO work as algorithms change continuously.