Want to know how to perform SEO for multiple locations? The following guide has got you covered. 
When you own different businesses/franchises in different locations, it is important to perform SEO for each individual location to attract the nearby audience. 
Since 46% of the overall searches on Google are local, performing local SEO for multiple locations will help you drive traffic, increase sales, and thereby skyrocket the overall business revenue. 
Although, SEO for multiple-location businesses can be a difficult task, especially if you have never performed SEO in the past. 
In such a scenario, it is better to look for an SEO service provider who can handle SEO for multiple locations for your business.
On the other hand, if you have performed SEO in the past, all you need to do is understand the know-how and the required tools to perform SEO for multiple locations. 
To help you along the way, our experts from SEO Company India have compiled a comprehensive guide to perform SEO for different business locations that'll help you achieve your specific business objectives. 
What is Multiple Location SEO?
Multiple location SEO is the practice of optimizing your website in such a way that it enhances the user experience for customers accessing it in different locations. In general, multiple location SEO involves three basic steps. 
Setting Up a Different Web Page for Each Location
Performing Proper Link Integration
Link Building
Whether you own 10 or 100 franchises in different locations, it is important to set up an individual web page for each location while submitting correct information to Google at the same time. 
This will help the search engines to distinguish between different locations and display the right one for the right search queries. 
Now, Let's discuss the three phases of multiple location SEO in detail.
Set Up a Different Web Page for Each Business Location
The first step of performing SEO for multiple locations is to set up an individual web page for each location. The pages should contain relevant business information about the particular location as well. 
To do so, make sure to add unique content to each web page so that it provides visitors with accurate information and makes it easier for the search engine to index and rank the web page for the right queries. 
In addition to this, follow the below-mentioned tips while setting up a web page for multiple business locations. 
Location-Specific Meta Descriptions
The meta description is a snippet and an attribute of HTML <meta> tag that basically summarizes the entire page content in 155-160 characters. It is displayed under the page title in Google SERP.

The meta description is the first thing a visitor notices and that's why it is extremely important to make it accurate and well-optimized. 
Moreover, Google also considers the meta description to relate a web page for specific search queries. 
That's why it is extremely important to optimize the meta description for each location so that the visitors know what the page is all about. 
Let's take a look at an example. 
Maria House Cleaning, a cleaning service provider in the United States, has designed separate web pages for their Bothell and Issaquah locations along with separate meta description. 
Meta Description for Issaquah Location. 

Meta Description for Bothell Location.


As you can see, Maria House Cleaning has written location-specific meta descriptions for different locations. 
Add Relevant NAP (Name, Address, Phone Number) Information
NAP stands for Name, Address, Phone Number. When it comes to designing web pages while performing SEO for multiple locations, NAP is the most important element that must be added on every web page. 
In addition to this, you must also keep the NAP information consistent across different platforms on the Internet, mainly when you're listing your business on different directories. 
Keeping consistent NAP information while listing your web pages on different platforms will help you provide accurate contact details to the customers.
Add Location-Specific Content
As we mentioned earlier, one of the most effective ways to separate different web pages from each other is to add unique content to each page. 
You can add staff information, client testimonials, latest news, and ratings to make the page content unique and informative. It is also a wise strategy to use this opportunity to showcase the USPs of your business. 
In case you want to add news on location-specific pages, make sure to keep the news content specific to the particular location. Remember your main objective is to target the local audience. That's why optimizing content for local audience should be your first priority. 
Add User-Generated Content
In addition to regular informative content, it is also a good strategy to add user-generated content to maximize the user-interaction of the web page. 
User-generated content includes comments and reviews from the customers. Adding such content adds more value to the page and new visitors can easily decide whether they want to work with your company or not. 
Here's an example where Buzzmaids have enhanced the user-interaction by simply adding a slider that shows client testimonials.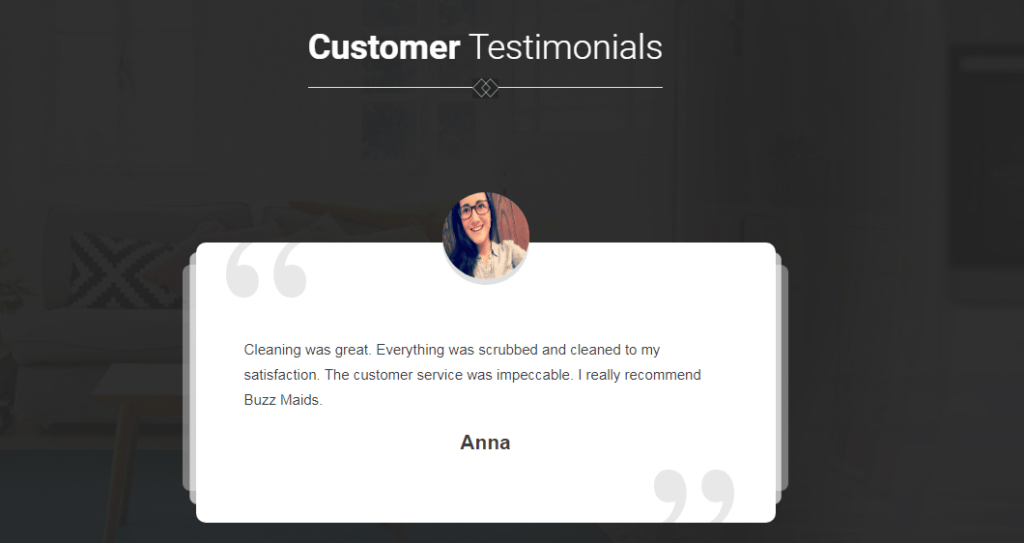 Adding user-generated content also helps you understand the negatives and positives of your brand. You can use customer feedback to make the essential changes to improve the overall user experience. 
Embed Google Map to Each Web Page
While designing the separate web pages for multiple location SEO, adding a Google map is a great idea. 
Embedding the Google map will make it easier for the visitors to locate your store and navigate there without any hassle. This increases your chance to improve the conversion rates.
The best part is, embedding Google map is not challenging at all. You can simply add it by visiting the Google Map page for your business and then clicking on 'Embed' button. Google also allows you to customize the map size as per your web page's design. 
Add Schema Markup
Schema Markup allows Google to easily navigate through the different elements of the website and understand the context of the entire web page. 
Basically, you can use schema markup to tell Google the information that you have added on the web page such as business name, phone number, address, etc. 
It can also be used to set other crucial details including headings, main content, author name, etc. Google has a dedicated tool that allows you to set schema for your website. You can use it to define different schemas for your web pages.  
Create a Sitemap
Once you have created a web page for each location, the next step is to create the sitemap. In case you already have a sitemap, make sure to update it with information about new web pages. 
To do so, you can use tools like XML Sitemap Generator.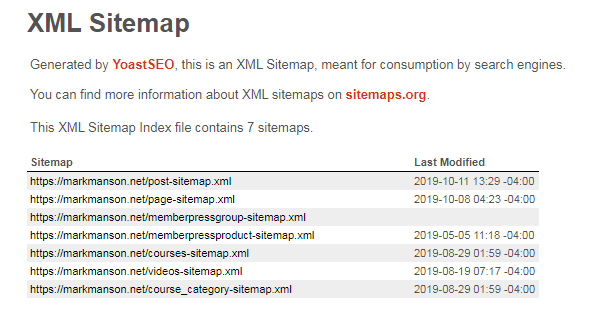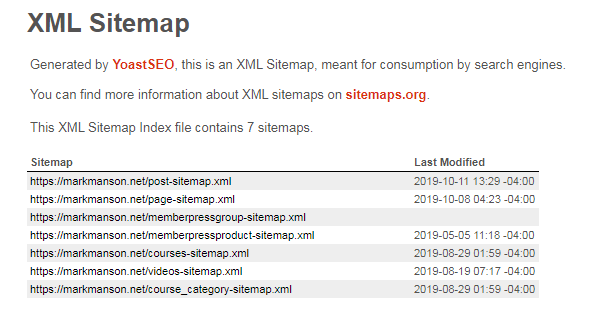 An XML sitemap makes it easier for the search engines to navigate through different web pages of the website and index them properly. 
Every time you make a substantial change to your website, make sure to add a new sitemap with updated information. 
While submitting a new sitemap, however, make sure to remove the existing one (if there's any). 
Set Up Your Google My Business Listings
Once you have managed to create different pages with the correct information for all the web pages, the next step is to set up your Google My Business Listings account. 
Google My Business (GMB) is a free service offered by Google that allows gives you more control over what should be displayed in the search results when someone searches for your business. 
In general, setting up a Google My Business account takes your business information online and helps customers understand the services that you offer. 
Setting up an account with Google My Business can be done in two different ways. 
Add a New Business
Claim an Existing Business from the Database
Whichever method you follow, however, you'll be asked to verify that the business is actually yours. 
If you are setting up a new account, keep the information accurate and verify it before hitting the submit button. You'll be asked to fill general information such as business name, contact details, website, complete address, etc. 
In case you edit the information while verification is still in process, keep in mind that you'll have to start from scratch and submit a new request. That's why it is highly imperative to cross-check the information before submitting it to the database. 
Since you performing SEO for multiple locations, however, you are most likely to have dozens of businesses to submit to Google. Fortunately, Google has provided a 'Bulk Upload Feature' that can be used to submit business information in bulk. 
Setting up a Google My Business listings account will also make your website appear in the local pack results. These are the three search results that usually appear for local search queries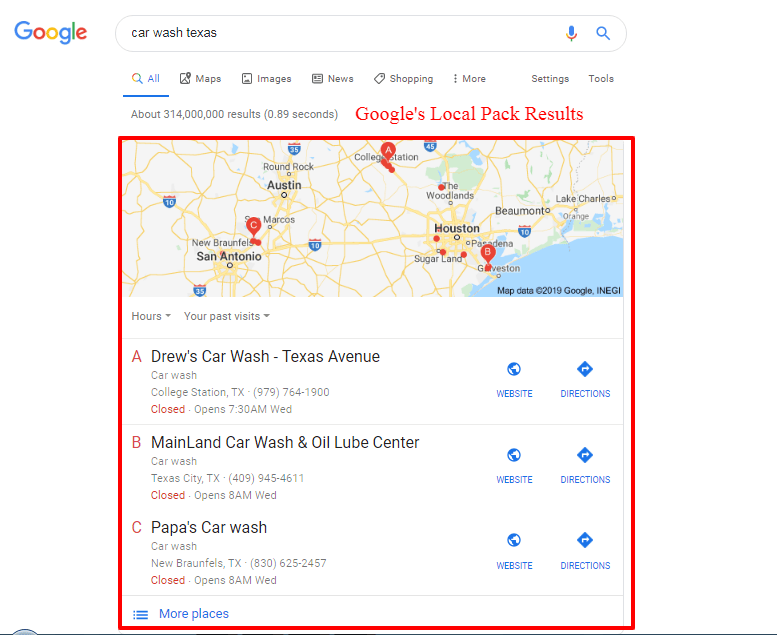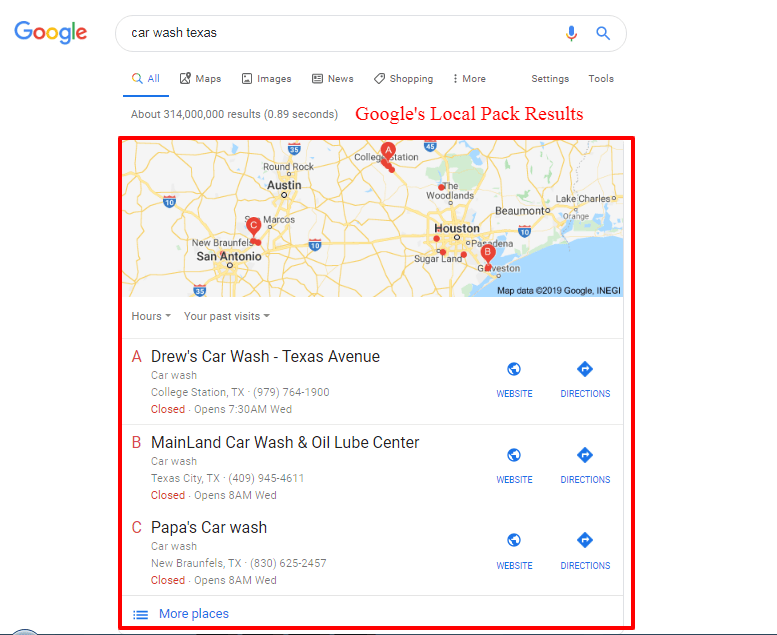 Once you have created Google My Business Listing account, check your account from time-to-time to update any missing information. Google has a habit of introducing new elements to 'Google My Business'. So, it is important to ensure that there isn't any missing information in your account. 
Use Google My Business Insights to Update Listings
It is one thing to set up a Google My Business account. Checking if you are attracting customers through it is a completely different task. 
Google My Business Insights is one of the most important tools for multiple location SEO. The tool helps provides you with insights into your Google Business listings, i.e., how customers are interacting with your listings. 
The insights show you information about:
Tells you the individual percentage rate of people who have found you through direct searches and branded searches
Shows the search term for which your business listing appeared in search results
Tells you whether people found you through Google search results or Google Maps
Tells you about the customer's actions after your business appeared in the listing, i.e., whether they made a call to the store, visited the website, or simply requested for the directions to your store
Gives you the information about the people who called your store after seeing your business in the listings
Shows you the list of images that are associated with your business and how many time people have viewed these images. 
All this information will help you optimize your business listings more precisely. For instance, if only a few people interact with the images, it is better to replace these images with new ones or perform basic image optimization for better user interaction. 
Manage and Update Citations With Accurate Information
As far as SEO for multiple locations is concerned, managing and updating the citations is extremely important. 
Citations refer to the NAP details that are displayed across different websites. As we mentioned earlier, it is important to keep the NAP information consistent everywhere. 
In addition to being SEO-friendly, keeping consistent NAP information also makes it easier for customers to get accurate information about your business. 
Look for your business' information on major listing websites like Yelp, Yellow Pages, FourSquare and CitySearch. 
Compare the information with each other to check if it matches or not. In case, there's a mismatch, make sure to update the listings with the correct business details. 
Perform Link Building to Boost Your SEO Efforts
Link building for multiple location SEO is slightly different from traditional link building practices. Of course, the main objective should be acquiring quality backlinks from high authority domains, but it is better if these domains are local as well. 
Here are some of the ways you can follow to acquire backlinks from local websites. 
Sponsor Nearby Businesses
Sponsoring other organizations in your locality is one of the easiest methods to acquire backlink for local SEO. 
Simply find a business that you can sponsor in your locality and in exchange, leave a link on their website. No doubt, it will cost you money as well resources, but it will help you build a strong backlink profile for sure.  
Offer Scholarships in Universities and Colleges
There's no arguing the fact that .edu websites have a higher link power. Acquiring links from such websites will make it way easier to improve your backlink profile. 
To acquire links from such domains, you can offer scholarships to students in nearby colleges and universities. Simply set scholarship criteria and provide it to the students who are eligible. 
In exchange, you can leave a link to your domain on the college's website. However, make sure that the link that you acquire is a do-follow. 
Multiple Location SEO-Final Words
Even though performing multiple location SEO is a time-consuming activity, it'll help your business in the long run. As long as you stick to the above-mentioned tips, you'll witness significant improvement for your website. 
However, if you don't have an in-house SEO team or the time to perform multiple location SEO, let our team of professional handle your site's SEO campaign.
From listing your website on different listing websites to optimizing each location page for the search engine, our team will take care of the entire seo for multiple locations activities for your business.