You know that search engine optimization is great for attracting relevant traffic, increasing engagement, boosting leads, and, most importantly, profits. 
If you are here, there is a definite chance you are looking to get information about SEO for lawyers for your law firm and practice. Maybe you want to do search engine optimization for your attorney's firm or hire someone, or maybe you have already hired someone, but their results haven't been great. 
Whatever your reasons, the guide is intended to share all the information (the latest as per Google updates) you can use to get on top of Google search results and sustain yourself there. 
Table Of Content
An Intro to Lawyer SEO  
Before we proceed, understand what we mean by saying "SEO for law firms, or  individual lawyers." Some of you are likely to already have search engine optimization information for attorneys. 
But if you're not familiar, you should know that search engine optimization combines techniques that place your website right on the first page at the top of Google's search results pages.
But Why is Search Engine Optimization Important for Your Law Firm and Google?
Google is a search engine that needs to answer user queries or searches. If the results' quality is not good, people will stop using Google as a search engine, which it doesn't want.
So, how does it find relevant solutions from the billions of web pages it crawls?
It depends on its algorithm, which relies on words or combinations of actions of words entered by users in the search box to furnish the best relevant answers and solutions. 
These entered words are "keywords" in the eyes of Google, and businesses use them in their content available on website pages, blogs, classifieds, articles, etc., to tell Google they are relevant and appropriate to those entered queries.
For example. A person writes., "Best Criminal Law Attorneys in New York"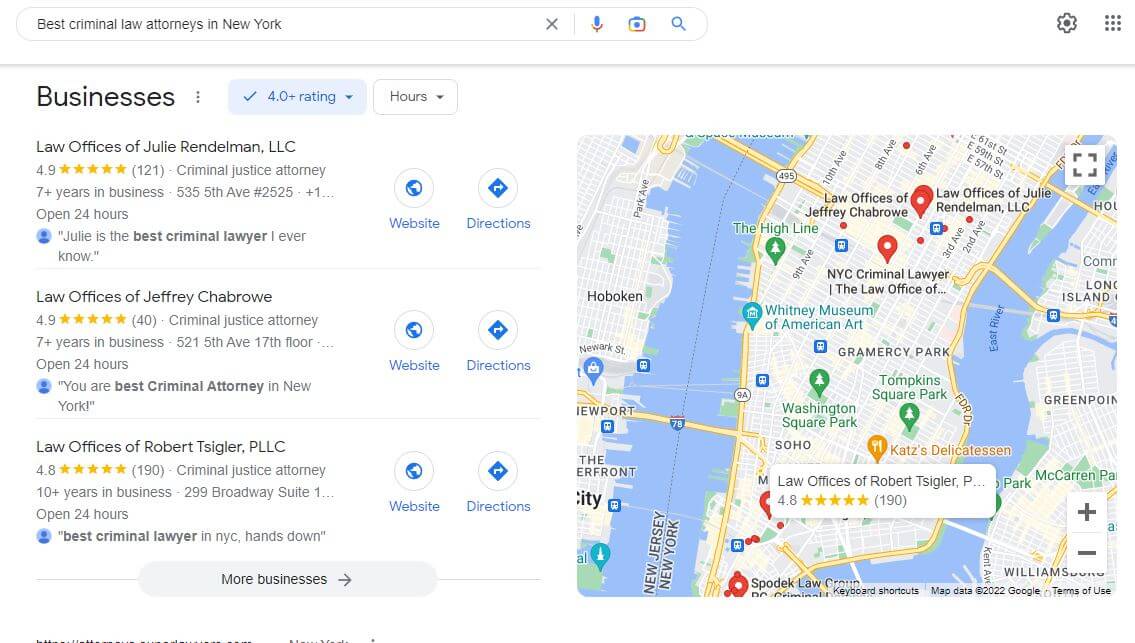 Now, Google tries to furnish the best-suited organic results according to this entered phrase to satisfy users. 
The above screenshot shows how a query, "Best Criminal Law Attorneys in New York", brings different results in the search results. It is a simple illustration of how keywords play a pivotal role for both Google and businesses.
But is just inserting keywords in the content enough for your law firm to get into the search results, particularly on the first page? 
The answer is no; it is not enough, and several other factors help push the ranking of the web pages up in the result pages furnished by Google, and many other factors play a role in this process.
Check out the following general ranking factors that you should be aware of for a fruitful SEO campaign: 
Quality of content

Backlinks to page

Competition's quality 

Web page vitals (Like speed, UX, design, etc.)

Mobile-friendliness of the site 

Your business E-A-T ( Expertise, Authoritativeness, and Trustworthiness) online 

 Online presence across the internet

 
All of these elements will be covered in-depth in the sections ahead in this guide.
Are You Thinking, "Does SEO Work for Lawyers, or Why is SEO Important for Law Firms?"
As we have discussed, for Google, it is important to sort out the best possible results for the query entered by users, and for businesses, appearing in the top results can be a significant event.
If you look at it from the prism of earning potential, search engine optimization helps businesses like lawyers, doctors, product sellers, and service providers attract web traffic and generate quality leads.
The lawyers are advised not to ignore search engine optimization; otherwise, they risk losing clients to competitors.
Here are some important facts concerning law firm SEO that you should know:
As per many surveys, close to 90% of people looking for information regarding lawyer use Google to search for the information

More than 70 % of these people are inclined to hire a lawyer 

Almost 95% of people say among all search engines; Google is here favorite channel to find information 

Of all the traffic on Google, almost 60% is driven by organic searchers and paid ads drive only 40%.

Almost 85% of people visiting search engines tend to trust organic searches more than paid ads, such as PPC and other forms of Google paid ads. 

Lawyers using SEO have revealed that more than 60% of their phone calls and other forms of total leads come from organic searches than other forms of advertising. 
Why is SEO for Lawyers Preferable to Other Forms of Advertising?
We have already discussed some statistics about paid ads like PPC, and if you have questions about how  SEO for attorneys fares against another form of advertisement, here are some statistics and information.
SEO Vs. Social Media Marketing
One of the fundamental differences between social media marketing and SEO is that when users inquire about a piece of information using Google, they are looking for a specific type of company, product, or service.
It means that if you are in the search results, especially in the top 5 or 6 results on the first page of Google SERPs, you will likely get quality leads.
Compare this to a Facebook advertisement on Instagram, where you cannot be sure whether the user is interested in the advertised service or product.
Moreover, you could spend your money to promote every event on social media channels such as YouTube, Facebook, Instagram, etc. Even then, you cannot be 100% sure that you will be able to achieve your desired targets for your law agency.
Yes, it is true that with the help of social media marketing, you may start getting results straightaway, and SEO takes time to show results. But if you stop the ads, you will likely receive no leads.
Additionally, even if you pause your SEO for lawyers campaign, the strategy will still produce leads for you for a considerable amount of time if it is successful. 
In other words, if you look at sustainable long-term gains, social media marketing cannot generate the quality leads that SEO can.
Lawyer PPC Versus Law firm SEO Campaign
I will not explain how PPC works for law firms and attorneys. But I will certainly compare it to the search engine optimization strategy for attorneys. 
Remember that whenever a user clicks on a paid advertisement visible on Google, the advertiser will have to pay Google a certain amount of money. 
We have already discussed that search engine optimization aims to keep your business visible before search engines so the maximum number of users can find you on Google.
There are two big disadvantages to choosing PPC. First, it is common to see highly comparative keywords with good volume available at high prices. Because of these, the budget can become unmanageable, and the campaign will fail.
Moreover, if you stop the pay-per-click campaign for your law firm, you will stop getting leads immediately.
I have mentioned that more than 90% of people ignore the listings in the "ad" section of the Google result pages. So because of this reason, an expensive PPC campaign can become a failure, so the risk factor is always involved.
In my view, you should only use PPC if you want quick results and have enormous financial resources to put into the campaign, or use it with discretion along with search engine optimization.
Another thing that favors search engine optimization is that whatever it leads you to receive through it will be free. 
Yes, you will have to hire a law firm SEO company, and you will have to pay the money; however, it is still worth it. Moreover,
Furthermore, even though search engine optimization takes time to produce results, it not only improves the overall quality of your website but also brings cumulative results to your campaign. 
With search engine optimization for lawyers, you can expect the following.
Lower CPA (cost Acquisition Per client ) than PPC

A consistent flow of quality leads that has a higher conversion rate

Higher cumulative results in terms of engagement and brand awareness

Better website and user experience 

Higher chance of meeting Google guidelines and achieving standards required as per E-A-T  guidelines
Key Components of Lawyer SEO That Needs To Be Optimized
After seeing the above information, you should be interested in learning more about law firm search engine optimization in detail.
Let's learn about key components of attorney search engine optimization that can help you succeed with your campaign at a faster pace. 
Keyword Research that Attracts Clients for Your Law Profession
Keyword research is the foundation of your search engine optimization campaign.
Look at two types of keywords that you need to consider.
Short tail keywords 

Long tail keywords
An example of a show-tail keyword would be "divorce lawyer" or "credit case lawyer."
These types of keywords are the most comparative in SEO. These keywords generally have high volume but do not produce the desired conversation rate. It is because they are not very specific and do not disclose the real intent behind the user's query.
Long-tail keywords have a minimum of four words, and they are better at conveying the intent of the search than other types of keywords.
For instance, a user may write in Google's search box, "best personal injury lawyer near me."
"Are there any affordable, experienced criminal case attorneys near me" 
"Law from services in Dallas"
The examples of long-tail keywords related to lawyers mentioned above are easy to understand in determining the user's query's intent, right? And long- tail keywords are better at producing conversions if they are picked after analysis.
Lawyers SEO Keyword Gap Analysis 
In-depth keyword analysis helps you find and decide which keywords are suitable for your targeted goals.
But there can be thousands of variations for the same keyword, and it can be very hard to do the research manually to know which are the most suitable ones.
Technology and software help you out here. Many paid and free keyword research tools are available online that make life easy for you, such as:
Google keyword planner

AHERFS

SEMRush 

UberSuggest etc
In your digital marketing lawyers' SEO campaign, you can close the "keyword gap" using the tools and analytical skills. Examining your competitors' keywords and looking for variations in them is one of the best strategies you can use.
For example, a law firm with the targeted keyword "a startup for lawyers" may find a keyword variation like "A guide to startups for lawyers" and write some content (a blog post or guest post) to increase its visibility on the search engines.
If you find it hard, it is suggested that you hire an expert company offering digital marketing for attorneys, including SEO.
2. Helpful, Engaging, An SEO-Optimized Content Creation 
Once you have settled on the keywords that you believe are likely to work for your law firm,  it is important to optimize the content accordingly. In your content creation, you must put users' needs ahead of search engine optimization. 
This is what Google wants from the businesses and professionals whose web pages it crawls.
As per Google's " Helpful Content Update,"  thin content produced solely to achieve rankings will no longer be effective. And we already know that Google scorns blackHat techniques such as keyword stuffing and AI-generated content creation.
Ideally, your content should demonstrate that you have used the good or service you are discussing instead of just stealing it from various online sources.
In addition, the posted content needs to be useful, organized, and keyword-optimized for search engines. Moreover,  the posted content must be actionable, well-structured, and optimized for SEO through relevant keywords.
Furthermore, companies should use photos, videos, graphs, charts, etc., to make their content attractive and easy to understand. 
3. Backlinks from Reputable Sites to Get Your Law Firm Site to the Top
Backlinks are an off-page search engine optimization strategy where you earn a backlink from another site that tells Google that your site is trustworthy.
Moreover, they tell Google that another website on the internet recognizes your site; this system works more and less like a democratic ballot system for Google. (But it's not democratic) 
In a perfect world, Google wishes for every website to have content that is so good that it gets shared by others.
And you know it is not true entirely, and if it were, many sites, especially new ones, would be unable to stand against older sites with quality content.     
So does that mean a new law firm's site cannot earn quality links? Yes, it can, and many strategies exist for it.
For example, you could create better content for a backlink present on your competitors' sites and request the website owner or administrator, where that specific link originates from,  to use your content on that link.                                                                                   
Another way is to create guest blog posts and leave links to your site's web pages on online forums or directories. This is another popular method to generate backlinks aimed at SEO success for various types of businesses and professions, including lawyers.
Generally, you will find search engine optimization professionals using this method, but you need to be careful with it. 
Otherwise, Google may penalize your law agency site if you are overdoing it or generating spammy links. 
You will also find professionals generating backlinks via this technique with "no follow" tags. However, one must be careful with this technique since Google may also consider it blackhat. 
Furthermore, competitive backlink research can help you understand where to begin and what to target. It consists of analyzing the backlinks earned by your competitors for a particular keyword and providing you with a direction to form your strategy. 
Technical SEO
As discussed before, keywords, content, backlinks, etc. are important to gain credibility in the eyes of Google.  
However, these factors can come into play only if your website is fast, easy to understand, and easy to navigate.
This is where a technical SEO audit helps you out. A technical SEO audit will reveal important pieces of data, such as :
Your site's page opening and loading speed.

If the site has broken and dead links.

Help you find duplicate content.

Reveals issues related to structured data.

It will help your law firm's website to have the desired safety and privacy features.

Using hreflang: you can tell Google that your content for more than 1 location (especially countries) is the same but written in different regions. 
A technical audit will also reveal if the site will work on smartphones without glitches. Apart from that, if you want to improve the site, you need to look at whether the site's internal link structure is good (UX design) and easy to navigate.
Moreover, getting your web pages crawled quickly by Google bots is important for your law firm's site.
Creating XML sitemaps and depositing them directly with Google will help you get your pages crawled quickly. It will also simultaneously improve the overall performance of your law firm site.
By Enhancing E.A.T(Expertise, Authoritativeness, and Trustworthiness)
As stated in the heading, E.A.T. stands for expertise, authority, and trustworthiness. Google evaluates you on an invisible scale to determine whether you are a reliable online entity with authority over what you do or offer and why you are more accurate than others for online users looking for solutions or answers.
Now, how do you go about building E.A.T. before Google? The answer lies in the various activities you carry out related to content creation. 
Every aspect of content creation matters from E.A..T  point of view, i.e., its quality, how you reply to reviews, and more.
In summary,  Google doesn't want you to pass on information that is not accurate and may cause damage. 
It is especially true for sites generating health, medicine, law, and medicine content.
As a lawyer, you wouldn't want to pass on a piece of factually incorrect information, and anyone who reads it may go by it and put themselves in legal trouble.
The search engine optimization agency that will work on your behalf will be producing lots of content, and they must have writers with extensive prior experience working in your niche. 
As a site owner, you must be careful and watch published content. Otherwise, your standing in terms of E.A.T. before Google will also impact your SEO ranking. 
The Local SEO: An Integral Part Of SEO for Lawyers
You cannot ignore local SEO when implementing a campaign for your law firm's website.
Utilizing local SEO for your business will help you draw in more clients searching locally for an attorney to meet their needs.
Local SEO search results, as opposed to organic results, appear in the Google map listing.
And to be at the top of the Google map listing, you need to have an optimized Google My Business listing for your profession or law agency.
A GMB or GBP (Google Business Profile)  listing is vital to attracting local patients to your practice.
So how do you optimize your Google business profile?
It seems easy to create a listing for GBP. However, you will need a professional to optimize better than your competitors.
To begin with, you must understand the elements of a GBP listing. A typical listing will include the following:
Your contact information, 

Your address, 

Your website address, 

And a description of your services. 
A fully optimized Google business profile listing can have multiple photographs and videos.
If you have had a Google business profile listing for a considerable time, you can expect it to have many reviews on it. And these reviews are also important for SEO and your law firm's online reputation.
Role of Citation and Review Sites in Local SEO for Law Firms
Citations mean creating business listings in several directories on the internet, mentioning correct information about the address of your law agency, contact numbers, email addresses, etc. 
It increases your online visibility in Google's eyes and makes it simpler for potential clients looking to hire lawyers to find you. Several yellow pages and business directories online help lawyers list their different areas of expertise, and these also help their practice's SEO.
Additionally, there are numerous websites where you can list information about your law firm and invite clients to share their experiences. It enhances your online presence, builds credibility, and optimizes your listing for local search results on Google SERPs. 
Steps that can Help You have a Well-Optimized Winning GBP Listing
Ensure that your location and phone number information is accurate and displayed without mismatch online, such as on your Facebook and Instagram accounts. It should also have information about your email ID and your website too.

Analyze your law company's geographical position displayed on your maps is correct, and there are no inconsistencies in that

Your GBP description must be informative and simple to understand. You should try creating a listing description that will bring in some customers.

Optimizing your Google business profile should be your goal. You should upload photos and videos of your services and goods in your GBP listings. 

Ensure that you are updating your profile regularly and keeping your potential clients interested in you by posting descriptions of the products and services and updating it regarding events, discount coupons, events, etc.

Another aspect of your Google business profile is to make sure that you are attracting as many customers as possible when you use it, and if you are getting any feedback via review, you need to make a point of replying to that. Reviews can break your reputation online, so neglecting them can be fatal.

Find ways to earn more reviews, and always keep an eye on your rating and the feedback you get from your clients. 
The above-mentioned steps will help you keep your local SEO for your business in a healthy state, which will help you with your overall search engine optimization campaign for your law firm.
Why is Hiring a Law Firm Digital Marketing Company for Your SEO Campaign Necessary?
If you have gone through all the information above, you can see that search engine optimization is a slow process involving many steps.
For an attorney, people working on search engine optimization must perform multiple activities. They have to churn out lots of competitors' data, take care of trends, and formulate a strategy that will help them find keywords and flaws in your website and Google business profile to optimize them.
It's possible that you won't be able to give each of these things your full attention while running your law firm. Moreover, you might struggle to get the right information and skilled professionals to carry out all these SEO tasks.
Therefore, by hiring an SEO agency for no reason, you will take a step in the right direction, bringing you more clients and helping you stay ahead of your competitors in the long run.
What Are the Aspects to Evaluate When Selecting an SEO Agency for Lawyers? 
Making the right choice when selecting and hiring a search engine optimization service to handle your law firm's campaign is critical. This can impact your business's performance in getting clients and generating more revenue for your law agency.
Here are the most important factors you should analyze before selecting a law firm SEO agency:
Experience:

One of the first factors you need to consider is their experience in the same niche. You would not like to hand over your campaign to a company that doesn't have any prior experience in handling attorney firm search engine optimization tasks.

Sound Track Record:

When choosing a company for your search engine optimization campaign, you must ensure that they have a good previous record from their previous clients. Apart from relying on the testimonials available online, you can ask lawyers in your fraternity to know if they have got any referrals.

Ask the Right Questions

: When selecting a company for your search engine optimization campaign, ask the right questions. Some examples of these critical questions are:
What would be the reporting mode, and what will be included in those?

Whether the company you are contemplating choosing has professional content writers in the teams with experience writing content for attorneys and law firms.

What targets are they looking to set for your can plan, and what kind of number will they be looking into? 

Do they use any paid tools for SEO, and if they do, what are those paid tools



4. Data Privacy: What are their data privacy policies, and what steps have they taken to ensure that your data is not shared or leaked with third                parties
     5. Keywords: How many keywords are they going to target and in how much time, and what will be the planning regarding the content creation for       your website and GBP?
Clear Forward Plan: Last but not least, they should be able to give you a clear path forward in writing that should cover everything from the technical audit to the targeted traffic they aim to generate for you over the next few months. Additionally, they should inform you about clear target indicators in terms of numbers so that you can know where you will stand after a certain period of time.
What is Our Approach to SEO for Lawyers?
As a reputable company, we strive to offer our international clientele the best search engine optimization services. We believe one solution is not enough to meet everyone's requirements.
Therefore, we rely heavily on deep and detailed analysis to comprehend the position of the client's practice in terms of attorney SEO.
The following steps are part of our SEO strategy for law forms:
Technical Audit of your site.

Current keywords position.

Analysis of competitors' law companies  

The current state of the posted content  

Analysis of your GMB

Your geography and the places you went to target.

The demographic analysis of the target audience

SEO trends and more 
All these steps combine to paint a picture that tells us where you are with SEO for your law firm and where you want to go.
Moreover, we create the outline for our plan and the areas we need to target first. For example, a technical audit may tell us that your pages are slow to load and not optimized for smartphones; in this case, we will target that. 
Understandably, you will have questions on your mind regarding why you would choose us as your SEO service for lawyers. 
Drop an email or call us now so we can answer all those questions and remove the uncertainties from your mind.
Frequently Asked Questions
What Do You Mean When You Say Search Engine Optimization for Legal Professionals?
Attorney SEO is the method by which a law firm plans and carries out numerous on- and off-site actions to improve the listing of its website in organic search results.  
Organic search results are preferred by users looking to buy a product or hire a service, and law firms appearing in the top results can earn traffic and quality leads consistently and continuously.
Will SEO Work for My Law Firm?
There is no reason why search engine optimization can't work for you if your agency approaches it analytically. SEO for attorneys works similarly to what it does for other types of businesses. 
People type in Google search to find lawyers from different specializations, and they tend to trust law firms appearing in the local pack, Google map results, or organic searches, more than ads.
SEO will surely aid you if your agency or you, as a professional lawyer, are in the top results of Google SERPs. 
Are there Local SEO  Expert Services for Lawyers?
Yes, there are several law firm SEO agencies providing quality services across the globe for local SEO. They aim to generate quality organic traffic and leads for their clients at their respective or targeted locations across the world by using the Google Business Profile and optimizing it.
I am a "Divorce Lawyer, "Are My Keywords  Going to be Different from "Family Lawyers?"
Yes, every search engine optimization campaign is different from the others. Your specific area of expertise in the law is one of the things that sets you apart. A personal injury lawyer's SEO will differ from a family lawyer's SEO, and so on.
How Do You Go About Keyword Research for Your Client From the Law Profession?
There are several steps combined to find the keywords that can skyrocket your search engine optimization. As a responsible SEO service for law firms, we follow these steps:
Checking your current content, if any, to know already ranking keywords.

Analysis of the demography you are looking to target.

Analysis of the competitors and the keyword positions.

Use paid tools and Google keyword planner and Google trends to find out keywords that can work for you.

Consider other important factors, such as your targets and aims related to the achievable traffic.

Find and implement a strategy around the chosen keywords by creating fresh content or modifying the existing one.

Keep reviewing to see if the chosen keywords produce results for your law firm SEO campaign and make tweaks if necessary.  
What is the Process for Hiring You as Your Law Firm's SEO Agency?
Hiring us is not difficult; please follow these steps:
Click on the contact us button to get information about our email and contact number.

You can either speak directly with our representative over the phone or send the information about your website.

We will get back to you (within 24 hours) with a report that will include your site's current  SEO status, errors, and opportunities going forward.

Get back to us to enquire about quotes and further consultation.