If you own a carpet cleaning company, chances are you are doing everything you can to attract as many customers as possible because the competition is fierce. You may not be aware, but according to IBISWorld's site, the carpet cleaning industry in the United States has a market size of approximately $6 billion and about 34,122 businesses.

Apart from the competition from wood flooring and lemonwood flooring, the competition to get clients within the companies offering carpet cleaning is stiff. And what is the best way to attract the maximum number of clients for rug cleaning companies? 
Any person with even a little inclination towards technology will tell you there is no better place to attract clients than the online world through search engines, particularly Google.
So, how do you get the most out of search engines for your rug-cleaning business? The answer is to adopt, create, and implement search engine optimization for carpet cleaning companies. 
Table of Content 
What is Carpet Cleaning SEO?
Search engine optimization for a carpet cleaner business refers to techniques that help its ranking reach the top results, preferably on the first page in the top 3 organic results.
No worries if you're unsure why your business needs to appear in the top three results on Google's first search result pages! The reason is that the top 3  results companies get the maximum traffic from Google users. 
After knowing this, you might even ask why you should refrain from using paid advertisements, or PPC, to get your business to the top. 
A couple of factors can help you understand why you need to prefer organic SEO over PPC.  First, paid ads only get 15 % of the total clicks from all the users searching for information on Google. Second, PPC is a type of paid advertising in which advertisers must pay a set amount for each click. 
And because of this, the budget for advertisements can go up but leads generated through organic search results are completely free. It is true that, in most cases, you will be hiring an SEO company for carpet cleaning companies to perform tasks on your behalf, but the cost will likely be less than PPC. 
What Are the Major Advantages of Adopting Carpet Cleaning SEO Practices?
I have already mentioned that getting a top rank in the top results of organic searches for a car carpet cleaner business is likely to increase organic traffic and leads.
 But that is not the only benefit of obtaining a high ranking in the SERPs (search engine results pages). 
Check out the other benefits listed below that will help you understand why your carpet cleaning business will benefit from SEO optimization.
Visibility Gain Before Google
The main advantage of using SEO optimization for your rug cleaning company is that you will become more visible to Google. If Google recognizes you as a trustworthy entity, it will push your listings, ads, and published content up, which is good for your business's branding, marketing, and digital marketing. 
Gain the Trust of Your Target Audience
Once you are visible in organic searches and start getting high traffic, you start earning the trust of your clients. There are many ways to do it, like posting helpful content, addressing negative reviews, and, most importantly, using feedback to improve the services and products. 
Increased visibility helps bring traffic, but it also helps with engagement and brand building. However, it depends on how you handle your SEO optimization campaign and make these opportunities work to your advantage. 
Bring Your Advertising Budget down
With the success of an SEO campaign, you can reduce your advertising budget to some extent if you spend most of it on digital ads like PPC or display ads. 
Here's how it will work: If SEO outperforms advertising, it will generate more high-quality leads than advertising. And since your search engine optimization campaign started performing well consistently, you need not rely on PPC, and the best part is that it will be way cheaper than paid ads.
How Google Display Search Results to Users

Before we go in-depth with the main elements of search engine optimization, we need to understand how Google looks at a web page and presents information to you. A typical Google search result page has 3 sections that are explained ahead:
Typically, you will see paid ads occupying the top result of search result pages for carpet cleaners queries, as demonstrated in the image below.
Local Search Results for Carpet Cleaning Businesses
The section on the Google map page results.  shows the nearby results related to the entered queries, and it looks something like this: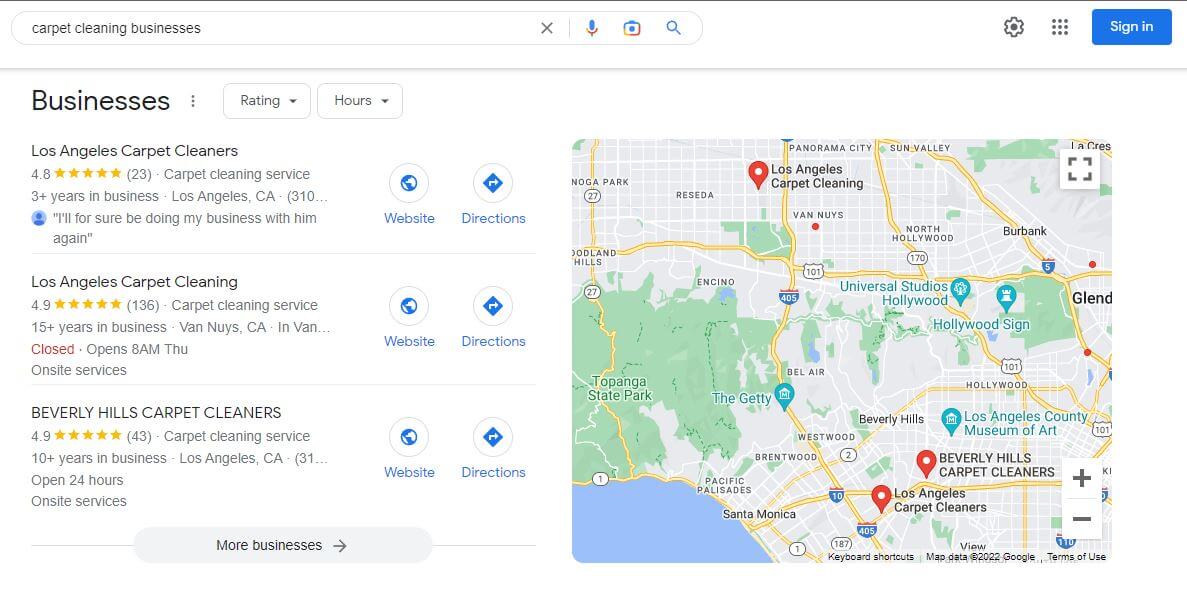 In the local map results, your prospective customers can see the following in your GBP  listing.  
Your carpet cleansing business name,

 Business address, 

Contact number, Geography location on the map,  

Carpet cleaning business description 

Google reviews left by users in this section.

Photos and videos related to your business uploaded by you 

Organic Search Results
Under the local map listings, you should see the various organic results displaying companies ranking highly for organic traffic. The top 3 companies among these tend to get the maximum results.
If you want to rank higher in organic search, your overall SEO strategy should work as a cohesive unit. 
How Can You Improve Your Carpet Cleaning Business's Local SEO?
Given the nature of the niche of the carpet cleaning service,  it is easy to understand that you will focus on the potential customers who belong to nearby areas.
These prospective customers can be attracted with the help of Google Business Profile (GBP) listings.  You must be very specific and careful while creating a listing for yourself. 
Some of the things you need to keep in mind while creating GMB listing for yourself are
Your company address, phone number, and email id should be accurate, as any error in it can be grave for your local SEO.

If you have more than one location for your rug washing and cleaning, the business ensures that every location shows the great geographical position of your offices online.

The description of your Google business profile shall be created to keep it precise and engaging.

Use images and videos in the Google Business Profile to give it an edge over competitors.
What is the Role of Google Reviews in Local SEO for Carpet Cleaning Companies?
Anyone who uses Google to buy a product or service will tell you that Google reviews can be a major factor in their decision. And if local SEO is important to you, then you can consider the Google reviews posted by the users as the backbone of that strategy.
Every carpet cleaning service should try to earn as many reviews as possible. To achieve this, they can be upfront with customers and ask them for reviews directly or indirectly. For example, they can include buttons on their website at the appropriate location. Or they can send emails or text messages stating that you would love to hear how they feel about the services they have received from your professionals. star 
Moreover, addressing negative feedback is also important. Some reviews will not favor you or have a low rating, but that's okay.  By accepting the criticism and improving your services, you tell your user page in Google that you are a responsible company, and it helps with local SEO and overall search engine optimization strategy.
What Role Do Google Reviews Play in Local SEO for Carpet Cleaning Businesses?
Google Business Profile is not the only place where users can drop their reviews. Facebook, Instagram, Yelp, clutch, and many other review sites are on the internet where you need to list your business and focus on reviews.
Apart from that, hundreds of online directories and yellow pages exist on the internet, and you better have listings on those. Why? You may ask!
 This is because these listings indicate to Google that you are a credible and trustworthy entity on the Internet. 
Citations refer to the process of adding information to various directories online, and you need to ensure that the information you are putting out is accurate and correct. Again you will need the help of an expert who can find out about all these yellow pages websites and directories, manage your reviews, and conduct a competition analysis to determine the best way forward for you.
Organic Search Result Listings on Google SERPs(Search result Pages)
Organic searches are the most important part of any SERP, as you want your name in this section of the top three. Almost 90% of the users click on organic search results. Having your name at the top will lead to more clicks on your website, and you will likely gain more traffic.
What Are the Elements That Affect SEO for Carpet Cleaning Companies?
The preceding information will assist you in understanding the structure of a search result page and the role of the keyword. But apart from that, you need to be aware of related factors such as :
1. Keywords
Put yourself in the shoes of someone looking to hire a company to clean their rug. You will probably go online and type:
" Carpet cleaner near me" or type something like "rug cleaning company with the best rate"—or even search by typing only. "carpet cleaning" in the Google search box.  
Now, Google's algorithm takes this entered word and attempts to understand the query's intent, presenting results before users in paid ads, local search results, and organic search result sections.  You need to be aware of the following aspects of keywords. 
Keywords can be of hundred types

They can have multiple variations, such as "carpet cleaners in New York, "New York carpet cleaning agencies. "

Keywords can be long-phrased, in the form of a sentence or question, such as "benefit of hiring a rug cleaner. "
Now, using keywords is not the only factor; if it were, any company could simply include the keyword in their content and achieve a high ranking; however, this is not the case.
If you feel it is complicated, contact an SEO service for the carpet cleaning business niche to discuss your needs. They will look into your competition and your target area and find the keywords that can help your website's ranking reach the top. 
Like ours, these carpet cleaning SEO agencies work for search engine optimization and have professionals with experience handling your campaign. 
Additionally, they use paid tools such as SEMRush and Ahrefs, making them ideal for your search engine optimization campaign. 
2. Website Performance
If your goal is to rank at the top of the organic results in the SERPs of Google and other search engines, you must have a functioning website for your carpet cleaning company. 
Some aspects of performing website work for businesses that are into carpet cleaning are
Fast loading speed on every page.

Easy-to-read content structure.

Attractive but easy-to-navigate design where users feel at home while trying to find information.

Having helpful content along with photos and videos.

No dead pages, and well connected internally. 

Mobile and browser friendly so that it opens on every browser and smartphone without issue 

Appropriate use of tags like title tags and

 alt text etc. 
An SEO audit will identify these flaws, so it is highly recommended that you use paid software such as Ahrefs to identify flaws in your website. 
3. Helpful Content Creation for Carpet Cleaner Businesses' Search Engine Optimization 
Once you have chosen the keywords after analysis, the focus shifts to content creation. The goal here is to establish yourself as a knowledgeable, helpful, and trustworthy site in the eyes of users and Google. It is also the heart of SEO.
So, as stated, you need to keep your users in the center and create amazing content that proves to them and Google that you are worthy of Google's top rank. 
To optimize the content, you must use h1, h2, and h3 tags and keywords in the text's headings, subheadings, and body. You should also ensure that the information you convey is actionable and adds to the reader's knowledge. 
There are other factors, too, like the fact that you cannot afford to use plagiarized content or opt for keyword stuffing. 
Moreover, the content should also be current and trendy.  On Google, people come to find solutions for various types of problems. You can look at those queries and create your content strategies according to them.
For instance, some users may be coming on to Google and asking,, " Are DIY methods suitable for carpet cleaning"
Or
"I want to wash and clean my sofa at home, but I am confused is it a good option, 
or shall I call a professional"
Or
"I would like to clean my sofa at home, but I'm not sure which detergent to use. Can someone advise me on it"
Now, if you prepare your content around these questions and people read it, then they will likely contact you to ask about your carpet cleaning services.
4. Backlinks From the Authority Site
One of the toughest aspects of search engine optimization for carpet cleaning companies is earning backlinks from other authority sites. These backlinks that you earn and point to your website's pages tell the Google search engine that others recognize your site and that you are trustworthy.
Now you may be wondering how one achieves the task of earning quality backlinks. Here, the professionals come into the picture, as they use multiple strategies to earn backlinks for your website.
Some strategies include writing guest posts, creating new pieces of content better than the existing ones, analyzing your competitors and looking at their backlinks, and then contacting the companies that these backlinks are pointing to and asking them to use your content instead of your competitors.
As highlighted earlier in this post, earning quality backlinks is one of the most challenging aspects of SEO for businesses that are into carpet cleaning. It is not only challenging but also laborious in nature. Therefore, it is advisable for a professional agency to perform this task for you.
Why is It Smart to Hire an SEO Agency for a Carpet Cleaning Business? 
It is clear from the information provided in this post that search engine optimization can prove to be a difficult task. Especially given that thousands of companies from the carpet cleaning domain are looking to attain a high ranking on search engine result pages. 
From website analysis to keyword finding to content creation and backlink strategy planning, every step is critical; and demands expert knowledge. 
On top of this, every successful campaign demands a high number of labor hours and professionals from multiple niches, such as:
SEO experts

Website designers

Website developers

Content writers

Graphic designers

Digital marketing managers

And more
In light of all these factors, hiring an SEO agency for carpet cleaning and washing makes sense.
Our Process for SEO for Carpet Cleaning Businesses
This article aims to accomplish a few objectives. As a first step, we would like carpet cleaning and washing companies to thoroughly understand SEO and how it can help them win clients.
The second reason is to make them aware that search engine optimization is a challenging task where companies should always be on their toes.
Additionally, because SEO is dynamic and Google frequently tweaks its algorithm to make its platform more user-friendly, businesses must be adaptable and change their campaigns to satisfy Google's requirements. We can help in this situation because we have years of experience managing SEO campaigns for carpet-cleaning companies worldwide. 
Our professionals are certified and remain updated with Google algorithm changes.
Furthermore, we have a team of professionals that comprise SEO experts, website developers, designers, digital marketing managers, content writers, etc., who work together to make your website rank high on Google's first page.
Frequently Asked Questions 
Question 1: How Long Will it Take to Finish the Search Engine Optimization for My Carpet Cleaning Company?
Answer: It is very challenging to predict whether your company will be able to achieve the desired goals after a certain number of days in any SEO campaign. Search engine optimization campaigns can take up to six months to show results, depending on how the implemented strategy affects traffic and lead generation. In most cases, you should wait at least 6 to 9 months to see if your carpet cleaning SEO strategy is fulfilling your expectations.
Question 2: Is Your Company Already Familiar with the Niche of the Carpet Cleaning Business and How to Implement a Search Engine Optimization Strategy for it?
Answer: Considering that you would want an experienced company to work on your campaign, we can understand your concern. However, you can trust "SEO Experts Company India" since we have experience spanning almost 10 years. We have already helped clients like yours with carpet cleaning SEO in several parts of the world, including the USA, UK, Australia, and many other parts of Europe.
Question 3: Do You Charge Flat Rates for Search Engine Optimization Campaigns for Clients Who are in the Carpet Cleaning and Washing Business?
Answer: We do not charge our clients flat rates because we understand that each SEO campaign is unique. Therefore, every search engine optimization campaign demands different planning and strategy. 
We suggest that you get in touch with us by phone or email so that we can review your needs, let you know about costs, and provide you with a report on the best course of action for your company's search engine optimization.
Question 4: Do You Have a Team of Professionals to Handle the Various Tasks to Focus on During My SEO Campaign? 
Answer: You won't need to worry about finding professionals with the right skills because we will take care of everything. Our teams include professional SEO experts, website designers, developers, graphic designers, content writers, digital marketing managers, and more. 
Question 5: Which Particular Paid Tools Do You Use for SEO? Can I Request that You Use a Particular Tool?
Answer: Strictly from an SEO point of view, we use Ahrefs, and if you ask about other tools, there are many. For instance, the graphics team uses Adobe Photoshop, while the content team uses Grammarly, Copyscape, and other tools. And Yes, your request to use a specific paid tool can also be considered. 
Question 6: Are Your Search Engine Optimization Solutions for Carpet Cleaners Available 24 hours a Day, 7 Days a Week?
Answer: Yes, even though we are based in India, our digital marketing managers are available 24 hours a day, seven days a week, to answer your questions and concerns.