Why do you need a comprehensive SEO checklist in 2023, even though you are the most experienced search engine optimization professional? The reason is simple: you can't be complacent and must always be on your toes. 
SEO is becoming increasingly complex, and we must up our game. Google's recent "Helpful Content Update" (August and December 2022) again proved that being lazy and ignorant of Google guidelines (lots of websites lost their traffic and rankings) can prove to be fatal for your website's SEO health. 
However, following white-hat SEO tactics, knowing what Google wants, and being adaptable are other traits you cannot do without. 
Moreover, returning to refresh yourself with a complete checklist for SEO that you will need in 2023 and beyond is almost a mandatory step for you to follow.
After considering all the aspects of search engine optimization, this list has been prepared. It touches on all aspects of SEO in light of Google's algorithm updates. And it should help you become more potent, innovative, and, most importantly, effective when you build and implement SEO strategies. 
1. SEO Basics( What You Need to Set Up Before You Begin)
Before you launch your campaign for search engine optimization, you need particular tools to help you create the foundation for your campaign's success and progress. Here is a list of the SEO tools essential for success in 2023. 
Setting up Google Search Console and Bing Webmaster Console
As a professional looking to get the most out of your search engine optimization campaign, you should first set up Google Search Console and Bing Webmaster Tools. Both of these tools help you understand how search engines communicate with your site and if the communication is taking place without errors and smoothly. 
They also assist you in determining the most crucial information about your website traffic and keywords. Generally, you will find professionals using only Google Console, which is understandable since Google accounts for more than 80% of the web traffic.
However, Bing routes around 9% of the internet traffic. Therefore, ignoring Bing or not using it in your campaign to drive ranking and traffic is not recommendable. These tools are similar and useful for the following purposes:
Provide you information about the traffic and which keywords are performing 

It will help you with indexing the page.

Keep you informed about the keyword rankings

Show you the page experience score. 

Display useful information about your website crawling by Google and SEO optimization.
Install Google Analytics
Apart from the Google Console, the second free tool offered by Google that should be part of your campaign is Google Analytics. 
It is slightly different from the Google Search Console as it helps you comprehend user behaviors. You can determine how your site visitors found you, where they come from, and how they communicate with your website.
It helps you know which pages drive the most traffic to your site.

It gives you insight if the traffic is going up or down.

Provide insight into users' experiences by showing time on site and bounce rate, page view, and other vital pieces of data. 

You can use it to build reports for a particular marketing channel to keep an eye on critical metrics vital to you.

 Professionals can use it to track the site's visitor demographics and interests and analyze landing page views traffic.

To see if your campaign is producing results, you can use it to track visitor conversion rates.
Install a Powerful SEO Plugin
For a solid SEO campaign, you will need lots of on-page and technical optimization for your site. And you may make mistakes or forget about something particular. In this situation, SEO plugins are handy.
 You can download the "Yoast" or "Rank Math" plugins for WordPress sites since they are the two most popular and feature-rich plugins. Individuals looking to get the most out of these can use them for the following:
Optimize content as per SEO standards and keywords in particular

View various pieces of information from Google Console and address issues from the plugin settings.

Check your sitemap and even create custom sitemaps.

Sort out indexing issues. 

Generate automatic 'Schema Markup' and more.
2. Keyword Research Based on Data Analysis with Focus on Intent
You cannot perform SEO based on gut instinct and must instead develop comprehensive keyword strategies. First, you must maintain a thorough Excel file containing keywords that you may use with the following data fields.
Keyword

Volume 

KD(keyword difficulty)

Competition

Notes  

You may add more fields during the campaign, such as "Ranking."
Now, how do you find keywords? Well, there are multiple ways. 
However, before we get into details about how you find the right keywords, you may also want to know the types of keywords you want to use and target in your SEO campaign. Following are the 4 kinds of keywords you may want to keep your focus on
Long Tail Keywords
These are generally the best types of keywords for conversions. You will find them low in competition and medium-to-low in traffic. Example using of a long tail keyword: " best methods for SEO keyword research?"
Short Tail Keywords
These are the keywords least likely to attract conversions and have the most traffic, the most competition, and the highest level of keyword difficulty. Example keyword: "Keyword Research"
Medium Tail Keywords
You can target them to achieve a reasonable rate of conversions, keyword difficulty is usually of a medium level with them, and traffic is high to medium. 
LSI Keywords
These are the related keywords that can improve your content for search engines. They help search engine bots understand the context of the content and help with ranking too.
You can find a bunch of LSI  keyword them using "Google Search auto-suggest"
using freemium tools like LSIGraph.com.  
Or
Platforms like "Answer the Public." (It tells you related terms people are searching online ). 
Or at the bottom of the page in the related keywords section: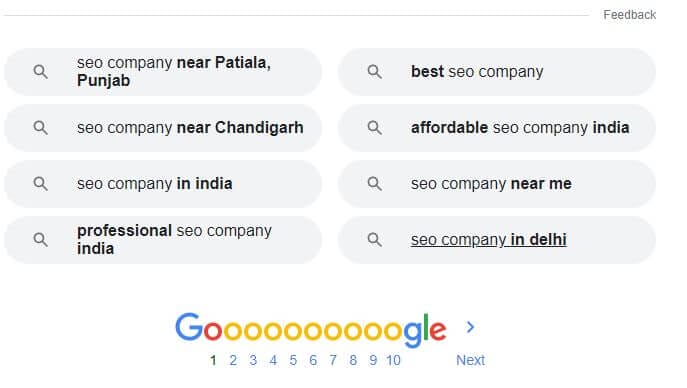 Pro tip: These tips can assist you in locating long-tail keywords and even topics people search for online that you can use to fill content gaps on your site. 
While picking keywords for your website, be mindful of the following:
Check out the competitor's keywords and create excel to keep a record of the keywords that you believe are good for content creation and ranking.

Keep in mind keyword difficulty, traffic, and other technical factors.

Use keywords to create content after mapping out the "Intent factor "t to fill in the content gap.

Look for medium-tail and long-tail keywords for maximum conversions.

Use premium tools such as Ahrefs, Semrush, or Moz to find the maximum keywords and to do competition analysis. 
3. Development of Helpful Content, an Indispensable Part of SEO Checklist in 2023!
We have already discussed how keywords can be integrated into the content. So, they form the basis of your content. But the content creation has become a different ball game together. You can no longer only keep keywords in the center and develop them for SEO.
Google's August and December 2022 updates on helpful content were crucial steps toward ranking helpful content and penalizing SEO sites filled with unhelpful content on the internet. 
It doesn't reduce the importance of keywords, but any content primarily created for search engines will struggle.
So how do you create great content? It would help if you, as a professional, were mindful of many aspects of content creation. Let's discuss them.
Suggestion to create Winning Content For SEO And Users
Always emphasize creating content that put the target audience in the center.

Focus on developing content around the intent of the chosen keyword. 
If you are confused about the intent, a simple Google search for the selected results can help you. 
See how the Google search engine shows results for the keywords "digital marketing agency".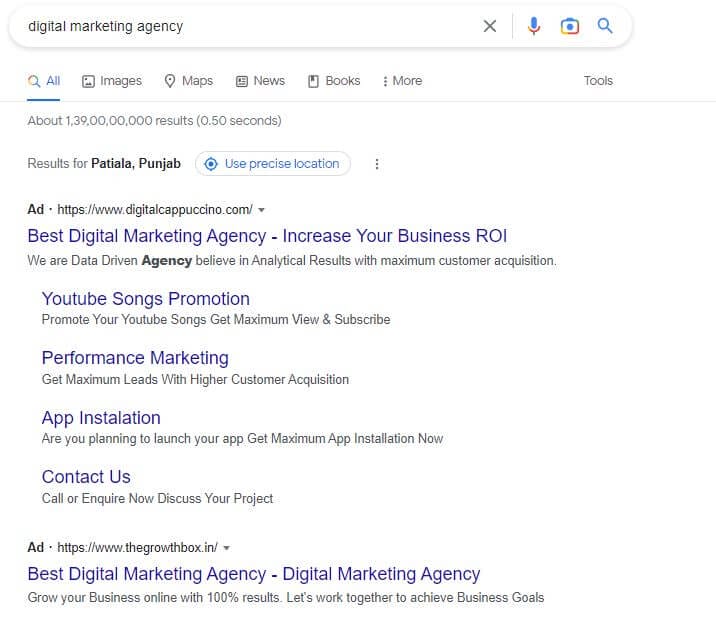 Take a look at the Google result for the 'digital marketing' keyword in a SERP: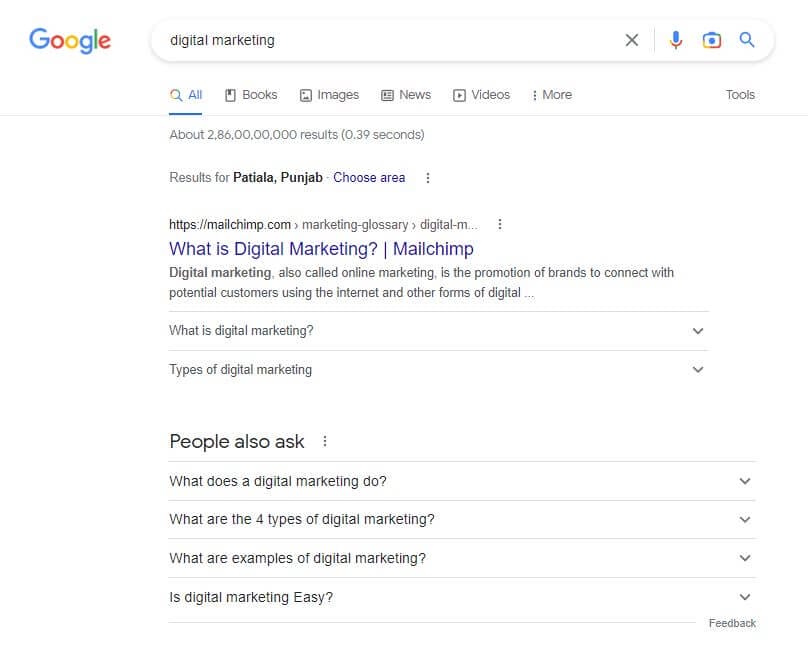 You can see how the companies offering digital marketing services rank highly among the results for the "Digital Marketing Agency" "keyword.  
For the "digital marketing" keyword, Google shows blog posts. So, if you have chosen any of these keywords, you can create content along the same lines after analyzing the results. 
It is an excellent way to ascertain a keyword's intent and know whether the keyword you have selected is suitable from the standpoint of your SEO strategy.  
Never go with the mindset that Google loves any particular word count. However, creating long-form content is always better. To know the ideal length, look at the top 10 organic results for your primary keyword and evaluate the length of those. It will help you settle on a specific length appropriate for your content.

Keep the tone of your writing friendly and suitable as per the content type and target audience. 

Well-researched, original, and actionable content has a better chance of ranking. It will be better if it is written by an industry expert who has first-hand knowledge of the product, service, or solution you are writing about. 

Only create content that looks attractive and organized. Break long paragraphs into short ones and use headings and subheadings adequately t the right places. 

Put extra focus on headlines since they attract users to your content pages.

Check for content gaps in your overall content by comparing it to the competitors and your target user base. By filling in content gaps, you can attract higher qualified traffic and aim to generate higher profits. 

Use Grammarly to keep the content free of grammar mistakes, and use a plagiarism checker ( preferably Copyscape).

Keep updating your old content from time to time, and if the old content is not productive or not wanted by users, deleting it or modifying it to index again can be the solution.
Use images and videos in the content. Don't forget to add "alt tags" to images. Videos help you create a bond with your target user base, and they are super good for SEO, too.
 Schema Markup
Schema markups are one of the critical aspects of your campaign that can help your web page achieve a better click-through rate and a higher ranking. 
They provide context to otherwise hard-to-understand webpage content and show users' results in rich snippets.
You can rely on Google's Structured Data Testing tool to see what Google-rich results can be generated for your site page.
Moreover, you can find access to the  Schema Markup Validator to test all schema.org 
markup types without Google-specific validation.
 4.

On-page SEO Checklist

It is another component of your SEO strategy and indispensable to any successful SEO strategy. There are multiple activities you will have to carry out, such as 

Use and placement of keywords 

Page URLs

Meta Title and Meta Descriptions

Headers Tags 

Internal Linking

Image Alt-text

On-page SEO consists of several activities that overlap with content writing and technical SEO. Let us discuss them.
Use and Placement of Keywords
One of the first considerations in content creation is keyword placement. Here are some suggestions:
Use the primary keyword in the heading (H1 tags ).

Place the primary and secondary keywords in H2 and H3 discretionally, But ensure you are not stuffing the content with keywords. 

Use keywords when writing in flow and put them in H1, H2 and H3 and in the body of the paragraph with an average gap of at least 100 to 150 words.

Look to use variations of keywords, For example. The keyword 'SEO company' can be used with variations such as 'SEO agency' or 'SEO firm' and so on.  

Don't forget to use LSI keywords too.
Page URLs
You should take care of two key things here regarding the URLs from the SEO point of view 
The URL should ideally be short.

It is always good for SEO if a URL has the main keyword.
Meta Title and Meta Descriptions
These are super important for search engines and website users. Meta titles and descriptions provide context for your page and aid in the click-through rate. Here are some aspects related to them to get the most out of them that will help with SEO.
Keep the meta title and description within the prescribed limit which is s 50–60 characters and 50 and 160 characters, respectively.

Insert the keyword in the description. It is known that keyword existence is not a ranking factor, but it helps with a click-through rate that helps boost ranking. But don't overstuff with the keywords.

 Write the title and description in a human way and create different titles and descriptions for each page.

You should look at meta descriptions and titles as if they are ad copies of your web page and make them as enticing and attractive as possible.
Header Tags
These simple HTML tags can significantly help your SEO. They are one of the ranking signals for search engine optimization and should be part of your SEO checklist.
 Your header tags (H1) help search engines understand the page's topic, and other header tags (H2, H3, and H6) help search engines such as Google understand the hierarchy and structure of your content. In short, header tags are super important, and the following practices will help you use them to their fullest potential:
Insert the keyword in the H1 tags.

Use the tags intelligently as per standards to make your content scannable :

Don't use more than one H1 in your tags. 

You can Optimize header tags for featured Snippets since it can help you get the most out of them. You can visit this brilliant blog on header tags on

"Search Engine Journal"

to learn more about it. 
Internal Linking
Internal linking is important for SEO since it provides Google with information about the site's structure. Internal linking elements, such as ranking signals such as "anchor text," send ranking signals to Google. 
Here are the best practices you should keep in mind regarding internal linking. 
 Apply appropriate anchor text during internal linking so that Google and target users understand the context.

 Ensure that the alt tags are optimized for linked images. You can do it by writing them properly to describe each picture correctly. 

Internal linking should be done by keeping the user in the center. If it is not optimized, users will find more pages to help them take the desired actions and spend more time on the website. Let's use the scenario of someone visiting a website to read a blog about the "wristwatch range." They shouldn't be having trouble locating the wristwatch page, product pages, and "Check Out Page" from the blog itself.

Link pages having high-quality backlinks to pages with low volume and low-quality backlinks. It may help low-authority pages reap the rewards of high-authority pages.

You can use Aherfs or SemRush backlink analyzer to find high-authority pages on your site. 
Image Alt-text
Image alt-text tags are helpful for SEO as they help search engines understand what the image is all about. They are created to assist blind people in understanding the images and will appear if they fail to load due to errors.
 In case you didn't know, about 40% of the website traffic generated through Google displays specific image results. You need to optimize your web page for alt-text tags to ensure you can attract this high volume of organic traffic. 
5. Technical SEO Checklist
Technical SEO deals with website vitals and performance, as many of you, should be aware. Here are some aspects of it for your search engine optimization campaigns:
 Check if Google is Viewing Your Full Page
It is critical that you ensure that Google can view your entire website. And it is not hard to ascertain using Google's search console. 
You just need to enter your page link inside the Google search console, which will display important pieces of information such as
Whether the URL is indexed on Google

Its coverage 

And If the page is mobile-friendly, in the Mobile usability section. 
 Find Out About Crawl Errors
Google crawlers may have difficulty crawling their web pages, which is not good news. Sometimes, professionals make errors, such as using robots.txt on pages where they shouldn't. 
You can use the Google Search Console "Coverage Report" to find out about crawling issues and fix them on priority.
 Mobile Friendliness of Your Site
Your site should load adequately at a fast speed and be optimized for the different screen sizes of mobile phones and tablets existing across the world. 
 The simplest way to determine if the site is optimized for mobile phones is to conduct a Google mobile-friendly test. Or you can simply load the page on different types of devices,
But it has a drawback since you need to be sure if the site is adequately optimized for all types of smartphone screens, which exist in multiple sizes. 
  Fix Broken Links
Undoubtedly, broken links are bad for the user experience and even worse for the site's structure. You can use a free tool like Ahrefs' broken link checker to find the state of the bad links on your website and take corrective measures. 
 Adopting HTTPS
Another component of your website's technical SEO is its security standards.
 Google recommends high-quality HTTPS encryption since it uses the SSL/TLS protocol to encrypt communications so that virtual world attackers can't steal data or hack into your site. So, if your site is not on HTTP, it will be better for you to move it to this standard. 
Page Speed
It has been a significant technical SEO factor for a long time. It falls under technical SEO and is one of the easiest aspects of SEO to fix if you know how to do it. 
To check out the page speed issues, you can use a free tool like "PageSpeed Insights," which gives a detailed insight into page speed performance and related issues. 
6. Backlink Checklist for Potent SEO
Earning backlinks is one of Google's top ranking factors, but generating high-quality links takes a lot of work. However, some methods can help you earn quality links, such as:
Guest Posting
It remains one of the best methods to get quality backlinks, but ensure that you earn links by posting your article or blog on the high-quality side related to the website's business. Posting a blog on-site that asks for money and has no relevance to your business is not the best idea. 
Replicate your Competitors' Backlinks
You can save lots of time by replicating your competitor's backlinks. You can use a dependable tool from Ahrefs, Semrush, or Moz and dive into the competitors' backlinks. 
Look for link opportunities by finding backlinks that you believe you can replicate. Then you can contact the origin-source websites of your competitors' backlinks with better content than what is already available on those backlinks. 
Then request that they use your content alongside or in place of their competitors. If successful, you can expect to earn a handful of quality backlinks. 
There are plenty of other strategies, such as 'affiliate link building' and 'broken link building,' etc., or you can create your own plan to get high-quality backlinks. But pay attention to this part, as it is an integral part of the SEO checklist and its success. 
7. Summary
This post explains many known factors related to search engine optimization and several ways to optimize those. These are all crucial parts of the SEO checklist.
However, we know that Google has been coming down hard on spammy and low-quality content. Therefore, a large portion of this checklist for SEO focuses on the content aspect.
A site with user-friendly content tailored to the keyword's intent that adds value to existing content and is unique too will have a higher chance of getting ranked higher on Google.
8. Frequently Asked Questions
Q: What are essential SEO factors?
The following are the crucial SEO factors in search engine optimization:
Keyword research 

 Content optimization

Header tags 

Meta Tags 

URL Optimization

Web Vitals 
Q: Could you give me a summary of the discussed SEO checklist.?
The following activities will let you know the crux of this post:
Install and use Google Search Console and Analytics..

Find relevant keywords and use them for intent-based content creation.

Focus on creating a website with a clean structure and performance 

Develop well-researched and helpful content

Use appropriate title tags. And alt tags

Optimize your site for smartphones. 

Adopt HTTPS standards for encryption 

Work on backlinks and fix broken links 
Q: Does this checklist address all the pillars of SEO?
Yes, it is a detailed checklist that covers the 4 main pillars of search engine 
Optimization, which are:
Technical SEO.
On-Page SEO
Content SEO.
Keyword Research 
Q: Is it necessary to use paid tools to create a successful campaign for search engine optimization?
Paid tools do indeed offer some fantastic features. However, this post discussed many free and freemium tools you can use while creating your site's search engine optimization strategy.
Q: Are all components of this checklist important?
Yes, every single component of this discussed checklist is important, and you should focus on each one of them for every aspect of your campaign. You need to make sure that you do not miss out on any. 
Q: Can I hire your company for my website's SEO?
Answer: Yes, you can undoubtedly hire our company for your campaign since we have been offering comprehensive SEO services to global clients for over a decade.