Today, online presence has become the most effective tool for businesses to generate leads and attract customers. Since the majority of customers look for nearby services online, businesses have started step into the online world and establish an online presence for their brand. 
While there are several benefits of developing an online presence, several restaurants still don't pay attention to their website and often overlook seo as well. Even though restaurants don't primarily rely on their online sales, optimizing their website for the search engine can benefit their overall business revenue. 
How? The truth is the majority of customers who want to visit the nearby restaurants first perform a Google search with the keyword 'food near me'. It means that whatever Google displays in its search results, the customer ends up visiting the same place itself. 
When it comes to local seo, you need to be extra cautious with each step. The reason being there are dozen of local SEO mistakes that are more likely to harm your online presence than do any good. Avoiding these mistakes is highly imperative, especially if you want to see your restaurant website in the top Google search results. 
This is why we have designed a complete list of local SEO mistakes that you must avoid while performing SEO for your restaurant. 
Not Updating Your Website With Crucial Information
The biggest blunder you can make while establishing an online presence for your restaurant is to not updating your website. You are most likely to attract customers by updating essential information such as discounts you offer, happy hours, and your signature dishes. 
Updating such information on your website will make it easier for the customers to decide whether they want to dine at your restaurant or not. Statistics show that customers usually use online information while choosing a restaurant for dine-out. 
Let's take a look at an example.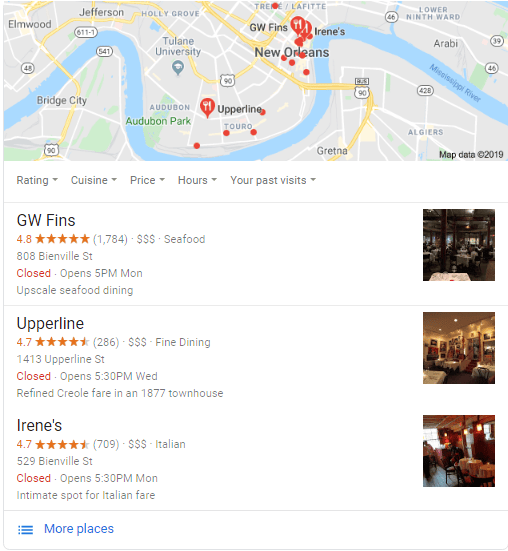 As you can see that in the above example, all the three restaurants have mentioned the food they offer along with their specialists. So, if you want to attract local customers to your restaurant, make sure to update your website with relevant information on a consistent basis. 
Not Having Enough Reviews on Yelp
It's no arguing the fact Yelp is one of the most popular review platforms on the Internet. In fact, statistics suggest that 58% of the customers specifically use Yelp reviews while finalizing a restaurant to dine at. 
In this case, if your restaurant has limited reviews on Yelp, you are most likely to struggle while attracting customers to your restaurant. This is why it is extremely important for restaurant owners to ask their customers to leave a review on Yelp.
When your Yelp listing will have enough reviews, you'll definitely witness a sudden hike in the customers as well.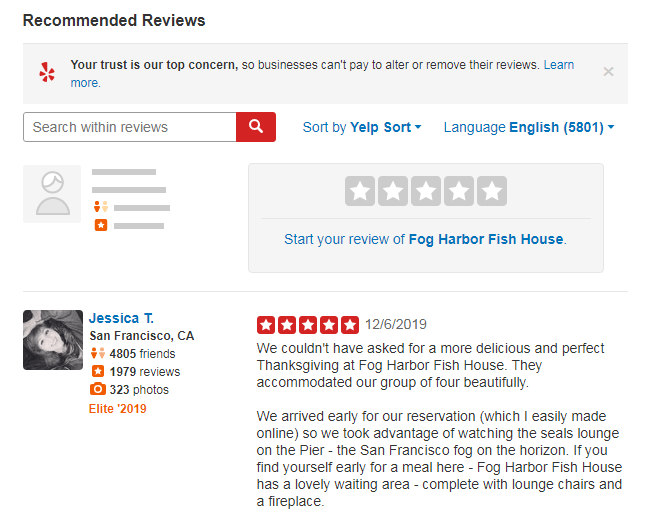 While we're at it, it is also important to reply to each of the customer reviews, even if some of them are negative. This shows that you care about your customer's feedback. In case there's a negative review, make sure to make essential changes to your services so that no one will face the same issues in the future. 
Not Having a Strong Backlink Profile
If you know anything about SEO and the online search world, you already know the significance of backlinks. Backlinks are one of the most crucial ranking signals Google uses to determine the rankings of a website. 
In fact, backlinks are one of the top three Google rankings factors, followed by Rankbrain and content. So, if your website doesn't have enough backlinks, it will struggle to acquire the desired online exposure. 
It is also important to understand that you should focus on building credible backlinks. What does that mean? Well, it means that you should focus on acquiring links from websites that relate to your business. 
So, instead of having links from social media platforms, go out of your way and ask food blogs and local publishing websites to mention your restaurant on their websites. Every local business, including restaurants, should utilize local link building practices. This will boost their website's backlink profile and it'll eventually start climbing the search engine ladder. 
Keep in mind that no one's going to directly mention your brand on their website. So, make sure to ask these local publishings and food blogs to write a post about your brand or mention it in one of the existing blogs. 
Not Updating Google My Business (GMB) Listing
Like Yelp, Google My Business is also one of the most important online listing platforms. In fact, Google fetches information from GMB account of a business to respond to customer queries such as opening hours, address, and contact details. 
This is the reason why it is extremely imperative for every restaurant to optimize their Google My Business account and keep it up-to-date. This is one of the biggest mistakes restaurants make and that's why never attract enough customers. 
Basically, you should regularly keep a check on your Google My Business Listing information and update it whenever required. Even the last-minute change, such as new address or phone number, should be updated on your GMB account. 
It is also important to add accurate information on your GMB account. Since this is the information customers will use to reach your restaurant, it is important to ensure that every piece of information is accurate. 
Not Having a Mobile-Friendly Website
When it comes to the food industry, 72% of the customers use their smartphones to find nearby restaurants. Now, even though the customers aren't directly going to buy from your restaurant website, it is still important to give them a user-friendly browsing experience. 
The majority of customers never visit a restaurant that does not have a mobile-friendly website. Even though it may sound a bit surprising, but a mobile-friendly website has the potential to attract online customers to your restaurant. 
So, make sure that each element of your website is optimized for mobile. To do so, make your website responsive. This will give the audience the same browsing experience, regardless of the device they access your website on. 
Not Optimizing Website Loading Speed
When we talk about customer engagement, website speed is the most crucial element. If a website takes more than three seconds to load, the customers are most likely to abandon your website and look for other search results in SERP. 
This will result in an increased bounce rate, which eventually affects the overall website rankings. So, make sure to optimize your website's loading speed so that it can engage the customers. 
You can use Google's Page Insight Speed tool to check the current loading speed of your website. The tool will analyze your website on the basis of different factors and give a page loading speed percentage. 
In addition to this, the page insight speed tool also gives a feedback with the suggestions you can utilize to make essential changes to your website and boost its page loading speed. 
Not Publishing Blogs
Content is the primary pillar of local SEO. Still, many restaurant owners don't publish blogs on their website, mainly because they think no one reads blogs on a restaurant website. 
Well, that's far from the truth. Not only blogs will help you engage readers, but it also presents an opportunity to include more and more keywords to your website and attract organic traffic. 
Moreover, a dedicated blog section will also help you build brand authority for your business. Since you'll be the only one publishing blogs in the community, people will choose your restaurant over your competitors. 
Not Adding a Map on the Restaurant Website
While adding a location map may not seem like that big of a deal, but this is a small element that is most likely to boost the customer engagement rate. Since Google always favours websites that are user-friendly, adding a location map will prove to be beneficial for your website.
For instance, the visitors won't have to open Google Maps to get directions to your restaurant. They could simply click on the map on your website and automatically get the directions to the restaurant. 
If anything, adding a location map will add more value to the user experience. So, make sure that your website has a dedicated location map. 
Final Words
As we mentioned earlier, the majority of customers use Google to find nearby restaurants. It means if your restaurant doesn't have an optimized online presence, you are most likely to lose potential customers. So, make sure to utilize the above-mentioned tips and optimize your online presence so that you don't lose your hungry customers. 
If you need any local SEO assistance for your restaurant, contact our professional SEO experts from SEO Experts Company India let them handle the entire SEO campaign for your restaurant website.