According to recent reports, the number of HVAC contractors in America alone has crossed 100,000 (Source: IBISWorld). Due to this ever-increasing competition, digital marketing has become a necessary approach for local businesses to attract more leads and increase revenue.
If you want to connect with homeowners actively searching for heating, ventilation, and air conditioning services in your area and rank among the first pages of Google search results, then PPC is the answer.
Pay-per-click or PPC for HVAC companies is a powerful digital marketing strategy that helps your business to achieve its marketing goals. With PPC, you can increase your online visibility, drive relevant traffic to your website, and generate qualified leads.
This article highlights numerous benefits that PPC offers, from increasing brand awareness to targeted advertising and cost-effective marketing, etc. It also discusses various PPC or Pay-per-click strategies that the HVAC contractors must follow in order to establish authority, attract target audiences, and ultimately expand the business.
So let us jump into this article to see how PPC can benefit your HVAC business.
What is PPC for HVAC Contractors?
Pay-per-click, or PPC, allows HVAC businesses to promote their products and services online through paid advertisements. These ads are displayed on search engines like Google, Bing, etc., or on social media platforms such as Facebook.
PPC places your HVAC company's ads only in front of people who seem to fit your customer demographic, which increases the chances of attracting potential customers.
To put it simply, PPC is a powerful digital marketing channel where your company pays a fee for targeted visits to the hvac website.
How do PPC ads help increase your HVAC Company's online visibility?
Paid ads primarily help your company appear at the top and bottom of search results. However, the paid advertisements are tagged "sponsored" or "ad" to distinguish them from the (free) organic results.
Because of the intelligent placement of your company ad at the top or bottom of the result page, PPC increases your chances of getting noticed.
This is how paid ads are seen on Google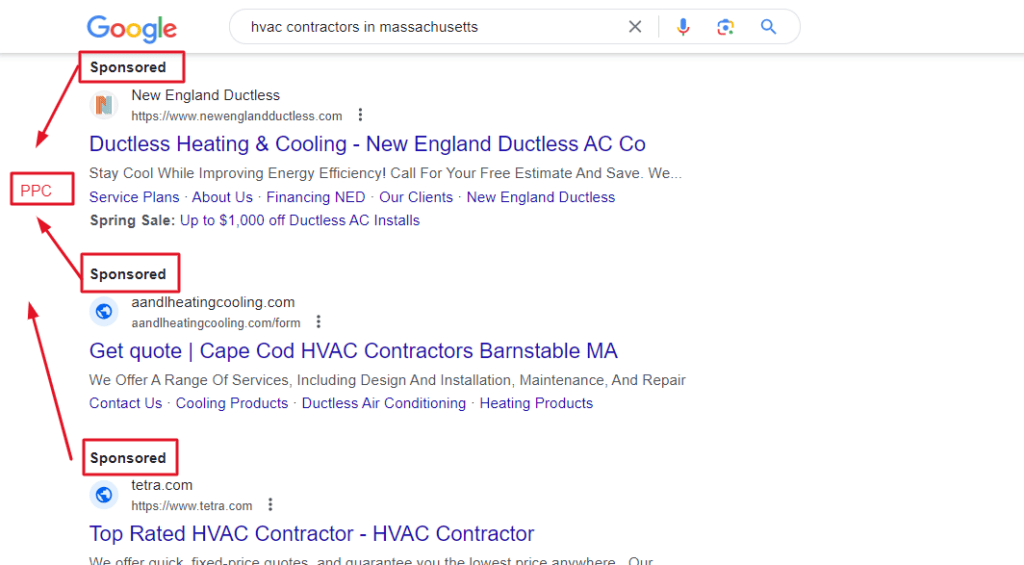 How do PPC ads Work?
PPC ads can be displayed on different platforms, such as Google ads, Bing ads, and social media platforms like Facebook, Instagram, etc. Google Ads undoubtedly remains the most popular PPC advertising platform because of the extensive access to potential customers and clients.
Regardless of the platform, the basic procedure behind how PPC works remains the same, which is depicted in the image below: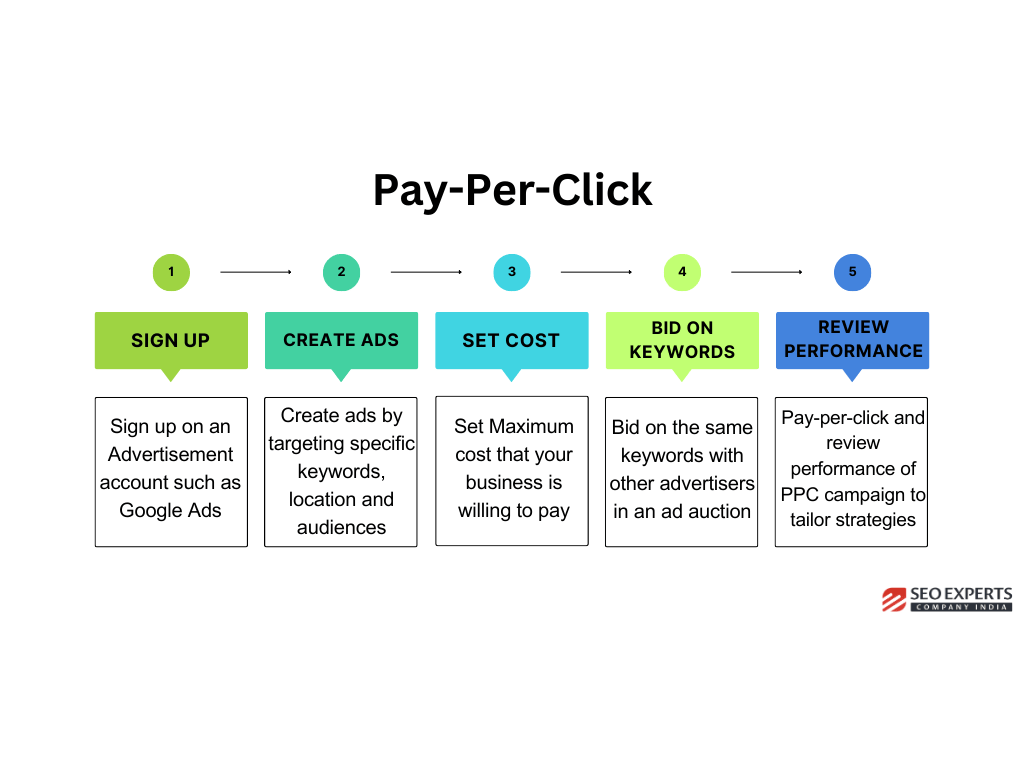 Basically, your HVAC company needs to sign up on an advertising platform, create ads using the relevant keywords, set the maximum cost, bid on the keywords, and finally pay only when someone clicks on your ad. Your HVAC company can gain more clicks through PPC by using correct keywords and strategically bidding on them.
Benefits of PPC for HVAC Companies
PPC marketing offers various benefits to HVAC contractors. Some of these benefits are as follows:
Grow the Reach of Your HVAC Business
You unquestionably come across "Wait! Let me Google that" several times per day. Of course, you do, since Google encounters around 3.5 billion daily queries. With PPC marketing, your HVAC business can appear at the top of these HVAC-related search queries and expand business reach to targeted customers.
Increase Brand Awareness
The top two to three spots for the search results are usually reserved for paid advertisements. Therefore, your HVAC company can increase brand awareness by targeting specific keywords through PPC.
By combining PPC efforts with SEO for HVAC contractors, you can rule both organic and inorganic search results, attract more leads, and outpace your competitors.
Advertise Specifically to Target Audience
With PPC, you can achieve precise targeting, which means only interested users come across your paid ads.  Additionally, PPC platforms offer the advantage of targeting audiences based on keywords, location, age, interests, online behavior, demographics, and other factors. By doing so, PPC ensures businesses that their ads are shown to relevant audiences, increasing the likelihood of attracting high-quality traffic and increasing sales.
For example, HVAC businesses can create a PPC campaign targeting users searching for terms like "best HVAC services in (city name)." By targeting relevant keywords, HVAC businesses can ensure that their ads are shown only to target audiences.
Cost-effective Marketing
PPC is highly cost-effective compared to other advertising platforms because, in the case of PPC, your company pays only when a user reaches your HVAC site. Additionally, you are the master of your own deeds. There is no set budget, and you can spend whatever your pocket allows. Therefore, the solid correlation between the amount paid and the leads generated makes PPC a cost-effective marketing measure.
Attain Quick Results
Unlike other marketing strategies, PPC offers immediate results. You only need to hop into the search results of the target audience that is already there, ready and waiting for you. Once you optimize your PPC campaign for the HVAC business, you will start witnessing quick results because the platforms start displaying ads instantly.
Make Immediate Changes in the Ad Campaign
PPC offers complete data on the performance of your ads. By analyzing this data, your HVAC company can make quick changes and tailor the marketing strategies accordingly to maximize the effectiveness of the PPC campaigns. It also offers an option to pause your paid ads on non-working days like Sundays or seasonal breaks.
Therefore, you can constantly evaluate, make amendments, and re-examine each PPC HVAC campaign to get the best results and attract potential customers.
PPC Strategies for HVAC Contractors
Here are a few tips that every HVAC contractor must follow to get the most out of their PPC campaign:
1. Perform a Thorough PPC Keyword Research
Relevant keywords are the heart and soul of your PPC campaign. Your HVAC business must bid on the right keywords that specifically target your profession.
For instance, you can use long tail keywords like "Best HVAC services near Chicago" or  "Emergency heating and air conditioning repair near me" instead of plain short-tail keywords like "HVAC services."
To your knowledge, long tail keywords are the ones that include three or more than three words in a search query and are easy to rank for.  In addition, longtail keywords can boost the conversion rate of PPC campaigns.
HVAC contractors can utilize keyword research tools like Google Ads Keyword Planner, Semrush, Ahrefs, and Moz Keyword Explorer to find popular keywords and check whether your business can rank for them or not.
Below is an example of how Google Ads Keyword Planner can help you find the right and relevant keywords for your PPC campaign. You can monitor the popularity of keywords with the help of the "average monthly searches" option and choose your keywords accordingly.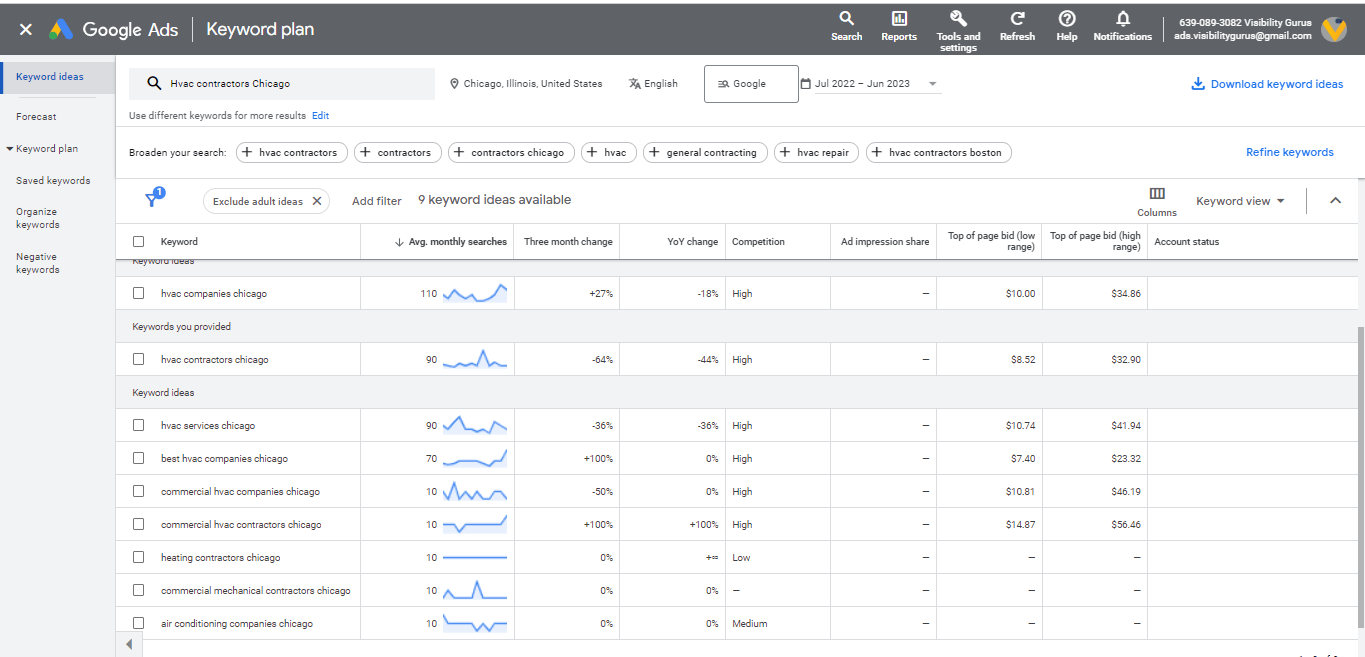 2. Add Negative Keyword
Negative keywords exclude irrelevant search terms that you are not interested in targeting for your PPC campaign. This is done so that your ads don't appear when people search for terms unrelated to your services. This way, negative keywords help you focus only on the relevant keywords that matter to your customers.
To make your PPC campaign more cost-effective and impactful, you can make a list of negative keywords and optimize your campaign accordingly. This can save you a lot of money by avoiding clicks that have no chance to convert.
For example, residential HVAC contractors do not repair vehicle air conditioners and heaters. Therefore, car, truck, and taxi would be good negative keywords to consider in this case.
3. Establish Authority with Location-based Targeting
Geo-targeting, location-based targeting, or local PPC allows advertisers to develop ad campaigns that target people based on their location. It offers a great advantage to HVAC contractors since their business mainly depends on the local market.
Through local PPC, HVAC businesses can focus on people who live in nearby areas and are likely to call and convert rather than people who live across borders and have negative chances to convert.
For example, if a person searches "emergency air conditioner repair near me" in the targeted region of your PPC campaign, it will display your company's ad in the search results. This way, geo-targeting or local PPC helps HVAC contractors to show their ads to local target audiences and help establish local authority and grow customer base.
4. Write a Compelling Ad Copy
Ad copy is the text in your PPC ads that aims to persuade visitors to click on your ad and take a desired action. The ad copy should be compelling and must use relevant keywords because it acts as the first point of contact with the visitors.
The ad copy should have a catchy headline and description to catch the visitor's attention. You can include attractive CTAs like "request a quote," "request a service call," etc., in your ad copy, as shown in the example below, to direct users to the relevant landing page.

5. Create a Suitable Landing Page
A PPC landing page is where the visitors land after they click on your paid ad. It is a web page built to advertise, with the ultimate goal of persuading visitors to convert. It focuses on generating leads and increasing conversions, be it by scheduling a call, asking for an estimate, or booking an appointment.
Relevant landing pages with proper CTAs (call-to-action), special offers, contact information, and other elements are essential to increase conversions. Make sure that your landing page coordinates with your ad copy.
In addition to increasing conversions, landing pages can also improve your Google Ads Quality score, which can further decrease your cost-per-click, giving you a better ROI (return on investment).
6. Add Ad Extensions
The additional details displayed below your paid advertisement are called ad extensions. These help target audiences gain additional information about your HVAC business. Therefore, ad extensions can help increase clicks on your ad, further generating more conversions.
As an HVAC contractor, you can add location extensions and call extensions to your ad campaign to attract genuine leads.
Call Extension: Adding a call extension can help people directly dial your phone number from the ad. HVAC companies can highly benefit from it because call extensions can help them secure a lot of emergency jobs.
Location Extension: With location extension, potential customers can immediately see your exact location just by clicking on your paid ad. This is useful for local businesses like heating and cooling companies, as it helps their potential customers to reach them swiftly.
7. Take Advantage of Remarketing Campaigns
Remarketing allows your business to target specific audiences – users who have previously visited your website and shown interest in your HVAC services in some way or the other. This way, remarketing campaigns help businesses to secure conversions that they missed earlier by displaying ads to interested customers.
These campaigns also help to increase the return on ad spent (ROAS) by increasing conversions.
8. Track and Analyze PPC Efforts
Above everything, your business must track and review the progress of your HVAC PPC campaign. By analyzing your efforts, you can check "Which campaigns are generating results and which are not." This way, you can optimize your PPC campaign accordingly to increase conversions.
The conversion rate is directly proportional to the success of your PPC campaign. Therefore, by tracking your conversions and analyzing the progress, your business can make the right decisions at the right times.
Wrapping Up
In conclusion, it is essential for HVAC contractors to rank at the top of Google searches to attract potential customers. In this highly competitive industry, PPC for HVAC contractors is a cost-efficient marketing strategy that helps generate leads and boost conversions.
By following the strategies mentioned in the article, your company can increase its online visibility and draw the attention of target audiences. In case you want experts to do it for you, hiring an hvac seo agency would help your SEO campaign executed by specialists with years of experience.
FAQs
How much do PPC ads cost for HVAC contractors?
When it comes to PPC for HVAC companies, the cost basically depends on several factors such as marketing goals, marketing budget like bidding amount, size of the business, the level of competition, etc. However, the average monthly cost is estimated to be around $5000-$7000 for a small to medium-sized business. These expenses can fluctuate throughout the year for HVAC contractors based on the hike in seasonal demand.
How long does it take for PPC to work for HVAC companies?
On average, the PPC starts generating HVAC leads within two months from the start of the campaign. The duration also depends on factors such as conducting relevant keyword research, defining the target audience, adjusting bids, etc.
Which platforms should HVAC contractors consider for PPC campaigns?
By far, Google Ads is the most popular platform available for paid advertisements for HVAC contractors. It provides a wide reach and helps to attract high-quality leads.
How to track and analyze HVAC PPC efforts?
Tracking your PPC efforts is important to continually analyze whether your invested money is going in the right direction or not. HVAC contractors can measure the success of their PPC campaign through insights provided by the advertising platforms, such as conversion rates, keyword performance, click-through rates, location targeting, and other metrics.
What are the best types of PPC ads for HVAC contractors?
As an HVAC contractor, you should invest in Google service ads and Google My Business (GMB) ads.
As an HVAC contractor, should I hire a PPC agency for my PPC campaign?
Hiring an expert PPC agency for your campaign can save you a lot of time and effort. Experienced professionals know their ways with the industry and can help you manage your PPC ads to increase your online visibility and return on investment (ROI). Therefore, you can leverage the greatest PPC benefits by shaking hands with the expert PPC ads management company.