Whether you run a small digital business, offer professional services, or work in hospitality, healthcare, or retail, there's a simple way to boost sales and leads—build local citations.
Local citations can boost your revenue. To do it right, learn how to create these citations. We're sharing 4 effective methods. Understanding local citations and their importance can help you do it successfully.
So, without further delay, let's get started! 
What are Local Citations?
A local citation is like a digital mention of a business's important details. It includes the name, website, phone number, and address. You can find these details for online sites (providing services or products) on directories, websites, and apps like Yellow Pages or Yelp.
Wherever a customer searches for information on businesses, these citations will appear.
Example of a local citation
Besides helping people find local businesses online, these are useful for service or product providers. The more citations a business has, the more will be its visibility in SERPs.
Another thing to remember while building citations is to use the same information everywhere. It will make your business trustworthy in the eyes of search engines.
Why Local Citations Matter?
It is important to acknowledge the significance of local citations before delving into the procedure to build them. It will motivate you to take the action effectively.
These references are not only information, but they are a powerful tool that directly impacts the credibility and visibility of a business in local searches. 
Let's see how local citations can elevate the online presence of any business.
Enhance local search visibility: Google prioritizes showing results that it can easily understand and verify.
When you keep your contact details consistent across the internet, search engines see your business as reliable and likely to show it up among top results.
Build trust and credibility among the target audience: When a shopper is looking for a product or service around them, if your business is listed in multiple directories, review sites, and local platforms, it will be a plus point. As these signals will increase the reliability and authenticity of your business.
Customers always trust a business with a strong online footprint, and local citations can do that. So, work on building trust and credibility among the target audience.
Establish consistency and accuracy: If the information is consistent and accurate, it will help users. On the contrary, inaccurate data can confuse potential customers, and then they will choose other competitors instead.
But clear and accurate local citations ensure that NAP details are presented uniformly and also streamline the customer's path to your business.
Navigate hyperlocal competition: Beyond any doubt, the market has fierce competition. If you want to stand out, then you have to use accurate and strategic local citations.
So, to bolster credibility, improve search visibility, and guide customers to your business, build local citations.
Types of Local Citations
Local Citations are further divided into two categories. Both are sufficient and contribute to the business's local search visibility and overall online reputation. 
Read the segment and see, category-wise, how these are best for your business.
Structured Citations
The organized listings of the business information are structured citations. These follow a specific format, including the business's NAP (name, address and phone number), URL, and business category.
Structured local citation
Structured citations are found mainly on the following:
Online business directories (YellowPages, Yelp)

Industry-specific directories

Review sites (Google My Business, TripAdvisor)

Social media profiles 
Structured citations establish any business's online presence and, thus, necessary to be in the top search engine results.
Unstructured Citations
The mentions of any business information on various online platforms that do not follow a standardized format are unstructured citations. There is no complete NAP information in them. Instead, there is just a business name or address.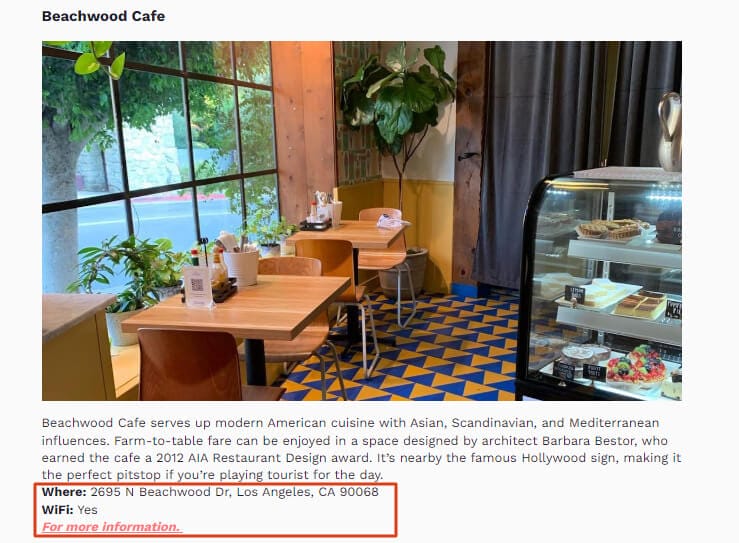 Unstructured local citation
Unstructured citations are mainly found on the following:
Blog posts about your services or products

Social media posts from users mentioning your business

Guest posts on industry-related websites.
Unstructured citations provide additional exposure and context for your business. 
Overall, to maintain a strong presence, you will need both structured and unstructured citations. This way, you can enhance your business's local SEO and reputation within your community.
4 Methods to Build Local Citations 
Now, you're now motivated, equipped, and prepared to learn how to create local citations. So, let's understand the 4 amazing and easy-to-do methods to build local citations. 
Leverage Data Aggregators
It is obvious that manually submitting the website's details to each directory will be difficult for you. So, to save your time and ensure wider coverage, leverage data aggregators.
DAs can help distribute your business information to multiple directories and platforms. You just have to submit the information, and data aggregators will distribute your site's information to their partner sites.
As a local business, if you are looking for a data aggregator, here are some options you can try:
Foursquare

Factual

Data Axle

Neustar Localeze
NAP Submission to Core Sites
Submitting NAP to core sites can be a great way to display your business among users. 
We mean Yellow Pages, Yelp, Google, Apple Maps, Yahoo Local, and Bing Places from core sites. 
Simply visit these websites and, as per your business category, submit the information. 
Use Local Directories and Niche Sites
After submitting information to core websites, focus on directories that are specific to your business. Local directories are online platforms listing businesses according to location and industry. People prefer looking at them while searching for a product or service in a specified area.
Other than directories, look for niche sites focusing on specific industries, topics, or interests. Building citations here can help you target a more specific audience. 
For instance, platforms like TripAdvisor or OpenTable will be valuable if you have a local restaurant. Similarly, look for niche sites as per your industry.
Pursue Unstructured Local Citations
As you already read, unstructured citations for local SEO include blog posts and reviews about your business. If compared, these will require more time and effort, as you have to think before writing. But will impact your target audience better. 
If running a restaurant, just imagine telling the amazing benefits of having some specific dishes and, in the end, giving your reference. It will create an interest among the audience, and they want to visit your place. Similarly, this tactic can be used for different industries.
You can take Google's help to pursue unstructured local citations. Depending on the industry type, there are many sites where one can submit their content. 
Local Citation Building for Better SEO
Conclusively, a local citation is an important part of local SEO. With its help, search engines understand a business's relevance and authority within the local community.
These are crucial for businesses looking for online visibility regionally. Just follow the practical steps mentioned in the blog, and by building local citations, establish trust among your target audience.
In case you feel difficulty or do not have sufficient time, contact our team of local seo experts. We are ready to help you with any SEO services that is required to grow your business