As far as local businesses are concerned, the traffic opportunities are quite limited. Since these businesses target local search queries, they usually struggle to rank in organic search results. Moreover, the competition in the local market is extremely fierce as well or you can say doing SEO is quite competitive.
So, the real question is how can a local business sustain an effective online presence for their brand. 
Well, the answer is Google My Business. 
Google My Business is an online tool that allows local businesses to create and manage their online presence for better search visibility. 
Setting up a Google My Business account makes it easier for the local customers to discover your business and find the contact details to reach you whenever required. 
With Google My Business Listing, you can even secure a place in Google's local pack results (3 Pack Result).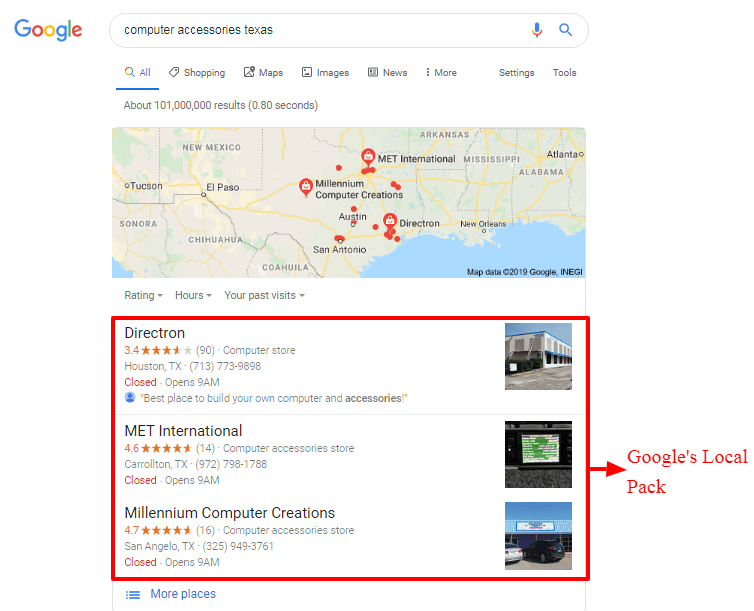 However, setting up a GMB account is not enough; you also need to optimize it so that it provides users with accurate information. 
Since your GMB profile is going to bring customers to your local store, it is important to add accurate business details. 
So, if you are a local or small business owner, creating a GMB listing should be the first task on your to-do list. 
To make it easier, we are going to share a comprehensive guide to optimize your Google My Business account for better search visibility. 
Can You Run a Local Business Without Google My Business Listing?
Of course, you can!
But, the question is why would you? 
Not only does Google My Business will help your local business to grow, but it is also a piece of cake to set up the GMB account for your business. The cherry on top is GMB is entirely free. 
So, there's literally no excuse to not have a GMB account. The benefits, however, of having one are endless.
In addition to local pack results, Google My Business also ranks your business in the Google Map results.
Perform a search for a nearby restaurant, and you'll understand what we're talking about.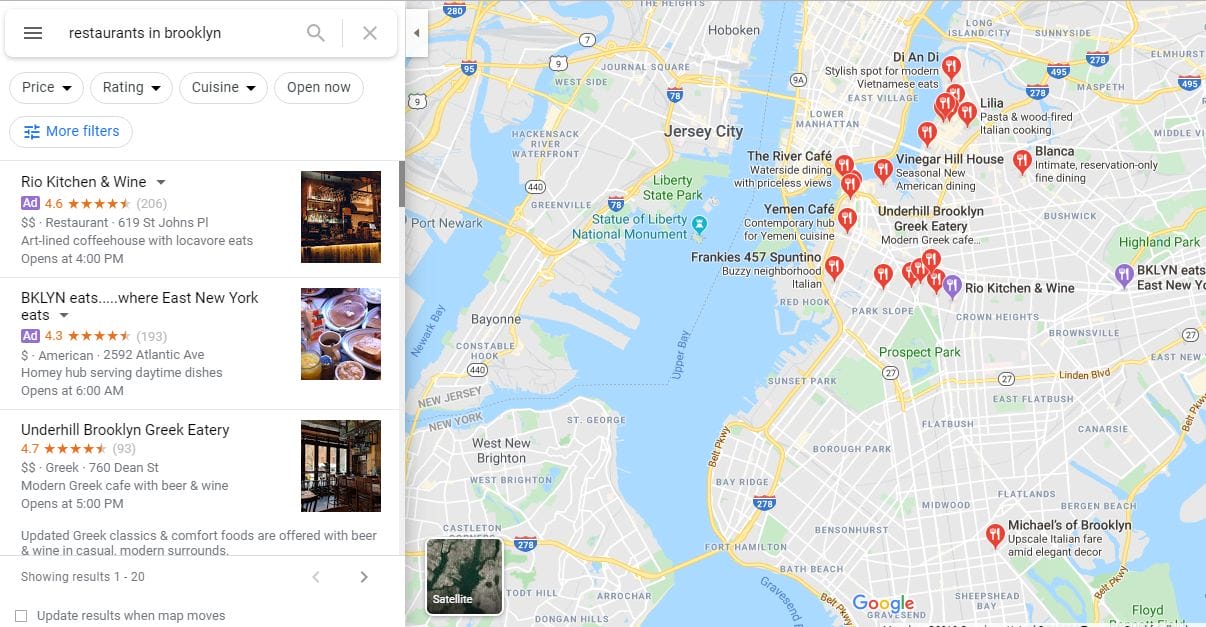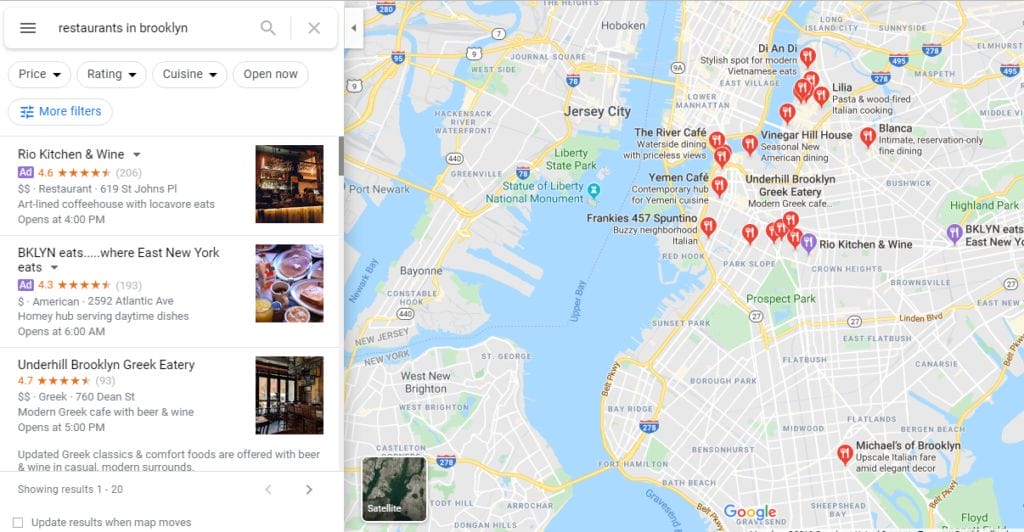 Google even uses the GMB data of a business to show results for voice searches. For local businesses, GMB can also be considered as one of the major ranking signals. 
With all these benefits, it would be a huge mistake if you skip creating and optimizing GMB account for your local business.
How to Optimize Google My Business Account 
An important part of search engine optimization a reputable service for SEO India will carry out is setting up a Google My Business Account, the main focus should be on providing Google with as much accurate information as possible.
During the account setup process, you'll be asked to fill several fields. While some of these fields are compulsory, others are optional as well.
However, it's not a wise option to leave these fields blank. Since Google uses the GMB information to rank your business for user's queries, it is important to fill every field with the right details. 
So, here's the step-by-step process to perform Google My Business account optimization. 
Add Business Information
Like we mentioned earlier, the more accurate information you add while setting up the GMB account, the better it'll be for your business. 
Here is a list of data you must add to optimize your GMB account for better exposure.
NAP
NAP is the abbreviation for Name, Address, and Phone Number. 
Keep in mind that NAP information needs to be consistent across all the platforms on the Internet. For instance, if you have listed your business on any of the listing websites, it is important that the NAP information should be exactly the same as GMB listing.
Here's an example:
Let's say your company name is 'Ekon Printing Company' on GMB listing, but on other platforms like Yelp and Yellow Pages, the company is listed as 'EPC', you may face several issues in the future. 
In such a scenario, it is important to update your GMB account with the correct business name. 
To do so, simply log into your GMB account and click the info button in the sidebar. 
You can easily update the business name (and other information) here without any hassle.
Business Description
The business description is a brief, yet informative, description that you are supposed to write so that people can know what your business is all about. 
You can mention business history, services you offer, or any other piece of information that can help customers know more about your business. 
There's one catch, though. The description should match Google's guidelines.
To restrict business owners from making their descriptions sound too sales-oriented, Google has thrown some guidelines that must be followed while writing the Google My Business description. 
For instance, you are not allowed to add links (of any type) or write offensive words in the description. Moreover, you can't promote products, that are illegal in a particular state, via the business description. 
The description only goes live if you adhere to the guidelines. The best practice is to keep the description length under 750 characters and kee it as informative as possible. 
Here's an example:
From the Hip, a team of photographers in Colorado, has utilized the 750 character limit in the most efficient way and written an extremely informative business description.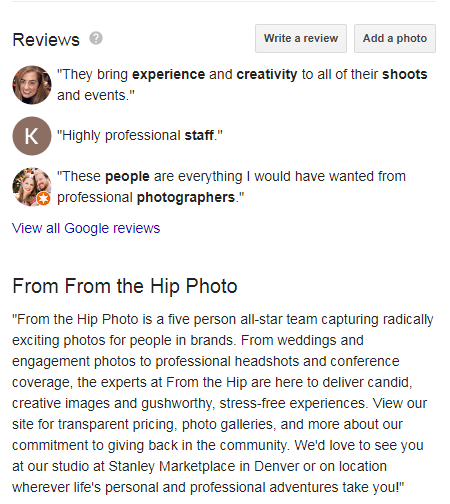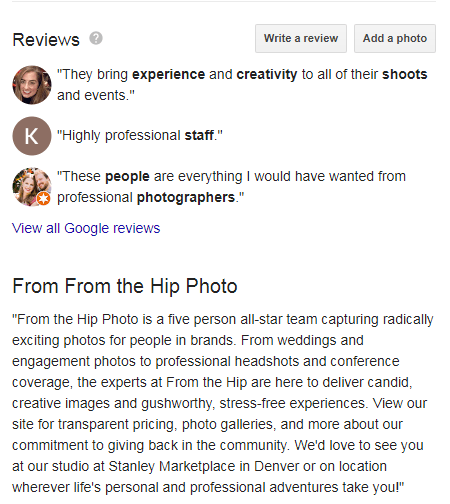 If you want to attract customers, make sure to follow all the Google guidelines while writing the business description.
Category and Sub-Category
Category and Sub-category are an integral part of the GMB account. They basically tell Google and customers what your business is all about. 
Google has already listed a bunch of categories and you must choose one from the list only. You cannot create a customized category. 
There can be only one category for a business. However, you can choose multiple sub-categories if you offer different services. 
For instance, if you run a coffee shop that also has space for the customer to read books, you can choose 'bookstore' as the sub-category. 
Google displays category and sub-category along with the business name in the local pack result. As a result, it becomes easier for customers to know what type of business entity you are.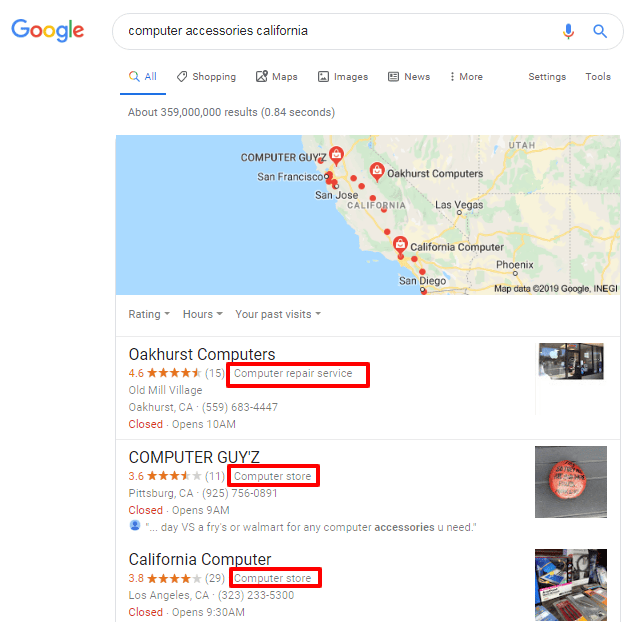 Keep in mind that if you change categories and sub-categories, you'll have to re-verify your GMB account. 
Communicate with Customers Through Business Posts
With your GMB account, you can also communicate with the customers. 
How?
With the help of a little feature known as 'POSTS'. GMB allows business owners to add additional details about your business. 
Posts basically appear in small boxes under the business information you have added to your GMB account.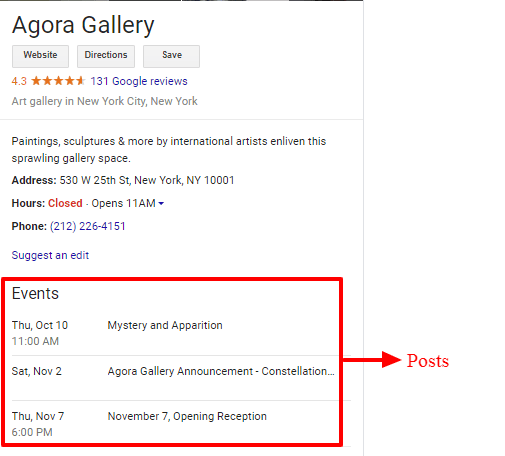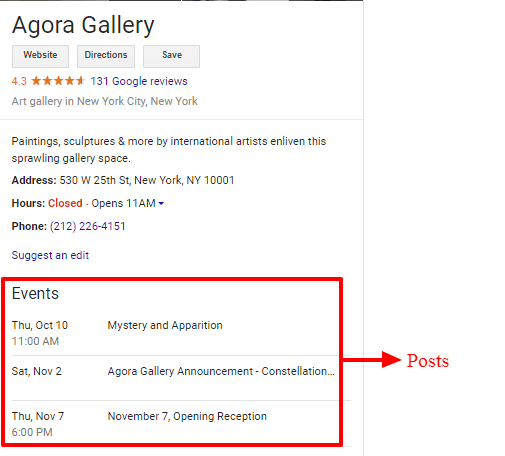 You can add an array of Google My Business posts. Here you can list upcoming events, products you sell, details about an on-going sales, etc. 
Here are the different types of posts you can create through your GMB account. 
What's New
In this type of post, you can tell what new is happening with your business. For instance, if you have just released a new collection of products or have decided to keep the store open on the weekend, this is where you would want to post the details. 
Event
Let's say you own a comic book store and are planning an event with Will Wheaton as your special guest. You can create a post about the event and add all the essential information such as event dates and timings to tell people about the event.
Products
In this type of post, you can list the different products that you sell at your store. You can even sell your products through the GMB account itself. Simply add the price and let the customers buy the product of their preference. 
To increase the reach of every post, make sure to couple it with the right CTA (Call-to-Action). 
Here's how you can create a post using Google My Business account.  
Open your Google My Business account and click on the post tab in the sidebar.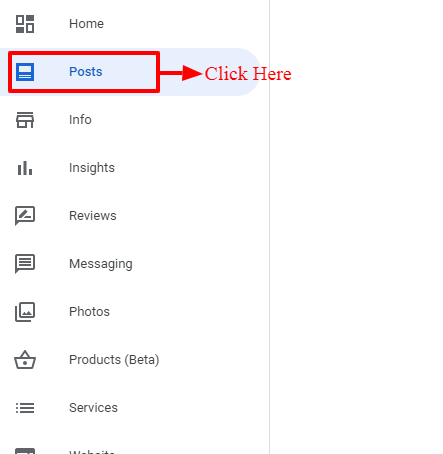 You'll be directed to a page that'll display all the posts you have created in the past. At the top, you'll have four options to create a new post.


Based on the type of post you choose, you'll be asked to add the required information. For instance, if you click on 'Event', you'll have to add information such as event name, starting and ending date, and other event details.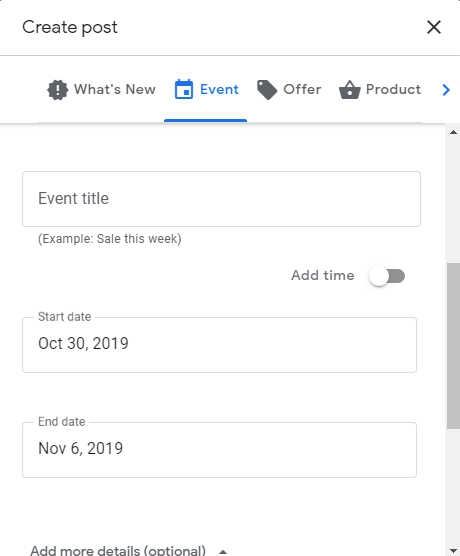 You can even add a CTA at the end of every post so that customers can know more about the event. 
Once you have added all the relevant information simply click the publish button. That's how easy it is to add a new post in Google My Business account. 
Interact With Your Customers
Keep in mind that interacting with the customers through your GMB account can make it much easier to boost your sales. 
Google My Business allows business owners to communicate with their customers through different mediums, which include:
Messages
If you closely look at the sidebar of the Google My Business dashboard, you'll find the 'Messaging' tab listed there.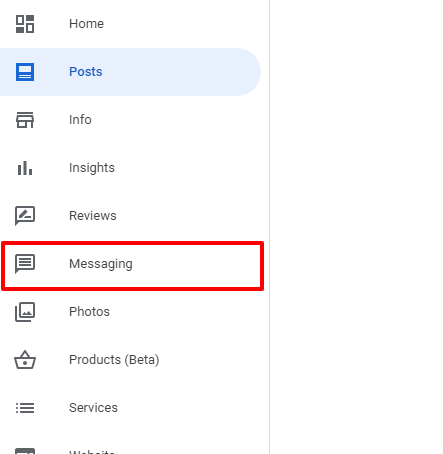 When you have an active Google My Business account, customers can send you messages and directly ask queries about your business. 
In case you want to retain customers for a longer time period, make sure to address each of these messages and respond with appropriate solutions.
Booking
Google My Business also allows customers to directly book an appointment by clicking on the Schedule button.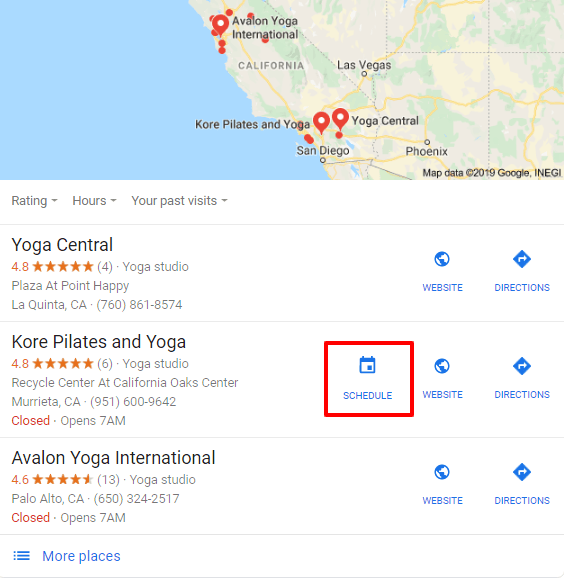 By clicking the schedule button, the customer will be prompted to a new window with all the booking information and available dates. The customer can choose any of the dates as per his preference.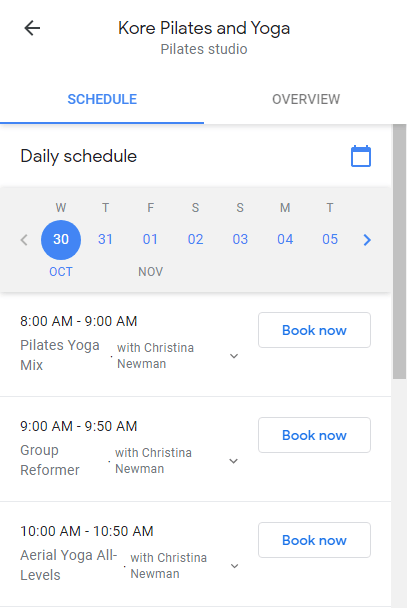 While booking is an excellent feature for better customer retention, it is only available in selected countries. In case your Google My Business doesn't show a Booking button in the sidebar of the GMB dashboard, it is not available in your country.
Interact Through Social Media
Your GMB account can even help you increase your social media following. 
How?
By adding your social media profiles to your GMB account. However, you cannot manually add links to your social media profiles as Google automatically does this for you. 
Basically, Google will review your social media profiles and if you are eligible as per Google's guidelines, the link to your social media profiles will be added to the GMB account.  
Respond to User Queries on Your GMB Listing
If you have set up a Google My Business account, customers are most likely to ask questions through it.


Google has added a GMB feature known as Questions and Answers; where users ask questions and you respond to those queries with appropriate solutions. 
You can even create a list of questions to address Frequently Asked Questions. This way customers will find appropriate solutions without even typing in their query. 
Respond to Customer Reviews
Your customers can even leave reviews on your GMB account. As a business owner, it is your responsibility to address each of these reviews and reply as well.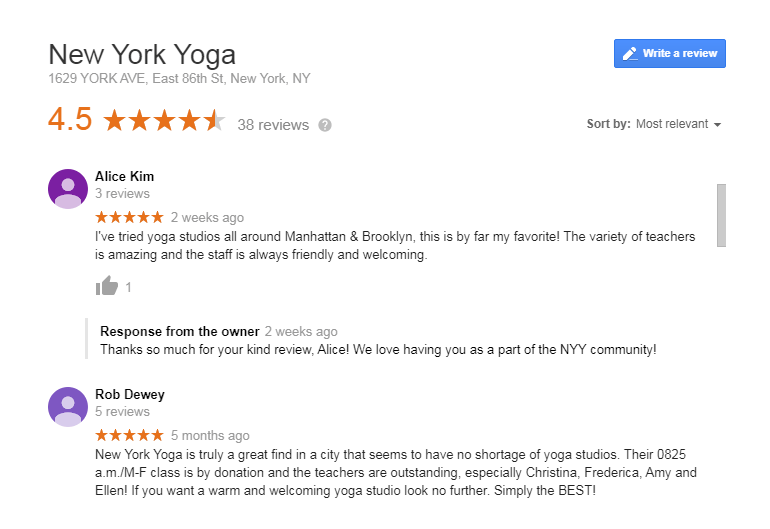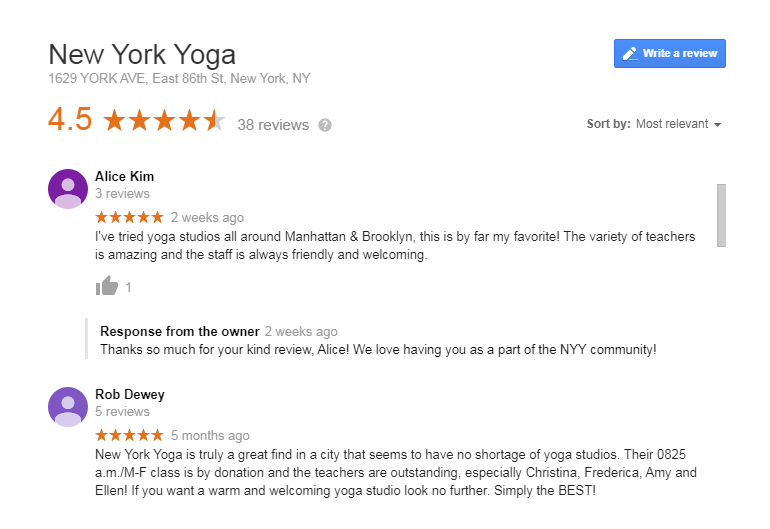 There are several benefits of responding to customer reviews. For starters, you move a step ahead in nurturing healthy customer relations and thereby improving customer retention rate.  
In addition to this, new customers always check GMB reviews before signing up with your brand. In such a scenario, if you have replied to the majority of the reviews, it'll become much easier to 
Note: Even if you have received a negative review, it is important to respond to it. Make sure to address the situation and take suitable actions to avoid similar mistakes in the future. This will also help you understand what your customers expect from your business and how you can meet their expectations.
Add Photos and Videos to Make Your GMB Account Visually Engaging
According to a study, 91% of online consumers like visual content over written content. 
No doubt, adding a business description and other written content is important, but if you want to captivate the audience within a second, make sure to add visual content such as images and videos. 
Add images of your store, employees, products, etc. You don't need professional images as well. As long as the images and videos are clear, you are all set to add them to your GMB account. 
Google My Business Account Optimization-Final Words
That's everything you need to know about Google Account optimization. However, make sure to keep an eye on your GMB listing as anyone can suggest an edit to your account. In the majority of the cases, your competitors will make edits to divert people from your brand. Keep a track of every change so that you don't end up losing potential customers. 
The best way to manage your GMB account is to hire a team of professionals who have expertise in local SEO and can easily create, optimize, and handle your GMB account for better search visibility.