Performing SEO for e-commerce websites is quite a challenging task, mainly because there are too many things you need to take care of. Keeping a checklist in such a scenario would prove to be extremely beneficial. It is important to ensure that you have ticked off everything on the checklist so that your site's SEO is up to the mark. 
To help you along the journey, we have written down the most effective e-commerce SEO checklist that'll help you handle the entire SEO campaign for your e-commerce website. So, without wasting another second, let's jump straight into the SEO checklist. 
In order to help you understand more precisely, we have categorized the checklist into three different categories, i.e., technical SEO audit, content, & link acquisition rate. 
Technical SEO

 
Packet Loss
Packett loss is the term used to define the scenario where one more packet, small units of data, are lost within the network and fail to reach its expected destination. A packet loss can happen due to several reasons. However, slow service is the primary reason why packets are usually lost in a network. As an e-commerce website manager, it is your job to check if there's any packet loss happening on your website. If that's the case, make sure to contact your hosting service provider. To check packet loss, you can use any of the online monitoring tools such as PRTG, Zabbix, and NetCrunch. 
Uptime
Google has already mentioned that excessive downtime can hurt your website's SEO and damage the rankings as well. In addition to this, downtime is bad for the user experience for sure. This is why it is important to ensure that the website uptime is as high as possible. Uptime is basically the time for which a website or web service is available to the users. No doubt every website experiences occasional downtime, but the focus should be on boosting the uptime. Many website providers target to achieve an uptime of 99.999%. 
SSL
SSL stands for Secure Socket Layer. Installing a site-wide SSL certificate on your website is extremely crucial as it establishes a secure environment for the shoppers. SSL basically encrypts the data before it is going to be exchanged within a digital environment. As a result, the shopper's personal information will stay protected on your website. Installing an SSL certificate will also give a minor boost to your SEO rankings as Google favors websites that keep user security as a top priority. 
HTTP to HTTPS Redirection
It's 2019, which means you can't expect to rank in the top positions of SERP with HTTP pages. As for the general SEO practices, each page on your website should employ HTTPS. In case you still have any HTTP pages, make sure to redirect them to a well-optimized HTTPS URL. Employing site-wide HTTPS is extremely imperative and this will also help you climb the search engine ladder. 
Malware Detection
Ideally, your website should be free of any kind of malware. When malware is detected on a website, the web browsers automatically generate warnings, which is most likely to scare away the visitors. This is why it is always imperative to keep a check on the malware. You can use Google's official malware scanner tool to check if your website has malware or not. In case it does, make sure to take the required steps to resolve the issues. 
IP Neighbours (For Shared Hosting)
Generally, it is not ideal to use shared hosting for your e-commerce website as you'd be sharing the IP address with several other domains. However, if you still run your website on shared hosting, make sure to check who are your IP neighbors. Basically, you would want to avoid sharing the IP address with domains that are spammers and are most likely to penalized by Google as it can damage your website's rankings as well. 
5xx Errors
5xx errors are generated from the server, not from the website. These types of errors are usually generated due to a mistake in the server code. Basically, it is important to look for these errors and take suitable actions to remove them. You can use an online SEO tool such as ScreamFROG to analyze your website and check if there are any 5xx errors or not. You should not have any internal links that link to a web page with any kind of 5xx error.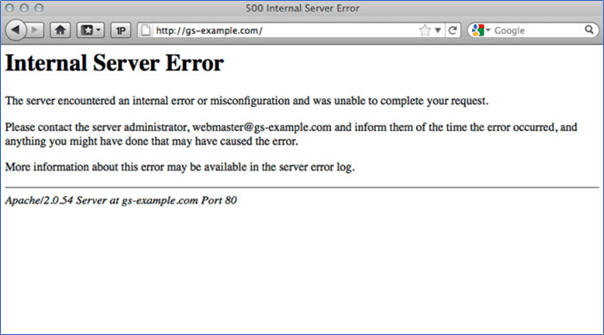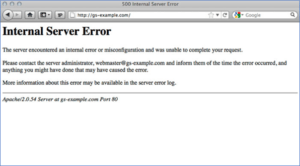 4xx Errors
A website displays 4xx errors when a page, that is requested by the user, does not exist. A 4xx error will be displayed in either one of the two cases, i.e, the page never existed in the first place or has been removed by the website admin. In any case, it is important to ensure that none of the internal links points to a web page that shows 4xx errors. If that's the case, make sure to either remove the link or point it to a suitable replacement.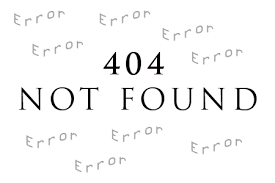 3xx Status Code
3xx is known as the redirection status code which requires the users to take necessary actions to reach the destination URL. While the 3xx status code is an extremely important part of Search Engine Optimization, you should make sure that none of the pages links to 3xx error pages. This will increase the server load, which may further affect the overall website performance. 
Soft 404s
A web browser displays a 'soft 404' error when the requested page is missing but does not return a 404 error. It basically means that the page doesn't or shouldn't exist according to Google but the CMS still sends a 200 OK status instead. Soft 404 errors are bad for your website's SEO and that's why it is imperative to remove them. 
Website Logo Should Link to the Homepage
If you have placed a company logo in the main navigation bar, make sure that it links to the homepage of the website. This is one of the most basic things that you can do to make your e-commerce website user-friendly. 
Add Sub-Categories in the Navigation Bar
While adding content in the navigation bar, make sure to add subcategories. For instance, if you sell 'trousers' on your website, it is better to add a category 'trousers' and its sub-categories as 'cotton', 'jeans', and 'casual'. This improves your site's navigation and it also doesn't appear like a cluster of repetitive words. 
Canonicalize Duplicate URLs
If a web page is accessible from multiple URLs, canonicalize it to a single URL so that there isn't any duplicacy. Duplicate URLs are bad from an SEO perspective and are most likely to damage the overall website performance in SERP. 
No-Index Irrelevant Pages
An e-commerce website usually has dozens of pages that do not generate any traffic and don't contribute to the overall sales of the website. These types of pages should ideally be noindexed as indexing them may affect the performance of other important web pages. 
Outbound Links in Main Navigation
If you want to keep your website's SEO up to the mark, make sure to remove every outbound link from your main navigation that points to a third-party website. When it comes to the main navigation of the website, the links should only point to your social media profiles or other websites that you own. 
Combine Related Web Pages
Instead of targeting related keywords through different web pages, try to combine related web pages. For instance, if your target keywords include 'men jeans' & 'jeans for men', it is better to include them in a single web page. This will also help you make your page relevant for specific search queries. 
Valid XML Sitemap Should be Submitted to Google
For e-commerce websites, the XML sitemap should be dynamically updated whenever a new page is added to the website. At any given point in time, Google should have a complete up-to-date XML sitemap of your website. 
Content Checklist for E-commerce SEO
Target Keyword in the Title Tag
For every product page, make sure to add your target keyword to the title tag so that the pages become relevant for specific search queries. Title tag optimization is one of the most crucial parts of e-commerce SEO and should not be overlooked at any cost. 
Write Descriptive Titles
Writing descriptive titles has several benefits. However, the main reason why you should do this is that descriptive titles give you the opportunity to target long-tail search queries as well. And, it becomes easier for the user to identify the product more precisely. 
Avoid Duplicate Title Tags
None of the product pages should have the same title tag. This can result in content duplicacy, which is most likely to affect your website's SEO practices. You can use an online site crawler tool to identify web pages that have identical titles. 
Title Tag Length
From an SEO perspective, it is extremely imperative to keep the title length between 50 to 65 characters. Since Google automatically truncated lengthy titles, it would be far better if you keep the title's length as recommended. 
H1 Tag
Every page on your website should have a unique H1 tag. While you can keep the H1 tag the same as the page title tag, that should not always be the case. Try to write distinctive H1 tags while adding the target keywords to them. Adding the keywords helps you perform H1 tag optimization, which makes it easier for the search engine crawler to index the web page for relevant search queries. 
Product Page Meta Descriptions
It's no denying the fact that meta descriptions are an integral part of e-commerce SEO. While it is not necessary to write meta descriptions for every web page, writing one for the product pages can make a huge difference. When you write a compelling meta description for product pages, the chances for the customers to click the link increases. You can also add the target keywords to your meta descriptions to make the product pages SEO-friendly. However, make sure to keep the description length between 150-170 characters. 
Unique Product Page Content 
Content is one of the primary pillars of SEO. In fact, it is the most crucial Google ranking factor Google uses to rank web pages. That's why it is extremely important that each of your web pages should have unique and high-quality content. You should also add the target keyword and related phrases to make the content more relevant and SEO-friendly. Product pages that have high-quality & informative content are more likely to draw customer's attention. 
Customer Reviews
First-time website visitors usually rely on customer reviews before purchasing a product. So, if your product pages don't have enough reviews, you will struggle to boost sales. Ask your customers to leave a product review once they have completed the purchase. 
Well-Defined Content Marketing Goals
Publishing random content on your e-commerce website has no benefits. Instead, try to develop well-planned content marketing strategies to achieve specific goals. You can also consult professional content marketing experts to analyze your business and target audience to develop an effective content marketing plan. 
Content Funnel
Content funnel is one of the SEO concepts, that is often overlooked by e-commerce owners. Designing a content funnel will help you engage a customer and navigate him to the final product page. Directing a customer through the content funnel is more likely to encourage a customer to make the purchase. 
Lead Magnets
Lead magnets refer to content pieces that'll encourage customers to buy the product. You can write blogs that explain the potential benefits of using a particular product and eventually direct him towards the product page. 
Social Media Content
Social Media is one of the most powerful tools for an e-commerce business. Not only can you grab customer's attention through social media platforms, but it'll also help you build brand authority for your business and attract new customers. You should also focus on developing well-planned social media content marketing strategies so that you can generate more and more leads. 
Product Images
When you know the most promising products on your website, make sure to hire a professional photographer to click their photographs. High-quality images are more likely to captivate customers than regular photographs. Moreover, adding real images makes your website more relevant and it becomes much easier to build healthy customer relationships. 
Video Content
Like high-quality product images, videos can also help you attract more customers. In addition to this, videos give a deeper perspective into what the product actually looks like and how one can use it. You can also publish tutorial videos along with products that require some sort of installation. 
Linkable Content
These are the content pieces that are above your traditional blog posts. These types of content pieces usually have high quality and provide some value to the customers at the same time. As a result, people in your community would want to link to them. 
Link Acquisition Checklist for E-commerce SEO
Target List of Influencers
You should always make a list of influencers who can provide value to your target audience. Now, these influencers can be in the same or different business industry, but that doesn't matter. You should simply have a list of influencers who matter the most to your target audience. It is also important to continuously update the influencer list on a regular basis. 
Product Manufacturers
Make sure to contact each of your manufacturers to check if they'd provide your website with a link or not. The majority of manufacturers will willingly provide a link without any hesitation, considering the fact you sell their products on your store. 
Guest Blogs
Guest blogging still remains one of the most efficient ways to earn quality backlinks while attracting a different set of customers at the same time. Make a list of websites that have a high Domain Authority (DA) and accept guest posts from other writers. While submitting a guest blog, however, make sure that your content provides value to the readers. A regular blog post is less likely to be accepted by high-quality domains. It means that you'll have to research on a deeper level and craft a high-quality blog post. 
Launch Contests
Contests are also one of the most effective ways to gather quality backlinks. You can launch contests where your customers would have to create content pieces. As a result, most of these content pieces will eventually link to your website. 
Link Bait for Influencers
Many SEO professionals utilize this particular technique to acquire relevant backlinks. Link baiting is the process of crafting a content piece that specifically talks about and praises an influencer in your community. This will encourage him to link back to your website or at least share your profile with their audience. 
Profile Links
Creating profiles on other websites is the easiest way to boost your backlink profile. There are several websites that allow businesses to create a business profile. So, while you create a business profile, make sure to leave a link to your website. 
Links Through Image Credits
If you publish original images on your website, they can also be used to acquire backlinks from other domains. Simply use Google's 'Search With Image' tool to check who is using your images. Once you have a list of websites that have used your image, simply ask them to leave a link to your website. 
Interview Influencers
You can interview other influencers in the community and publish those interviews on your website and Youtube channel. 
Recommended Post: A Business Owners' Guide to Astounding Outcomes with Organic Marketing!
Competitor's Backlink Analysis
Going through the competitor's backlink profile will help you create a list of websites that are most likely to link to your domain as well. Now, manually reach out to these domains and ask them to link to your website too. In case your competitor has stopped selling a product on their website, you can check the backlinks of that product page and ask the website owners to link to your page. Since you are still selling the product, people will happily link to your domain. 
Publish Videos on YouTube
When you decide to create videos, make sure to publish them on different video sites such as YouTube. This will help you easily get a link for your website. 
Wrapping Things Up
E-commerce SEO is slightly different from traditional search engine optimization services. There are a lot of things that you need to take care of to ensure that your website's SEO is up to the mark. The above e-commerce SEO checklist will help you ensure that each element of your e-commerce website is optimized as per the best SEO practices.