SEO is an ever-changing field. Every year Google decides to throw in new algorithms, that compel SEO professionals to adapt to new tactics and sustain top Google rankings. For instance, there was a time when you could get away with buying links. However, that time is long gone; today you can't even survive with low-quality backlinks, let alone use bought backlinks. 
That's why it has become extremely imperative to invest in link-building strategies that do not damage your website's overall SEO. While there are dozens of such tactics, content marketing remains at the top of the list. 
Acquiring quality backlinks isn't easy, especially when you want to attract backlinks from high-authority domains. However, content marketing is one of the strategies that'll help you get the desired results without making huge investments. 
So, in today's blog post, we're going to share a detailed guide on how to use content marketing for acquiring high-authority backlinks. 
What Is Content Marketing?
At its core, content marketing is all about crafting high-quality content pieces and using them to boost your website's performance. However, content marketing means different things for different people in the SEO industry. 
While some people only relate it to guest blogging, others think out of the box and consider publishing data-driven articles as content marketing. And, then there are people who take things to the next level and utilize the skyscraper technique to run their content marketing campaigns. 
Whichever category you fall in though, it is imperative to design a content marketing strategy that can encourage others to link to your website. Since you can approach content marketing in so many different ways, you always have the liberty to choose the most effective method to engage readers. 
Here we have scribbled down a list of the most effective content marketing strategies you can utilize to get backlinks for your website. 
Affordable Content Marketing Strategies for Link Building
Often SEOs have a limited budget for their campaign. In this scenario, finding a low-budget strategy is nothing less than finding a hidden treasure. So, all the strategies we have mentioned below don't require you to spend a hefty amount and can be implemented without burning a hole in your pocket. 
Case Studies
When you're doing something great, why not tell everyone about it? If you have recently helped a client in some way, you can always craft a case study and explain how you tackled different hurdles to achieve the desired client objectives. 
Case studies remain one of the best content marketing techniques as they'll present you as an influencer in the community. Your peers in the industry would love to read how you implement a certain approach and are most likely to link to your website as well. 
Even the top influencers like Brian Dean and Neil Patel publish case studies to boost engagement and attract backlinks. Here's an example where Brian Dean, from Backlinko, published a case study on how he increased his traffic by 110%.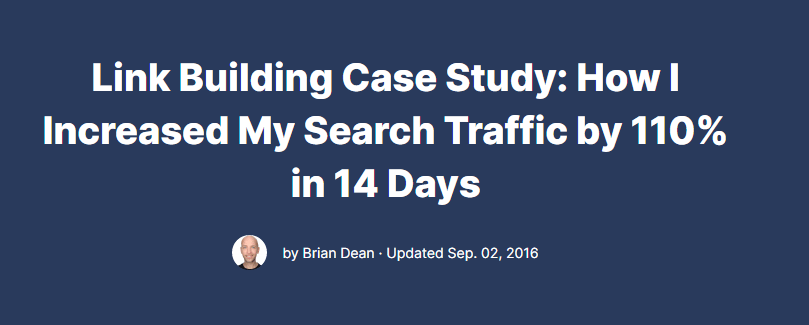 Using Ahrefs, we came to know that this post alone had 11k backlinks from 2k referring domains.

In fact, this case study became one of the top posts for Backlinko and everyone started talking about the Skyscraper technique, that Brian had mentioned in the blog post.
So, if you have recently done something out-of-the-box that can help others boost their business, don't hesitate to publish a case study. Mention your strategies along with the screenshots to craft a detailed case study.
Expert Opinions
When you are working in an organization, you are most likely to be surrounded by several experts. One of the most effective ways to create a linkable content piece is to publish the expert's opinion on a certain topic.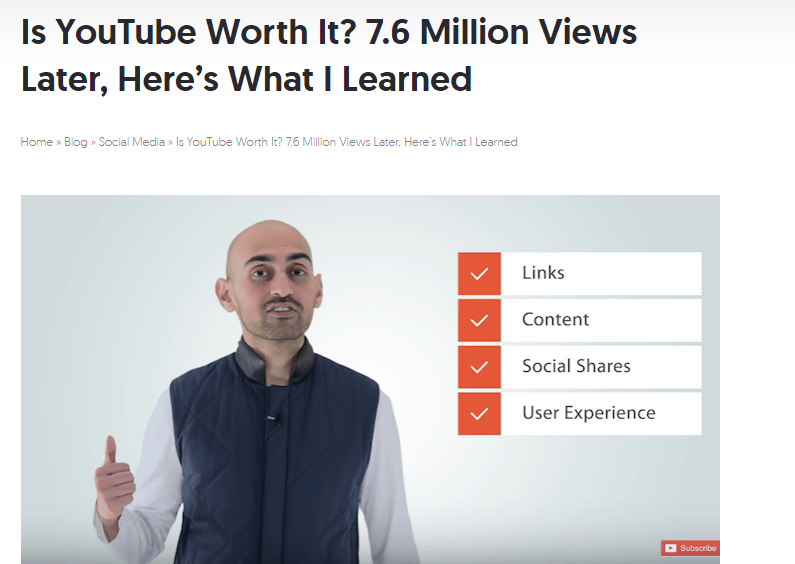 Always remember that publishers don't have the required technical expertise to write an informative article. That's why they most likely take reference from other content pieces, mostly which are written by experts. While doing so, they'll always leave a link back to the original source. 
Publishing expert contributions are often underrated by SEOs. However, if executed accurately, these types of articles can become a more effective link-building strategy than guest blogging and infographics. 
Interviews
The audience always wants to read an expert's opinion and gather accurate information. One of the effective ways to provide your readers with the most relevant information is to conduct interviews with industry experts and publish them on your blog.

While conducting the interview, focus on asking questions that your readers often struggle to find an answer to. You can also ask the expert to share a different insight to make things clear and easy to understand. 
Now, you are less likely to secure an appointment with an expert like Neil Patel, considering he's so busy, but you can always start small and find specialists who can spare a couple of hours to do an interview with you. 
Publish Detailed Guides  
Long-form content has always been one of the best ways to provide value to the readers. This can help you engage the reader and also covert one-time readers to long-term clients. It doesn't matter if you are in B2B or B2C, publishing long guides will help you gain links as well. 
When you publish long-form content, also known as power pages, you provide readers with information that'll help them understand the entire topic in detail. Anyone who's looking for an effective solution is most likely to read a well-researched guide. 
Moreover, publishers are likely to link to these types of guides as well because this will add value to their own articles. So, if every tactic seems too much of a task, simply sit down and write a lengthy blog post. 
Use Infographics
No matter what you may have heard, infographics aren't dead. They may have taken a hit in recent years, but that's just because people started publishing low-quality and irrelevant infographics. 
If you manage to design an infographic that completely stands out, it'll become way easier to draw the attention of publishers. However, don't expect that people will link to an infographic that doesn't provide additional value to the readers.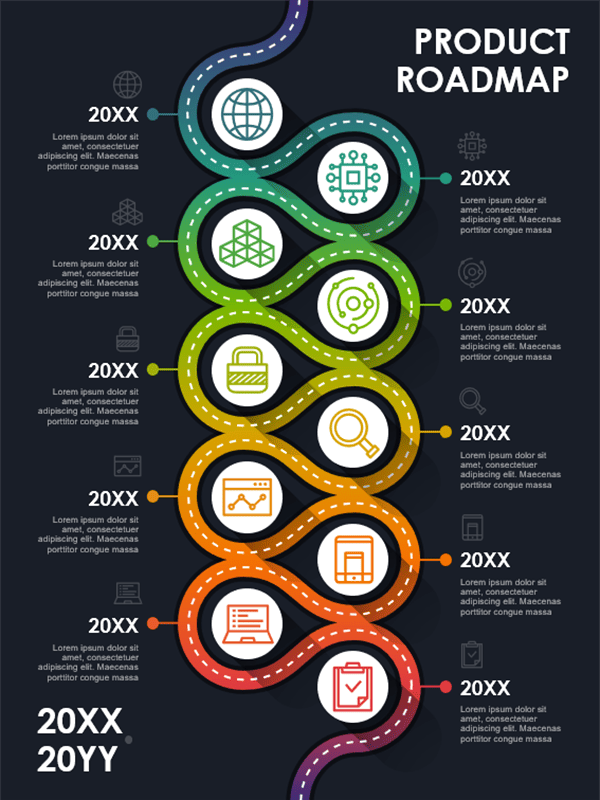 If you want to acquire backlinks through infographics, make sure to invest your time in finding the most appropriate topic that people actually want to read about. Once you have the topic, start making points that you want to mention in the infographic. 
Keep in mind that you don't have to tell the complete story; the goal should be to share as much valuable information as you can through minimum space. A unique infographic that gives readers valuable information is most likely to be linked by the majority of publishers. 
Collaborate With Others
Often SEO looks forward to attracting backlinks from a new audience. While there are several ways to attract a new audience, collaborating with the leading influencers in your niche is the most effective strategy. 
You can collaborate with others on a dedicated content marketing campaign and create content that caters to both audiences. For instance, if you're in the SEO business, you can collaborate with a Google Adword agency and publish a blog post that talks about how SEO and PPC can benefit a business side-by-side. 
This way you'll be able to draw the attention of people who publish content related to SEO and PPC, giving you a different link-building opportunity. 
Contact Local Publications
If you own a local business and only target the local audience, nothing can come close to the power of reaching out to local publications. For local businesses, PR should be the go-to weapon to acquire links and drive exposure from the local audience. 
In addition to providing you a quality backlink, local PR also helps you climb the search engine ladder for local search queries. The most potential benefit of local publications is that it is easier to win a backlink here as compared to high-authority domains. There's one catch, however. 
Since local publications focus on publishing high-quality content only, you'll need to make sure that the content quality of your article is up to the mark. So, create the perfect content piece and reach out to the local publications so that you can attract relevant backlinks to your website. 
Publish Research Papers
Even though publishing research papers is a time-consuming and quite hectic task, but if you can manage to collect data for a high-quality research paper, you'll be able to acquire quality backlinks from authority domains. Since you are giving a fresh perspective on a topic, people are most likely to read your research papers and link to it. In order to make your paper more informative and accurate, you can also team up with local university students. 
Students always have a fresh perspective on topics and their contribution to the paper will help you showcase a different angle, that has never been talked before. As a result, people would willingly link back to your blog. However, there's one drawback with research papers. They make more sense for B2B businesses as compared to B2C business models. When your target audience involves industry experts, publishing research papers makes more sense. 
On the other hand, in the case of B2C businesses, the target audience is regular customers, who'll less likely to read a detailed research paper. 
Conduct Surveys
Like research papers, surveys can also be a great way to acquire quality backlinks. The reason why surveys work all the time is that they provide you with raw and unique data. In the end, it is completely up to your skills on how to utilize this data to write the perfect story that people would link to. 
When you conduct a survey, you have complete raw data, that can be used to present a different angle and write a unique story. Again, conducting surveys will take time and effort, but if you manage to do it successfully, you'll be able to create a linkable asset that'll benefit you even in the future. 
Experts from a reputable SEO Company India explained, "When you conduct a survey, you have complete raw data which can be used to present a different angle and write a unique story." But remember, conducting surveys will take time and effort, but if you manage to do it successfully, you'll be able to create a linkable asset that'll benefit you even in the future. 
Wrapping Things Up
Content marketing remains the most effective way to attract quality backlinks to your website. However, with so many techniques available, it is essential to pick the most suitable tactics that cater to the interests of your target audience. The above-mentioned tactics are a few of the content marketing strategies that'll help you create linkable assets for your website.